There's still time to find the perfect F1 gift in time for Christmas, so we've picked out a few customer favourites to get the ideas flowing.
1. Gear Ratio Clock – Mercedes-AMG Petronas Motorsport
This clock is the perfect piece to wake you up in the morning and keep track of when the race is about to start. Crafted out of a Mercedes-AMG Petronas Motorsport Gear Ratio, which once raced the circuits of the world, this clock has been re-engineered to bring a touch of F1 into your home.
2. Layshaft and Gear Lamp – Renault Sport 'Heritage Collection'
These race-used gears and layshafts have been re-engineered into stylish lighting for your home.
Made from toughened steel and in its original race-used condition, the layshaft forms the stem of the lamp, with the gear ratio as the base – mounted to a moulded carbon fibre plinth. Each one of the 80,000 Renault F1Team components which make-up each race car has a unique identification number – and these original part numbers remain on display on the gear ratio and layshaft.
3. Carbon Fibre and Dog Ring Desk Tidy – Mercedes-AMG Petronas Motorsport
This Desk Tidy has been crafted from a dog ring used on the Mercedes AMG-Petronas Motorsport F1 W03 car, driven by Michael Schumacher and Nico Rosberg during the 2012 FIA Formula One World Championship™ season.
The unique component design measures 60mm less than a standard dog ring, which allowed the team to run a shorter gear cluster, smaller gearbox and therefore a selection of varied wheelbases during the races.
4. VF-17 Kevin Magnussen Bodywork in Acrylic – Haas F1® Team
Each piece of bodywork has been carefully hand-carved from a race-used VF-17 Kevin Magnussen sidepod. Your piece of bodywork is hand embedded in high optical quality acrylic for an impressive showpiece which preserves the racing heritage for generations to come. From the front, you see the beautiful sheen of the Haas F1 Team livery, and from the back you can study the intricate honeycomb structure of the carbon fibre.
5. Lewis Hamilton 2015 Brake Disc Table: Mercedes-AMG Petronas Motorsport
Looking to spruce up your décor but with the addition of an F1 flare? This table is made out of a Mercedes-AMG Petronas Motorsport carbon brake disc taken from Hamilton's 2015 F1 car and is displayed within a hand-crafted solid oak table-top.
6. Sergio Perez 2017 Austrian GP Photo and Piece of VJM10 Bodywork – SportPesa Racing Point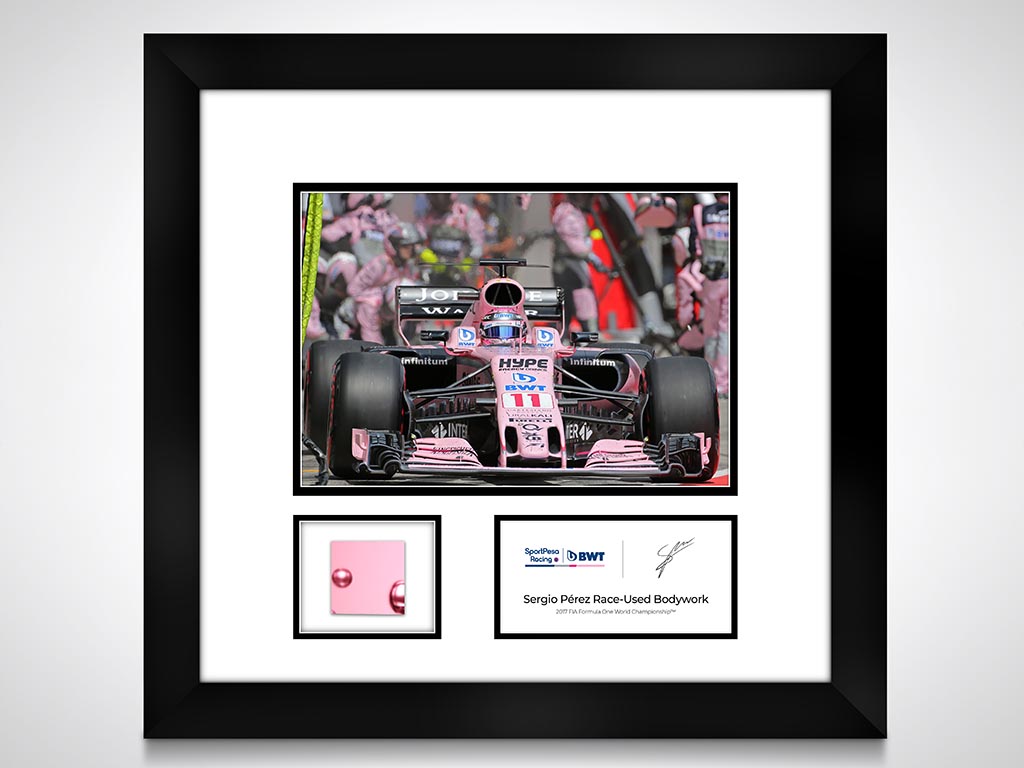 This official framed Sergio Perez photograph is part of the official SportPesa Racing Point collection and incorporates a genuine race-used piece of Sergio Perez' VJM10 Sidepod. The action photo captures Perez driving away from his pitstop at the Austrian Grand Prix in 2017.
To view the full collection visit https://shop.planetf1.com/f1-christmas-gifts/