PlanetF1's top 10 overtakes from the 2021 season
Sebastian Vettel's 132 passes over 22 races made him the maiden winner of the Formula 1 Overtake Award in 2021.
Seb may have won 'one million jelly beans' in an award he was nonplussed by, but when it comes to overtakes, we'd take quality over quantity any day, so in that spirit here's our ranking of the top 10 moves of the season:
10: Alonso on Norris (Lap 1, Silverstone sprint)
The more you watch Fernando Alonso the more you realise his style of racing, in this era of extreme downforce, places a greater value than most on staying out of the turbulent air of the car ahead.
That – a legacy of his trips to Indianapolis, perhaps? – was what he was referring to when he claimed to have taught Lewis Hamilton a trick or two during their glorious battle in Hungary.
It was also on show during his leap from P11 to P5 at the start of Silverstone sprint qualifying, where he saved his best move until last.
As he completed a pass on Sergio Perez at Luffield he was already lining up Lando Norris, combining a wider line with soft-tyre grip to get a good run on the McLaren down the old pit straight.
The sight of two cars side by side approaching Copse would provide one of the most memorable moments of the year less than 24 hours later, but Alonso – with the compliance of Norris on the inside – demonstrated it could be done.
Take note, Max and Lewis…
9: Tsunoda on Bottas (Lap 58, Abu Dhabi)
Yuki Tsunoda spent his entire rookie season teetering between triumph and disaster and it took until the season finale for his presence to be truly felt against a driver who – in wheel-to-wheel battle at least – has very little.
As Valtteri Bottas was half-heartedly sniffing around the rear of Carlos Sainz's Ferrari into Turn 6, Tsunoda appeared out of nowhere to claim the corner with a late lunge of which F1's last Japanese superstar, Kamui Kobayashi, would have been proud.
The audacity was almost as impressive as the execution and promoted Tsunoda to a career-best P4 – which he then tried his best to lose by accidentally downshifting from fifth to fourth on acceleration, inviting pressure from team-mate Pierre Gasly.
It was Yuki in a nutshell.
8: Vettel on Russell (Lap 26, United States)
It was thanks to impressive moves like these that Sebastian Vettel won the 2021 @cryptocom Overtake Award 👌 #F1 | https://t.co/8PdPZlBesT | #FFTB pic.twitter.com/rBxjuM7JhD

— Formula 1 (@F1) December 17, 2021
With certain moves you can almost see the cogs in a driver's brain turning as if they are piecing together a puzzle step by step, sometimes corner by corner.
Vettel has always been the cerebral type and if his trap on George Russell came to fruition at Austin's T19, the springing started when he took the outside line into T15, compromising the Williams on the inside of the tight left hander.
Cutting back at the apex gave Vettel a straighter exit yet it still wasn't quite enough to claim the position, the pair running almost side by side through the fast triple-apex right hander with the Aston Martin hanging on just for long enough for the outside to become the inside into T19.
Don't you just love it when Die Plan comes together?
7: Hamilton on Bottas (Lap 20, Portugal)
Bottas would quickly come to know his place in 2021 but, leading round three from pole position, the wingman went defensive under DRS attack from Hamilton.
Lewis tracked him to take every last trickle of tow before pulling to the outside of T1 and soaring by Valtteri who, pinched on the inside, was left with no option but to let him go.
As the Mercs seemed to morph into one mid-corner, the possibility of a Copse-esque collision seemed high but Hamilton and Bottas, as ever, made it work.
6: Perez on Ricciardo (Lap 46, Spain)
A sub-standard Saturday condemned Perez, still adapting to the Red Bull and struggling with shoulder pain, to a race stuck behind Daniel Ricciardo.
Even with DRS, Perez struggled to get close enough on the main straight to Ricciardo – earlier warned for weaving by Race Control – and was still some distance behind as they approached T1.
But Perez made up the remainder of the deficit and more entirely on the brakes, muscling his way around the outside of the McLaren.
The move, when it finally came, was worth the wait.
5: Verstappen on Hamilton (Lap 58, Abu Dhabi)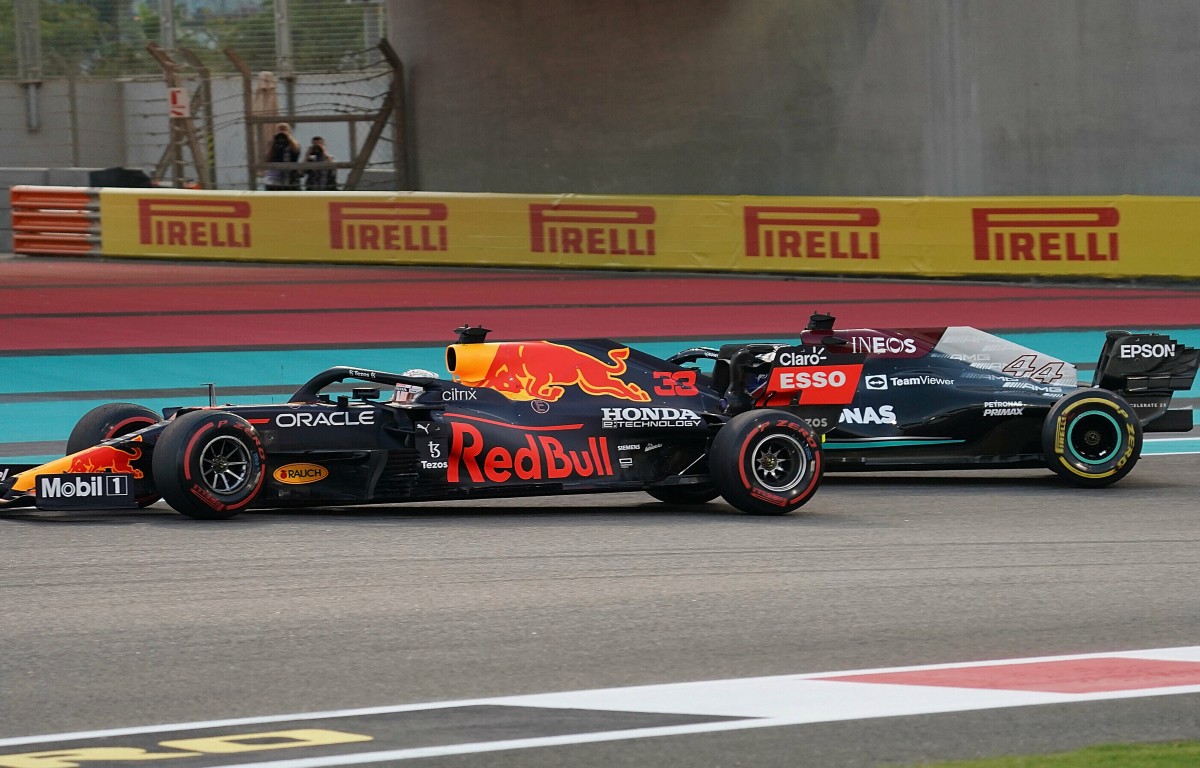 It will forever be remembered as a one-lap shootout but in reality came down to three corners, the only parts of the Yas Marina lap where passing is possible.
With Verstappen on soft tyres, the only tools Hamilton had available on old hards were two stabs at the overtake button and inch-perfect positioning.
So why, knowing Max as he does, did he not cover the inside at the hairpin?
The only explanation is that Lewis, like everyone else, expected the move to be made at T6 after their lap 1 skirmish there – which made Verstappen's ambush, his absolute determination to take control at the earliest opportunity, an emblem of 2021.
Verstappen was vigorous and uncompromisingly opportunistic; Hamilton occasionally guilty of being asleep at the wheel.
4: Giovinazzi on Ocon (Lap 1, Monaco)
Antonio Giovinazzi had a front-row seat for Perez and Esteban Ocon's first-lap face off up the hill in Monaco, the Red Bull ultimately claiming the high ground with the inside line into Massenet.
As the cars began to filter one by one into Mirabeau, Giovinazzi spotted a slight gap to Ocon's left and – with just enough room between the barrier on one side and the Alpine on the other – squeezed himself into it.
Pinned to the inside behind Perez, Ocon was defenceless as the Alfa's higher minimum speed nudged its nose ahead, Giovinazzi almost using the Armco's curves to complete the move just before the hairpin.
It didn't feature on the live broadcast – of course it didn't, not in Monaco and with *that* TV direction – but as the annual question was posed whether Formula 1 had outgrown the place, here was evidence magic can still be made on those streets.
3: Verstappen on Hamilton, Ocon (Lap 17, Saudi Arabia)
Fitting mediums for the second restart arguably cost Verstappen victory in Jeddah, but Red Bull's thinking seemed smart at the time.
With two red flags already, further stoppages had to be considered likely and Verstappen had been beaten off the line by Hamilton after the initial red flag, his forceful defence allowing Ocon to sneak between them.
Verstappen's superior grip gave him the getaway he needed from third – and then he spotted a gap on the inside.
Could three fit into Saudi's Turn 1? That was for Max to try and Lewis and Esteban, on the outside, to worry about.
Verstappen's driving that night would come under great scrutiny, but here in amongst the nonsense was a little nugget of genius.
2: Alonso on Gasly (Lap 1, Qatar)
There was no contest to speak of as the front-runners filtered into Qatar's T2, Gasly comfortably in second and Alonso firmly in third, fending off Verstappen if anything at that point.
But Fernando took a wider line – again feeding his front wing with a stream of clean air – magicked some momentum from somewhere and all of a sudden found himself alongside Gasly on the exit and with the inside for 3 and 4, his helmet frantically flicking left and right as he checked the mirrors.
The coast, and the path to a first podium in seven years, was indeed clear.
1: Verstappen on Mercedes (Lap 1, Mexico)
You can only imagine how much Mercedes discussed the first corner in Mexico after their unexpected front-low lockout, how many different scenarios they considered.
Bottas' remit was clearly to make life as simple as possible for Hamilton, but in doing so it was as though he forgot to keep an eye on the little rascal in the Red Bull on his outside.
As the Mercs deployed their parachutes in unison, Verstappen, afforded space on the cleaner racing line, kept on cannoning towards T1 before swinging around the outside of them both.
It was an impossibly brave move in the circumstances – Verstappen held a delicate 12-point lead after winning in Austin – but once he had committed to it there would be no stopping him.
Honourable mentions
Leclerc on Bottas (Lap 1, Spain): Only omitted because Hamilton's recovery from a Max attack compromised Bottas so badly through Turns 2 and 3.
Stroll on Alonso (Lap 11, Spain): Another brave move slightly flattered by circumstance with Alonso on dirty tyres after cutting Turn 1.
Mazepin on Schumacher (Lap 3, Brazil): A late, hugging-the-inside lunge into T1 with shades of Schumi Sr's move on Kimi Raikkonen in 2006.
Hamilton on Verstappen (Lap 59, Brazil): A DRS drive-by with a huge amount of craft behind it after what had previously happened at T4.
Norris on Leclerc (Lap 31, Italy): Because a car on the grass makes a move so much more dramatic.