Revealed: The top 10 highest F1 points-scorers of all-time using unique formula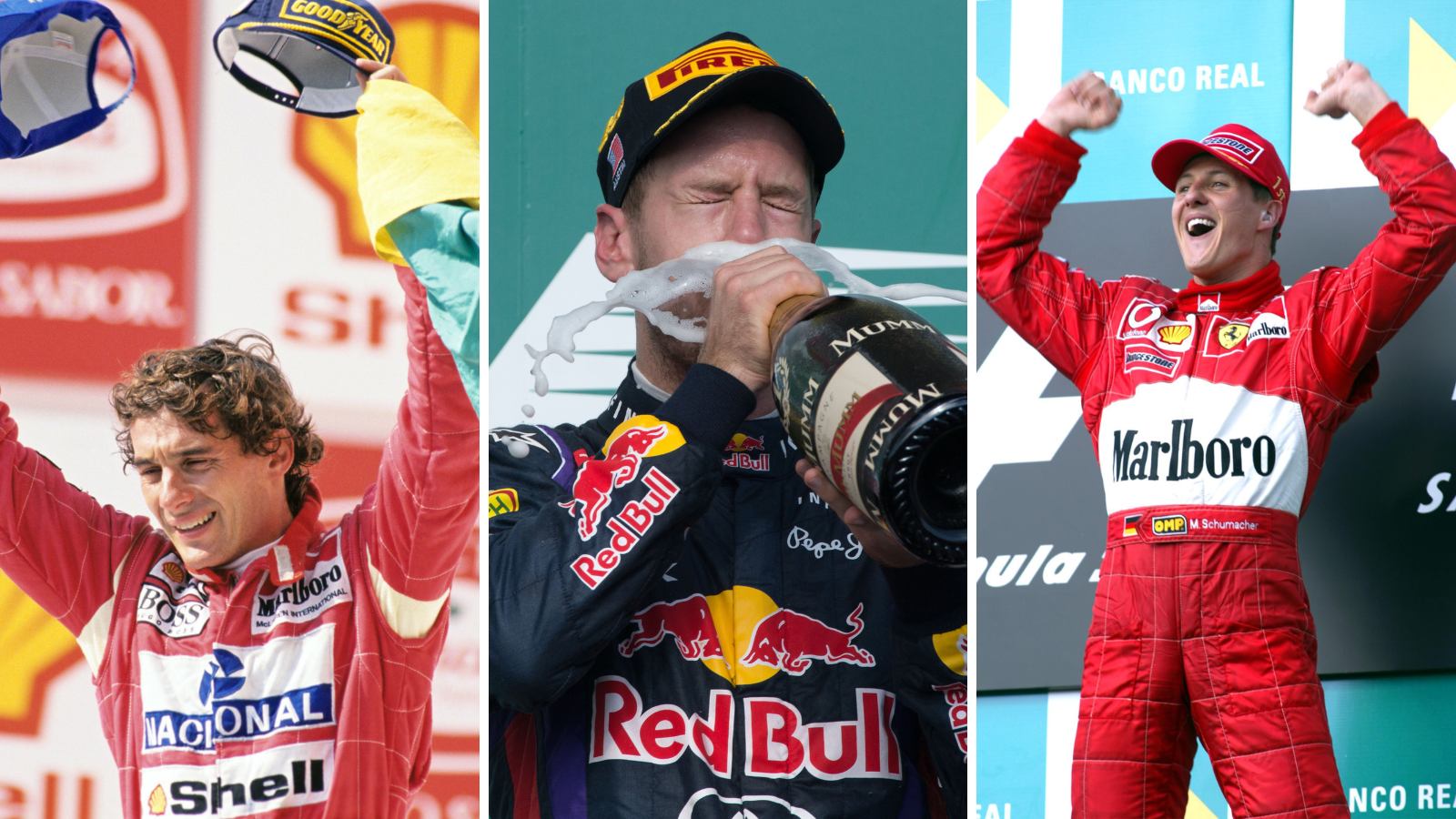 The highest points scorer in F1 history has been revealed after a new formula was designed to standardise points across different seasons.
Given how often the points-scoring system has changed in Formula 1, it is hard to compare drivers from different eras, for the points scored for a win in the first ever season of the sport are the same as a sixth-place finish today.
Indeed, points are at an all-time high with 102 being given out on race weekend so how do you compare drivers from different eras? Well, F1 statistics YouTube channel The Data Dudes F1 have gone about creating a balanced system.
For the results, they took every race from the 2022 season all the way back to 1950 and applied the same points system to each of them.
To do that, they gave the top 10 places 25, 18, 15, 12, 10, 8, 6, 4, 2 or 1 point (the same system used today) and for any race where less than 75% of the full distance was completed, half points were awarded.
Then, they added weight to the scoring against an average of 20 races a season, so if one year had 20 races then a win is worth 25 points but if a season only had 10 races, that win would be worth 50 points.
The driver with the fastest lap was also awarded an extra point, provided they finished in the top 10, and sprint race points were ignored, as were special races like the double points in Abu Dhabi 2014.
So here are the top 10 drivers in F1 history according to the points they scored:
Juan Manuel Fangio – 2,181.6 points
The sport's first great champion comes in at P10 with a total of 2,181.6 points across his 51 races. Juan Manuel Fangio or El Maestro defined the sport in the 1950s, winning a total of five World Championships and racking up 24 race wins.
His title record stood for 46 years and he achieved the feat with four different teams (Alfa Romeo, Ferrari, Mercedes-Benz, and Maserati).
The Argentine is a legendary figure within the sport and still revered as one of the finest drivers to ever get behind the wheel.
Nelson Piquet – 2,183 points
Nelson Piquet may have only scored 1.4 points more than Fangio but it took him 153 races more to do it. The Brazilian was on the grid from 1978 to 1991 and won his first race in his third season.
A year later, he was World Champion with Brabham, a feat he repeated in 1983.
He moved to Williams in 1986 where he began an infamous rivalry with team-mate Nigel Mansell. Piquet picked up his third and final Drivers' title in 1987.
Rubens Barrichello – 2,229.5 points
Another Brazilian enters the list at eight and is the only man in the top 10 not to have won the World Championship. Rubens Barrichello's career was one of longevity with 322 starts across 28 years.
Although he was never able to secure P1 he did come close, including a P2 in 2004 and over the course of his career he earned 11 wins and 68 podiums.
His motorsport ventures were not without success though and he most recently secured his second Stock Car Brasil title in 2022.
Ayrton Senna – 2,339.4 points
A man who would no doubt have been much higher up this list had his life not ended so tragically short. Ayrton Senna is regarded as the most talented driver in Formula 1 history with a take-no-prisoners style that led to some of the sport's best overtakes.
The man who would inspire the next generation of F1 drivers, including Lewis Hamilton, made his debut in 1984 and picked up his maiden World Championship in 1988 at McLaren.
It was at this time when he began the biggest rivalry in F1 history with team-mate Alain Prost as the two traded titles and even after the Frenchman had left for Ferrari, the rivalry lived on.
Senna won in 1990 and 1991 before moving to Williams in 1994, taking the seat of the retired Prost, but his time with the team lasted just three races in which he retired in all of them. The final one claimed his life as he crashed during the 1994 San Marino Grand Prix at Imola.
PlanetF1 recommends
The five most entertaining drivers on the F1 2023 grid
Where are they now? The F1 2008 grid for Lewis Hamilton's dramatic first title
F1 2023 predictions: Which driver will win each team-mate battle in 2023?
Kimi Raikkonen – 3,043 points
Like Barrichello, Kimi Raikkonen was a man of great longevity but unlike the Brazilian, the Finn has a title to show for it.
The Iceman, as famous as he is off-track as he is on it, is a man of few words as he lets his driving do the talking.
He raced for five different teams during his career, scoring 21 wins and 103 podiums, and his career highlight came in 2007 when he became the ninth and latest Ferrari driver to win the World title.
Fernando Alonso – 3,132 points
Another driver who could have had a lot more points had his career gone differently is new Aston Martin man, Fernando Alonso.
There is no doubt Alonso is as talented as some of the names ahead of him on this list but his insistence on making, let's say, interesting career moves has harmed his total.
He is the driver who has completed the most laps in F1 history but after a barren run at McLaren including two seasons where he scored under 20 points, he is fewer than 100 points ahead of Raikkonen despite winning one more Drivers' title than the Finn.
Since his return to F1, Alonso has again been increasing his points tally with a productive spell at Alpine and he will be hoping that trend continues at Aston Martin.
Alain Prost – 3,160.1 points
Coming just one race short of 200 in the sport, Alain Prost was undoubtedly one of the finest drivers of his generation and in the sport's history.
At a time when he was battling other future World Champions such as Senna, Mansell and Piquet, Prost proved himself the most consistent of them all, picking up four crowns in his 13 years of competing.
The Frenchman earned 51 wins which puts him fourth on the all-time list and earned 106 podiums, again earning him the same spot in the all-time list.
Sebastian Vettel – 3,409.6 points
If Sebastian Vettel's Red Bull career can be summed up by one word, it would be dominant. In his four title-winning seasons, he earned 1,326 points and holds the record for the biggest points gap between first and second in a World Championship.
Like Alonso, Vettel's points tally took a dent when he moved teams and his time at Ferrari was successful to begin with only to fall away dramatically in 2020.
In 2021, he moved to Aston Martin when he scored 43 points and in 2022, his final year in the sport, he secured 37 points to earn him third spot on this list.
Michael Schumacher – 4,660.2 points
Now that we are at the upper end of this list, it is time for the elite of the elite to appear and Michael Schumacher is pipped for number one spot despite holding the joint record for most titles.
The German defined the sport in the late '90s and early 2000s and no name has commanded such respect as Schumacher has.
Considered by many to be the greatest of all-time, Schumacher not only won World titles at two different teams but also revived a fallen Ferrari.
Before Schumacher, Ferrari had waited 21 years for their 10th Drivers' title and by the time he left in 2006, the team had won 14 of them.
His impact on the sport was huge, inspiring the next generation of drivers including Vettel and the number one driver on this list.
Lewis Hamilton – 4,902.2 points
Most wins, most podiums, most consecutive points finishes, most consecutive starts, most wins in his first championship season. The list of records held by Lewis Hamilton goes on and on so it is no surprise to see his name at the top of the list.
While he has yet to surpass Schumacher in terms of titles won, he has done so by practically every other metric. He is 12 wins clear of the German, despite racing in only two more grands prix and with talks of a new Mercedes contract on its way, there are few reasons to suggest he will not extend that record.
For while Schumacher personified the sport around the turn of the millennium, Hamilton dominated it in the late 2010s.
Between 2014 and 2020, just one driver not named Lewis Hamilton won the Championship and even then, the Brit was only five points off.
He may have endured his first winless season in 2022 but it would be wrong to suggest that was solely down to him.
If Mercedes can iron out the issues of the W13, expect to see Hamilton back competing at the very top.
Check out the full time-lapse below and, for more fascinating F1 stats videos, you can watch and subscribe to The Data Dudes here.