We have seen many circuits come and go in the world of Formula 1, some have stood the test of time, others have vanished from the calendar.
Sadly Formula 1 doesn't stand still as the time passes, and we have lost some truly classic venues.
Here are PlanetF1's top 10 lost Formula 1 circuits…
10. Estoril
21 APRIL, 1985 🗓️

At a rain-soaked Estoril in Portugal, the great Ayrton Senna wins an #F1 race for the very first time #OTD #OnThisDay pic.twitter.com/PVzNyjq8PS

— Formula 1 (@F1) April 21, 2017
Built in 1972, the Autodromo do Estoril first hosted Formula 1's Portugese Grand Prix in 1984 and it continued to do so until 1996 – in that time the circuit really showcased the highs and lows of Formula 1.
In the inaugural race, Niki Lauda would secure his third and final World Championship there in 1984 by half a point over Alain Prost after finishing second to his McLaren team-mate. Ayrton Senna scored his first win in Formula 1 here in 1985.
We also saw Nigel Mansell's famous black flag incident after he was disqualified for reversing in the pit lane after missing his box, while Riccardo Patrese was sent airborne on the main straight in 1992 after colliding with Gerhard Berger.
We also got a taste of overtaking excellence as Jacques Villeneuve pulled a sensational move on Michael Schumacher around the outside of the last turn in 1996.
Formula 1 reportedly are looking at reviving the Portugese Grand Prix, but at the Algarve International Circuit rather than Estoril. It seems Estoril will remain a thing of the past.
9. Hockenheimring

Now, we could be talk about the old Hockenheimring and say that it ruled over the new one – but we aren't going to do that because both provided us with some incredible racing over the years.
Running through the forest of Baden-Wurttemberg in south-west Germany, the old layout which first hosted a German Grand Prix in 1970 was dominated by three long straights, broken up by two chicanes and one high-speed corner.
The slow "stadium section" at the end of the lap though ensured that drivers were also tested technically, while the addition of a third chicane in 1982 was a nice touch.
The 2000 German GP was a classic as Rubens Barrichello went from P18 to P1 for his first F1 win, but for 2002 the forest section was removed and the German GP took place around a shorter, redesigned Hockenheim.
Now, many will say this is where the great memories ended, but since then the new Hockeheim has provided us with some absolute classic races – mainly due to the barmy weather – such as the 2019 German Grand Prix.
Sadly the race was no more after that classic – finally the lack of funding took it away from us, but we hope it returns one day.
8. Clermont-Ferrand
Before we get into details on this – the Charade Circuit, to call it by its official name, will never be back on the F1 calendar.
This was one of the most dangerous venues in the series' history – built along the side of an extinct volcano, this circuit had 48 turns.
Jim Clark took the final win in the revolutianary Lotus 25 here in 1965.
For sure an epic test of a racing driver's skills, but after Jackie Stewart won the last race in 1972, Clermont-Ferrand was gone from F1 for good.
7. Sepang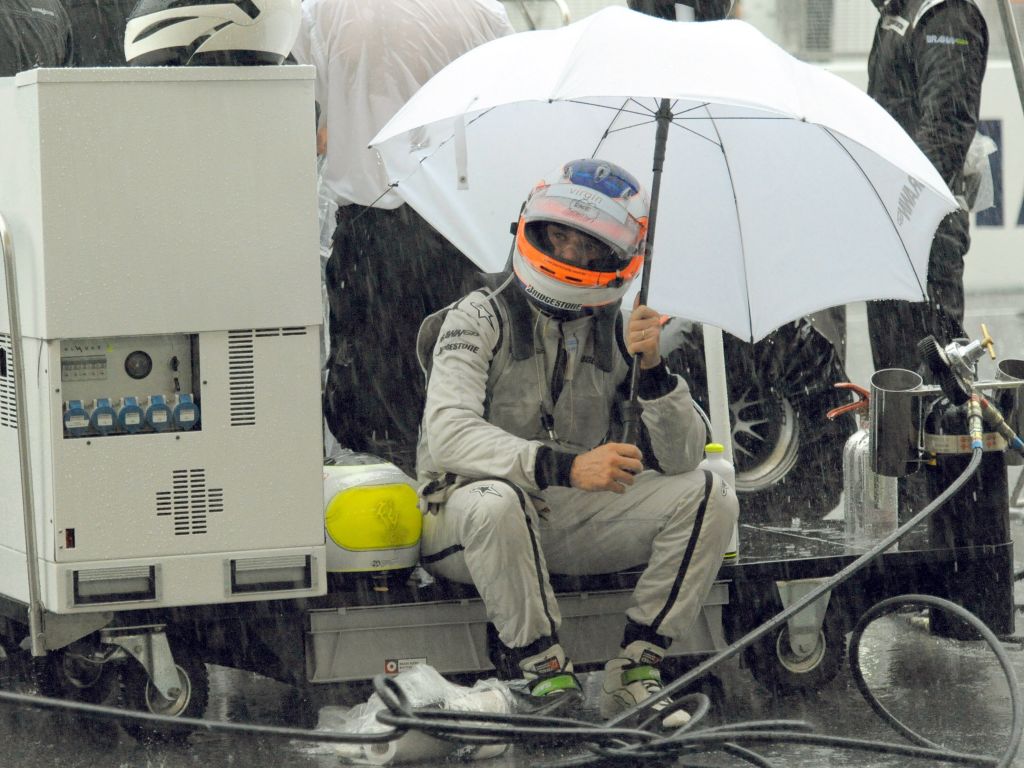 Sepang, home of the Malaysian Grand Prix, is another that faded away due to a lack of fans coming through the gates and rising costs, certainly not because of a lack of entertainment.
The event first appeared in 1999 with Ferrari's Eddie Irvine taking the first win at the circuit and it was staged every year until Max Verstappen won the final race in 2017 for Red Bull.
The changeable weather certainly added to the entertainment value of Sepang – Jenson Button took the win in 2009 after the race was stopped due to torrential rain.
In recent years though there has been talk that the Malaysian Grand Prix at Sepang could make a comeback, with the latest confirmation that Sepang is open to hosting the race again coming in 2020.
6. Brands Hatch
Brands Hatch has seen plenty of Formula 1 action over the years – between 1964 and 1986 it hosted 12 British GPs and two European GPs.
The downhill right of Paddock Hill Bend is the perfect way to start any lap, but sadly for modern day Formula 1 it is very narrow.
A lap of this iconic UK track is also very short – 2.4 miles to be exact.
Silverstone which currently hosts the British Grand Prix has had its fair share of uncertainty, but it does now have a long-term deal in place.
But whatever happens, without serious investment, Brands Hatch will remain a lost F1 circuit.
5. Osterreichring/Red Bull Ring
This track is still on the F1 calendar – but only by location. Now known as the Red Bull Ring, this place is a far cry from the original thrill ride that is once was.
It hosted an Austrian Grand Prix for the first time in 1970 – high-speed corners dominated and there was very little margin for error in this lap through the Styrian mountains.
Somehow it was still hosting races until 1987, but enough was enough after that such was the alarming lack of safety features.
These days Formula 1 is racing here again, but at Hermann Tilke's first circuit – the Red Bull Ring. It's now a track which proves to be technically challenging, safer, but still winds through that beautiful scenery.
The Osterreichring layout won't be making a comeback, ever, you decide if that's for better or for worse.
4. Watkins Glen
The United States GPs of 1959 and 1960 weren't cracking, but once Formula 1 rolled up at Watkins Glen the following year, it found a home for the race every year until 1980.
It is a fast, demanding circuit and it was cool to see the venue again in 2011 when McLaren's Lewis Hamilton swapped cars with NASCAR champ Tony Stewart at the Glen.
Sadly this was another circuit though that fell behind the times when it came to safety, and while it was a mainstay of the sport in previous years, it's very unlikely we will see Watkins Glen on the calendar again.
The Circuit of the Americas is currently hosting the United States Grand Prix, while F1's owners Liberty Media are desperate for a Miami Grand Prix and maybe one in New Jersey, too.
3. Adelaide Street Circuit
A circuit which is mentioned alongside several iconic moments in the history of Formula 1, such as the 1994 World Championship battle between Michael Schumacher and Damon Hill that ended in controversy here.
Or how about that iconic moment when Ayrton Senna pulled his bitter rival Alain Prost on to the top step of the Adelaide podium in 1993 in what was Prost's final race.
1995 was the last race at Adelaide before the Australian GP moved to Albert Park in Melbourne – Hill took the win two laps ahead of Olivier Panis in P2 with only eight drivers making it to the chequered flag.
210,000 people were in attendance that day. It's a track that redefined street circuits, but one that likely will never return.
2. Imola
There are very few tracks which have captured emotion in Formula 1, both the highs and lows, quite like Imola did.
While we saw the tragic deaths of Ayrton Senna and Roland Ratzenberger here in the 1994 San Marino Grand Prix, Imola also gave racing fans many memories for the right reasons.
Surely the best memories were the epic battles between Fernando Alonso and Michael Schumacher in 2005 and 2006.
Schumacher would finish just two tenths behind the upstart Alonso in 2005 after challenging him for the race win, but the seven-time World Champion came back in 2006 with one final statement before Imola disappeared from Formula 1.
But, this circuit could well return in the future if the rumours are to be believed.
1. Nurburgring Nordschleife
The Nurburgring: without doubt the pinnacle of Formula 1's past.
The original layout was over 14 miles in length, had 160 corners, and featured jumps, blind crests, banking – basically everything.
But it was extremely dangerous and had no place in a safety-conscious Formula 1. Three-time world champion Sir Jackie Stewart ironically called it "The Green Hell", and sadly many lives were lost here.
Niki Lauda almost lost his life in a terrible fire after crashing during the 1976 German Grand Prix, and that would be the last Formula 1 event for good.
A new circuit – the Nurburgring GP-Strecke, hosted its first German Grand Prix in 1984.
Built on the southern edge of the Nordschleife, this track was now suitable for safety, but when it came to racing it really was well down on the standards of its predecessor.
Did we miss one of your favourite lost tracks? Let us know in the comments section below…
Follow us on Twitter @Planet_F1 and like our Facebook page.