Top 10 weird and wonderful F1 car launches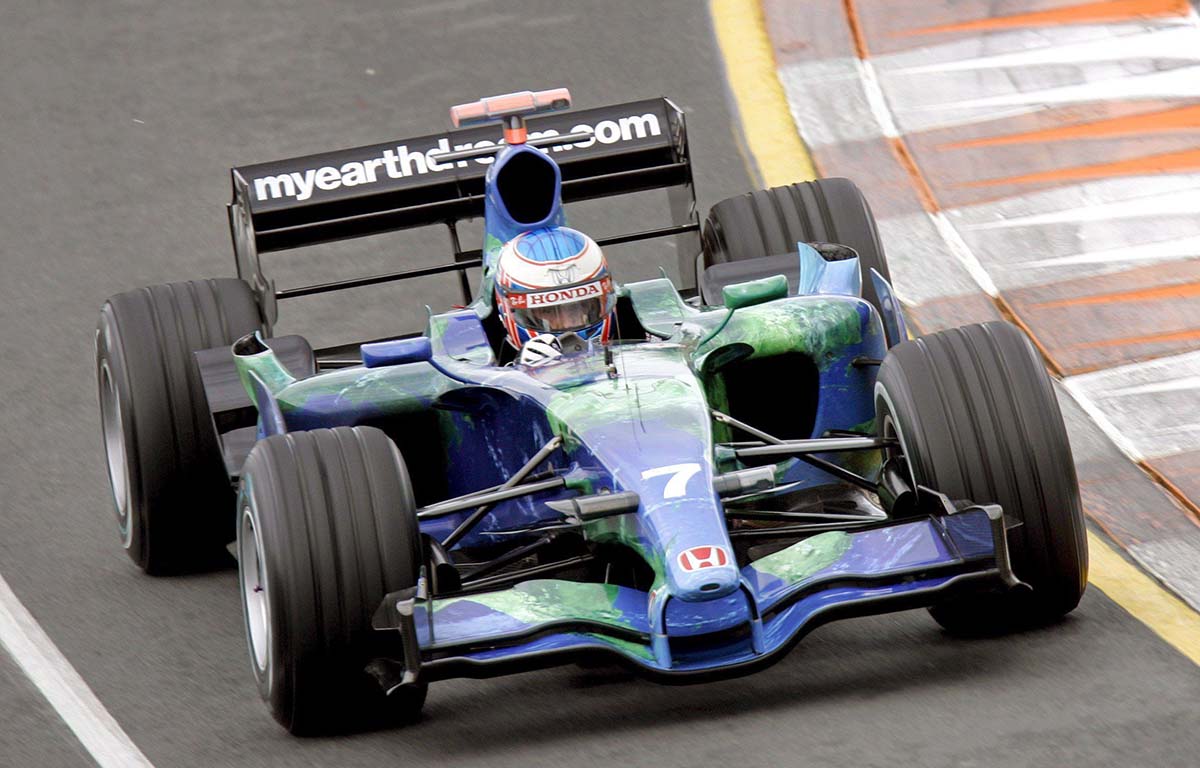 It's that time of year again, we're counting down the never-ending days until Formula 1 returns… but at least we have the upcoming car launches to look forward to…
As we wait to see what stunning machines the teams unveil for their 2021 campaign, we're taking a look back at some of the most weird and wonderful car launches throughout F1's history.
Starting with…
Honda – 2007
A car launch is an F1 team's ultimate first impression, an opportunity to impress the world and perhaps even intimidate your rivals. However, as Honda Racing proved in 2007, it's also an opportunity to make a dramatic statement.
As far as liveries go, their 'Earth car' is one of the strangest in F1 history. The car was covered top to bottom with a map of planet Earth, without a single sponsor or logo, only the words 'myearthdream' across the rear wing.
Honda exclaimed that their livery choice was to stress the importance of Formula 1 becoming a more environmentally friendly sport, a choice that up until then hadn't been taken into serious consideration.
The message was indeed very impactful, but the livery itself looked quite peculiar. If there were any F1 fans who were geography teachers tuning in, this livery was definitely for them. However for most, the lack of a sponsor permanent livery was hard to comprehend.
Jenson Button didn't seem to think so though, as the then Honda driver said: "We have the Earth all over the car, which looks fantastic I must say."
Are you sure about that, Jenson? Turn around, have another look and answer the question again.
Jordan – 2002
Is anyone expecting a delivery? Well, when Jordan revealed their 2002 challenger, team boss Eddie Jordan better had made sure he was home when it arrived, because this parcel certainly wouldn't have fitted through his letterbox.
Midway through a relatively ordinary event at Brussels airport, a message from the control tower announced a "special delivery had arrived for Mr Jordan".
That's when things took a turn for the spectacular, as a huge cargo plane performed a low fly-pass over the event before circling back round to touchdown. Once the plane landed, the side doors opened to unveil its distinct cargo to the world, the Jordan EJ12.
As far as PR stunts go, this one is certainly up there, we just hope no one's flights were delayed in the process.
1997: McLaren MP4-18

The 'Wannabe' world champions launched with help from the Spice Girls 😉

Ginger Spice's allegiances have changed since then 😆#F1 #Unleash2018 pic.twitter.com/46nIjhAT4G

— Formula 1 (@F1) February 8, 2018
Car launches are so much more than removing some cloth from atop of one of the greatest feats of technical engineering.
They're a chance to really entertain and put on a show, something McLaren attempted to do in 1997 at the reveal of their MP4/12.
McLaren, not a team usually accustomed to the showbiz glamour car launches have to offer, opted to have numerous musicians perform live on stage at London's Alexandria Palace, in front of their new creation.
This included their main act the Spice Girls, and once the show ended, drivers David Coulthard and Mika Hakkinen (equally as bemused as the audience) joined the band on stage for an agonisingly awkward Q&A.
Coulthard exclaimed: "I've never seen anything like this before for a car launch."
Team boss Ron Dennis added: "Tonight's event was really quite, unusual."
Indeed it was Ron, indeed it was.
Benetton – 1996
Team boss Flavio Briatore returned Benetton to his Italian roots for the reveal of the B196, by hosting the event at the ancient Sicilian town of Taormina.
The freshly crowned champions took over the municipality, with an extravagant parade being the method of transportation for Briatore, Jean Alesi and Gerhard Berger, who were carried high above the packed streets of onlooking locals on their way to the main stage.
The show was 'proof' that the team could go on without Michael Schumacher, who despite having signed a contract, had left the team for Ferrari earlier that year.
Though the car launch may have just been the most spectacular part of their year, as they failed to defend their crown, claiming no wins throughout the season that followed.
Jordan – 2005
2005: Jordan EJ15

A snow-dusted Red Square in Moscow was the picturesque setting for Jordan's final #F1 car to be revealed to the world 🇷🇺#Unleash2018 pic.twitter.com/GGKYODYzU8

— Formula 1 (@F1) February 8, 2018
Eddie Jordan was at it again in 2005, with an interesting choice of location for the launch of his EJ15.
There was no gigantic aircraft involved this time, just an exceptionally large cathedral and clocktower at Moscow's historic Red Square.
Of all the strange yet splendid locations to host a car launch, this one certainly takes the top prize as their extremely ordinary looking car was perched for all to see in the shadows of the distinctive Saint Basil's Cathedral and Spasskaya Tower.
Despite this, their ridiculously bright yellow team colours definitely stood out on the snow-covered Red Square. Did they stand out in a good way? We'll let you decide…
Sauber – 2004
Sauber Petronas 🇨🇭 2004 #F1 launch (w/ Sugababes)

11. Giancarlo Fisichella 🇮🇹
12. Felipe Massa 🇧🇷

Chassis: C23
Petronas 04A v10
Bridgestone 🅱️

Test: Neel Jani 🇨🇭 pic.twitter.com/JwNMbt18TX

— Motorsports in the 2000s 🇭🇰🇬🇧 (@CrystalRacing) February 19, 2020
McLaren showed us in 1997 how awkward and outlandish musical performances can be at car launches but that didn't stop Sauber in 2004, as they had assistance from another group of musicians.
As the performance began their car took centre stage but was missing all four wheels, thankfully though a group of mechanics rushed on stage to fully complete the C32.
They then removed their balaclavas to unveil that wait, they weren't Sauber mechanics, it was the Sugababes!
A performance from the band then endured but as we know, there's something about car reveals and musical performances just doesn't feel right, at least Sauber tried.
And you've got to hand it to the Sugababes, they did a great job attaching the wheels, we hear Red Bull are looking at signing them as we speak.
AlphaTauri – 2020
The most recent car launch to feature on our list, is last year's lavish launch from AlphaTauri as the fashion brand were determined to give the Toro Rosso team a fresh new look.
Their unveiling of the AT01 was held at Red Bull's Hanger-7 facility in Austria and guests were treated to an unexpected but unique fashion show before the inauguration of their gorgeous white and navy car.
Drivers Pierre Gasly and Daniil Kvyat then took to the stage with team boss Franz Tost for a Q&A.
Gasly was impressed, saying: "It was a pretty cool show tonight, I must say I've never seen anything like this in F1 so it's cool to be a part of it."
Kvyat added: "It's very elegant but it's important that the car is both beautiful and fast."
And that it proved to be, as the team claimed that famous win at Monza through Gasly later that season.
Renault – 2004
We're not sure how many times we need to say this but musical shows and F1 car launches do not mix.
So, when audiences arrived at the 2004 launch of Renault's R24, there must have been an expectancy of an excruciating night as the chosen location was where else but inside an opera house.
Not just any opera house mind you, this was in Sicily's famous Teatro Massimo opera house.
No doubt another seized opportunity by team boss Flavio Briatore, to return to his Italian roots once again.
After Fernando Alonso had taken the new car for a spin around the local streets of Palermo, audiences in the Teatro Massimo were relieved to have been treated to its unveiling without any musical patronage.
There was something quite intricate, though, about seeing a highly advanced Formula 1 car sit within the historic walls of one of Italy's most prestigious opera houses.
Benetton – 2001
Flavio Briatore really did love showing off his Formula 1 teams to the people of his home country. In 2001, it was the floating city of Venice that was treated to the unveiling of his team's B201.
The middle of Saint Mark's Square provided a fitting location for Briatore to place his car inside of a what seemed to be a water tank, for all to see.
However, as the show progressed the tank's four walls were lowered to give a better view of the car's livery and reveal that it wasn't actually inside of the tank after all.
We're sure this was much to the relief of the mechanics and designers, seriously Flavio would a traditional cloth over the top not suffice?
McLaren – 2011
The final car launch to feature on our list is another from McLaren, with their attempt to take a more interactive approach with the public at the reveal of their MP4-26, which was actually quite successful.
The stage was set in the heart of Berlin and the car was brought out, minus a few, let's say, essential components.
Those being, a front wing, Engine cover, side panels and wheels.
That's where the interaction came in as one by one, members of the public who had won a competition brought out missing parts and helped the team put the car back together, it was like a life-size Airfix kit.
Drivers Jenson Button and Lewis Hamilton were of course on hand to help, with the pair exclaiming the enjoyment they had taking part in the innovative event.
Button said: "It was fun today; I think everyone enjoyed it and it was very different to the normal."
Hamilton added: "It was great to bring the public in and try to make them feel a part of Formula 1 and experience something completely new."
Follow us on Twitter @Planet_F1, like our Facebook page and join us on Instagram!