We all love Kimi Raikkonen, or most of us anyway – and the many different reasons one could list for having a place in their heart for 'The Iceman' only goes to prove it.
Sometimes his outbursts and antics leave us in hysterics, other times he leaves us thinking 'yes, he's a bit of a d***'. A lovable one, though.
But, when it comes to Kimi, his racecraft is far from a joke. So, with Monaco 2019 marking his 300th Grand Prix, PlanetF1 took a look back through the Finn's extensive catalogue of races and picked out five of the best in our opinion, of course.
Japan 2005
We'll start with what was arguably Raikkonen's greatest win in Formula 1 – the 2005 Japanese Grand Prix.
A wet qualifying at Suzuka had flipped the grid, leaving the usual front runners at the back, Kimi included who started P17.
Michael Schumacher, Fernando Alonso and Raikkonen alongside his McLaren team-mate Juan Pablo Montoya would make solid first-lap progress, but when Montoya was wiped out by Jacques Villeneuve, all the pressure fell on Raikkonen to score for the Constructors' Championship.
When pole sitter Ralf Schumacher pitted Alonso's team-mate Giancarlo Fisichella had a comfortable lead for Renault, but a fair way back Alonso and Raikkonen were putting heavy pressure on Schumacher.
Alonso, with the lightest car of the three, went around the outside of Schumacher through 130R corner, though he would pit shortly after, and despite Raikkonen and Schumacher continuing to duel, they would emerge from their pit stops ahead of Alonso.
Raikkonen would make his move on the seven-time World Champion, quickly closing in on Jenson Button and Mark Webber, while Fisichella pitted and rejoined just behind this battle.
Button and Webber made their stops, leaving Raikkonen to pump in a series of fastest laps before his stop which put him five seconds behind leader Fisichella – that gap would quickly be demolished by the Finn as he made his move on the Italian around the outside into Turn 1 on the final lap.
It would prove to be Raikkonen's final McLaren victory – but what a way to do it!
Australia 2007
On what was his debut for Ferrari – replacing none other than Schumacher, Raikkonen handled the pressure in true "Iceman" style.
After qualifying on pole, he would get away well, keeping his lead into Turn 1 and never looking back.
A race of total control, Raikkonen would take the chequered flag just over seven seconds clear of Alonso – now driving for the Finn's former team McLaren.
A marker laid down for sure – Kimi meant business.
Brazil 2007
And he would complete said business come the final race of 2007. Raikkonen, alongside the McLaren duo of Lewis Hamilton and Alonso all had a shot of taking the World Championship.
Hamilton was the title favourite in his debut campaign, holding a four-point buffer over Alonso and seven-points over Raikkonen as the season reached its climax at Interlagos.
It was the perfect start for Ferrari's Raikkonen and Felipe Massa who jumped the McLaren's at the start, while Hamilton locked up as he tried to pass Alonso, causing him to drop to P8, before a gearbox issue saw him drop to P18 by the time he could reset his challenger.
Massa would run wide at the Descida do Lago before making his last pit stop on Lap 50, while Raikkonen set record lap times to pit and come out two seconds clear of his team-mate.
He would go on to take the victory – Hamilton's P7 not enough as the Finn took the 2007 World Championship by a single point – he had overturned Hamilton's 17-point advantage over him in just two races!
Belgium 2009
The biggest shock so far that weekend had been the pace of the Force India as Fisichella took pole for the team at Spa – but The Iceman was out to freeze their celebrations.
After qualifying P6 in an F60 which had been well off the pace all season, Raikkonen made it up to P2 before the Safety Car came out following carnage on the first lap.
The Safety Car retreated to the pits on lap five, and Raikkonen instantly closed up to Fisichella through Eau Rouge – passing him on the way into Les Combes.
After his first stop the Italian got to within a second of Kimi, with the Finn retaining his lead after both made their second stops on the same lap.
Raikkonen would go on to victory – the Scuderia's only one of 2009 – The King of Spa struck again!
United States 2018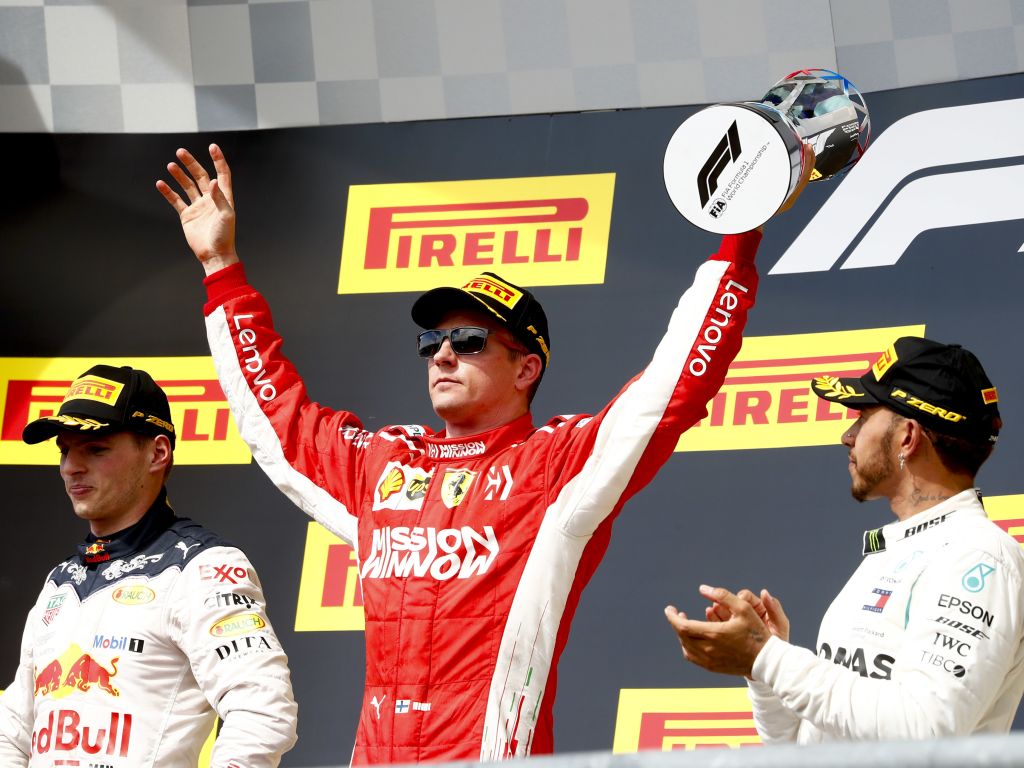 The 2018 United States Grand Prix gave fans around the world what they wanted to see one more time – Kimi on the top step of the podium.
It had been a long time coming as the Finn ended his record 113-race run without a win in Formula 1 after making the one-stop strategy work.
It also proved to be his first win for the Scuderia since rejoining them in 2014 as he just about kept the Mercedes of Lewis Hamilton at bay, who he had passed at the start. Max Verstappen also did his bit to make The Iceman sweat.
The trio were that close together in the final few laps you could have thrown a tablecloth over them – a truly fascinating race.
Follow us on Twitter @Planet_F1 and like our Facebook page.