Remembering Indy and F1's other controversial races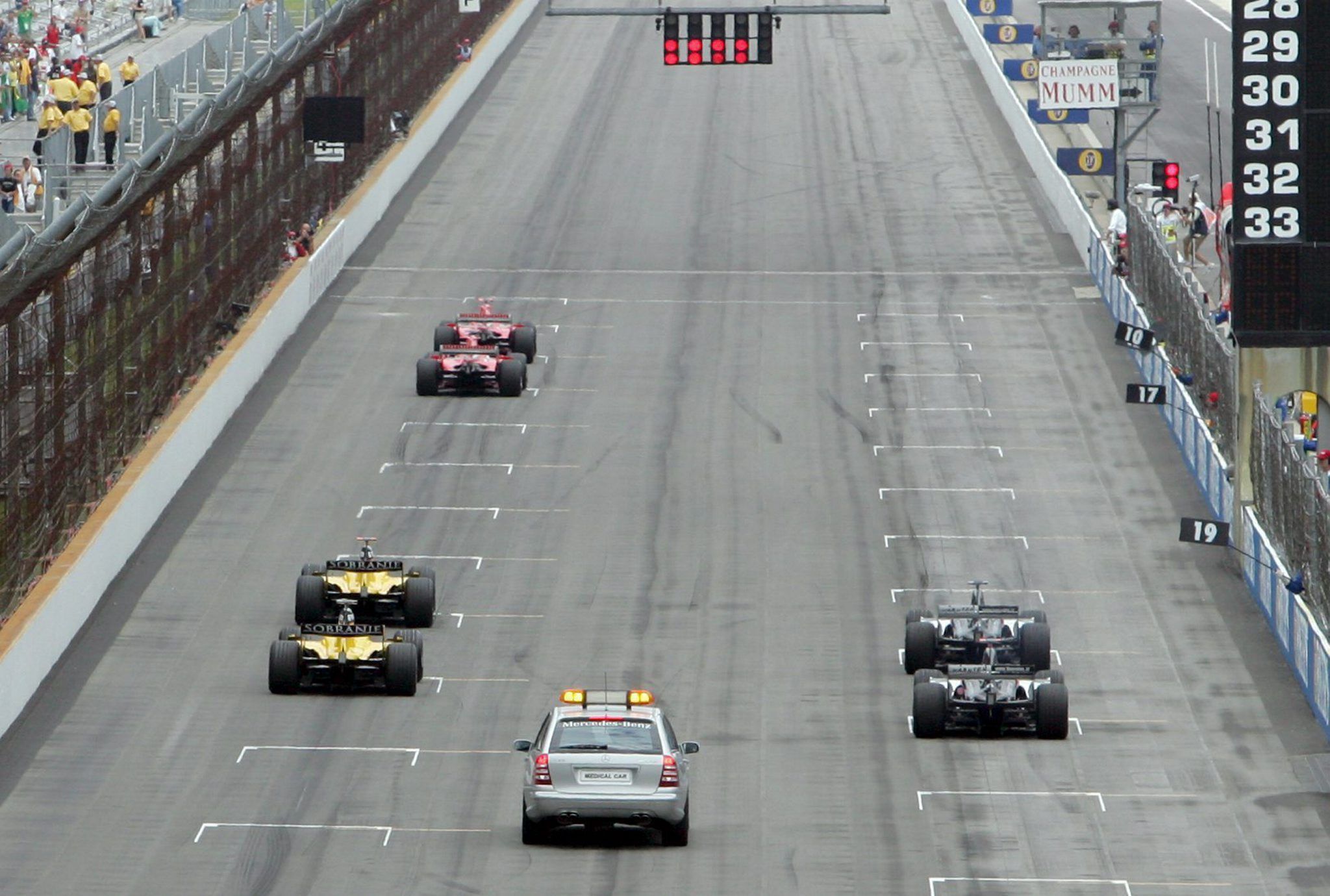 June 19 is the 15th anniversary of Indygate, one of F1's most controversial races. Here, we take a look back at some of the most embarrassing days in the sport's history.
1) 2005 United States Grand Prix
Ferrari feature prominently on our list and they enjoyed a 1-2 at Indianapolis, but this particular controversy was not really their fault.
It was back in the days when F1 had two tyre providers, Bridgestone and Michelin. The latter supplied seven of the 10 teams, several of whose cars suffered blowouts during practice and Ralf Schumacher's crash in his Toyota ruled him out of action for the rest of the weekend.
After various discussions involving team principals, the FIA, Bernie Ecclestone and track officials, the proposed introduction of a chicane, to reduce the load on tyres, was rejected. Thus the Michelin-shod teams, deeming the circuit unsafe, opted against running at race pace on the Sunday.
Hence the bizarre and unsavoury spectacle, at the end of the parade lap, of 14 cars pulling back into the pits rather than re-taking their place on the grid. That left just six Bridgestone runners and, to the sound of boos in the grandstands, Michael Schumacher led home his Ferrari team-mate Rubens Barrichello, with Tiago Monteiro filling out the podium for Jordan.
2) 2008 Singapore Grand Prix
Danger abounds in F1, especially on a street circuit lacking run-off areas. So who on earth would want to crash DELIBERATELY?
Nelson Piquet Jnr, apparently. Well, at least he chose to, having been instructed to do so by his Renault team to help colleague Fernando Alonso.
On lap 14 of the first ever night race at Marina Bay, Piquet's car hit the wall and brought out the safety car, giving Alonso the chance to quickly make up places when the leaders pitted, the Spaniard having stopped for fuel and tyres two laps earlier.
Alonso went on to win the race but was subsequently stripped of victory nearly 12 months later after Piquet 'fessed up, initially in a Brazilian TV interview and then to the FIA.
3) 2002 Austrian Grand Prix
Like Indygate, Schumacher won from his Ferrari team-mate Barrichello. But that's not even half the story.
Barrichello started on pole, with the Williams driven by Michael Schumacher's brother Ralf splitting the two Prancing Horses. However, the Ferraris bossed the race and Barrichello was in control until eight laps from the end when team principal Jean Todt ordered the Brazilian to let his World Championship-chasing colleague through.
Despite Barrichello's protests over the radio, he finally yielded to the switcharoo on the final straight and Schumacher took the chequered flag to a chorus of jeers from the grandstands.
Schumacher handed the winner's trophy to Barrichello on the podium and team orders were banned for the following season.
But not before…
4) 2002 United States Grand Prix
Schumi was clearly still feeling bad about Austria, so he tried to put things right at Indianapolis four months later…yet only succeeded in attracting more negative press.
Again, Ferrari were dominant and recorded their eighth 1-2 finish of a season in which Schumacher had clinched the drivers' title as early as July.
But whereas at the A1-Ring it was Barrichello who had slowed down yards from the finish line to snatch defeat from the jaws of victory, this time it was the German…who appeared to try and contrive a dead-heat as the cars took the chequered flag in unison.
The naked eye could not separate them but the computer gave it to Rubens by 0.011sec – with three decimal places used in F1, a dead-heat is nigh-on impossible to achieve.
A sporting gesture from Schumacher to gift his team-mate a win to make up for the one he had sacrificed in Austria, but still a wholly unsatisfactory outcome for the sport.
5) 2010 German Grand Prix
And still we are not done with Ferrari and team orders. Eight years on, for Schumacher and Barrichello read Alonso and Felipe Massa. And again, it was a Brazilian who was hard done by.
Switching placings to benefit the team was outlawed. Nothing as overt as 2002 could be orchestrated, so it was left to Massa's race engineer, Rob Smedley, to convey the rather pointed message to his man, who was leading the race, of "OK, so…Fernando is faster than you. Can you confirm you understood that message?"
On the next lap, 49 of 67, Alonso overtook Massa and went on to win by just over four seconds from his team-mate.
Ferrari were fined $100,000 for the rule breach but the result was allowed to stand, with Red Bull team principal Christian Horner, whose driver Sebastian Vettel finished third, describing it as "the clearest team order I've ever seen".
6) 1982 San Marino Grand Prix
Finally, we head back to a time when the reigning World Champion was Nelson Piquet, father of the 2008 Singapore villain of the piece. But Nelson never got to drive at Imola that year.
Like Indy 2005, the controversy was caused by technical reasons. Two races earlier, Piquet had won his home event, the Brazilian Grand Prix, ahead of his Brabham team-mate Keke Rosberg, but both were disqualified when it was found their cars' water tanks had been topped up post-race to achieve the minimum weight limit.
In solidarity, four of the leading constructors boycotted San Marino but four smaller teams backtracked on their pledge to do so, forming a grid of 14 cars instead of just six.
However, again, we cannot escape Ferrari team orders. There was confusion between drivers Gilles Villeneuve and Didier Pironi over whether to hold station while running first and second to preserve their cars and fuel. Pironi was seemingly unaware of any script and passed Villeneuve for the win.
After the race, Villeneuve was furious with what he considered a betrayal by his team-mate. "I'll never speak to him again in my life," the Canadian was quoted as saying. Two weeks later, in qualifying for the Belgian Grand Prix at Zolder, Villeneuve was killed.
Jon Wilde
Follow us on Twitter @Planet_F1 and like our Facebook page.