Will Lewis Hamilton taste Turkish title delight?
Lewis Hamilton is used to clinching the World Championship on the American continent – but can now make Turkey the fifth country in which he has secured title joy.
United States twice, Mexico twice, Brazil and Abu Dhabi are where the Briton has been crowned previously.
Now, if he wins the Turkish Grand Prix, or is not outscored by his Mercedes team-mate Valtteri Bottas to the tune of eight or more points, then Istanbul Park will be added to the list of venues where Hamilton has become Formula 1 champion.
Turkey was previously on the F1 calendar in 2011 and has returned, of course, temporarily for now due to the restructure of this season's schedule because of the global health pandemic.
However, the organisers are hoping to get back permanently after their previous residence lasted just seven years and while there is so far no place for them in 2021, the freeing-up of an April slot by the collapse of the Vietnamese Grand Prix could grant an opportunity if they make a success of this guest appearance.
Hamilton has triumphed once in Istanbul, for McLaren in 2010, and recent evidence suggests it will be a big surprise if neither he nor Bottas ends up on the top step of the podium come Sunday afternoon.
Mercedes sealed a seventh straight constructors' World Championship last time out at Imola and while Hamilton's own winning run was, of course, punctuated when he lost out to his ex-colleague Nico Rosberg in 2016, a magnificent seven is what he too is aiming for now.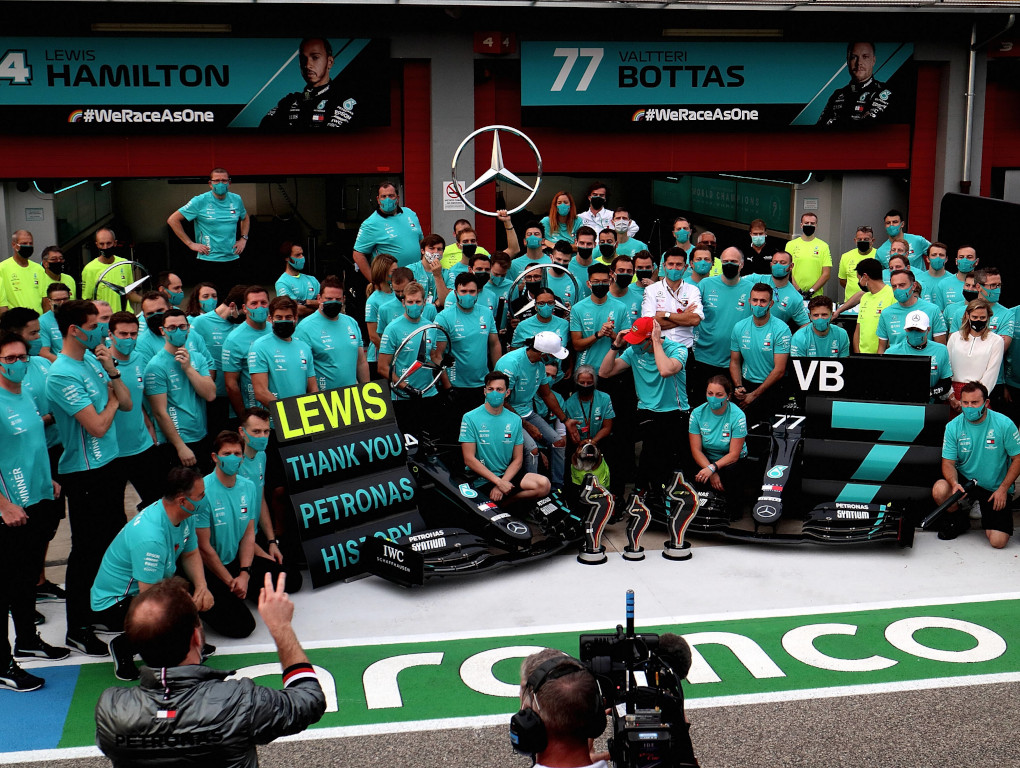 It's a matter of when rather than if, of course, and the likelihood is that the 35-year-old will be celebrating this weekend – even if he finishes second, Bottas would have to win and set the fastest lap in order to keep his minimal hopes alive heading to Bahrain.
Max Verstappen will want to be the fly in the ointment but as the campaign has evolved, the Red Bull driver's triumph at Silverstone in August has looked more and more of an anomaly.
The Dutchman was on course to finish second though – ahead of Bottas, who had suffered floor damage to his car – in the Emilia Romagna Grand Prix when he suffered a puncture and spun out, and will have his fingers firmly crossed that Red Bull continue their habit of previous years in making late-season development gains on Mercedes.
As for Verstappen's team-mate Alex Albon, all he can do is have a clean weekend and try to stay as close to the pace as he can as he battles to hang on to his seat. But it's not looking good for him and any further costly mistakes would surely mean game over.
Eyeing that Red Bull drive is Sergio Perez, who has recently carried Racing Point's fight for third place in the Constructors' Championship single-handedly with Lance Stroll suffering a series of mishaps and also missing the Nurburgring race due to illness.
Perez has displayed admirable consistency to stake his claim for that Red Bull seat, while a little bit more positive activity from Stroll on social media this week has indicated he may be feeling back to somewhere near the form that earned him a podium finish at Monza.
Otmar Szafnauer on Lance Stroll:

"We shouldn't forget this has been Lance's best season in F1 to date. He's not only taken a podium, he's also found a much greater level of consistency. After eight races he was P4 in the standings and on fantastic form."#F1 pic.twitter.com/jQpAvICtRF

— Planet F1 (@Planet_F1) November 10, 2020
Talking of podiums, Daniel Ricciardo is getting used to them again. The Renault driver has finished third in two of the last three races and the experienced Aussie is emulating Perez in the sense of having the upper hand over a younger colleague, in his case Esteban Ocon.
The scrap for P3 in the Constructors' standings could hardly be tighter with Renault one point ahead of both Racing Point and McLaren, and the momentum is with the black-and-yellows among that trio due to Ricciardo's recent exploits.
Not that Renault, Racing Point and McLaren have it all to themselves in the battle to be 'best of the rest' behind Mercedes and Red Bull.
Charles Leclerc can also lay claim to that status, in qualifying especially, and it does look as though Ferrari may just be over the worst of their problems that saw them slide towards the rear of the pack at the end of the summer.
The Monegasque driver does still have a big performance advantage over Sebastian Vettel, however, and rather than repeating his 2011 victory in Turkey, the four-time former World Champion will probably just be happy to take home some points this time.
A particularly interesting feature at Istanbul will be the performance of AlphaTauri after their impressive pace at Imola.
Italian Grand Prix winner Pierre Gasly could well have finished on the podium again had he not been forced to retire with a water leak that was threatening to ruin the engine, having started the race in P4.
The Frenchman's team-mate Daniil Kvyat nearly snatched third position himself from Ricciardo having passed Albon, Perez and Leclerc after the Safety Car had gone back in towards the end – he admittedly had a tyre advantage but also a very quick car.
It could be that AlphaTauri were flattered to a degree on their home track, but if it was a true reflection then their direct rivals ought to beware in Istanbul.
Of this season's perennial backmarkers, Alfa Romeo will be feeling the most chipper after Kimi Raikkonen and Antonio Giovinazzi filled the last two points-paying places at Imola.
Barring anything dramatic unfolding over the last four races, that should have put the Swiss-based team out of the reach of both Haas and Williams in the standings.
That may have been a different matter had George Russell not crashed his Williams behind the Safety Car, but his own contrite reaction and the response of other drivers and team bosses subsequently has only served to uphold the esteem in which he is held.
It's all about doing the business on the track, though, and a strong Russell performance, in the race as well as qualifying, is required to get him properly back on course.
The initial target for the Briton and his team-mate Nicholas Latifi is, of course, finishing ahead of Haas for whom, you imagine, the season's end cannot come quickly enough for they and their departing drivers Romain Grosjean and Kevin Magnussen.
Follow us on Twitter @Planet_F1, like our Facebook page and join us on Instagram!