An emotional Lewis Hamilton produced an archetypal masterclass to claim victory in Istanbul and clinch a record-equalling seventh World Championship.
Here are our conclusions from an unforgettable Turkish Grand Prix weekend that ticked every box Formula 1 has to offer.
Hamilton in seventh heaven
🏆🏆🏆🏆🏆🏆🏆 #F1 pic.twitter.com/RyxE0vCGDf

— Planet F1 (@Planet_F1) November 15, 2020
It was never in doubt really, was it?
Even when he was 24 seconds off the lead in the early stages, was anyone but Lewis Hamilton ever going to win the Turkish Grand Prix?
We're joking, of course. There were numerous potential victors during the course of the race, but the now seven-time World Champion is such an outstanding talent that his spectre looms large over all of his rivals even when things may not be going his way.
That was certainly the case in the first third, or even half, of the 58 laps at Istanbul Park as Mercedes, as had been the case all weekend, were struggling to get their tyres up to optimum temperature on a newly-resurfaced track that lacked grip and had been doused by a pre-race shower.
But as we have seen so often before, the race came to the 35-year-old Briton as the intermediate tyres began to work and he was able to pull off a one-stop strategy, ultimately coasting home more than half a minute clear.
Not only was it win number 10 of a shortened season for Hamilton, there was never any question that the title would be wrapped up with three races to spare as the only man who could keep the chase alive, his team-mate Valtteri Bottas, was simply nowhere.
Indeed, there was the ultimate humiliation for the beleaguered Finn, who spun several times, as he was lapped by Hamilton – and then admitted over the team radio he "wished there were less" than the four laps he was told were remaining.
The question for the rest of the grid is: "Just how can Hamilton be stopped?"
There is now a sense of inevitability about his domination, even on days when everyone else must sense this is the time he can be beaten.
It was the same with Michael Schumacher in his heyday and it is entirely appropriate that Hamilton now stands alongside the German as F1's two greatest ever champions.
With 94 wins to Schumacher's 91, however, and surely more to come, there can no longer be any doubt which of them has the edge.
'The Postman' continues to deliver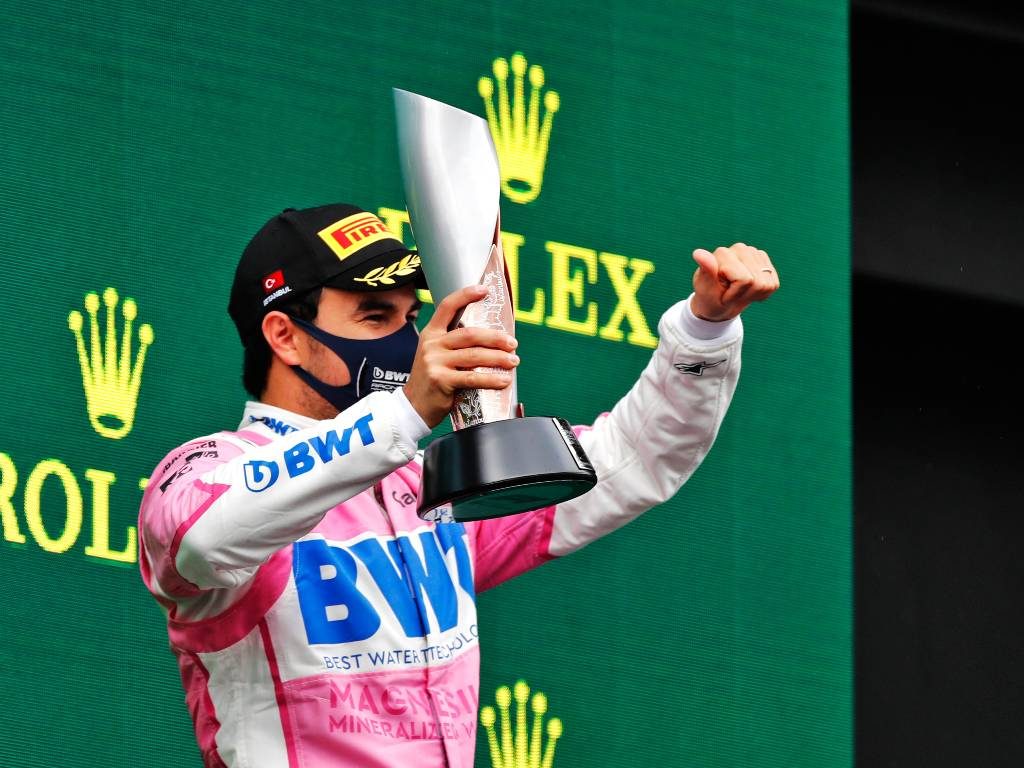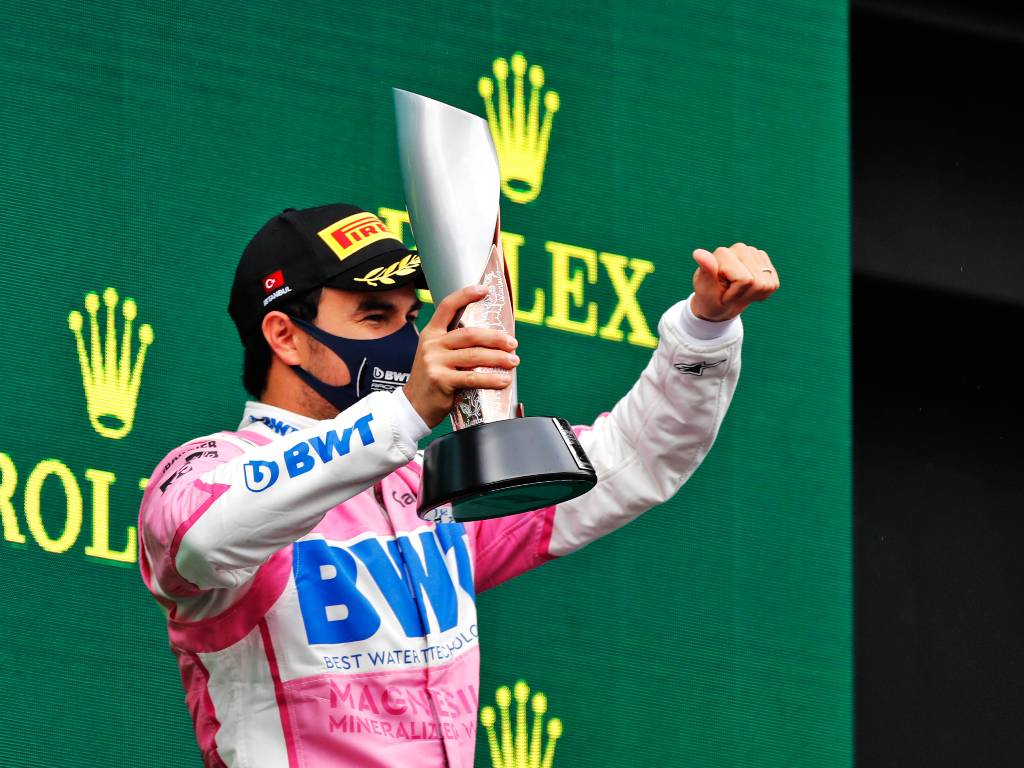 On a day that promised so much for Racing Point, with a one-three grid start, it was yet again Sergio Perez who lived up to his newly-acquired nickname of 'The Postman'.
A bit like Ryder Cup golfer Ian Poulter who was given the same tag, Perez delivered points – but also a podium finish as, like Hamilton, he made a one-stop strategy work for him.
It was another triumph for experience as the Mexican, who ran second for the vast majority of the race, allowed his younger team-mate and pole-sitter Lance Stroll to have his moment in the opening stages before the Canadian increasingly fell away after his pit-stops.
In the end, Perez was under severe threat from Charles Leclerc for his runner-up position but forced the Ferrari driver into a mistake and hung on for his best result since the 2012 Italian Grand Prix for Sauber.
Yet again, it highlights how absurd it is that Perez is without a drive for next year, having made it a remarkable 18 consecutive points finishes at grands prix he has contested.
All is not lost, but either Red Bull will need to take the very enticing bait being dangled by the 30-year-old or he will need an unforeseen twist of fate to remain in Formula 1 next season.
Vettel's still got it
WHAT YEAR#TurkishGP pic.twitter.com/9NENvB2iFr

— tami. (@Vetteleclerc) November 15, 2020
A dreadful last year at Ferrari may just end on a high note for Sebastian Vettel, although the circumstances in Turkey certainly played into his hands.
In fairness, the Scuderia fared better than most of their rivals at adapting to the unique conditions, certainly on Friday if not during a wet qualifying session.
But a great start from P12 boosted the German and he had the pace to run in the top five throughout, holding off Hamilton for a spell, before being handed a long-awaited podium appearance when his team-mate Leclerc lost out in trying to get past Perez on the last lap.
In a race when young guns Stroll, Leclerc, Alex Albon and Max Verstappen all threatened to be on the podium at least, it was perhaps no coincidence that a trio of thirtysomethings received the trophies up for grabs in one of the trickiest F1 races of recent times.
For Vettel, it was validation that he still has what it takes to rebuild his damaged reputation as a racer, following such a poor campaign, when he moves to Aston Martin for 2021.
Red Bull blow big chance
LAP 18/58

HUUUUGE moment for Max 🤯

He gets wayward in Perez's spray and spins, flat-spotting his tyres#TurkishGP 🇹🇷 #F1 pic.twitter.com/oIKvVJkofW

— Formula 1 (@F1) November 15, 2020
From Friday onwards, this looked like being Red Bull's weekend, in their 300th F1 race, to celebrate that landmark by achieving only a second win of 2020 with Mercedes being on the back foot.
However, neither Verstappen nor Albon were able to drive a clean race, albeit it was being able to make their tyres last – and, of course, committing no costly errors – which was the factor that ultimately proved key for Hamilton and Perez.
Verstappen was off the road several times and his spin when trying to pass Perez on lap 18 was the beginning of the end of his victory hopes.
Albon also looked to have a chance at one point, admittedly before the halfway mark had been reached, but in a race that provided him with a fantastic opportunity to potentially ensure he extends his Red Bull career, a spin on lap 34 was another setback.
It was perhaps not the ideal occasion to draw conclusions about Albon's prospects, but the last thing he needed was to see Perez standing on the podium when he had hoped to have been there himself.
And finally…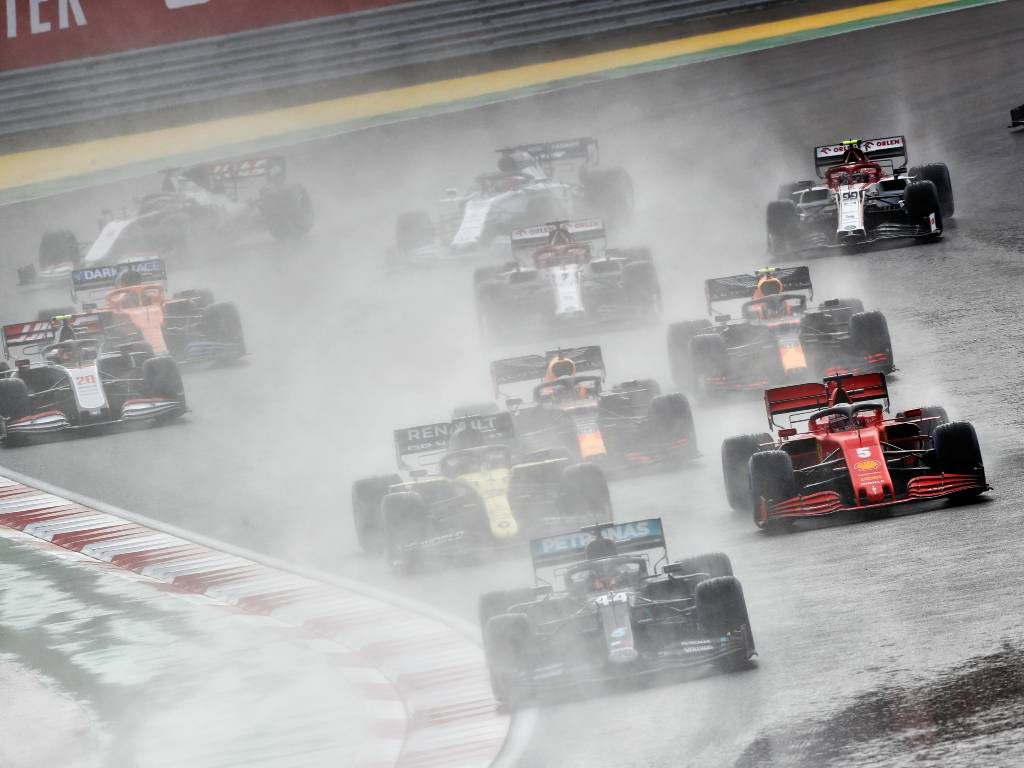 …don't we wish all races were like this?
There have been some fairly dull grands prix this year (Spain, Styria), several good ones (e.g. the two at Silverstone) and a couple of absolute crackers (Monza and Istanbul).
This was, of course, very different to the Italian Grand Prix won by Pierre Gasly and, if anything, all the more rewarding because it did not feature a Safety Car or red flag.
The natural elements of the weather and time of year, combined with a circuit that had not been visited by F1 for nine years and had just been resurfaced, came together to provide the sort of entertainment that all fans of the sport crave.
And a result that made history, with a remarkable performance by Formula 1's supreme competitor, made it a weekend few will forget in a hurry.
Jon Wilde
Follow us on Twitter @Planet_F1, like our Facebook page and join us on Instagram!