Driver ratings from the Turkish Grand Prix
Lewis Hamilton made history with a vintage performance, and he wasn't the only one to rise to the immense challenge of the Turkish Grand Prix.
Here's how we think every driver handled the changing conditions and constant chaos of Istanbul Park.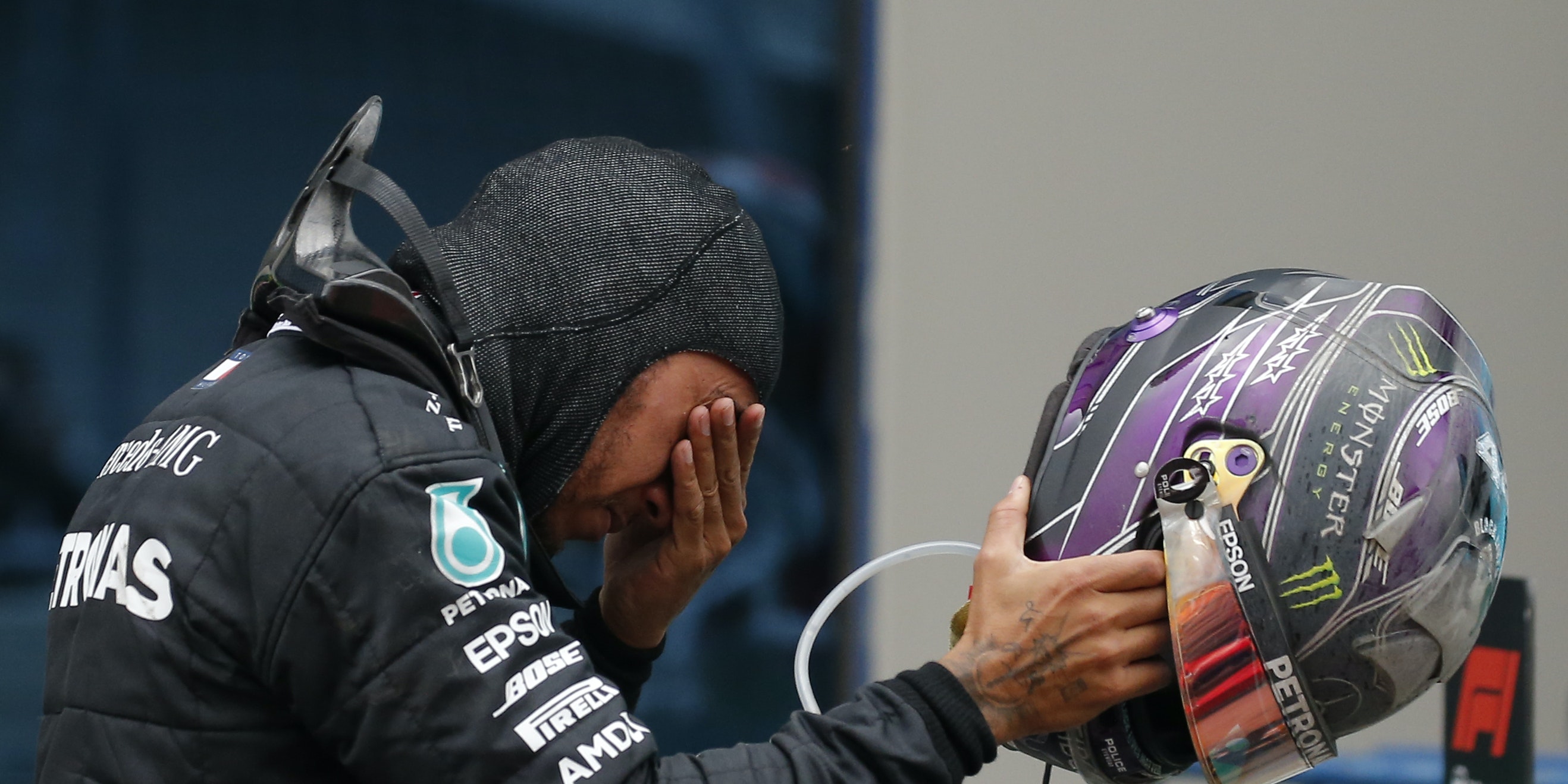 Lewis Hamilton: During the first stint, Hamilton was around 25 seconds off the lead. The fact that he ended up winning the race by an even bigger margin is quite remarkable, and a fitting way for him to win title number seven.
He made doing so much harder than it had to be at the start when, after moving up to P3 thanks to a good getaway, he went wide and was passed by Sebastian Vettel and the Red Bulls. The Mercedes man pulled off the undercut to get back ahead of Albon but lost the position again when he tried to pass Vettel and went off.
It was clear that he didn't have the outright pace or confidence on the brakes to pass those ahead. However, he was one of the few drivers not to make any major mistakes in the second half of the race and nursed his tyres excellently. Because of this, as others in front of him spun and/or pitted, he climbed up the order and took the lead from Perez on lap 37.
The Brit then pulled away from the Mexican rapidly, lapped his team-mate and built a lead so big that he had a free pit-stop. Fearing a repeat of 2007 China though, he opted to stay out and crossed the line on absolutely destroyed tyres with a lead of almost half a minute to match Michael Schumacher's record. What a drive, and what an achievement. 10
Sergio Perez: With Lance Stroll taking pole position and leading the opening stages of the race, Perez, somewhat disappointingly for him, looked set to play second fiddle to his team-mate. As has so often been the case in his career though, he managed his tyres better than anyone – perhaps except Hamilton – to secure an excellent result.
The Mexican immediately gained a place and, while he couldn't initially keep up with Stroll, he pulled away from those behind. His strong pace meant that, even with a poor pit-stop, he rejoined ahead of them. Verstappen caught him but spun trying to get past, and he quickly began to chase his team-mate down. By the time the Canadian pitted, Perez was less than a second behind and quicker.
Stroll's struggles on his new set of tyres made it clear that, if he could, making his old set of inters last to the chequered flag was Checo's best bet, and he did just that. He didn't have the pace to fight Hamilton, but did enough to stay ahead of the Ferraris and secure the joint-best result of his career, moving into P4 in the Driver's Championship in the process. 10
Sebastian Vettel: We've been waiting all year for the old Sebastian Vettel to show himself again, and at Istanbul Park, he finally did, with his best drive in a long, long time.
The German started as he meant to go, gaining nine positions (!) on the first lap. So often in recent years, he's ended up facing the wrong way when under pressure in tricky conditions, but here, he was flawless defending against Max Verstappen, staying ahead until Ferrari called him into the pits.
His chances of a podium looked to be gone when Verstappen pulled off the undercut on him and Alex Albon then overtook him on track. However, he regained a place when the former went spinning and began to catch the latter, who would soon do the same.
However, a top-three finish still looked out of reach as, due to a poor pit-stop and inferior pace, Vettel was overtaken by Charles Leclerc. Nevertheless, he stayed close behind and was rewarded for his efforts on the final lap when the Monegasque went wide after trying to pass Perez and the German squeezed through to take P3. 10
Charles Leclerc: Leclerc will undoubtedly have mixed feelings about his result. Before the race, he would have taken P4 in a heartbeat if it was offered to him. At the end of it, he was beating himself up over recklessly throwing a podium away.
He struggled far more than his team-mate to work his way up the order in the opening stages and was down in P14 when he pitted on lap 7. On fresh inters though, his pace was excellent, so much so that by lap 16, with everybody having made their first stop, he was up to P9.
He was the first man to come in for his second set of tyres and quickly became the fastest man on track. Such pace saw him move up to P3 with 10 laps left. With Vettel close behind, he caught Perez and went for a move at the end. It proved too ambitious, and he ended up missing out on a podium. Even so, while he started and finished the race poorly, he was excellent for the rest of it. 8.5
Carlos Sainz: With Racing Point doing so well, Sainz had to deliver more than ever in order to keep McLaren in the fight for P3 in the Constructors' Championship, and he did just that.
Starting in P15, the Spaniard immediately gained six places and by lap 5 was running well in P8. He maintained a steady pace and remained error-free to rejoin there after making his first pit-stop.
His second stint was even better. With drivers ahead of him spinning or struggling to get their tyres to work, Sainz had no such issues and steadily made his way up the order with strong pace and some clean overtakes to finish in P5 and take home 10 crucial points. 9
Max Verstappen: Verstappen was not in a good mood after missing out on pole position in qualifying, and how his race panned out wouldn't have made him feel much better by the end of the weekend.
The Dutchman got bogged down at the start, thus being passed by Perez, Hamilton and Vettel. Hamilton's mistake moved him back up to P4, but he couldn't find a way past the Ferrari and therefore lost ground to the front two. He then told his team not to pit him too early, and his advice paid off when he pulled off the undercut to pit and rejoin in P3 ahead of Vettel.
At that point, he was all over the back of Perez and the favourite for the win. However, he got too close to the Mexican and spun. To make matters worse, he'd flat-spotted his tyres and was forced to pit again. All chances of a podium, let alone a win, were gone, even more so when he spun yet again late on.
Finishing in P6 after two spins and three pit-stops isn't a bad result all things considered, but given his pace, it would and should have been much better if not for his two major mistakes. 5
LAP 18/58

HUUUUGE moment for Max 🤯

He gets wayward in Perez's spray and spins, flat-spotting his tyres#TurkishGP 🇹🇷 #F1 pic.twitter.com/oIKvVJkofW

— Formula 1 (@F1) November 15, 2020
Alex Albon: At one point, Albon looked to be in an excellent position to win the race and all but secure his Red Bull seat for next season. Unfortunately for him though, he couldn't make the most of what was a huge opportunity.
At the end of the first lap, he was looking good in P5, largely keeping up with his team-mate, and stayed there for the entirety of his first stint. He then lost a place to Hamilton in the pits but quickly got back past when the Brit went wide. He then made easy work of Vettel and moved up to P3 when Verstappen spun.
Perhaps it was the pressure of a win being within reach, but things went downhill from there. He went spinning when close behind Perez and was passed by Hamilton. That forced him to pit for new tyres and put him behind the Ferraris. He was then passed by Sainz and lost P6 to his team-mate at the end. What could have been… 5
Lando Norris: A bad start ended his chances of achieving a result as good as his team-mate's, but given he started down in P14, crossing the line in P8 is still a strong result.
His prospects looked bleak early on as he ended up down in P15 after five laps. Nevertheless, he put his head down and found some decent pace to fight his way up to P10, thanks to an aggressive but fair move on George Russell and mistakes from Kevin Magnussen and Bottas.
He looked set to finish there, but Daniel Ricciardo went off late on to hand him P9, and he then snatched P8 from Stroll with another good move. Looking at where Sainz ended up, he'll rue his bad opening laps, but his recovery was impressive. 8
Tough pill to swallow today but we showed what we can do this weekend. P3 in the Constructors' 👊

Congrats to @SChecoPerez on the podium 👏 pic.twitter.com/MySjM1UiMh

— Lance Stroll (@lance_stroll) November 15, 2020
Lance Stroll: A race of two halves if ever there was one. At one point, Stroll looked more than likely to become a Formula 1 race winner after a seemingly flawless 30 or so laps. And then things went very wrong, very fast.
It was his first time starting on pole, but you wouldn't have guessed it from his calm and composed getaway. He then stormed away from the rest of the field, opening up a gap of 10 seconds by lap 15. He maintained this lead after the first round of stops, but it soon became apparent that he had perhaps been driving too fast.
While Perez was being conservative and looking after his tyres, Stroll hadn't done so and therefore had to pit on lap 37. After rejoining, he couldn't switch on his new set of inters and began to plummet down the field. He deserves credit for his excellent pace and handling of the tricky conditions, but his inexperience showed with his lack of tyre management. 7.5
Daniel Ricciardo: Stroll wasn't the only one who struggled to get his second set of tyres working. Ricciardo suffered the same fate, causing him to finish in a disappointing P10.
For the first half of the race, it looked as if he'd do much better. After surviving a Turn 1 nudge form Hamilton that sent him into his team-mate, he settled in P7 and looked fairly comfortable there when he came in to change tyres.
However, he hugely struggled on his second set, both in terms of pace and wear, causing him to lose three places. A race to forget for the Aussie, especially considering it caused him to drop down two places in the Drivers' Championship. 5
Esteban Ocon: It's hard not to feel sorry for Ocon. He finished four places down on where he started with no points to his name, but through no fault of his own.
He made the best start of anyone to fly up to P3 just before Turn 1, but the Frenchman was then clipped by his team-mate and ended up spinning, therefore dropping to the back of the field. Then, Bottas hit him at Turn 9, causing a puncture and ending his chances of a decent finish and putting him a long way back.
Given his opening lap, finishing in P11 is actually quite an impressive feat. Without such incidents, he most likely would have beaten his team-mate and scored decent points. 7
Daniil Kvyat: I'm not going to lie, I don't think I saw Kvyat once during the race and probably couldn't have told you a thing about his race before reading up on it.
In his own words, it wasn't a very eventful day for the Russian. He didn't have the car to get close to those ahead but was at least mistake-free which, in a race where so many went spinning, is no mean feat. 6
Pierre Gasly: Everything said about Kvyat also applies to Gasly. There really isn't much to say about the AlphaTauri boys' races. 6
Valtteri Bottas: I'll give him a few marks for making it to the finish line which, on such a track in such conditions is an achievement in itself, but Bottas really couldn't have driven any worse.
Staying in the title fight was always going to be a long shot, but he ended any chances he had almost immediately as he spun at Turn 1 and then hit Ocon a few corners later. After getting back up to the verge of points, he then spun again, and again, and again, and again, and again. Seriously, by the end of the race, he'd gone spinning six times.
As I said, I'll give some credit for making it to the chequered flag and not crashing or succumbing to dizziness, but it was a really, really bad showing from the Finn, and being lapped by Hamilton was one of the low points of his time at Mercedes. 3
And lapped 😆 pic.twitter.com/iLS8kaYA0t

— tami. (@Vetteleclerc) November 15, 2020
Kimi Raikkonen: After being one of the stars of qualifying, Kimi was somewhat anonymous in the race, failing to get involved in the fight for points. This was largely due to the shortcomings of his car rather than his driving though. 6
George Russell: Once again, it briefly looked like Russell was in with a chance of scoring his first point, and once again that chance quickly disappeared. This time though, he wasn't to blame.
Quite simply, he never had the car to be in P11 in the first place, and dropping down the order was somewhat inevitable. All in all, while he didn't out-perform the car like he often does, it wasn't a bad showing either. 6
Kevin Magnussen: The fact that Magnussen will be disappointed about dropping out of the top 10 shows what a strong race he drove.
A customary excellent start saw him move up to P10, and he stayed there throughout his first stint thanks to some signature defensive driving.
However, all his good work was undone when he came into the pits and his team had issues fitting a wheel-nut, thus dropping him down to P17. He deserved better. 7
Did not finish
Romain Grosjean: After a decent run in which he often got the better of his team-mate, that wasn't the case in Turkey as Grosjean struggled to keep control of his car. When he was forced to retire after colliding with Nicholas Latifi, he was probably relieved. 5
Nicholas Latifi: He would have wanted to be closer to his team-mate before he was forced to retire, but neither Latifi nor Williams will be losing sleep over his performance. There's not much he could starting from the pit-lane in a poor car. 5
VIRTUAL SAFETY CAR (13/58)

Giovinazzi's luck runs out – he pulls over with an issue and retires from the race#TurkishGP 🇹🇷 #F1 pic.twitter.com/gK89sRMLHS

— Formula 1 (@F1) November 15, 2020
Antonio Giovinazzi: The only times I saw Giovinazzi on race-day was when he crashed on his way to the grid and when he retired 13 laps in, so there's not much to say here. N/A
Finley Crebolder 
Follow us on Twitter @Planet_F1 and like our Facebook page.