Conclusions from the Tuscan Grand Prix
A madcap afternoon at Mugello ended in familiar style with a Mercedes/Mercedes/Red Bull podium, Lewis Hamilton beating Valtteri Bottas and top-three first-timer Alex Albon.
Here are our conclusions from a crazy first ever Tuscan Grand Prix that featured two red-flag stoppages.
One out of three no good for Bottas
From pole to chequered flag. A straightforward win for Lewis Hamilton 😁

A first-ever #F1 podium for Alex Albon!#TuscanGP 🇮🇹 pic.twitter.com/rgEeYBrpcW

— Planet F1 (@Planet_F1) September 13, 2020
Bad luck and Bottas have gone together like fish and chips this weekend. The Finn was thwarted in his pole-position bid on Saturday when a yellow flag halted his final run, and fortune was also against him in the race.
There were three standing starts in all. Bottas nailed the first to get past team-mate Hamilton; on the second, the World Champion did the same to him, roaring into the lead from P2 on the grid to lead into Turn 1. The big problem for Bottas, though, was the third and final start.
What the 31-year-old needed to do was exactly what he and Hamilton had each done earlier in the afternoon from the same grid slot. But this time it did not for work for Bottas, so much so that he was even overtaken by Daniel Ricciardo in the Renault and temporarily dropped to P3.
There were still 13 laps remaining, but that was effectively race over. And it essentially summed up the difference between the two Mercedes drivers – why Hamilton is a soon-to-be seven-time World Champion and Bottas, you suspect, will never have what it takes to capture the title.
It's certainly all done for this year, with Hamilton now 55 points ahead in the standings. The Briton has an exemplary record of executing and continues to have his wingman Bottas exactly where he wants him.
As the old song goes, two out of three ain't bad (not that Meatloaf was referring to F1 starts). Bottas was unlucky that carnage behind him at the Safety Car restart caused the first red flag. But ultimately, a record of one out of three off the grid proved to be no use at all.
Albon's podium relief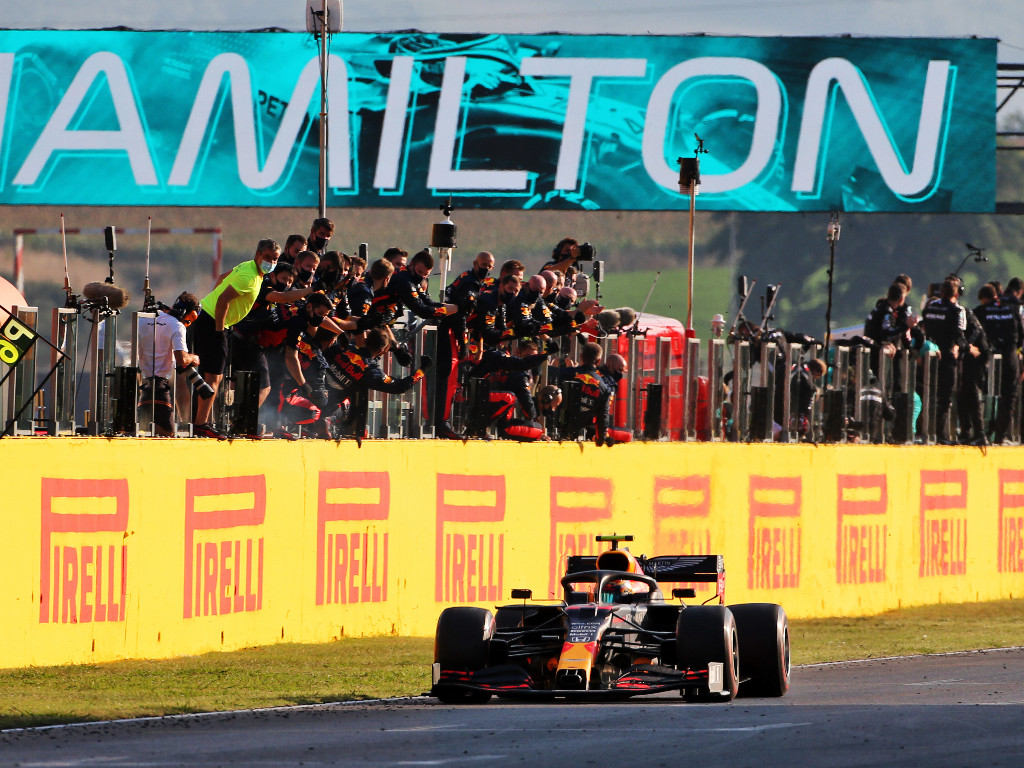 "Thanks for sticking with me," said Alex Albon to his Red Bull team over the radio after claiming his first F1 podium with a creditable third position.
Occupying team-mate Max Verstappen's regular step on the rostrum after his Red Bull colleague had exited early, the London-born Thai driver was by no means a clear 'best of the rest' behind the Mercedes duo but he pulled off the move required to bag that important P3.
Lance Stroll, until he crashed out, and Ricciardo were also bang in contention for the podium. But in the closing 13 laps which were like a sprint race all of their own, Albon got past the Australian to further prolong the Cyril Abiteboul tattoo story which, frankly, is becoming a bit of a yawn now.
For that matter, Albon must be bored of all the talk about his Red Bull future. You wonder just what he needs to do to lay it to rest completely – a win, maybe? – but this result will definitely have helped.
And it could not have come at a better time, just a week after the man with whom he swapped jobs last year, Pierre Gasly, achieved such a memorable success at Monza.
For Gasly, it was simply ghastly at Mugello as he failed to even reach Q2 in qualifying and then, along with Verstappen, was among the first two drivers to retire after an incident on lap one.
The Frenchman will hope for a better showing at Sochi, but perhaps a week off to recharge the batteries is just what he requires.
A thousand problems for Ferrari
And now Albon in the Red Bull charges past Leclerc's Ferrari with ease for P5.

Sadly Ferrari's 1000th race is going more like we expected it to after Charles' great start. #TuscanGP pic.twitter.com/ckcTrJiIVc

— iGP Manager (@iGPManager) September 13, 2020
This was, of course, a race subtitled the Ferrari 1,000th Grand Prix and there was all manner of pomp and ceremony surrounding F1's most iconic manufacturer.
Everyone knew Ferrari would not be competing at the front on a circuit they own, but frankly there was very little to encourage the various bigwigs who were on hand to celebrate such a notable landmark in the company's illustrious history.
If there was any good news, it was that Charles Leclerc and Sebastian Vettel avoided the melees that punctuated the early part of the race and that the special burgundy-liveried cars both made it to the finish intact.
But again, even though Leclerc started P5, the Scuderia were simply not competitive. Leclerc was a sitting duck when the rivals behind him had DRS on the straight while Vettel was pretty much an also-ran, the pair ending up in P8 and P10 respectively.
Any positive moments this year have been accomplished purely through Leclerc over-achieving and extracting every last ounce from a car he succinctly summed up afterwards as "too slow".
Russell robbed of first points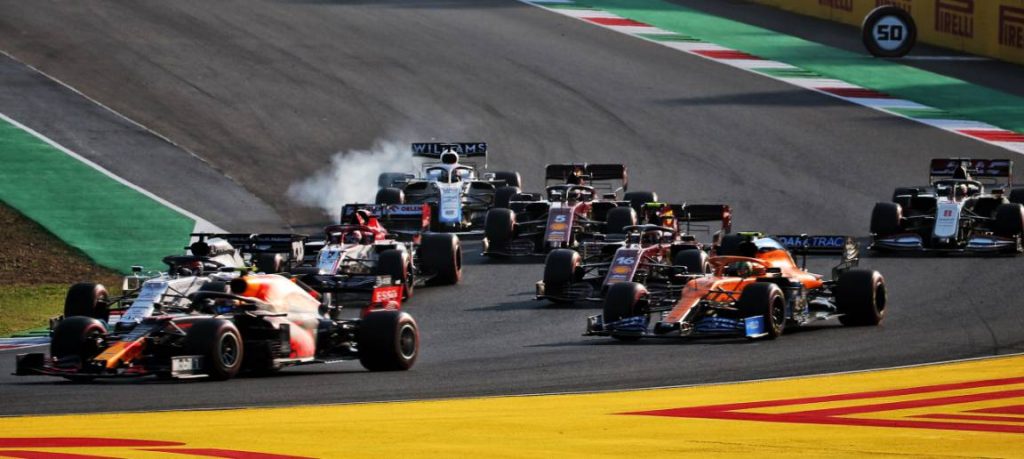 This one comes into the 'is it just me?' category.
I may well be missing something here but is it really fair that when cars have been lapped, for a restart they can then unlap themselves and race everyone else on equal terms?
That's what happened with Kimi Raikkonen and Romain Grosjean during the second red-flag period. Ultimately, for Grosjean it did not matter because he finished P12 and last anyway.
But Kimi, who was a lap down before Stroll's crash forced the race to be stopped for a second time, suddenly found himself running P8 after the final restart and even though he incurred a five-second penalty for an illegally late dart into the pit-lane, he still finished P9 – ahead of Vettel and George Russell.
Now, you could say that Russell, who was seeking a first-ever F1 points finish, only had himself to blame for messing up his last restart and dropping to the back.
And, of course, you have to factor in that the rules decree that even if someone was leading by, say, 45 seconds, that advantage would be wiped out by a Safety Car or a red flag. That's just the way it is.
It just doesn't seem fair that someone who has been lapped is suddenly back on the lead lap, a matter of seconds behind the leaders, after a race has been neutralised or paused.
On that basis, the regulations cost Russell, who had been quick enough to comfortably hold Vettel at bay during the less eventful mid-section of the grand prix.
Races like this, with lots of retirements, are manna from heaven for the 'backmarker' teams and Williams will certainly be frustrated to have gone home with nothing.
Jon Wilde
Follow us on Twitter @Planet_F1, like our Facebook page and join us on Instagram!