The 2020 Tuscan Grand Prix will live long in the memory of each driver on the grid, but which ones will look back on it fondly?
Just 12 of the 20 drivers survived the chaos at Mugello, but which ones thrived? Here's what we think…
Lewis Hamilton: Hamilton wasn't flawless, as he made life harder for himself by losing the lead to team-mate Valtteri Bottas at the start, but once he retook it, he was completely in control.
He did so with a sweeping move on the Finn after the first of the two mid-race standing starts and immediately began to disappear into the distance as he so often does. All of his hard work was undone when the race was stopped for the second time, but he was unfazed. Again, he nailed his restart, pulled away and set the fastest lap of the race for good measure.
Race number eight confirmed the 2020 campaign will be an official World Championship season, and Hamilton is set to win it. Bottas will be criticised for not challenging him, teams will be criticised for not challenging Mercedes, but looking at how he's driving, it's hard to imagine how anyone could stop the Brit on his charge to his seventh title.  9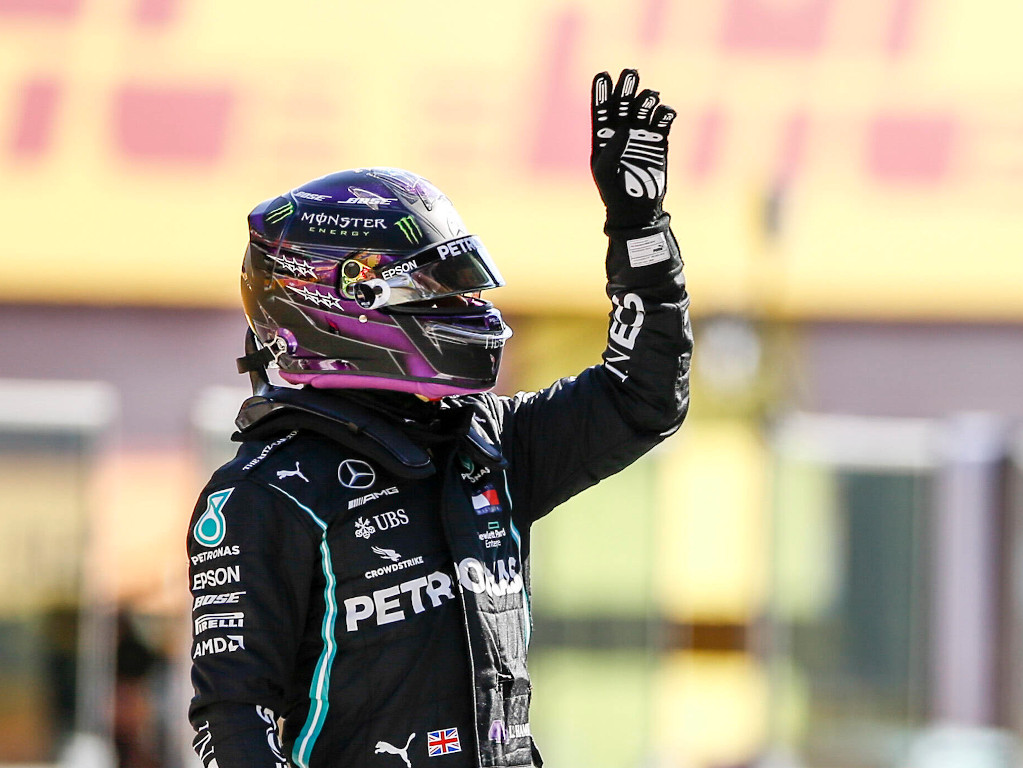 Valtteri Bottas: It's hard not to feel some sympathy for Bottas. He looked set for a good crack at pole position before yellow flags took it from him, and then after making up for it with an excellent start, had the lead he built taken from him too. That being said, he had the chance to get himself back into contention for the win and ultimately failed to capitalise.
After being passed by Hamilton at the first restart, he couldn't match the leader's pace and longed for a Safety Car on the team radio. He got his wish with 15 laps to go as the race was stopped, and had the perfect chance to strike back and show what he was made of. However, he didn't deliver at the oh so crucial restart and went backwards rather than forwards.
He did at least quickly get back into P2 but again couldn't put Hamilton under any kind of pressure and was briefly in danger of being passed by Albon. When you're in the best car on the grid by far, the only driver you can be compared to is your team-mate and, as has so often been the case, Bottas just wasn't in the same league from Lap 9 onwards. 5 
Alex Albon: Pierre Gasly's win in Monza meant the spotlight was firmly on Albon at Mugello, and the pressure on him only grew when Max Verstappen retired on Lap 1. How did the Thai driver respond? By putting in one of his best performances since joining the grid.
It didn't initially look like that would be the case as he spent the opening stages stuck behind Lance Stroll and Daniel Ricciardo before struggling at the first restart. However, he soon found more pace than both of them and put them under pressure. When the Canadian crashed out, causing another Red Flag, anything less than a first podium for Albon would've been a disappointment.
He delivered, making an excellent move on Daniel Ricciardo to take P3. Once there, he never looked in danger of dropping back and even hassled Bottas. It was  harder than it had to be with some poor getaways off the line, but that appears to be more of an issue with the car rather than predominantly Albon's fault.
It was an excellent race for him nonetheless. 8
Daniel Ricciardo: Ricciardo was awarded Driver of the Day by the fans, and rightly so. He may not have got the podium he so desperately wanted, but there's nothing more he could have done.
Another standing start brought him into the clutches of the Red Bull of Albon, and even with a perfect launch off the grid, there's nothing the Aussie could do to hold onto his position.
Instead, he had to settle for P4 yet again, which is an excellent haul of points in itself. In the last few races, Ricciardo has reminded the world just how good he is. 9
A P4 finish for @danielricciardo – matching his best-ever result for @RenaultF1Team 👏

And you have voted him as your Driver of the Day! 👊#TuscanGP 🇮🇹 #F1 pic.twitter.com/tj8f0NjSUP

— Formula 1 (@F1) September 13, 2020
Sergio Perez: After being somewhat harshly dumped by Racing Point, Perez would have been keen to show everyone what he was capable of this weekend. Finishing in P5, he'll be happy with how he did.
With his Racing Point, lacking the updates his team-mate had, not being as quick as the Renault of Ricciardo and the Red Bull of Albon, the Mexican spent the entire race battling Lando Norris, and it was a battle he won thanks largely to his ability to pull off the undercut.
He also made a few neat moves on the Ferrari of Charles Leclerc and maintained his record of scoring points in every race he's started this season. Someone give this man a seat for 2021. 7
Lando Norris: Before the race, he and McLaren would have happily taken P6 if offered. However, with Sainz retiring early, Perez was the only man he was fighting for most of the race, and he'll be disappointed not to have come out on top.
He did score eight points that will be crucial in the Constructors' fight for P3 in the standings, but that was largely due to DNFs for many of the cars who would have finished ahead of him. Like we said, not a bad race for Lando, but he's had better. 6
Daniil Kvyat:  In such a chaotic race, it's impressive how incident-free Kvyat's was. Starting in P12, he ended the first lap in P9 thanks to the incidents ahead of him and stayed there comfortably.
When more carnage ensued, he again kept his nose clean and moved up to P7 where he finished. There's not much else to say, it was just a really solid, steady drive on his part, although he may have been partially to blame for the Lap 9 incident… 7
It was a very difficult race, both physically and mentally, so I think we can quite proudly say as a team we didn't make any mistakes, which is great. It was important to get some good points, so I'm happy with the result and I'm pleased with my driving. 1/2 #F1 #TuscanGP 🇮🇹 pic.twitter.com/bzXFQHDFMn

— Daniil Kvyat (@kvyatofficial) September 13, 2020
Charles Leclerc: Leclerc had Ferrari fans dreaming when he managed to qualify in P5, and those dreams only grew when he ended up in P3 after the first few laps. Sadly, it was all downhill from there.
There was little he could do about his plummet down the order as everyone that passed him simply had a much faster car. However, he'll be disappointed with his getaway after the second Red Flag, which saw him lose out to Kimi Raikkonen and get stuck behind the Finn, costing him a chance to pick up more than just four points. 6
Kimi Raikkonen: Given how many incidents he was caught up in, Kimi would have been happy to just finish the race. To do so and score two points in the process is an excellent achievement.
He spent most of the race languishing outside the top 10, and points looked impossible when he was handed a five-second time-penalty for entering the pits late. However, he flew off the line at the final standing start to get up to P8 and then had enough pace to build a five-second gap to Sebastian Vettel. A masterclass in opportunism. 9
Sebastian Vettel: The best part of Vettel's race weekend would have been when it was confirmed that he'll be at Aston Martin next season. Judging by his race performance, both he and Ferrari will be looking forward to parting ways.
The fact that he spent most of the race fighting the Williams of George Russell is bad enough. The fact that it was a battle that he lost on-track is even worse.
He finished ahead of the Brit and claimed the final points-scoring position, but only because the final Red Flag played into his hands. With 15 laps to go, he couldn't challenge Raikkonen or even get within five seconds, and instead had to defend against Russell. At this point, we're all longing to see him get a new start with a new team because things are bad. 4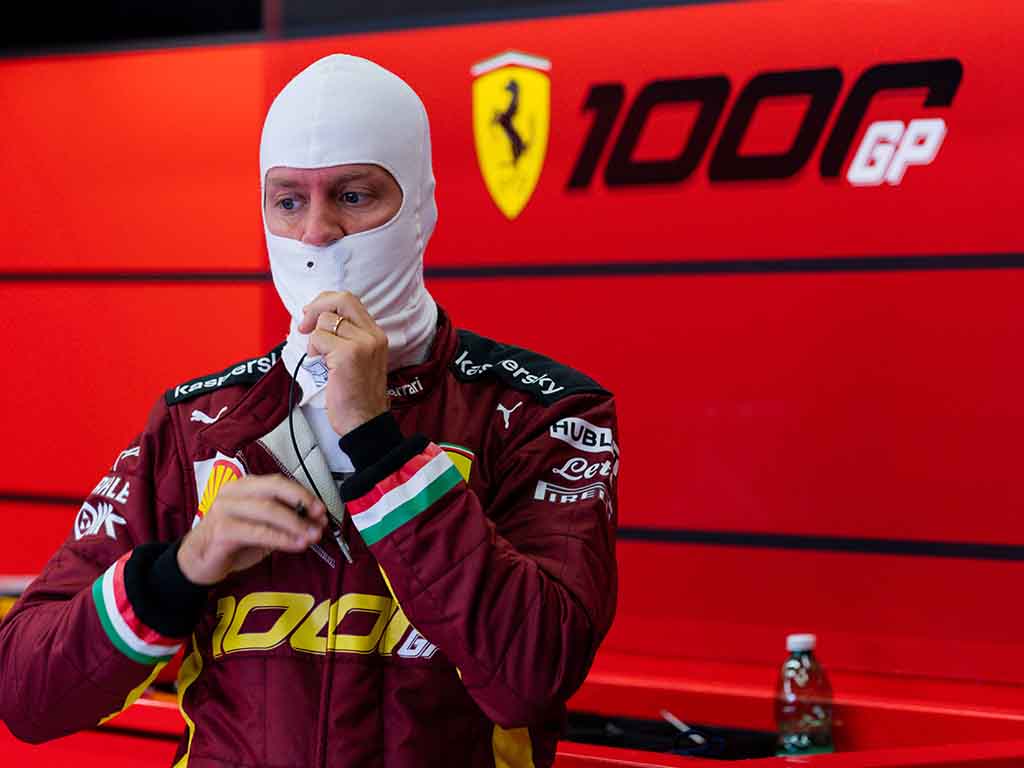 George Russell: This should have been the race that poor old George finally scored his first points in F1. He stayed out of trouble, had good enough pace and did pretty much everything right. All his hard work was undone by a poor restart when it really mattered, but if he drives like that every race, he'll surely finish in the top 10 before the end of the year. 7
Romain Grosjean: Even more so than Raikkonen, Grosjean deserves some credit merely for surviving. He was punted off into the gravel at the start but somehow got back on track, and was right in the middle of the pile-up at the restart, but somehow made it through.
However, his car had been hugely damaged on Lap 1 and he was, therefore, the slowest man left running. Despite this, he almost pulled off a miracle when he jumped up to P9 after the second Red Flag, but, unlike Kimi, he couldn't hold on. 6
Did not finish 
Lance Stroll: On another day, Stroll could have quite easily made it two podium finishes in a row. When he crashed out on Lap 44, he had driven a strong race and was slowly catching Ricciardo. It wasn't meant to be as a suspected puncture sent him into the barriers, but he looks a better driver every week. 7
Esteban Ocon – N/A
A brake issued forced him to retire after the first Red Flag on Lap 9. Before it, he was running in the points.
Nicholas Latifi – N/A 
One of four drivers who had their race ended by the extremely messy restart under the Safety Car.
Lap 7 restart at Mugello = carnage 😮 💥

Four drivers = OUT

And all four walked away unscathed, thankfully 🙏#TuscanGP 🇮🇹 #F1 pic.twitter.com/d8crtpUa9H

— Formula 1 (@F1) September 13, 2020
Kevin Magnussen – N/A 
He made a good start and had gained a few places when the first Safety Car came out. Then he got on the gas too early at the restart, and that was that.
Antonio Giovinazzi – N/A 
See above.
Carlos Sainz – N/A
Given he had an Alfa Romeo fly into the back of him and over the top of his car, Sainz will just be happy he escaped unscathed from what was something of a freak incident.
Max Verstappen – N/A 
The Dutchman looked to lose power before Turn 1 and dropped back into the crowd where he was shunted by Raikkonen. A disappointing end to a weekend in which, judging by qualifying, he looked capable of fighting for the win.
Lap 1 chaos at Mugello – and early exits for Max Verstappen and Pierre Gasly 🙈 💥#TuscanGP 🇮🇹 #F1 pic.twitter.com/k6YtcV0maU

— Formula 1 (@F1) September 13, 2020
Pierre Gasly – N/A
After a stunning win in Monza, Mugello brought Gasly back down to earth with a bang. He perhaps could have been more cautious at the first corner, but there's little he could do to avoid being taken out.
Finley Crebolder
Follow us on Twitter @Planet_F1 and like our Facebook page.