Revealed: The most underrated driver on the F1 2023 grid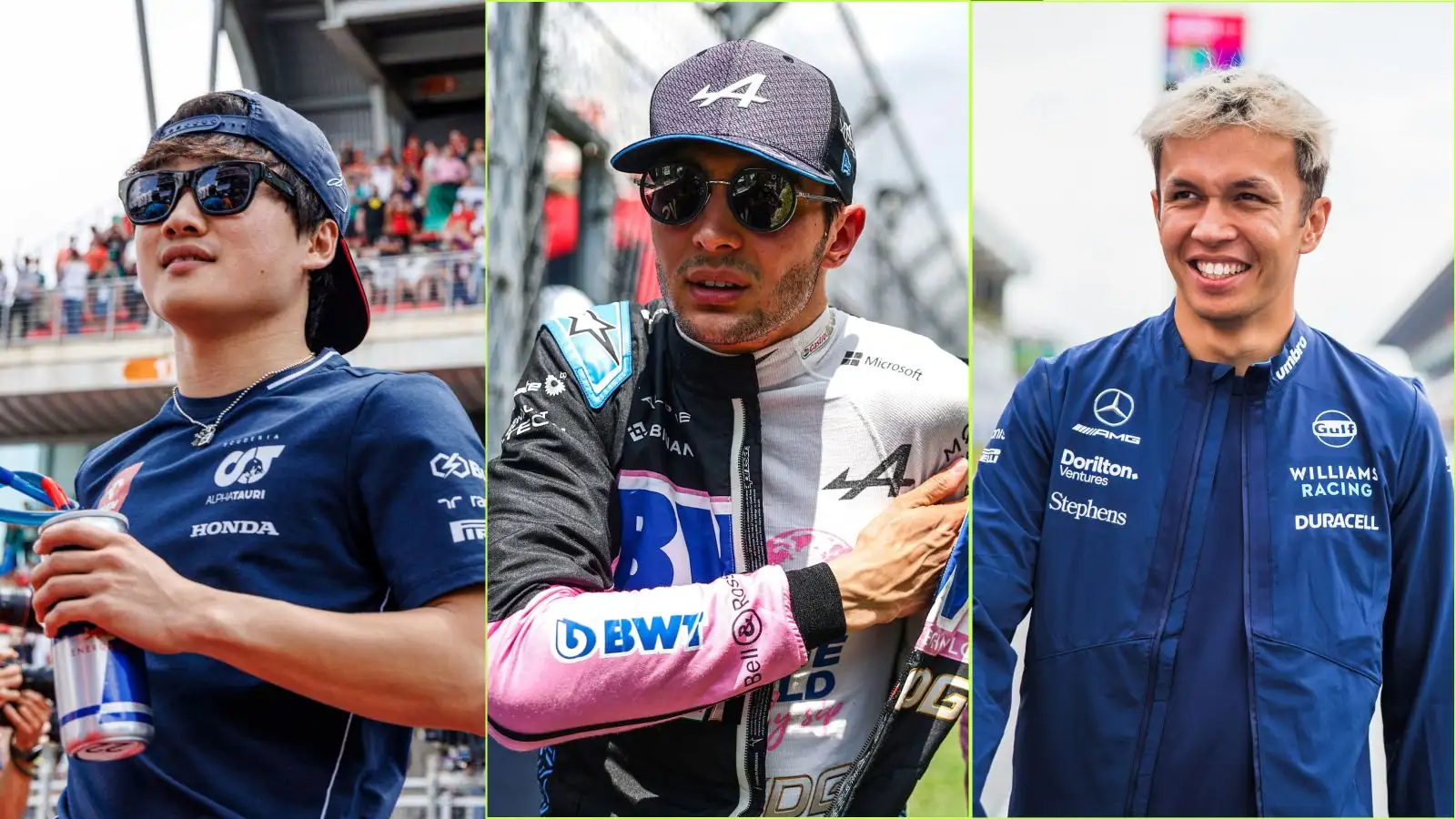 While the likes of Max Verstappen and Fernando Alonso are always going to catch the eye, PlanetF1.com asks who is the most underrated driver on the F1 2023 grid?
When you are not crossing the line first or finishing on the podium, it is often easy to be overlooked in terms of your driving ability but let us not forget that to even be in Formula 1, you have to be one of the best drivers on the planet.
Even if you are racing for a backmarker, you will have spent thousands of hours in a go kart, hundreds of hours in a single seater and a similar amount of time in your team's simulator.
In honour of some of the forgotten faces of F1, we here at PlanetF1.com thought we would shine the spotlight on who we believe is the most underrated driver on the current grid.
But first, here are some honourable mentions:
The contenders
Yuki Tsunoda – AlphaTauri
Best finish: P4 – Abu Dhabi 2021
Starting off this list is a man whose future in F1 looked a little more shaky just a few months ago. Yuki Tsunoda began the 2023 season with plenty expecting him to be playing second fiddle to new arrival Nyck de Vries but in reality, the reverse has happened.
Tsunoda may only be on two points but his performances in 2023 have been deserving of much more. Three P11 finishes and a P9 in Spain only for that to be harshly demoted to P12.
There is also a good argument that of the three F1 cars Tsunoda has driven so far, two of them have been duds and only 2021's AT02 gave him any chance of consistently scoring points.
Despite the car being underwhelming, the Japanese driver has gone from looking like someone on the edge of an exit to a potential teammate for Max Verstappen at Red Bull and should he continue with the same high level of performances, his points tally will be far more than two come the end of the season.
Alex Albon – WIlliams
Best finish: P3 – Tuscany 2020, Bahrain 2020
Speaking of Red Bull drivers, another man deserving to be on this list is Alex Albon. The British-Thai driver was one of a number to experience the ignominious exit from Red Bull but like Pierre Gasly, he has gone on to land on his feet.
After spending a year as Red Bull reserve driver, of which time his most memorable contribution was a report that Red Bull had him recreate the infamous Verstappen-Hamilton clash at Silverstone as part of their appeal, before moving back into full-time racing with Williams in 2022.
Since then, he has certainly rebuilt his reputation in a car that has often not given him the tools to compete.
It took him just three races to score a point with the team and he needed just one race in 2023 to match that feat.
Earlier in the season when the FW45 looked stronger, Albon was constantly challenging amongst the points even if his current tally does not reflect that.
He is 27 now, the 10th oldest driver on the grid, so by no means a rookie anymore and should he continue to impress at Williams, time may come when some of the bigger teams take an interest in his services.
Pierre Gasly – Alpine
Best finish: P1 – Italy 2020
Another man to survive the bumpy fall through the Red Bull trap door is Pierre Gasly. After his departure midway through the 2019 season, the Frenchman rebuilt his career at AlphaTauri, securing the team's first and currently only win since their rebrand as well as a podium at the 2021 Azerbaijan Grand Prix.
But as the performance of the AlphaTauri car slumped following the 2022 regulations, Gasly hit a ceiling with how far he could go at Red Bull's sister outfit and soon was angling for a move away.
An initial one-year extension was later replaced by a move to Alpine and Gasly has found it hard to hit the ground running.
Back-to-back P9s in the opening two races were followed by two pointless grands prix but he does now appear to have hit a bit of form including a P4 in Spain's qualifying before impeding penalties moved him down.
Deciding where Gasly lies on the F1 drivers' talent chart is difficult and even if he is a step away from the upper echelons, he is certainly a driver many teams would be glad to have in their garage.
Esteban Ocon – Alpine
Best finish: P1 – Hungary 2021
Another man who is rarely mentioned in terms of the sport's better drivers is Esteban Ocon. If there is one thing the Frenchman should be known for, it is his improvement. In his debut full season with Force India, he finished eighth but after being let go following the team's acquisition by Lawrence Stroll in 2019, Ocon's future in F1 looked very uncertain.
He spent a year on the sidelines before getting another chance with Renault, partnering Daniel Ricciardo. He would finish 12th that year, including a podium in Sakhir, and finished one spot better in the 2021 campaign, a year which included his first F1 win.
In 2022 he moved to P8 and achieved the impressive feat of beating team-mate Fernando Alonso on points over a season, one of the rarest F1 achievements there is.
Now at 26, Ocon has developed into something of a Mr Dependable. Taken from the start of his career, he averages a P9 finish and in 2023, he added a Monaco podium to his list of achievements.
The Frenchman is unlikely to earn a move to the likes of Ferrari, Red Bull or even back to the team that raised him in Mercedes but his performances over the last few years have proven how talented he really is.
PlanetF1.com recommends
Five records key members of the Red Bull team could soon break
Revealed: The most underrated driver on the F1 2023 grid
PlanetF1.com's choice
Nico Hülkenberg – Haas
Best finish: P4 – Belgium 2012, South Korea 2013, Belgium 2016
While the other four drivers mentioned are worthy contenders, there could truly only be one name topping this list and that is Haas' Nico Hülkenberg.
After the 2019 season and having been dropped for Esteban Ocon, it looked as if the German's F1 career was dead and buried.
He was 33, holder of the unwanted record of most races without a podium and facing a future out of the sport he first started nine years beforehand.
Hülkenberg kept his eye in as it were with reserve driver roles at Racing Point and then Aston Martin. That led to some super-sub appearances, most notably at the 70th Anniversary Grand Prix in 2020 where he qualified P3 before slipping down to a P7 finish so when Haas were on the lookout for an experienced driver who still had his superlicence, Hülkenberg emerged as a leading candidate.
But still, expectation was rather low. With the focus more on the departure of Mick Schumacher, plenty thought Hülkenberg would play second fiddle to Kevin Magnussen who had impressed in his own comeback season in 2022, but so far it has been anything but.
Hülkenberg has outscored Magnussen six points to two, has frequently been seen battling inside the top 10 and has generally performed above everyone's expectation except those in the Haas garage.
Trackside engineering director Ayao Komatsu said it best: "Nico has brought exactly what we were looking for.
"From Abu Dhabi testing, it was really clear that he can feel the car really well, so his feedback is very accurate, he's very calm and he rarely makes mistakes. Even when things are less than ideal, he just stays calm in the car and gives you the feedback in real-time which doesn't put engineers on edge, it means they can just focus.
"Whenever he's running, we can get a decent amount of data and he is able to somehow comment on car behaviour in a way that engineers can relate to. He's really accelerating our development and our set-up direction, and Kevin is benefitting from that as well."
At 35 and with Haas contract set to expire at the end of 2024, the Hulk may not have many years left in F1 but he has certainly shown he is not there to make up the numbers. Achieving it in this year's Haas may be a tough ask but to finally score his first podium would be the fairytale ending he is after.