So it's arrivederci to Maurizio Arrivabene. But have Ferrari made the right decision? Here are some of our readers' reactions…
The wrong man for the job
Sorry but everything Ferrari has achieved while he sat on the perch was in spite of him.
His greatest accomplishment in racing before landing the TP role was hanging out with the team for years ensuring the Marlboro branding was prominent enough to be felt by those wanting to see it.
While he was cordial and seemingly nice enough, he was never the right person for the job, as he has zero engineering experience from which to be able to make informed decisions that help the team in any way.
This is a league where having a well experienced and QUALIFIED individual can make all the difference when things are close and last minute decisions can cost teams dearly.
I wouldn't want someone who's mind is likely more focused on when he can get a drag off a cancer stick than trying to rack his brain struggling to understand why engineers are making all these decisions all around you.
That's what I got from watching him and Ferrari the last four years.
F1 Mercenary
Politics, politics, politics
I don't quite understand this one.
The team went forwards every year he was in charge and I feel that in both engineering and operational terms they surpassed Mercedes this year, and the championship only eluded them because of a few individual errors by Vettel
I fear the old Ferrari internal politics have reared their ugly head again – the BBC article has alluded to a power struggle between Binotto and Arrivabene to fill the void left by Sergio Marchionne – and that this could undo the strong progress that has been made over the past few years.
Being a good team principal requires a lot more than just being a good engineer.
Let's see if Binotto is up to the task.
J Man
The blame game
Ferrari did improve under him, but while he was at the helm there were numerous questionable decisions made on various race weekends. I am afraid that falls on him.
Binotto was always the guy people said was responsible for Ferrari's uprising anyway.
But for example, Kimi getting pole in Monza and hence being allowed to win, is not the way Ferrari usually operates considering the championship was very much alive and well at that point.
That in my opinion may have been one of the major reasons why he was let go.
Kleefton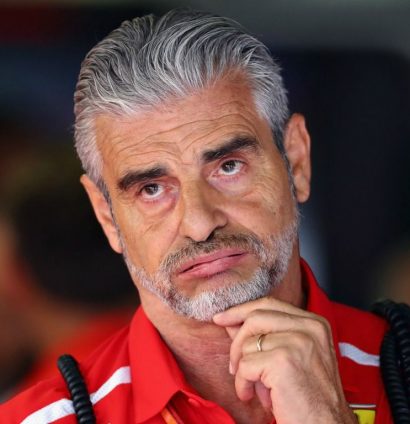 Arrivabene an uninspiring team principal
Arrivabene never struck me as the kind of guy who would inspire others to produce their very best, although I can easily picture him putting the fear of god into his under-performing underlings.
Ferrari are now going to try putting an engineer in charge of their race team. It's a crazy idea, but it might just work.
Good luck to Binotto, I hope he can help steer his team to success and avoid yet another boring season of Mercedes utter dominance.
Klevispin
The difference has been night and day
Strange and sad decision for me.
After taking over from Domenicali (I won't count Mattiacci since he was a hatchet man, not given a chance to make a difference) – the difference has been night and day.
My only gripe with him is that he hanged for so long to keep Kimi in the team and that he didn't realize Vettel is not bringing the title home unless Ferrari have consistently the best car on the grid with some margin.
VDV23
Looking at the bigger picture…
100% the right decision. MA is far too involved with the Vettel hype, it's like Horner and Max, strange love.
Here is hoping Binotto will focus more on the bigger picture than one particular driver. We will see.
All I can say is… go Charles! You might come second to Lewis…
Ed
Vettel should go next
Frankly it is all Vettel's fault.
He drove a very good car in 2017 and 2018 but made rookie mistakes and handed the title to Hamilton easily.
Alonso or Ricciardo would have achieved a much better result in 2018 because Hamilton was not driving exceptionally great either. He still lost races to Verstappen.
Vettel should go next.
JJ Zee
[playbuzz-item item="1ce3ca52-1123-40ba-9ff2-65b64831d2a3″ info="false" wp-pb-id="238413″]
Join the discussion over on the PlanetF1 forum here or head to the comments section down below…
Follow us on Twitter @Planet_F1 and like our Facebook page.