US Grand Prix 2021: Time, TV channel, weather, live stream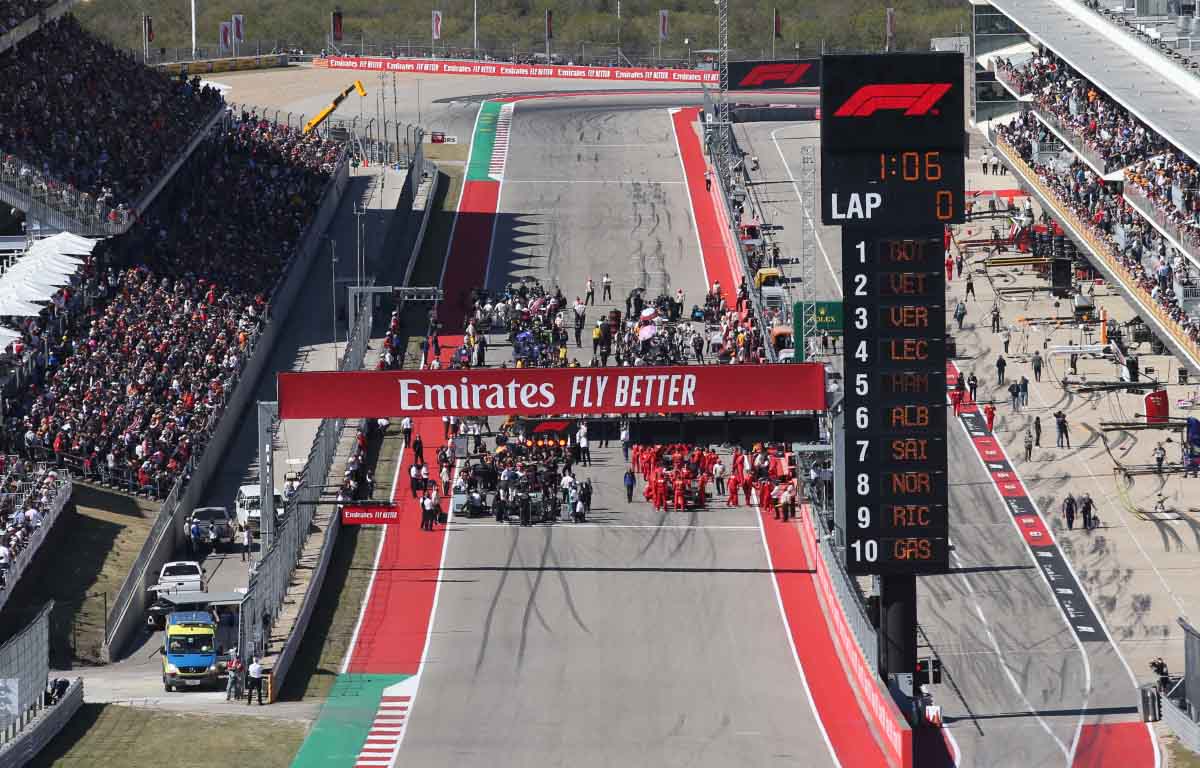 Six rounds remain in the 2021 title fight, and Red Bull head to the US Grand Prix desperately in need of an answer to Mercedes.
In a thrilling title battle which has ebbed and flowed between the two rivals, Mercedes struck the latest blow with a dominant display in Turkey.
Valtteri Bottas took the chequered flag comfortably, and were it not for some fierce defence from Sergio Perez and Yuki Tsunoda before, Lewis Hamilton may well have recovered from his 10-place grid drop to a podium spot, or even the win.
What is for certain, Red Bull are concerned over Mercedes' blistering pace in a straight line, so desperately need a strong showing at the Circuit of the Americas to calm any late-season jitters in their title bids.
Here is everything you need to know ahead of the 2021 United States Grand Prix…
When is the 2021 US Grand Prix?
Practice 1: Friday October 22, 1130-1230 (1730-1830 UK time)
Practice 2: Friday October 22, 1500-1600 (2100-2200 UK time)
Practice 3: Saturday October 23, 1300-1400 (1900-2000 UK time)
Qualifying: Saturday October 23, 1600 (2200 UK time)
Race: Sunday October 24, 1400 (2000 UK time)
🔟 years ago… 😲 Oh, how you have changed @COTA 🇺🇸 pic.twitter.com/2zwmki24HE

— Red Bull Racing Honda (@redbullracing) October 18, 2021
Where does the 2021 US Grand Prix take place?
The Circuit of the Americas (COTA) has been on the Formula 1 calendar for almost a decade, and the 3.426-mile anticlockwise Hermann Tilke-designed circuit was laid out with the intention of using elements from some of the most popular corners from tracks around the world, to effectively create a 'super-circuit' in Austin.
The sweeping Turns 3, 4, 5 and 6 are meant to replicate the famous Maggots and Becketts section at Silverstone, while the long drag around Turns 16, 17 and 18 is meant to be a right-handed replica of Turkey's infamous Turn 8.
Drivers enjoy the challenge of the flowing circuit with a tricky, technical final sector and, with plenty of elevation change to boot – particularly the uphill slope to the hairpin of Turn 1 – and the track has been treated to iron out some of the bumps which have emerged over time, meaning drivers are likely to be able to push harder this year.
With that combination, it's hardly surprising that Austin has become a staple destination in Formula 1, and plenty of other series too.
MotoGP, IndyCar, Endurance racing, GT3 and NASCAR are all among the machines to take to COTA, making it a versatile motorsport venue all year round.
Where can I watch the 2021 US Grand Prix?
For UK viewers, every session, from the start of FP1 to the end of the race, can be found on pay-TV broadcaster Sky Sports. A live stream of their coverage can also be accessed via Now TV.
Highlights of both qualifying sessions and the race will be shown on free-to-air broadcaster Channel 4.
If you have F1 TV Pro, you can watch all the action live from Austin. Please check to see if F1 TV Pro is available in your country.
Subscribers to the official F1 app can access live data throughout the race weekend and listen to radio commentary there on race day.
PlanetF1 will carry live timing and expert commentary on every session of the weekend, with coverage beginning 30 minutes before each practice and qualifying, and one hour before the race.
The United States Grand Prix will be shown live on TV on the following outlets in other key markets:
United States: ESPN
Canada: RDS (French), TSN (English)
Australia: Fox Sports
France: Canal+
Italy: Sky Sport F1
Germany: Sky Sport F1
Spain: DAZN
Netherlands: Ziggo Sport
Brazil: Band
Japan: DAZN
What is the starting grid for the 2021 US Grand Prix?
1 Max Verstappen Red Bull
2 Lewis Hamilton Mercedes
3 Sergio Perez Red Bull
4 Charles Leclerc Ferrari
5 Carlos Sainz Ferrari
6 Daniel Ricciardo McLaren
7 Lando Norris McLaren
8 Pierre Gasly AlphaTauri
9 Valtteri Bottas Mercedes*
10 Yuki Tsunoda AlphaTauri
11 Esteban Ocon Alpine
12 Antonio Giovinazzi Alfa Romeo
13 Lance Stroll Aston Martin
14 Nicholas Latifi William
15 Kimi Raikkonen Alfa Romeo
16 Mick Schumacher Haas
17 Nikita Mazepin Haas
18 Sebastian Vettel Aston Martin*
19 Fernando Alonso Alpine*
20 George Russell Williams*
*Engine penalties
What are the odds for the 2021 US Grand Prix?
Here are Planet Sport Bet's latest odds on the winner of the United States Grand Prix:
Max Verstappen – 11/10
Lewis Hamilton – 11/8
Sergio Perez – 12/1
Valtteri Bottas – 28/1
Charles Leclerc – 33/1
Lando Norris – 66/1
(Updated 24 October. Head to Planet Sport Bet for live prices and more markets).
What is the weather forecast for the 2021 US Grand Prix?
While the weather can vary in Austin at this time of year, it's due to be a warm and dry weekend throughout:
Friday: 30°C, sunny spells
Saturday: 30°C, sunny spells, small risk of rain
Sunday: 31°C, sunny spells, very slight risk of thunderstorm
Directions to the US Grand Prix
The official COTA website says that guests are encouraged to use Waze to help find the best way to get to the circuit.
Open the Waze App on Android or iOS and enter in the lot you're headed to (ex: "Lot T – COTA"). The best driving route to that parking lot will appear.
Find full official directions to individual car parking sections at COTA and help for cyclists here.
Which drivers have won the US Grand Prix?
This weekend will see the ninth running of the United States Grand Prix at COTA, which has proven to be a popular addition to the Formula 1 calendar since its introduction.
It has very much been a Hamilton stronghold for most of that time, too, with the Brit having won five of the eight editions of the race held in Austin.
However, Finland has given us the last two winners of the race, with Kimi Raikkonen and Bottas having taken top honours in 2018 and 2019 respectively.
The previous winners in Austin are as follows:
2019: Valtteri Bottas
2018: Kimi Raikkonen
2017: Lewis Hamilton
2016: Lewis Hamilton
2015: Lewis Hamilton
2014: Lewis Hamilton
2013: Sebastian Vettel
2012: Lewis Hamilton
What are the latest F1 Championship standings?
Drivers' Championship
Max Verstappen – 262.5 points
Lewis Hamilton – 256.5 points
Valtteri Bottas – 177 points
Lando Norris – 145 points
Sergio Perez – 135 points
Constructors' Championship
Mercedes – 433.5 points
Red Bull – 397.5 points
McLaren – 240 points
Ferrari – 232.5 points
Alpine – 104 points
Full standings can be found here.
Tyre choices for the 2021 US Grand Prix
As was the case at the Turkish Grand Prix, Pirelli are bringing the three compounds in the middle of their range to Austin: the C2, C3 and C4 tyres.
This will make the C2 the hard compound, the C3 and medium and the C4 as the soft on a track with varying demands sector by sector.
Will it be 'Hammer Time' at the US Grand Prix?
Will Lewis Hamilton and Mercedes continue to be dominant at the US Grand Prix?