US Grand Prix driver ratings: Vintage Sebastian Vettel, Daniel Ricciardo dismal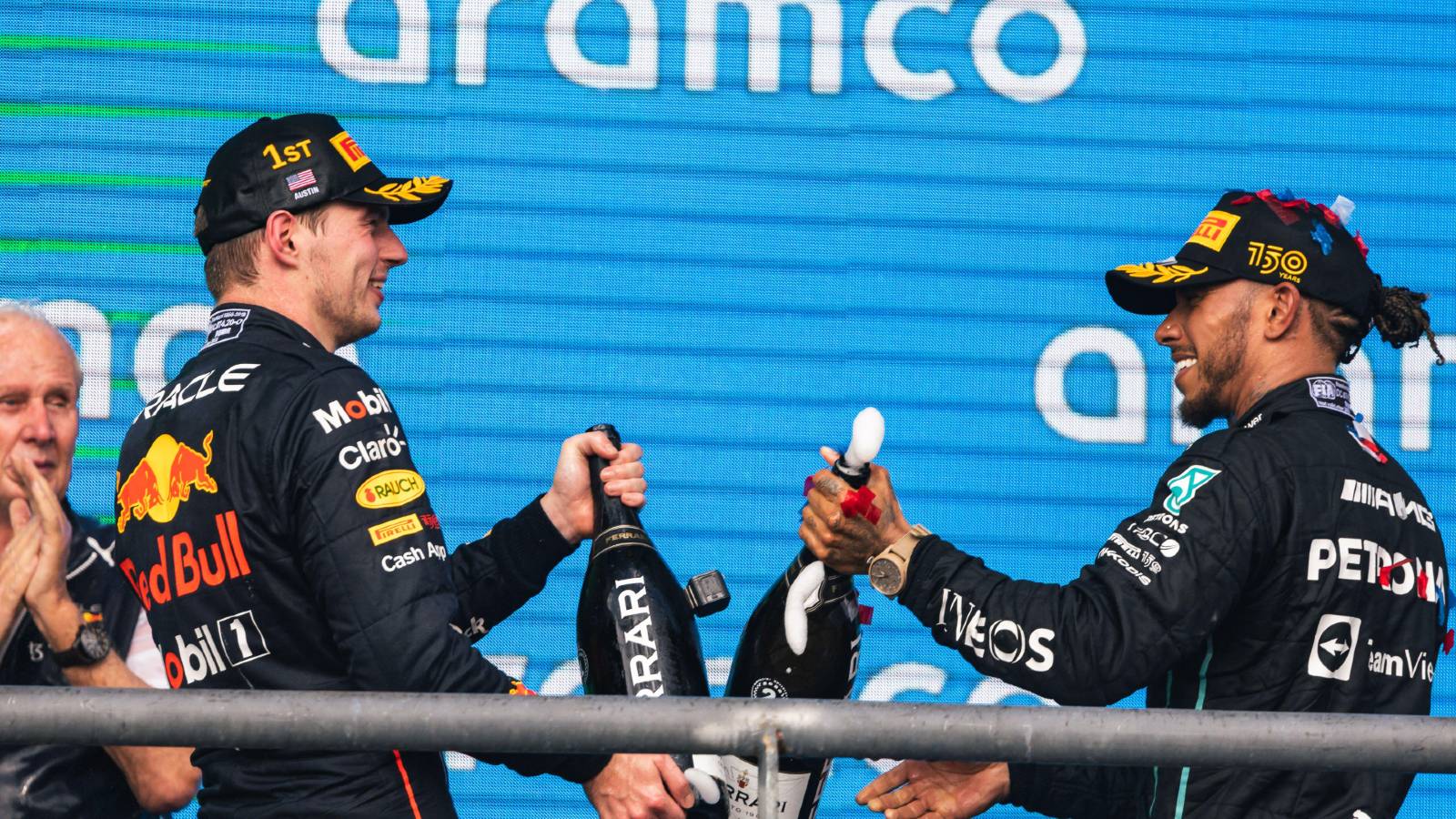 An emotional weekend for Red Bull ended with measured celebrations as Max Verstappen carried them to a first Constructors' crown for nine years.
A day after the team learned of the death of Red Bull founder Dietrich Mateschitz, the two-time Drivers' World Champion made it a certainly-not-unlucky 13 wins for the season to equal the record for a single campaign.
There were plenty of other meritorious drives in one of the most exciting races of 2022 – and, of course, others much less so.
Here's our ratings for the 20 that lined up at the Circuit of The Americas in a grand prix for which the result changed several hours after the chequered flag – and may yet do so again as protest was followed by counter-protest.
Max Verstappen: A better start than pole-sitter Carlos Sainz put Verstappen clear of the trouble that ensued at Turn 1 and, once more, it is difficult to fault anything the back-to-back World Champion did.
He reacted typically sardonically over team radio to the botched pit-stop that left him playing catch-up instead of out clear in front as he had been, and then despatched Lewis Hamilton at the decisive moment with the minimum of fuss.
Three more races for the Dutchman to secure the outright record for seasonal victories and that looks a near-certainty to be his next achievement. 9.
Lewis Hamilton: Roles reversed from 2021 as Verstappen chased down Hamilton for the win, although unlike 12 months ago the lead did change hands this time.
That was purely down to their respective cars' pace but nevertheless Hamilton is edging closer to ending his victory drought, which his post-race media pen interview showed he is more determined than ever to do.
And a "Hammer time" message made a welcome return, just to further illustrate Mercedes are back in the hunt for the top spot. 8.
Charles Leclerc: Starting 12th due to an engine penalty, Leclerc lost places in the early melee that involved his team-mate Carlos Sainz and made relatively steady headway in the opening laps.
His big break came when he was able to make his first pit-stop under the Safety Car and that opened the door for his podium finish.
Got past Sergio Perez for third but after being dragged up towards Hamilton by Verstappen, in the end he was glad to see the chequered flag as the Mexican closed in on him again. 8.
Sergio Perez: Early contact with Valtteri Bottas left Perez missing a front wing endplate, but not that you would have noticed given his impressive pace.
Quickly up to fourth from ninth, he will ultimately have been disappointed not to have finished on the podium – but could his big opportunity for a third win of the season come at his home race next weekend? It just might. 7.5.
George Russell: By the exit of the first corner, Russell had already bagged a penalty as he was adjudged to have been responsible for ending Sainz's race and it also ruined his own hopes of getting on the podium.
The Briton admitted afterwards it had been one of his sloppier races of the year, but it was still a 16th top-five finish in 19 outings and he got the fastest lap after a late pit-stop. 6.
First of all, apologies to Carlos for T1. He deserved more today and it was a misjudgement on my part. A tough race from that point on with damage to the front wing, but P5 and fastest lap nevertheless. Congrats to LH on the podium for the team. Three to go: let's keep pushing. pic.twitter.com/F804atFL43

— George Russell (@GeorgeRussell63) October 23, 2022
Lando Norris: Lucky to avoid a serious incident when he drove through a shower of debris in the wake of the Fernando Alonso-Lance Stroll collision, Norris finished where he has for much of the last two seasons – best of anyone outside Red Bull, Mercedes and Ferrari.
He pulled off moves on Yuki Tsunoda, Alex Albon and, most satisfyingly for him, Fernando Alonso to snare P6 with another terrific display. McLaren really need to create a 2023 car that befits their star driver's talent. 8.
Sebastian Vettel: Shades of the old Vettel as, after a strong start, he even led at one stage before his second pit-stop – which, agonisingly, was messed up by Aston Martin and he tumbled down the order.
But the soon-to-retire four-time former World Champion was not for giving up and worked his way back through in the fast-improving AMR22, celebrating animatedly after a fine move on Kevin Magnussen in the last few corners that secured an eventual P7. 9.
Kevin Magnussen: We have knocked the Dane's performances in the second half of the season but it is very difficult to quibble with what he accomplished this particular Sunday.
Running as high as sixth at one point, the Haas driver made a one-stop strategy work by hanging on grimly and brought the team their first points since the Austrian Grand Prix eight races ago. 8.
Yuki Tsunoda: A five-place grid penalty for a new gearbox dropped Tsunoda to the back of the starting order, and he did superbly to grab a couple of points from there.
This was a much-needed strong showing from the Japanese racer and snapped the longest point-less sequence in the field, stretching all the way back to Spain in May. 8.
Esteban Ocon: Starting from the pit lane, Ocon eventually achieved what would have been his primary goal of reaching the points, ironically only due to the Haas protest that dropped his team-mate from seventh to 15th.
Not a good weekend for him overall though as Alpine missed the chance to turn the screw on McLaren given Daniel Ricciardo was nowhere again. 6.5.
Zhou Guanyu: A weekend that had promised so much for Alfa Romeo with their practice and qualifying pace fizzled out on race day and Zhou kept a comparatively low profile.
Unlucky to just miss out on Q3 as he lost a lap for track-limits breaches, the Chinese driver at least made it to the finish from P18 due to an engine penalty – unlike his much more experienced team-mate. 6.5.
Alex Albon: A strong race for Albon on the whole, but he missed out on points that had looked to be coming his way before the latter stages.
The Williams driver was hit with a five-second penalty after the race and a penalty point on his Super Licence for going off the track and gaining an advantage while battling with Tsunoda. 6.
Pierre Gasly: Unfortunately, Gasly looks to be leaving AlphaTauri with a whimper and you have to wonder whether his head is already at Alpine.
He is cutting a frustrated figure currently and after being penalised for dropping too far back while the Safety Car was out, insult was added to injury when the team did not wait the full five seconds to begin work when he entered the pits to serve the sanction. 5.5.
Mick Schumacher: Not a result that will have done Schumacher many favours as he tries to get the nod over Nico Hulkenberg to remain with Haas for a third year, but certainly not all of it was down to him.
Like Norris, he was affected by debris and was running comfortably in the points along with Magnussen – but a second pit-stop on lap 34, whereas his colleague ran to the end, proved costly. 6.
Fernando Alonso: How on earth did he finish the race, let alone in the points? Until, that is, Haas successfully protested over his damaged mirror – before the Alpine counter-protest, of which the outcome was unknown at time of writing.
It looked all over for Alonso when he clipped the back of Lance Stroll's car and skidded along with two wheels airborne, but luckily his brush with the barrier was only minor.
Of course, the Spaniard was undeterred and continued to race with his usual ferocity following an incident for which the man he was trying to pass shouldered the blame for weaving into his path. 8.
BWT Alpine F1 Team is disappointed to receive a post-race time penalty for Car #14 from today's United States Grand Prix, which unfortunately means Fernando moves to outside the points-paying positions.

[1/5]

— BWT Alpine F1 Team (@AlpineF1Team) October 24, 2022
Daniel Ricciardo: This was another frankly embarrassing day for Ricciardo, who is talking about building towards a return in 2024 following a year off…but who would have him on showings like this?
At one of his favourite races of the year, the Australian admitted "painful is an understatement" as he trailed in a dismal 16th – even Alonso with a 30-second penalty still beat him. 3.
Nicholas Latifi: It seems appropriate looking at 2022 as a whole that Ricciardo and Latifi were the last two finishers, and this was another woeful effort from the Canadian now entering the final three races of his F1 career.
A spin as early as lap six meant an unscheduled pit-stop and he later incurred a five-second penalty for forcing Mick Schumacher off the track. Finishing P Last is par for the course. 3.
Did not finish
Lance Stroll: This race was almost like Stroll's career in a nutshell – some distinct signs of promise that highlighted his talent, but a blooper that overrode the good work.
Running an excellent third in the early laps, he looked set to finish somewhere up near his team-mate Vettel if not higher until making a self-confessed "misjudgement" against Alonso that could have had far more serious consequences for both. Received a three-place grid penalty for Mexico next time out. 5.
Valtteri Bottas: A strong qualifying yielded nothing for the increasingly shaggy-haired Finn, who lost the rear end of his Alfa Romeo on lap 11 and ended up beached in the gravel, bringing out the Safety Car.
An unexpected gust of wind was the cause, according to the team. 4.
Carlos Sainz: An "inherent" problem in the Ferrari was the cause of Sainz's slower getaway than Verstappen, and you sensed he was trying hard to rectify the damage with the line he took out of Turn 1 – only to find himself directly in Russell's path.
Ten out of ten for qualifying and while it is harsh, we only have a few hundred metres on which to judge his race. 5.
Read more: Conclusions from a record-equalling Max Verstappen victory at the United States GP