Bottas' latest Mercedes audition off to a poor start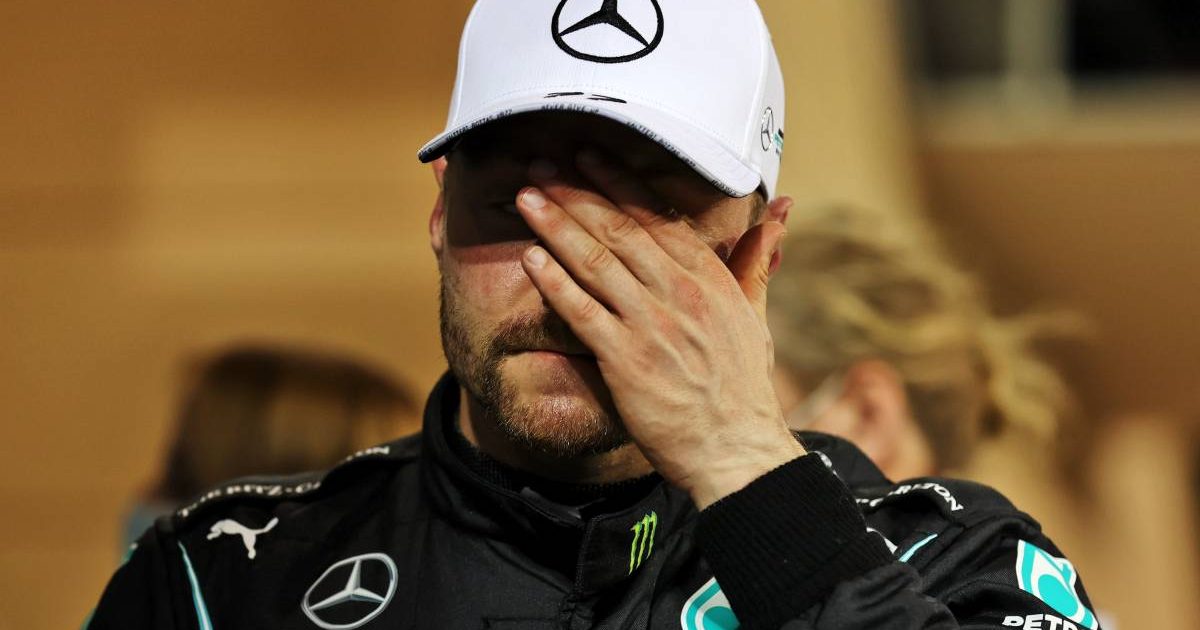 We are only one race into the season, but it is hard not to think the writing is already on the wall for Valtteri Bottas.
Heading into the 2021 campaign, many were surprised the Finn was still a Mercedes driver given how George Russell had fared against him when he stood in for Lewis Hamilton at the end of 2020.
However, judging by the season opener, it will not be long until we see that very change take place…
3rd in Bahrain 🏆

1/23. We'll keep working hard 🏁#VB77 #F1 @MercedesAMGF1
📷 S.Etherington pic.twitter.com/TYYW3IeSdF

— Valtteri Bottas (@ValtteriBottas) March 28, 2021
With Russell still waiting in the wings and Toto Wolff and co aware that if they do not give him a seat in 2022 they could risk losing him altogether, Bottas would have known he needed to have quite the year to prevent himself from being replaced – and he has not started it well.
In qualifying in Bahrain, he did a solid if unspectacular job, going two tenths slower than his team-mate to secure P3. Not great, but not a terrible effort by any means. He was well placed to help Hamilton take the fight to Max Verstappen.
As soon as the race got under way though, it became clear he would not be involved in such a fight.
After a poor getaway, Bottas was overtaken by Charles Leclerc and then struggled to get back past the Ferrari. By the time he did so, the gap to the front two was already considerable and he did not have the pace to catch up.
At that point, Mercedes decided to put Bottas' own hopes of winning the race on the backburner in favour 0f helping his team-mate, putting him on a strategy he was not a fan of.
"It's disappointing for sure – the team got good points, which is a good thing, but from my side, the strategy was too much on the defensive side instead of attacking, which I was quite surprised of," he said during his post-race interview.
"We will review everything, but I feel we were more passive than aggressive with the strategy in the end."
He appeared to raise his issues with his boss during the team celebrations after Hamilton won the race, but Wolff did not look like he had much time or sympathy for the Finn.
After being put on a poor strategy and hindered massively by a slow 10-second pit-stop, the 31-year-old's arguably valid complaints were dismissed.
Went all the way back to record it. Valtteri talking to Toto and he cuts him off 🤔 pic.twitter.com/2Vs9oaOmDm

— Junaid #JB17 (@JunaidSamodien_) March 28, 2021
Rather than being apologetic or sympathetic, Wolff's overriding emotion towards his driver seemed to be one of frustration, both in this exchange and in his post-race interview.
"I think there wasn't any strategy on the table," the Austrian said.
"Because we tried to undercut also with Valtteri that I think would change race for him or make his race not.
"The outcome we wouldn't wish for was that he lost a position at the start of the race and he kind of couldn't recover the gap to the two guys in front."
In the past, Bottas not being able to match Hamilton's pace has not been a massive issue. With Mercedes not being challenged for the Constructors' World Championship, as long as he did not hinder the Briton and still scored decent points, the team were happy with him.
However, it seems that with Red Bull producing a strong car and signing Sergio Perez, that no longer seems to be the case. Under threat from another team, they want more from their second driver.
View the latest Valtteri Bottas merchandise via the official Formula 1 store
All in all, the short exchange caught on camera and the comments made by both Bottas and Wolff after the race do not paint a pretty picture for those hoping he will remain with the team beyond this year.
Perhaps the biggest appeal of Bottas to the team is his ability to be quick enough to score points the team need while not being quick enough to get in Hamilton's way.
With Red Bull now looking so strong though, and new regulations threatening to shake up the order next year, that is not enough.
To have any chance of not being dropped, he has to show he can do more than he has been doing in his time with the German team.
However, unfortunately for him, it is hard not to think the decision has already been made for Russell to be given a shot instead. That could explain why Wolff showed next to no signs of support for him after the first race.
Either way, all Bottas can do now is drive better than he did in Bahrain, and better than he ever has before, and hope that is enough to save his place.
Finley Crebolder
Follow us on Twitter @Planet_F1, like our Facebook page and join us on Instagram!