Virtual GP Series: F1 2019 game takes centre stage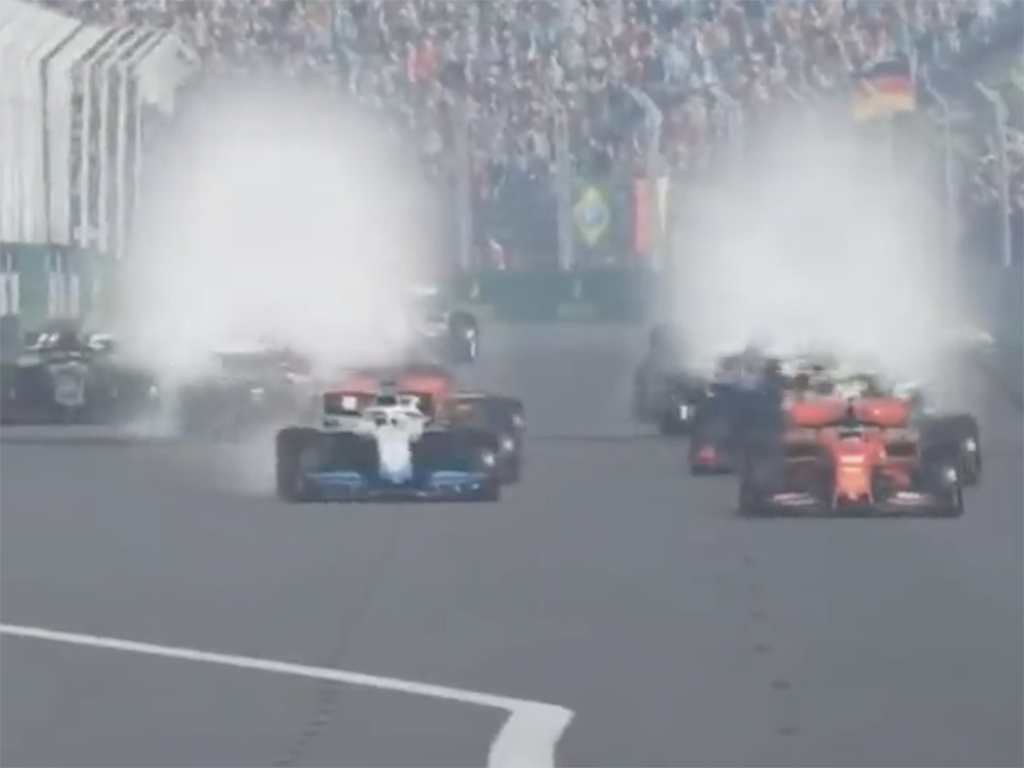 With no live action on the track the sport has had to become creative in a bid to stay relevant during the COVID-19 hiatus. Step forward the F1 2019 game to save the day via the Virtual Grand Prix Series.
There is still no end in sight to the spread of the global pandemic, and no set date for when the 2020 F1 season proper can even begin.
Here we explain how esports is giving fans something to cling onto during the motorsport famine.
What is the Formula 1 Virtual Grand Prix Series?
The Formula 1 Virtual Grand Prix Series is essentially an extension of the Formula 1 Esports Series which has been running since 2017, only this time with professional drivers taking part.
Instead, a virtual race on Codemasters' official F1 2019 game gives fans some form of racing to enjoy.
What is the Formula 1 Esports Series?
The Formula 1 Esports Series was launched in 2017 and gives any player of the official F1 game a chance to earn a place on one of the professional teams competing for the Constructors' Trophy.
An initial open qualifying round is held with the fastest gamers advancing to the Pro Draft event, where they are eligible to be selected by the official teams that compete in the F1 Esports Series.
A total of 12 grands prix then make up the Pro Series, with drivers and teams competing for podiums and points to contest the Drivers' and Constructors' Championships and a share of the $500,000 annual prize fund.
So, although the Formula 1 Grand Prix Series is new, and ultimately temporary, for 2020, it is borne of an established Esports platform which will once again replace it in the gaming calendar.
Formula 1 eSports Series Rules
The most recently released official F1 2019 game from Codemasters is used for the competition, so the rules mirror those of the real-life event as closely as possible. Indeed, very few, if any, sports simulation competitions can boast of the levels of authenticity which the Formula 1 Esports Series can.
Drivers are issued with a strict set of rules and guidelines over on-track conduct and accepted behaviour, with penalties and disciplinary procedures in place for those who disregard
them.
Race lengths are pre-set, usually around the 12-18 lap range, and teams may choose their tyre and pit strategies for themselves.
In the special Formula One Virtual Grand Prix Series in 2020, the rules have been relaxed a little, with F1 explaining: "Due to the wide variety of gaming skill levels amongst the drivers, game settings will be configured in such a way to encourage competitive and entertaining racing.
"This includes running equal car performance with fixed setups, reduced vehicle damage, and optional anti-lock brakes and traction control for those less familiar with the game."
How can I watch the Formula 1 Virtual Grand Prix Series?
The FIA stream everything live on their Twitch channel and also cover it on their Esports website too.
Can I bet on the Formula 1 Virtual Grand Prix Series?
Yes! You can find markets for it in the Esports section of just about all reputable bookmakers.
Teams and drivers in the Formula 1 Virtual Grand Prix Series?
All the established teams from the Formula 1 Esports Series are once again represented, though they have opted for special line-ups.
Alfa Romeo
Profile: Based in Switzerland, not Italy, the Alfa Romeo team did manage one Grand Prix win in the 2019 Series, and were consistent enough to finish third in the Constructors' Championship.
Drivers: Current F1 star Antonio Giovinazzi is now a race regular and former ace Johnny Herbert has made an appearance for the team, too.
AlphaTauri
Profile: AlphaTauri have little Formula 1 eSports Series pedigree but plenty in the real deal so can't be taken lightly.
Drivers: Superbike rider Luca Salvadori is the star turn with pro gamer Nunzio Todisco backing him up.
FDA Hublot Esports Team
Profile: FDA is unremarkable at first glance, until you realise it stands for Ferrari Driver's Academy. Ferrari put more money into training their talent of the future than anyone, and they produced the Formula 1 Esports Series champion in 2019.
Drivers: It's a family affair for Ferrari driver Charles Leclerc, who is usually joined by his younger brother Arthur Leclerc, himself part of the famed Academy.
Haas
Profile: Haas finished bottom of the Constructor's Championship in the 2019 Esports season, so it's tough to expect great things from them here too.
Drivers: Haas test-driver Pietro Fittipaldi is joined by Formula 2 star Louis Delatraz.
McLaren
Profile: McLaren are struggling to regain their former glories on the F1 circuit, but quietly held their own in the Esports equivalent in 2019.
Drivers: McLaren have pulled out some stops by uniting current young star Lando Norris with retired former world champion Jenson Button before he made way for Lando's 2020 team-mate Carlos Sainz.
Mercedes
Profile: Mercedes are certainly not the powerhouse in virtual F1 as they are in the real deal, but shouldn't be underestimated.
Drivers: Formula E ace Stoffel Vandoorne is joined by current Mercedes reserve driver Esteban Gutierrez.
Racing Point
Profile: Racing Point didn't pull up any trees in 2019, finished in seventh place in virtual F1 and failed to win any of the races.
Drivers: World Endurance Championship reservist Anthony Davidson is joined by racing simulation YouTuber Jimmy Broadbent.
Red Bull
Profile: Red Bull won the Formula 1 Esports Series Constructors' Championship in 2019, so they certainly know what they are doing.
Drivers: Red Bull have gone with celebrity Pro-Am combination with current F1 driver Alexander Albon teaming with cricket superstar Ben Stokes and now Real Madrid goalkeeper Thibaut Courtois.
Renault
Profile: Renault never seem to be far away in an variant of Formula 1 so expect them to be competitive at the very least here.
Drivers: Youngsters Christian Lundgaard and Guanyu Zhou plus New Zealand supercar driver Andrei Heimgartner have all made appearances.
Williams
Profile: Williams are perennial mid-table finishers in virtual F1 but will fancy their chances in the slightly more equal playing field of the Formula 1 Virtual Grand Prix series.
Drivers: The current Williams F1 team of Nicholas Latifi and George Russell team up again in a pedigree partnership.