Where are they now? The F1 2008 grid for Lewis Hamilton's dramatic first title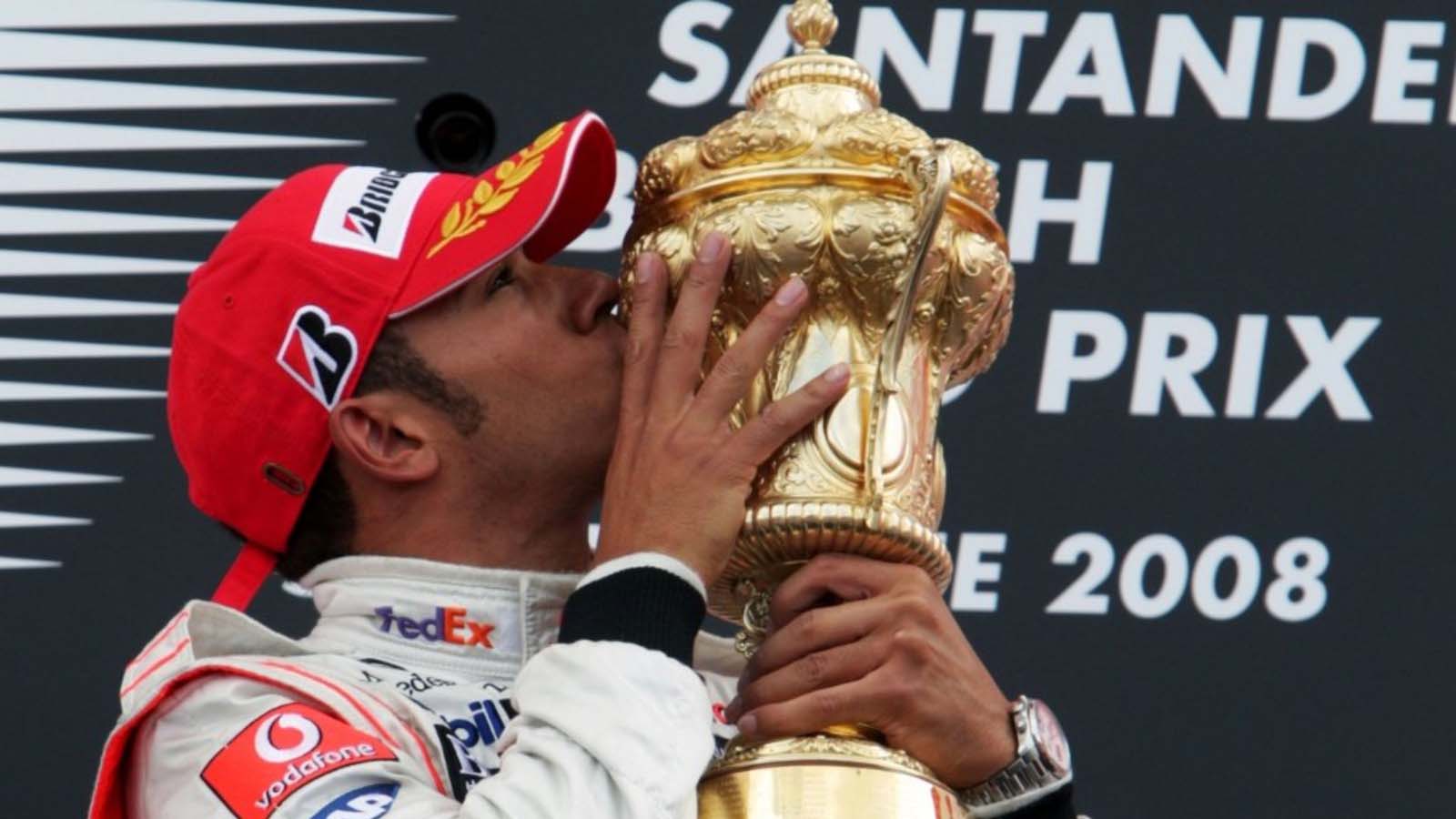 Decided with a final lap, final corner overtake and contested by some of the sport's greatest names, the F1 2008 season was unforgettable. But where are the 22 drivers now? 
Scene of "is that Glock?" and the Renault 'Crashgate' scandal, Lewis Hamilton celebrated the first of his seven Championships in similarly dramatic circumstances to his modern rival Max Verstappen – albeit without the amplification of today's social media attention.
Points were awarded to the top eight in those days, back when Ferrari and McLaren were the paddock's heavyweight garages. Singapore became F1's first night race and fifth street track, with that year's European Grand Prix held in Valencia.
As Hamilton eyes an eighth championship in 2023, let's look back at the grid full of icons and cult heroes he beat in 2008 and what they have been up to since.
Lewis Hamilton
"Is that Glock? Is that Glock going slowly?" Martin Brundle shouted through our television screens as Hamilton moved into fifth place on the final corner of the F1 2008 season in Brazil, sealing the four points required to make history.
The Hertfordshire-born star became F1's first black World Champion inside two years of his debut, winning five of the 18 rounds that year in a fierce battle with Felipe Massa.
Hamilton's world-beating talent was obvious but nobody could have predicted he'd later match Michael Schumacher for titles and build a convincing case that he the sport's greatest ever driver.
The Briton stayed at McLaren for four more seasons without being able to break Sebastian Vettel's dominance, before Ross Brawn convinced him to make a shock transfer to the emerging Mercedes team. Fast-forward a decade and the veteran seven-time champion remains at the German team, gearing up for a title tilt in 2023.
Felipe Massa
While Hamilton celebrated, it was heartbreak in the Ferrari garage and Felipe Massa's cockpit. He had glory snatched from him on the final lap, even after storming to a home victory at the Brazilian Grand Prix.
One of the iconic images from that November day was Massa's podium celebration: striding to the platform edge with tears in his eyes, beating his chest and pointing to the crowd. His dignity in defeat has not been forgotten in Formula 1.
Massa came within one point of the championship but never got close again. In 2009, he was struck on the helmet by a loose suspension spring while driving 200mph during qualifying for the Hungarian GP, knocking him unconscious and shunting him into the barriers with an already-fractured skull.
Incredibly, Massa recovered in time for the 2010 season but would never win another Grand Prix, as Ferrari's pace declined and the Brazilian was largely second fiddle to Fernando Alonso, before he moved to Williams in 2014.
Since retiring from F1 in 2017 he has raced in Formula E and continues to compete at the age of 41 in Brazilian Stock Cars. He was appointed chairman of the FIA's Drivers' Commission by president Mohammed Ben Sulayem last year.
PlanetF1.com recommends
Fernando Alonso's 'PR' radio messages proof of 'extra brain capacity' of the greats
Is Netflix's Drive to Survive nearing the end of the road?
F1 drivers' height and weight: A full rundown of the 2023 grid
Kimi Raikkonen
One of F1's most popular figures (albeit begrudgingly), Kimi Raikkonen came into the 2008 season as defending champion but didn't have the pace to match Ferrari team-mate Massa.
Two victories and seven more podiums ensured the Scuderia scooped the Constructors' title, but it would be Raikkonen's penultimate year before going on hiatus to dabble in rallying and NASCAR. His second F1 stint yielded three more victories before finally retiring for good in 2021.
The 43-year-old Finn has returned to NASCAR since with the Trackhouse Racing Team and steered clear of F1 to spend time with his family.
Robert Kubica
Poland's first Formula 1 driver earned his only win in 2008, triumphing at the Canadian Grand Prix for BMW Sauber and putting himself into the Drivers' Championship lead after Hamilton and Raikkonen collided in the pits.
It was a breakout season for the young Polish driver, with six further podiums and fourth in the end-of-season standings foreshadowing an exciting career ahead.
He earned a move to Renault in 2010 but a life-threatening rally crash the following year saw his potential go tragically unfulfilled. Incredibly, he returned to motorsport and eventually F1, driving for Williams in 2019 and scoring a single point – beating rookie team-mate George Russell.
Kubica's last F1 outings were in 2021, stepping in to replace a Covid-hit Raikkonen at Alfa Romeo, a team he has since served as their reserve driver. In 2023, the Pole is considering a move to Hypercar racing.
Fernando Alonso
Double Formula 1 World Champion Fernando Alonso returned to Renault for the 2008 season, having clashed with rookie team-mate Lewis Hamilton during a one-year stint at McLaren the previous year.
The French team were off the pace of Alonso's former team and Ferrari but the Spaniard scooped wins in Japan and Singapore, the latter in scandalous circumstances. Nelson Piquet Jr was ordered by the team to crash on purpose, bringing out a Safety Car at the perfect moment to gift Alonso the lead as rivals dipped into the pit lane.
The scandal rocked F1, resulting in Renault being handed a suspended disqualification from the sport and team principal Flavio Briatore being banned.
Considered one of the greatest drivers of his generation, Alonso retired in 2018 only to make a comeback in 2021, having won back-to-back 24 Hours of Le Mans crowns and the 2018-19 World Endurance Championship with Toyota. This year, he will race for Aston Martin at the age of 41.
Nick Heidfeld
The 2008 season was Heidfeld's finest in Formula 1, stepping onto the podium three times for BMW Sauber and backing up an impressive 2007.
The German driver holds the unwanted record of earning the most most podiums (13) of any driver who never won a Grand Prix. He left Formula 1 in 2011 and has since competed in Formula E and endurance racing.
In 2022 Heidfeld entered the world of Rallycross and will do so again in 2023.
Heikki Kovalainen
Kovalainen inherited Fernando Alonso's McLaren seat after a solid rookie season in the midfield with Renault. He was victorious at the 2008 Hungarian Grand Prix, his only F1 victory, but never troubled team-mate Hamilton and left the team in 2010.
Three more seasons languishing at the back with Lotus (later Caterham), Kovalainen lost his seat and pursued other avenues in motorsport.
The Finn's latest move has been getting into World Rally Championship, which he is contesting in 2023.
Sebastian Vettel
Stepping into a full-time race seat, this fresh-faced young German couldn't yet know what glories awaited him. Especially after the start to his Toro Rosso career.
Four retirements from four races were a worrying sign for Sebastian Vettel but the 21-year-old learned fast. A famous victory in the rain at Monza, becoming the youngest ever Formula 1 race winner – until Max Verstappen's arrival – foreshadowed his future greatness.
After dominating the sport with four consecutive World Championships between 2010 and 2013, before an ultimately disappointing end to his career at Ferrari and Aston Martin, Vettel retired after the 2022 season.
The German icon plans to spend well-earned time relaxing with his family after a lifetime at the wheel, and has yet to announce any racing plans – except the 2023 Race of Champions.
Jarno Trulli
Today there are DRS trains but back when Jarno Trulli was on the grid, there were 'Trulli trains".
The former Monaco Grand Prix winner was renowned for setting blistering qualifying laps in struggling midfield machines on Saturdays, before holding up faster cars behind with defensive drives. He used those tactics to great effect again in 2008, securing a podium at the French Grand Prix and multiple top-fives for Toyota.
These days, the Italian is in the wine business and supports his son Enzo's up-and-coming racing career.
Timo Glock
As the Toyota driver slipped and slid towards the final corner at the Brazilian Grand Prix, he could never have known that his name would henceforth be associated with one of F1's most dramatic climaxes.
Glock overtook Lewis Hamilton to put the McLaren driver's championship in jeopardy after staying on dry tyres when the weather changed – but the gamble backfired as the track got wetter. His pace slowed dramatically, Hamilton appeared in his mirrors… and the rest is history.
The German driver was accused of allowing Hamilton to pass on purpose and received threats for years after. These days Glock, 40, is a mainstay on the DTM scene having moved across when his F1 career ended in 2013, as well as a Formula 1 pundit in Germany.
Mark Webber
Yet to realise their future as Formula 1 heavyweights, Red Bull delivered a car that could only provide its sponsor with an anonymous season in 2008.
The midfield was a familiar spot for Mark Webber, who at 32 years old was an experienced driver. That would all change from the following season, when Webber became a race winner and championship contender in Red Bull's increasingly dominant machine.
The Aussie retired in 2013 and is now overseeing the career of McLaren's rookie star Oscar Piastri as a co-founder of JAM Sports Management. Webber also regularly appears as a television pundit on British station, Channel 4.
Nelson Piquet Jr
Piquet Jr's rookie season certainly wasn't the Formula 1 experience he expected, having grown up hearing about his father's three World Championships.
Eight retirements from 18 races was a miserable return, leaving him languishing far behind Renault team-mate Fernando Alonso. That's without mentioning his part in the shocking 'Crashgate' scandal at Singapore.
Piquet Jr remained in F1 for 2009 but failed to score a single point in the first 10 races, and was dropped in favour of Romain Grosjean mid-season.
He has since won the Formula E Championship and competed in NASCAR. He raced alongside Felipe Massa in Stock Car Brazil last year, and has signed up for the 2023 European Le Mans Series.
Nico Rosberg
A 23-year-old Rosberg was still making his steady rise towards the pointy end of Formula 1 when his fierce rival and former friend Lewis Hamilton won his first World Championship.
Driving for Williams, Rosberg earned his first podium with an impressive drive at the season-opening Australian Grand Prix but wouldn't replicate the feat all season. He did upstage team-mate Kazuki Nakajima in the standings, though.
Rosberg retired with the Formula 1 title in 2016 after years of fierce battles against Hamilton, stepping away aged just 31. Now he is a brand ambassador and is often seen giving frank insights on Sky Sports' TV coverage of the sport.
Rubens Barrichello
In the brilliant career of Ruben Barrichello, the 2008 season will not be one he holds very dear. Racing for the floundering Honda team that would quit F1 at the end of the season, the Brazilian's highlight was a podium at his beloved Silverstone in wet conditions.
Barrichello did become the most experienced F1 driver in history that season, though. He would end his career with 322 starts, which has since been surpassed by Fernando Alonso and Kimi Raikkonen.
The 50-year-old is still winning races to this day, taking home the title in Stock Car Brazil last year.
Kazuki Nakajima
Having impressed on his Williams debut at the final round of the 2007 season, Nakajima earned a full-time seat the following year and finished sixth at the opener in Australia.
The Japanese driver would never better that result, turning in two largely anonymous seasons in F1 before dropping away from motorsport's top table.
Nakajima found far more success on the endurance racing scene, winning the World Endurance Championship and three 24 Hours of Le Mans titles – assisted by none other than Fernando Alonso for two of them. He retired in 2021 and became vice chairman of his former team, Toyota Gazoo Racing Europe.
David Coulthard
British legend David Coulthard's storied F1 career came to a close in 2008, sadly limping into retirement with only two points finishes at the wheel of a slow-moving Red Bull.
Coulthard did manage one last podium appearance at the Canadian Grand Prix, but finished his last race in the gravel after colliding with Nico Rosberg.
The Scottish driver is a fixture on Channel 4's TV coverage and often gets behind the wheel of Red Bull cars at exhibition events. He has also won the Race of Champions on two occasions.
Sebastien Bourdais
Despite a long and varied motorsport career, Sebastien Bourdais lasted just a season and a half in Formula 1 at Toro Rosso.
The Frenchman's efforts in 2008 only yielded four points, far behind team-mate Sebastian Vettel who achieved eighth in the Drivers' standings.
Bourdais turned to endurance racing after Toro Rosso dropping him mid-season in 2009, appearing in Formula E, IndyCar and at Le Mans. He is currently preparing for another campaign in the United States.
Jenson Button
World Champion just a year later, Jenson Button's 2008 couldn't have been more different. Out-scored by team-mate Rubens Barrichello having earned just three top-10s, his final season with Honda was a slog.
However, the team became Brawn GP the following season and produced the iconic BGP 001. Winning six of the first seven races gave Button the buffer he needed in 2009, securing a famous World Championship.
Button's 17-year F1 career ended in 2017 but he remains part of the paddock furniture, with regular appearances on Sky Sports F1. He has been a senior advisor at the struggling Williams team since 2019.
Giancarlo Fisichella
Racing for the newly-formed Force India team in the final knockings of his F1 career, Fisichella was an experienced hand hoping to help Vijay Mallya's new team ease into the sport.
It was a steep learning curve for the team, and three-time Grand Prix winner Fisichella couldn't score a point all season.
The Italian would retire just a year later but into his 50th year, Fisichella still has the racing itch. He combines endurance events with his music career, having been employed as a DJ at Formula 1 events.
Adrian Sutil
Fisichella's team-mate Adrian Sutil didn't fare any better, finishing the season with 11 retirements and 0 points.
Sutil remained in Formula 1 until 2014, rising up the order with Force India to seal his best Drivers' Championship position of ninth in 2011.
After failing to secure an F1 seat, Sutil walked away from racing but reappeared at the 2022 Ferrari Challenge Europe, placing fifth. Sutil also reportedly boasts a mind-boggling supercar collection based in Monaco, including several Bugatti Veyrons, a Ferrari Enzo and a Koenigsegg Regera.
Takuma Sato
Japanese driver Takuma Sato's F1 career came to an abrupt end at the 2008 Spanish Grand Prix when his Honda-powered Super Aguri succumbed to the same financial disaster affecting their A-team after just four Championship rounds.
Sato's six-year F1 career peaked with a podium at the 2004 United States GP and it was in America that he found success post-F1.
The two-time Indy 500 winner has signed for Chip Ganassi Racing ahead of the 2023 season to continue to race on ovals in IndyCar, chasing more glory at 45 years old. 
Anthony Davidson
Now a familiar voice on Sky Sports when David Croft cuts to "Sky Race Control", Anthony Davidson's F1 career also came to a grinding halt in 2008, like Sato's.
Davidson was supposed to be racing only his second full season after a tough rookie year at the backmarking Super Aguri team. He finished just two of the opening four races in 2008 before the team imploded.
The British driver moved into endurance racing post-F1, with podiums at the 24 Hours of Le Mans and the 2014 World Endurance Championship title – combining racing with his TV work and a simulator role at Mercedes until 2021.