It's looking more and more like Sergio Perez's days at Racing Point are numbered. If they do drop him, they'll be making a huge mistake.
Reports have suggested that the team soon to become Aston Martin are set to snap up Sebastian Vettel. Given that Lance Stroll is the son of the owner, that would surely spell the end of the Mexican's time there.
On paper, losing him to make space for a four-time World Champion would be a sacrifice worth making. In reality, it really isn't.
The most obvious reason to keep him around is for what he brings to the table inside the car. Since joining the team, then Force India, in 2014, he has consistently been one of the best drivers on the grid.
He has constantly outperformed the car, has the team's last five podiums and has almost 500 points in the space of six seasons. He's also finished in the top 10 in the Drivers' Championship in each of them.
What's more, he's only been beaten by a team-mate once, and not at all in the last five years. He's not exactly been up against slouches either. Nico Hulkenberg was one of the best midfield drivers for years, while Esteban Ocon is highly rated by Mercedes and many others within the sport.
In his first season with current team-mate Stroll, he maintained that record and never came remotely close to losing it. He scored 31 points more, won the qualifying head to head battle 18-3 and the race-day one 14-3.
He continued to dominate his team-mate at the start of this season, qualifying and finishing the race ahead of him at the season opener. Even after starting four places behind him in the second, he still finished it one place ahead.
Stroll is young and showing signs of improvement, as proved in Hungary, but Perez is still the better driver. The best thing for the team would be for the former to spend a season at a lower team or as their test driver, giving him time to improve while they have the best drivers they can find in their race seats.
However, given Lawrence Stroll owns the team, Lance's seat is pretty much safe. Therefore, the question becomes is Vettel better than Perez?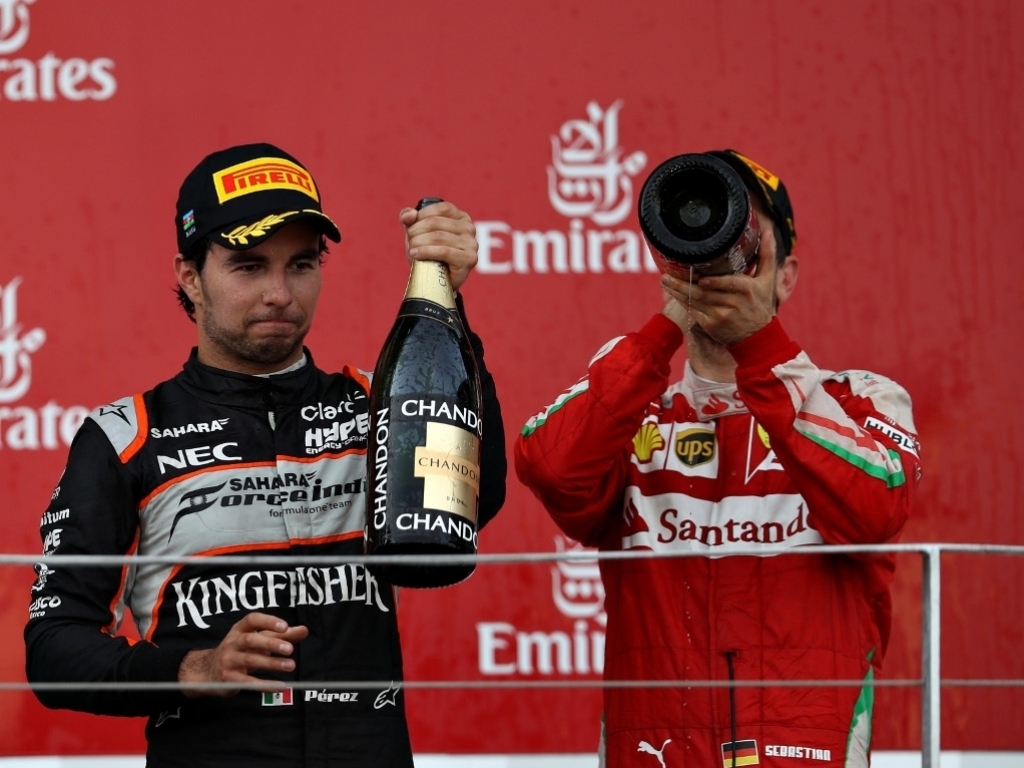 The answer to that is, of course, less clear cut. The German is a four-time World Champion, knows what it takes to win, and that knowledge and experience would be invaluable for a team that wants to go to the very top themselves.
However, in the last few years, he's allowed far too many mistakes to creep in and has shown a recurring inability to handle pressure. His results on-track have therefore suffered considerably, with 2019 being one of his worst seasons in the sport.
Perez has shown no signs of a similar decline. In fact, Racing Point's technical director, Andrew Green, recently stated that he's "absolutely at the peak of his career", and there's no reason to think otherwise. He continues to manage his tyres better than anyone and has improved his one-lap pace in recent years.
Vettel is still a great driver, and may just need to be freed from Ferrari to return to his old self. However, there's no guarantee that, at 33, he hasn't just lost his touch, which isn't the case for Perez. Why take the risk?
Taking said risk seems even crazier when you consider various factors away from the track. For one, he brings in a considerable amount of money thanks to his sponsorship deals with Claro and Telcel. By losing him, they'd be losing millions of dollars.
Opting for Vettel instead would also cost them millions. Perez's pay-check is presumably smaller than what the Ferrari driver's would be, and terminating his contract early will cost the team $1million at the very least. We know Lawrence Stroll isn't exactly short on money, but every little helps.
He also brings a huge number of fans with him, thanks to his Mexican following. With that group and the Aston Martin name, they could well become one of the sport's most popular outfits.
Furthermore, he single-handedly rescued the team from the brink of collapse season. Why? To save the jobs of the staff, and to secure its long term future. That kind of loyalty is incredibly rare to find in Formula 1, and is something worth holding on to.
Thank you everyone for your support, better days are coming! 🙏🙌 ••• Gracias a todos por su apoyo, vendrán días mejores!!! 🙏🙌 pic.twitter.com/A8466Umd2x

— Sergio Pérez (@SChecoPerez) July 28, 2018
Vettel's stature, record and know-how may make him too appealing for Stroll Snr to turn down, which is understandable.
If the team owner is ambitious enough and ruthless enough to sack his son and put him alongside Perez, it's a no-brainer. In their first season, Aston Martin would have one of the best line-ups on the grid.
However, if it's a case of Vettel OR Perez rather than both, he should think twice. Vettel may have more trophies, but Perez has been the best thing about the team since he joined it. Let's just hope they know that.
If not, the chances are another team will snap him up – he's already been approached – and he'll take his talent, his funding, his fans and his loyalty elsewhere. Whichever constructor it may be, it'll be a huge gain for them, and a huge loss for his current employers.
Finley Crebolder
Follow us on Twitter @Planet_F1 and like our Facebook page.