Winners and losers from 2023 Saudi Arabian Grand Prix qualifying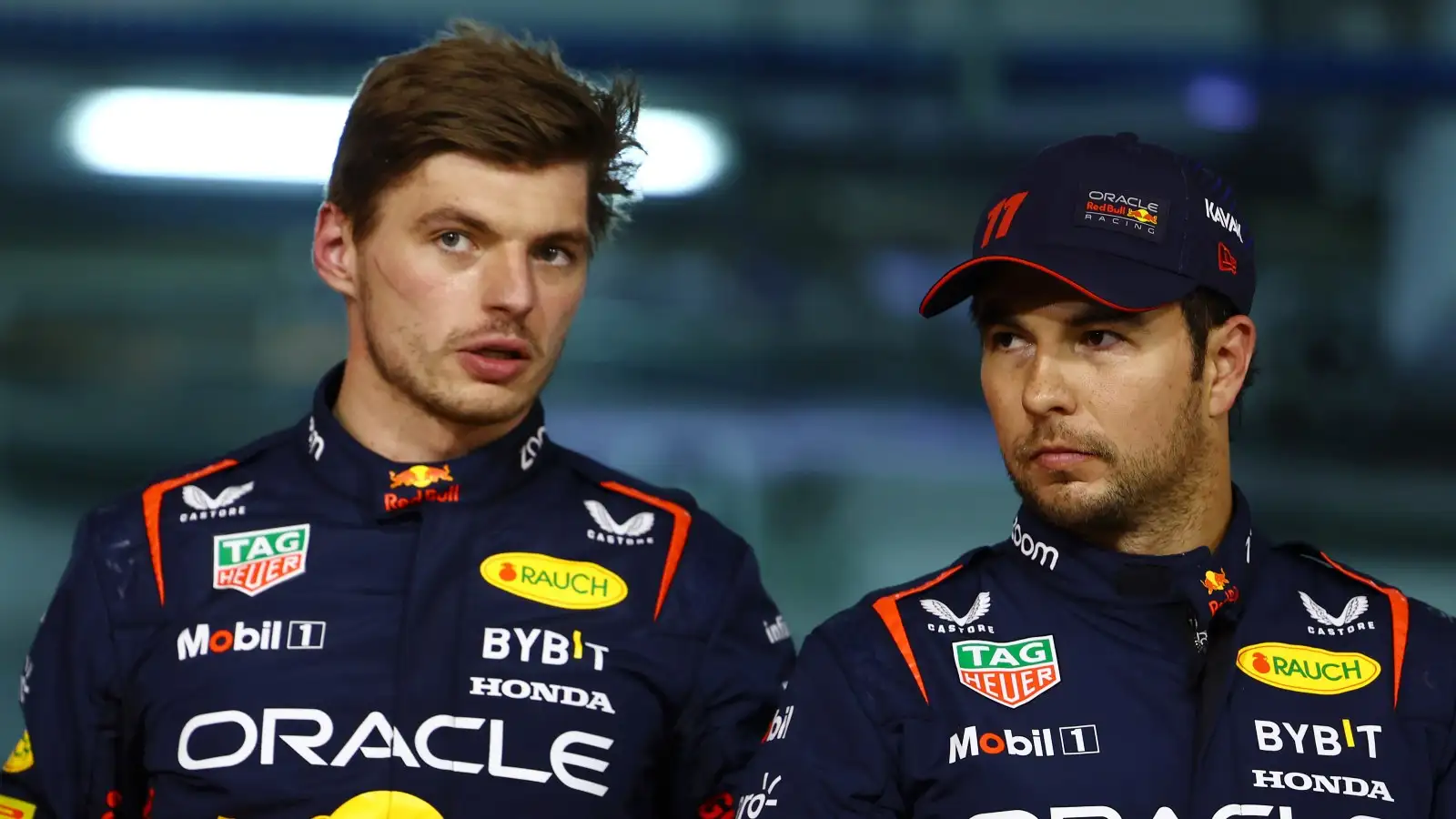 Sergio Perez secured pole position at the Saudi Arabian Grand Prix for the second season running as Red Bull team-mate Max Verstappen fell in Q2 in Jeddah with a driveshaft problem.
The tale of the two Red Bulls makes for the star attraction, but who were the other winners and losers from qualifying?
Let's take an in-depth look through the field…
Winners
Sergio Perez
With pole in Jeddah last year laying the foundation for victories in Monaco and Singapore, Perez's capability on street circuits has been well documented – but even he would admit he has been very much the second-best Red Bull driver here this weekend.
Three tenths away was the closest he got to Verstappen over the course of three practice sessions, but it was his car that held together come qualifying.
Verstappen's demise gifted Checo the advantage in the inter-team battle but also brought its own pressure, Perez – vulnerable to Fernando Alonso's Aston Martin at times in practice – suddenly carrying all of Red Bull's hopes and expectations for the remainder of the session.
It was a challenge he met, ultimately taking pole by 0.155s.
Charles Leclerc
Entering this weekend in the knowledge that he would be serving a 10-place grid penalty having already exceeded his control electronics pool for the year after one race, the lap that put him P2 in qualifying was an act of defiance – almost against the world – by Charles Leclerc.
His aptitude over a single lap has become increasingly obvious in recent seasons and even in a year in which Verstappen broke the record for the most grand prix wins in a single season in 2022, still he ended it with fewer poles than Leclerc.
But a driver's natural pace is often most apparent in an underperforming car and during Ferrari's time in the competitive wilderness in 2020/21, Leclerc would make a habit of detonating a lap out of nowhere in Q3 to put the car in positions it didn't deserve to be.
With Ferrari showing very little pace throughout practice, another explosion of red occurred at around 9pm on Saturday night in the Jeddah area.
Putting that Ferrari within two tenths of pole and outqualifying team-mate Carlos Sainz by half a second with an early contender for lap of the season bordered on the obscene.
George Russell
The pattern at Mercedes last season was that George Russell often had the edge when the car was at its most troublesome, with the Lewis Hamilton threat growing as the W13 gradually became quicker.
Could the same be happening in 2023?
Russell made the best of what looks like a tricky W14 in Jeddah, hauling it to fourth on the Q3 timesheet and going four tenths faster than Hamilton in the process.
Lewis wasn't happy with the car but at least P8 resembled an improvement on last year, when he fell in Q1 for the first time since 2009.
Alpine
With Pierre Gasly and Esteban Ocon both experiencing a topsy-turvy weekend in Bahrain, Alpine's place in the 2023 competitive order was inconclusive after the first race.
Their performance so far in Jeddah, on a circuit with quite different demands, has been far more encouraging.
Saudi specialist Ocon – fourth in the inaugural race in 2021 before finishing sixth last year – will start P6 after Leclerc's penalty comes into effect having beaten the Mercedes of Hamilton and lapping just a tenth slower than both Sainz and Lance Stroll in the second Aston Martin.
Gasly, three tenths behind but still adjusting to a new car at the circuit requiring more commitment than any other, will move up to ninth, a Q3 appearance for both cars confirming Alpine's improvement.
Oscar Piastri
As his team-mate stumbled out of Q1, Oscar Piastri was the cool, calm rookie we were promised he would be in reaching Q3 for the first time in his career.
Despite the sense of doom currently surrounding McLaren, the papaya cars didn't seem all that bad in being classified seventh and eighth in final practice.
With Lando Norris (more on him later) unable to capitalise, however, Piastri was the only one to make the top 10.
Beating Gasly, and coming within two hundredths of Hamilton's Mercedes, was an added bonus.
PlanetF1.com recommends
Lewis Hamilton feeling 'miserable' as 'I just don't feel connected to this car'
Max Verstappen brushes off 'annoying' driveshaft failure in Saudi qualifying
Red Bull had 'no concerns' about reliability despite Max Verstappen's gearbox change
Losers
Max Verstappen
Well, on the bright side, at least this will make things more interesting.
After almost a year of dominant performances, this one seemed at risk of being the most commanding of all for Verstappen, comfortably and inevitably quickest in all three practice sessions in Jeddah.
Frankly, it was assumed that the sort of mid-session mechanical problem his car developed in Q2 – later confirmed as a driveshaft failure and which left him unable to set a competitive lap – was now a thing of the past for Red Bull and engine suppliers Honda.
Verstappen will start no higher than 15th with his victory chances, at least in theory, drastically reduced – but memories of his wins from lowly starting spots in Hungary and Belgium last year remain fresh.
With an unpredictable race of safety cars, stoppages and restarts to come, only a fool would disregard him.
Lando Norris
Was this the first little hint of McLaren's current malaise spreading into Norris's driving?
At a circuit demanding absolute precision at all times, the mistake he made at the final corner of the Jeddah lap – nudging the inside wall with his front left – was so easily done but a rarity given his consistent level of excellence over recent years.
The damage left him unable to return to the track, condemning him to a Q1 elimination.
A simple lapse of judgement? Or, with McLaren effectively writing off the first phase of this season, was this a case of a driver taking a risk and being caught out in an attempt to summon the spirit of Leclerc and make magic in a midfield car?
Nyck de Vries
As the only driver without previous experience of the Jeddah circuit, any lost track time was going to prove extremely costly for Nyck de Vries this weekend.
It came in the form of a full power unit change during Saturday's final practice session, with De Vries not even making it out of the garage to expand his knowledge and understanding of the track.
No wonder, then, that he looked woefully unprepared in Q1, locking up heavily and spinning at the first corner on one hot lap.
All things considered, a lap three tenths slower than AlphaTauri team-mate Yuki Tsunoda – also out in Q1 – was not such a bad effort from De Vries but rounded off a day to forget for the Dutch.
Logan Sargeant
Those who had their serious reservations when Williams signed Logan Sargeant would have been pleasantly surprised when he delivered an accomplished F1 debut in Bahrain.
Qualifying in Jeddah, however, revealed how much work the team need to do to make a rounded F1 driver out of their American racer.
Having seen his first lap deleted for crossing the pit entry line – a strict stance to the point of being draconian – Sargeant was caught in the trap of trying too hard to chase his losses, spinning dramatically and only just avoiding the wall at Turn 22, the left-right flick towards the end of the lap.
His failure to recover from his early setback saw Sargeant fail to set a representative lap as he missed the Q1 cut-off time by the best part of 30 seconds.
Let's file this one under 'valuable learning experience', shall we?