Winners and losers from Sao Paulo Grand Prix qualifying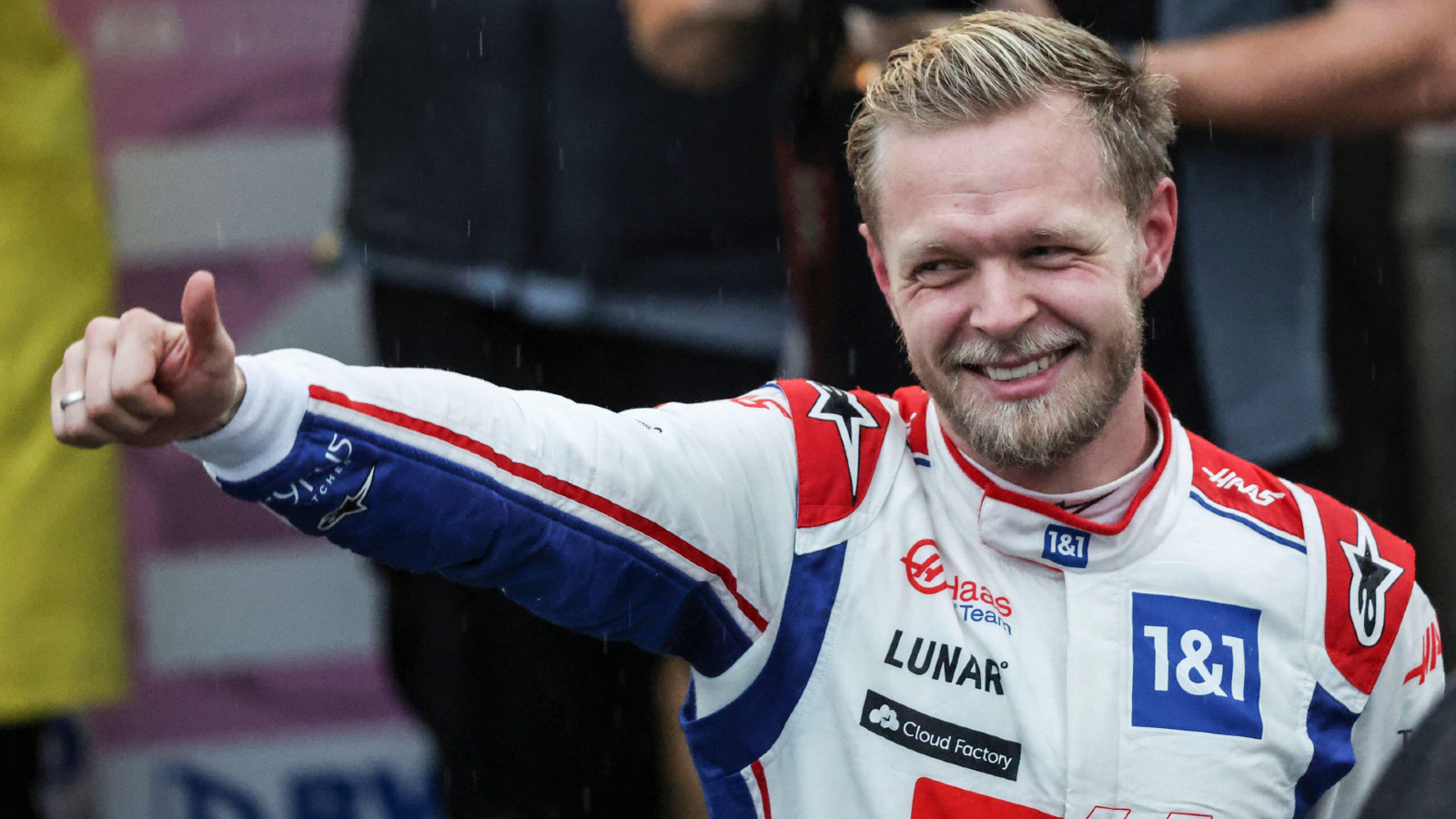 Kevin Magnussen clinched a fairytale pole position for Haas in Friday qualifying for the Sao Paulo Grand Prix, in one of those universally popular F1 moments.
With rain threatening at the start of the Q3 session, Magnussen got the jump on his rivals to get the best of the track conditions for the first flying laps.
George Russell's subsequent spin into the gravel brought out the red flags, all but ensuring Haas would take their maiden pole position in F1 as the intensity of the rain picked up as the session timer ticked down.
It was a session of two extremes for Haas, as Mick Schumacher was knocked out as slowest driver while Magnussen romped his way to top spot.
Here are the winners and losers in qualifying for the Sao Paulo Grand Prix:
Winners
Kevin Magnussen/Haas
Imagine going back to Abu Dhabi 2021 and telling someone Kevin Magnussen would have more F1 pole positions than Lewis Hamilton in 2022!
It has been a while since F1 had a proper underdog fairytale moment, with the last one probably being Pierre Gasly's win at Monza in 2020, but Magnussen made up for the two intervening years of fairly expected names at the front by snatching pole position for this weekend's sprint.
Make no mistake about it, this was an achievement in itself, even if there was an element of luck in the subsequent red flag and the rain intensity increasing to ensure nobody else could improve.
Magnussen, in equal conditions to the likes of Max Verstappen, Lewis Hamilton, George Russell, the Ferraris etc, went out at the start of Q3 and simply popped in a faster lap time at a point in time when the circumstances demanded immediate speed. Being able to wriggle his way onto the track in the optimum position was a quirk of their positioning in the pit lane, but Haas still had to respond at the perfect moment to snatch away track position from the rest.
The moment it all became real! 😁#HaasF1 #BrazilGP pic.twitter.com/86aBs12UWH

— Haas F1 Team (@HaasF1Team) November 11, 2022
Magnussen's onboard replay showed a driver fully committed to extracting the maximum from his car at a point in time when the gloomy damp conditions made it uncertain as to how much grip might be available – Magnussen was simply fearless as he committed through the fast sweeps, the first driver to do so in Q3, despite not having the certainty the tyres would not meet with a patch of damp and send him flying off.
"It's incredible. I want to say thank you to Gene Haas, Guenther [Steiner] and the whole team for taking me back on and giving me the opportunity to have a day like this – I'm so chuffed," said Magnussen.
"The team put me out in the pit lane as the first car and that was the game-changer. It gave me the best piece of track as it started to rain and we got pole. It was the longest minute of my life trying to stay calm as it looked like it was going to be wet, but you never know. I'm so happy."
It is Magnussen's first single-seater pole position since the final round of the 2013 Formula Renault 3.5 Series when he raced with DAMS, although he took pole position in Belle Isle in Detroit in 2021 as he raced for Chip Ganassi's IMSA outfit.
A beaming Magnussen was obviously emotional as he spoke to reporters after climbing from his car in the garage, but it will likely be a fast return back down to earth on Saturday – the Danish driver's pole position likely to be quickly negated in race conditions during the sprint.
Team boss Guenther Steiner has said a realistic aim is to take points – a target that seems within range, given Magnussen's impressive pace throughout Q1 and Q2 even before his Q3 masterstroke. Unfortunately for Magnussen, the fact he has taken pole position at a sprint event means the rest of the pack have an extra 25% of a race distance in which to put his car where it truly belongs.
Max Verstappen
Compared to the heroics of Magnussen's qualifying, Max Verstappen had a fairly straightforward session as he got cleanly through Q1 before setting the pace in Q2.
On the crucial slick tyre laps at the start of Q3, Verstappen's best time was just two tenths of a second down on what Magnussen managed. He revealed afterwards he felt he had made an error at Turn 8 which cost him a chance of making it a clean sweep of sprint weekend pole positions after taking top spot for Imola and Austria.
"We were working with pretty tricky conditions and I locked up into Turn 8 which cost me pole today," Verstappen said afterwards.
As today proved, Interlagos is always really special! 🇧🇷

I love being in Brazil and after today's quali, we're in a good position for the sprint. Looking forward to racing in front of all these passionate fans 🙌

Congrats @KevinMagnussen on your first pole 👏 pic.twitter.com/8o0m4lL5Rs

— Max Verstappen (@Max33Verstappen) November 11, 2022
The Dutch driver is usually none too pleased about being beaten to top spot, but smiled as he greeted Magnussen in parc ferme afterwards – clear recognition of a job well done by Haas.
"Tomorrow is looking good but in these conditions, anything can happen," he said.
"We are still up there at the front, which is the most important thing."
In reality, Verstappen is likely to be past Magnussen very quickly at the start of the sprint and with Charles Leclerc, Lewis Hamilton and Sergio Perez all starting from lower positions than perhaps expected, it is unlikely the Haas fairytale will have any effect on Verstappen's sprint.
Lando Norris
From spending his Thursday sitting on the toilet with food poisoning to convincingly finishing as quickest man in the Alpine/McLaren battle in qualifying on Friday, Lando Norris showed his bout of illness has had little effect on his on-track form.
On a day when Daniel Ricciardo slotted, almost dutifully, in behind the two Alpines, it was Norris who kept McLaren's nose in front again as he claimed a sterling fourth place to split George Russell's Mercedes from Ferrari's Carlos Sainz – following on from going quickest of all in the tricky wet-to-dry conditions of Q1.
Indeed, Norris later said he felt pole position might have been on the cards had he been able to be further up the queue as the lights turned green to begin Q3.
"I think the only thing we could have done a little bit better was going out first in Q3 – but there was also some risk to that," he said.
"So, apart from that, we made perfect decisions and the team did an excellent job. The car was feeling good, even in the tricky conditions.
"I was extremely happy to be P1, P5 and P4 through the qualifying runs. I feel like I did a good job all day, even with how I've been feeling – and maybe wasn't driving as perfectly as I should have done, but P4 is still a great position for tomorrow so hopefully we can stay in that position and score some good points tomorrow."
Alpine start the sprint from sixth and seventh, which means a tough challenge lies in wait for Norris to try keeping ahead of McLaren's championship rivals – particularly as quicker cars such as Sainz, Perez, Hamilton and Leclerc come through to put him within range of the blue cars.
Alpine
While Norris starts ahead of them for the sprint, Alpine's ongoing advantage this season has been that their drivers are usually quite close together in terms of performance.
This was the case again in qualifying as Esteban Ocon's first lap on slicks put him just under a tenth clear of Fernando Alonso just before the red flags came out.
With Ricciardo starting well behind them, it means Alpine can concentrate on trying to move forward and put pressure on Norris. However, even if absolutely nothing changed between now and the chequered flag on Sunday, Alpine would probably take that – their two drivers being in the points would mean their sixth and seventh would pip Norris' points tally by two and open up their slender points lead just a little before the final race.
It is very finely balanced, and the fact McLaren continue to be somewhat hamstrung by one side of the garage (Mexico aside) means Team Enstone are favourites to come out on top.
Losers
Mick Schumacher
Of all the results Mick Schumacher did not need as his F1 career seemingly teeters on the edge, his team-mate slicing his way convincingly through Q1 and Q2 before taking the team's maiden pole position is probably it.
Worse – there was nothing stopping Mick from producing a similarly strong performance. He had been the quicker driver on the early intermediate run in Q1 as Magnussen had his lap time deleted for exceeding track limits, only for Schumacher to be far too tentative on the slick tyres when the changeover point came.
While Magnussen chucked his car around with wild abandon, Schumacher put in a time 2.4 seconds slower than his team-mate had managed.
"On my side, it was a bit confusing but maybe I underestimated the grip," he said afterwards.
"The track looked pretty damp but it wasn't as much as I thought. It's very frustrating and tomorrow it means the job will be a bit harder, but we are up for it."
The writing has been on the wall for weeks, with that writing becoming an engraving after his crash in Japan and now this poor qualifying performance – Nico Hulkenberg likely smiling as he saw his seat rival fail to deliver.
Schumacher's only hope of salvation is to produce an absolutely scintillating drive for the remainder of the weekend. However, given Haas' poor form on strategy and pit-stops, even his best efforts are not likely to be rewarded.
Ferrari and Charles Leclerc
In a season littered with strange decisions, the call to send Charles Leclerc out onto a still dry track on intermediate tyres made little sense. While it might have been a genius call in racing conditions, it was almost like Ferrari forgot it was still qualifying and that the teams had 12 minutes of track time.
While every other driver was peeling out on track as quickly as possible in order to just try to reap the benefits of the slick tyres for a lap, Ferrari simply…did not do that. Instead, they went out on the slow and safe tyre for no apparent reason.
After all, even if all the other nine drivers had made the wrong call and it immediately started to rain, what was the benefit to Ferrari? The other drivers still had the time to pit, make the switch  and finish qualifying on the intermediates anyway.
It was a truly bizarre call, made even worse by the fact Ferrari had to abort it and pit for slicks as they realised they had made a mistake – only for the red flags to be shown and mean he did not get a lap-time in.
Approaching the final days of the 2022 season, in a year when Ferrari have shown strategic and operational sharpness remains their biggest weakness, qualifying in Sao Paulo showed that seemingly nothing has been learned – perhaps explaining why Leclerc was so annoyed on team radio before his snippy comments to the press afterwards.
Sergio Perez
Perez did not really do a whole lot wrong, but was stymied by the fact he got stuck behind Charles Leclerc right at the start of his slick tyre lap at the start of Q3.
Unable to get past the Ferrari quickly enough to get in an uncompromised lap, the Mexican driver wound up P9 as a result.
"It was an unfortunate qualifying," he said afterwards.
"I was held up by Leclerc and Ferrari. It was very clear to me he was too slow on the inters on the out-lap and I thought he would pit. I was expecting him to 'box' and go onto the slicks.
"Instead, he stayed in front of me and I had to finish my lap just behind him, which meant I lost too much time. We will never know where I could have finished – top three should have been possible but instead we finished P9 and I'm super-disappointed with the result. We will try hard tomorrow to try to recover and get into the points."
George Russell
While Russell qualified third, the British driver made a driving error that saw his car end up beached in the gravel.
Touching the white line on the approach to Descida do Lago, Russell bounced harshly across the gravel – which broke his headrest due to the severity of the impact of his helmet on the carbon fibre.
But, trying to rescue the situation as Russell reached the tarmac escape road, he lit up his rear tyres and helplessly spun himself back off into the gravel – securing himself his grid slot as a result (and re-igniting the debate over whether causing a red-flag stoppage should result in a qualifying DQ).
Hamilton, in contrast, had a slower lap on the slick tyres as he struggled with tyre temperature due to running a lower downforce level than his team-mate.
While Russell has given his mechanics some work to do overnight to get all the gravel out of his W13's nooks and crannies, he has looked more competitive relative to his team-mate than he has in recent races – he will need to keep that up if he hopes to stave off Hamilton relentlessly closing the gap in the Drivers' Championship, as the pair are now separated by just 15 points.
Yuki Tsunoda
A low-key performance from a driver who incurred the ire of Charles Leclerc during the session. While Tsunoda was entitled to keep his place on track during his qualifying laps, the Japanese driver was just plain slow as he struggled throughout the day with his grip levels.
While Pierre Gasly showed his usual mettle as he was the first driver brave enough to make the switch to slicks, before going on to finish 12th, Tsunoda struggled in similar fashion to Schumacher as he could only manage 19th.
"I'm obviously disappointed. I've lacked grip, in general, straight from FP1 and we weren't able to find a solution to this before heading into qualy," he explained afterwards.
"I was able to go out on the dry tyre for two laps in Q1 and try to get a good lap in, but unfortunately I just didn't have the pace with this lack of grip."
Alfa Romeo
Alfa Romeo had both of their drivers knocked out in Q1, having made the switch to the slick tyres too late to be able to get a meaningful lap time in.
Valtteri Bottas held his hands up afterwards, explaining he had seen a Williams struggling around on track on his in-lap, leading him to make the decision to persevere with intermediates as everyone else swapped to slicks.
By the time he had realised his error, it was too late to get his slicks up to temperature and he was knocked out.
While Zhou Guanyu went over two tenths quicker than Bottas, his story was pretty much the same, the Chinese driver joining the Finn on the sidelines to watch championship rivals Aston Martin both make it through into Q2 and secure positions ahead of them on the grid.
Read More: Guenther Steiner: Kevin Magnussen 'had the spoon ready' for stunning Sao Paulo pole