Mercedes primed for fourth-straight home win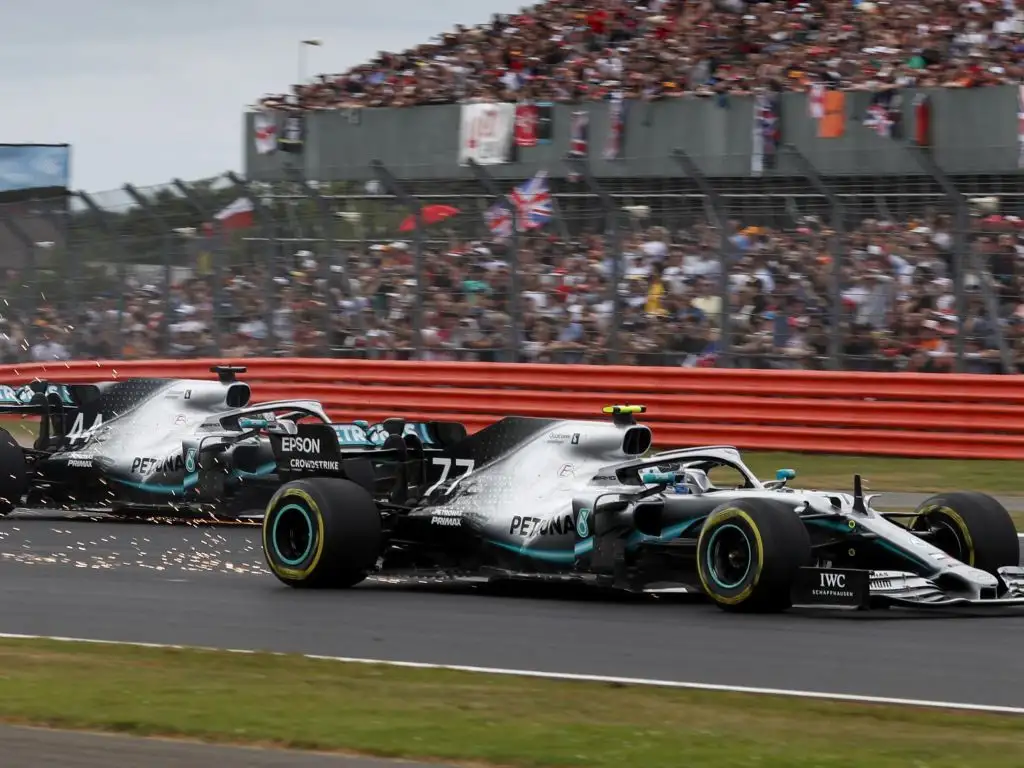 Mercedes look to make it four-straight wins on home soil at the German Grand Prix, with Lewis Hamilton eyeing up a hat-trick.
It's an event which had a wobble in recent years – the 2015 event was cancelled with no deal agreed between Formula 1 and the Nurburgring, while no race went ahead in 2017 with Hockenheim not committing to hosting a grand prix for consecutive years.
This year we will have consecutive German Grands Prix – though it may disappear again after 2019.
Of course the 2018 German Grand Prix feels somewhat familiar after the events of Silverstone – Sebastian Vettel let a golden opportunity slip through his fingers when the rain caused him to slide off into the barriers.
No rain last time out in Britain, but it was another driver error for the German when battling Max Verstappen, and right now Ferrari need their number one to rediscover his mojo after a string of difficult outings since the debacle in Canada.
This time last year Hamilton headed a Mercedes one-two, their first such result on home soil, while it also allowed them to move ahead of Ferrari in the Constructors' Championship.
Skip forward to 2019 and Hamilton is going for his third-straight win at Hockenheim, Valtteri Bottas is desperately trying to keep his team-mate in sight, while Ferrari are looking for some reason, any reason to remain positive.
Unless we see a drastic shift in the development war, it seems the Silver Arrows are well on course for a record sixth Drivers' and Constructors' Championship double, another blow for the Scuderia as they take that record from them.
With that in mind, the interesting battle is between Ferrari and Red Bull – Hockenheim will provide the next chapter in what has been a compelling story in 2019.
Verstappen currently holds the advantage – P3 in the Drivers' Championship with a slender 13-point buffer over Vettel, while Charles Leclerc is only three points further back.
🎥 🤩

Verstappen hunts down Leclerc#BritishGP 🇬🇧 #F1 pic.twitter.com/VdtzP9Qqdk

— Formula 1 (@F1) July 15, 2019
The Dutchman arguably has the most momentum right now and is taking the plaudits, but his fierce battles with Leclerc in Austria and Britain getting the fans excited, and we pray that more is to come in Germany.
For now Mercedes appear out of reach, but Verstappen and Leclerc are undoubtedly the future of the sport – one day they will battle for titles, but when you remember that both are 21, for now we all need to be patient and enjoy their current work.
An error-free Vettel is of course a major threat to both, and an error-prone Seb is equally as dangerous – right Max? But, the British Grand Prix suggested another threat is now on the horizon – Pierre Gasly.
It was almost like a real debut for the Frenchman, finally he arrived at Red Bull, qualifying ahead of Vettel and keeping himself involved in the Ferrari/Red Bull scrap in the race.
Gasly is a very talented racer – a GP2 champion and if you thought he can't hack it in Formula 1, take a look back at his Toro Rosso days.
The 23-year-old can have a very bright future in Formula 1 and for anyone going up against Verstappen is a huge challenge. If you are faster than Verstappen, you could well be the best driver in the series. Now, Gasly needs to follow up his Silverstone showing with another strong display at Hockenheim.
Confidence is key, and once the Frenchman shakes off the sacking rumours and begins to relax and enjoy the RB15, we should see the real Pierre Gasly.
Behind the top three, there is the ever-shifting midfield battle which most likely will throw up another surprise or two at the German Grand Prix.
Just when McLaren thought they may have a clear path to best-of-the-rest P4, Renault came back to life again. The question now is does that continue around 2.84 miles of Hockenheim, or do McLaren's supplier drop off again as has been their fate so far in 2019?
Haas and Rich Energy reached a new low in their relationship at Silverstone – but of course for the viewer it was a new high.
Rich Energy's now former CEO claimed to rip up their contract due to "poor performance", but the American outfit insisted it was still valid.
Great start boys@HaasF1Team #BritishGP #HaasF1 #richenergy #milkfloat pic.twitter.com/19zDwusVYj

— Rich Energy (@rich_energy) July 14, 2019
After continuing to run the Rich Energy branding on the VF-19, the energy drinks brand proceeded to mock them on Twitter, and the trolling continued when William Storey broke out his milk float to mark the double-DNF for Romain Grosjean and Kevin Magnussen.
Well, Storey is gone but Rich Energy remains and Haas can now re-focus purely on the racing – they need to with the VF-19's performance seemingly getting less predictable by the race.
After a rough patch Alfa Romeo are making their way back up the midfield order.
Kimi Raikkonen reported a lack of straight-line speed at Silverstone – this would pose an issue at Hockeheim which features a lot of high-speed sections, but the Finn used DRS wisely to get himself among the Renault/McLaren fight and stay there.
His team-mate Antonio Giovinazzi has come on leaps and bounds and he will hope to put the Silverstone DNF behind him and launch an assault on the points-paying positions alongside Raikkonen.
Williams' George Russell enjoyed his first home race in Formula 1 and was taken aback by the crowd cheering him despite qualifying P19.
Sadly the race at Silverstone was like every other for the team in 2019 – a data collecting opportunity. The German Grand Prix is likely to be no different.
Follow us on Twitter @Planet_F1 and like our Facebook page.