Pit Chat: Theresa May is a massive Formula 1 fan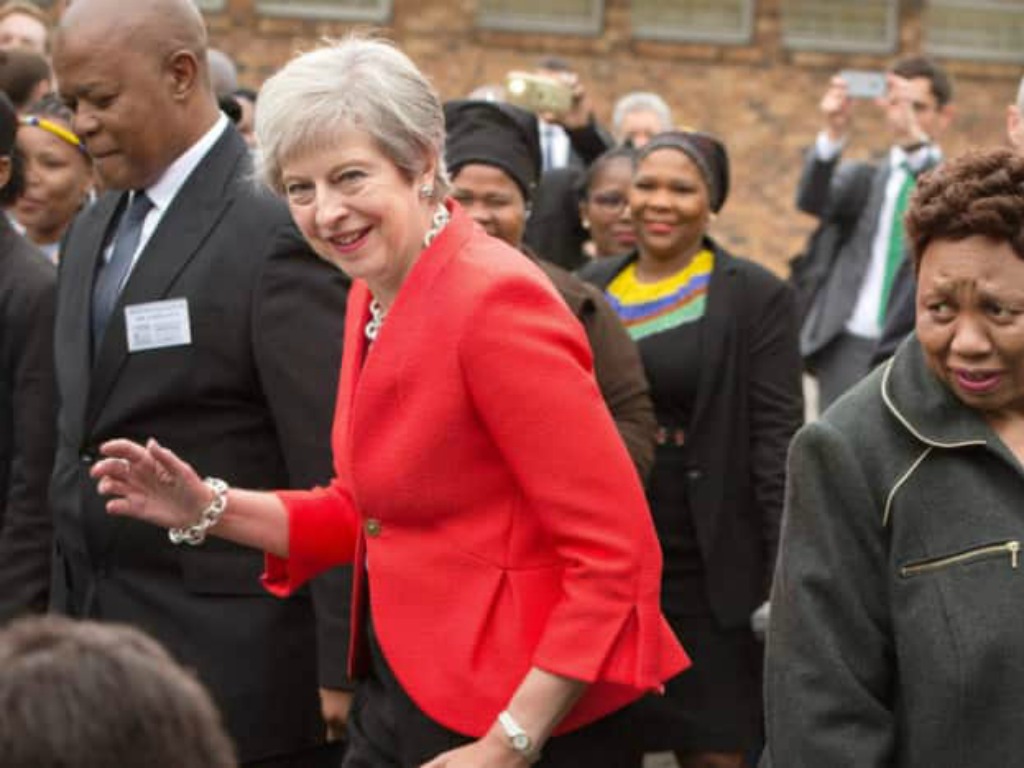 Lewis Hamilton embraces the hate in Italy, Fernando Alonso involved in more squabbles, and who knew Theresa May was a Formula 1 fan?
But first…
Early signs
Perhaps the signs that race weekend would not go Ferrari's way were made apparent as early as Wednesday, when Sebastian Vettel suffered this rather embarrassing crash at the F1 Milan festival.
Of course, someone just had to go one better and mix in Vettel's radio message from the German Grand Prix when he found the barrier there, too.
Already did it yesterday! Take a look! pic.twitter.com/uKW6NVudFk

— Joshua Burch (@JoshuaBurchF1) August 30, 2018
And we all know that look from mother after we broke something…
That wasn't the only early crash in Italy either. This sounded expensive…
Kimi corner
An early visit to Kimi corner this week and it is tinged with a bit of sadness. He is never going to get a better chance to win a race again, is he?
Before we become a blubbering wreck, let's remind ourselves why we love him so dearly.
We love him almost as much as he loves doing press conferences…
Kimi's always been an open book, right? 😆📖#ItalianGP 🇮🇹 #F1 pic.twitter.com/bAr3yaZb2f

— Formula 1 (@F1) August 30, 2018
And just listen to the emotion as Raikkonen secured only his second pole position in 10 years…
Is this the most Kimi reaction ever? 😂#ItalianGP 🇮🇹 pic.twitter.com/btCiUIOGeI

— Formula 1 (@F1) September 1, 2018
Let some other Finns show you how it's done, Kimi.
Sound UP 🔊

Listen in as Finland's MTV3 commentators react to Kimi Raikkonen's pole at Monza. You won't be disappointed 😁#ItalianGP 🇮🇹 pic.twitter.com/HGEhuS5H86

— Formula 1 (@F1) September 1, 2018
Or the Dutch…
"Kimi Fucking Räikkönen, you did it" 😂😊 pic.twitter.com/5kIfQc52x9

— Verena (@miezicat1) September 1, 2018
Let's have another go then, Kimi, at capturing that great moment when you clinched pole. To the press conference…
Q: Kimi, you got quite a reception on your slow down lap as well?
KR: I don't hear them.
Nothing and nobody will change him. Well, maybe the kids will. Find us a cuter picture than this and we will call you a liar.
He certainly won't have appreciated this whack to the head though…
Attack on Kimi #F1 #ItalianGP pic.twitter.com/vlzSd6TqQQ

— Mattzel89 (@Mattzel89) September 2, 2018
Who are ya?
But that would not have hurt half as much as Kevin Magnussen realising he still has an awful long way to go to get to the superstar status of Kimi Raikkonen. Poor chap.
What's your secret?
Before Kimi completely takes over Pit Chat, we have something that we are struggling to comprehend. How does this happen…
FP2 had just begun… then 😱#ItalianGP 🇮🇹 #F1 pic.twitter.com/Zpx4NzvC7K

— Formula 1 (@F1) August 31, 2018
For Marcus Ericsson to not even having a single hair out of place about five minutes later?
We were expecting at least one plaster.
Radio gold
Another memorable moment from practice came courtesy of Renault. Superb song choice…
We do prefer this version, though…
Alonso v F1
A race retirement and more arguments. It was the standard race weekend for Fernando Alonso, who just seems to be everywhere these days…
Alonso got reacquainted with his good mate Kevin Magnussen in Monza. Their FP2 clash leading to a one-liner duel.
Alonso: "There are drivers on lots of different levels… and then there are the Haas drivers."
Magnussen: "I can't wait for Alonso to retire, he thinks he's a god."
1-1 after two rounds. Time to get the bosses involved…
For Brown's posturing alone, it's 2-1 McLaren.
But those looking for happy ending, fear not. K-Mag and Alonso were spotted hugging it out on race day…
Parece que Magnussen e Alonso se acertaram sobre o corrido de ontem. Os dois foram registrados andando juntos depois da volta que os pilotos dão no circuito. pic.twitter.com/hkZnT8n8MA

— K-Mag 🇧🇷 (@KMagnussenBR) September 2, 2018
Unless it was Alonso's lookalike…
Awkward…
The camera (un)fortunately caught two rather awkward moments for Ferrari boss Maurizio Arrivabene.
He got caught having a crafty smoke. No, no, it was a yawn honest…
And how about this for a fist bump…
Most akward fist bump of the year. #F1 #MonzaGP #Ferrari pic.twitter.com/oQOKYwTRTs

— M79 (@Schaamteloos) September 1, 2018
Hamilton 1 Tifosi 0
The Tifosi are a passionate bunch, but it was a case of them poking the bear a little too much this year. Booing Lewis Hamilton throughout the weekend, banners like this…
Chants like this…
And all that did was give him more motivation to win…
Sorry Ferrari fans, but Hamilton wins this round.
Wing man
Hamilton's victory would not have been possible without the help of Valtteri Bottas, prompting some humorous images to appear.
WHO THE F.MADE THIS?😀😂😂😂😂😂#F1 #ItalianGP pic.twitter.com/Gl6xVUh7F1

— NicoleNinaF1 (@NicoleNinaF1) September 2, 2018
And here is a look at Mercedes' 2019 challenger…
Any other business
Turns out British Prime Minister Theresa May is a massive Formula 1 fan…
Theresa May has just heard the new #F1 intro music for the first time… 😂😂 pic.twitter.com/wMvolvJXzq

— Paul McGinnes (@PaulMcG92) August 28, 2018
Pierre Gasly provides some valuable insight on team radio…
Engineer: "Pierre, how is the track?"
Pierre: "Wet"
And we reckon Daniel Ricciardo may be a big fan of pizza…
He may have disappointed his 'crazy-in-the-nicest-way' Italian fans by signing for Renault, but boy does @danielricciardo love his pizza! 🍕🍕🍕

In fact, it's almost like he came to Monza just to indulge in the doughy delights – as he tells @LeeMcKenzieTV in great detail 😂 pic.twitter.com/hFqUnDJOvs

— Channel 4 F1® (@C4F1) August 31, 2018
…before getting some more Dutch lessons.
Last word
No further comment needed.
Follow us on Twitter @Planet_F1 and like our Facebook page.