Pit Chat: How to absorb Kimi Raikkonen's powers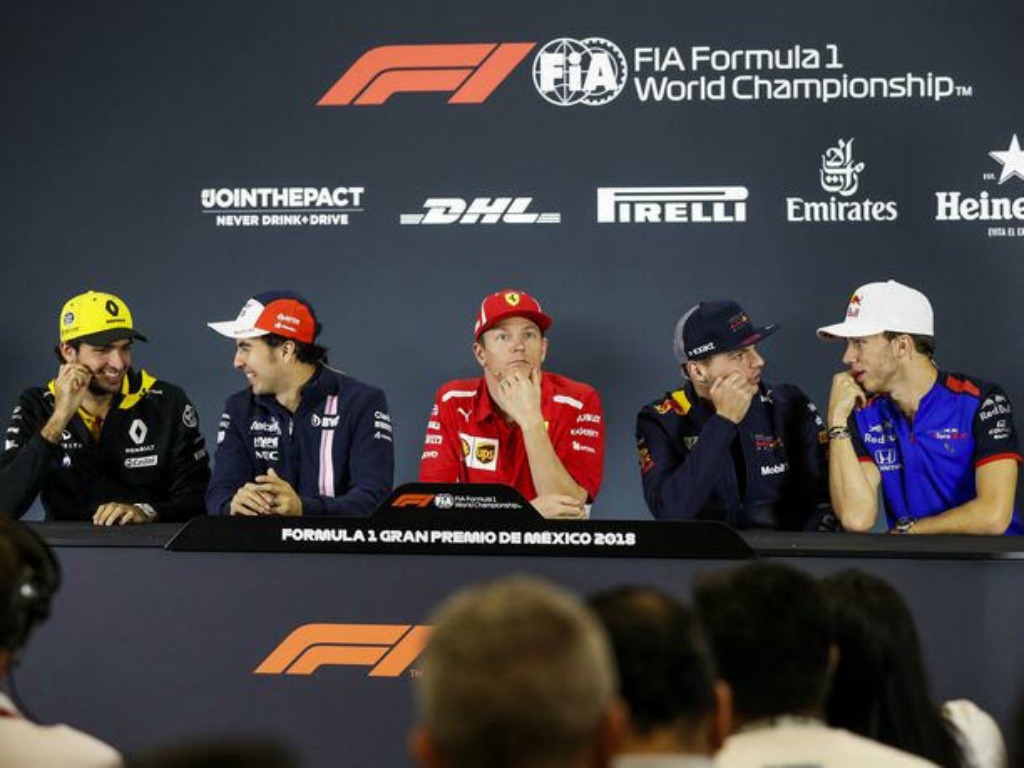 Max Verstappen and Sebastian Vettel both turned into Kimi Raikkonen in Mexico…off the track, at least. Here are the best (and worst) bits from Mexico City…
But first…
Penny for the swear jar
Prior to race weekend, Pit Chat learned that Claire Williams loves a good swear. This clip emerged from a Williams documentary, back when they were battling Ferraris and not themselves at the back of the grid. Sigh.
But Claire is not the only one who loves a good swear in the heat of the moment. Toro Rosso's Brendon Hartley is at it as well as he tries to save his Formula 1 future.
Hartley in FP2: "Okay he's just blocked me, almost took me off the track. F**king bunch of amateurs. Yeah he's a w*nker. Yeah copy I'll cool down. Yeah this Giovinazzi is an idiot."
Engineer: "Copy that."
Poor Brendon, he is trying anything he possibly can now to try and stand out against Pierre Gasly.
Kimi corner
It's an early stop into Kimi corner because we cannot wait to show you two hilarious interviews that took place in Mexico.
Not that you would, but if for a slight second you doubt just how much Raikkonen doesn't care. Let this quiz remind you…
#MexicoGP 🇲🇽 quiz with Kimi Räikkönen 😂#Kimi7 #F1

— Kimi Räikkönen Fans (@iceman7news) October 28, 2018
And, if you are going to interview Kimi, then a format which only requires a one word answer is the perfect way to go about it. Only then, you can't shut him up!
Of course Kimi throws his phone into water to avoid being contacted.
And, with Kimi winning in Austin, he was unfortunately a shoe-in for the Drivers' Press Conference in Mexico City. He looked thrilled to be there as always.
As comparisons go, you will struggle to top this…
OMG 😂😂😂 pic.twitter.com/7RmR0u45fZ

— Kimi Räikkönen #bwoah (@Kimi7iceman) October 27, 2018
It's an honour to be sitting next to Kimi, you can even use some of his special powers.
Long question, short answer… Kimi, that you? 😂#MexicoGP 🇲🇽 #F1 pic.twitter.com/EoWj86HyMZ

— Formula 1 (@F1) October 25, 2018
And you can tell Sebastian Vettel has been around him…
Sebastian Vettel in an incredible talkative mood post-FP2 😅 #F1 #MexicoGP #F1ESTA pic.twitter.com/miVjTRKETU

— Luke Smith (@LukeSmithF1) October 26, 2018
But not everyone is allowed access to Kimi…
A contrast of emotions
Here is what 0.026 seconds looks like after Daniel Ricciardo spoiled Max Verstappen's pole position party.
And here is what pole position to an EIGHTH race retirement of the season looks like.
What's more broken: Ricciardo or his car?
Comments like this from Dr Helmut Marko are certainly not going to help.
Helmut Marko told Ricciardo to enjoy the Mexico pole as much as he can. "He might be waiting a bit longer for another one when he's driving for Renault."

AMuS (in German): https://t.co/Kp2IIOBJrG

— Tobi Grüner 🏁 (@tgruener) October 28, 2018
At least we saw Daniel be more like his usual self with one of the quotes of the season.
Peak Danny Ric 😂#MexicoGP 🇲🇽 @DanielRicciardo pic.twitter.com/FRmIaNCLdc

— Formula 1 (@F1) October 28, 2018
A stunning choice of words.
And any opportunity to pass on his congratulations to Baku, he will take it with both hands…
Although the person in charge of the FIA transcript needs to brush up on their memes.
Mad Max
After seeing a historic pole position snatched away from him, Verstappen was accused of throwing his toys out of the pram, labelling his whole qualifying as "crap" and taking his frustration out on a defenceless numbers board.
The difference 0.026s makes…#MexicoGP 🇲🇽 pic.twitter.com/XJpYbMA01A

— Formula 1 (@F1) October 28, 2018
Don't knock the board over, Head of F1 Communications for the FIA, Matteo Bonciani, takes it to heart every time.
But, despite Verstappen's frustrations, there was this moment between the two Red Bull drivers to show the Dutchman isn't a big baby after all.
It is completely fine to be annoyed at missing out on pole position and being happy for your team-mate at the same time. Contrasting emotions are allowed to exist.
That escalated quickly
We have known for quite some time now that Lewis Hamilton was going to be World Champion.
Alongside that media outlets all over the world had their fingers twitching over the publish button with their hot takes once it was all confirmed.
Perhaps some analysis on where he ranks as one of the all-time greats, perhaps?
Pondering whether he can match Michael Schumacher's seven World titles, maybe?
Or, you know, just go with what Sky News did…
Just a 'well done' would have sufficed.
A class above
Thankfully Sebastian Vettel was on hand to show everyone how it is done.
"I told him it was well deserved and to enjoy it. Number five, it's something incredible. He drove superbly all year. He was the better one of us two"

– Sebastian Vettel pic.twitter.com/hxL6x6UujX

— Formula 1 (@F1) October 29, 2018
And this is an utterly brilliant gesture. He seriously did not need to do that.
Any other business
Sergey Sirotkin had a busy weekend…
Blimey. Sergey's got a busy afternoon in store. #F1 pic.twitter.com/BXmlZU4J9p

— Damien Cross (@DC_F1) October 27, 2018
Sergio Perez is going to need to a better disguise to avoid being spotted by his adoring home fans.
Those very difficult title permutations forced the Formula 1 stat bots to have a meltdown.
Ok F1 #MexicoGP pic.twitter.com/v1g72oNsF6

— Scott Davison (@S_Davisonn) October 28, 2018
Force India boss Otmar Szafnauer gets a good laugh from the press. Not always an easy thing to do.
And Ferrari can be cute when they want to be. Aww…
Charles Leclerc getting teased by Ferrari team principal Maurizio Arrivabene and Gino Rosato during an interview today 😂

📸 : https://t.co/oZHvNNryYD #F1 #MexicoGP 🇲🇽 #CL16 #TeamLeclerc pic.twitter.com/Mls4Nu489l

— Charles Leclerc Fan Page (@LeclercNews) October 25, 2018
Last word
We'll let Will Smith have the last word. Who else?
Yes, this was really Will Smith on Lewis Hamilton's radio. pic.twitter.com/Ep3ZTqZTJ7

— Nick Bromberg (@NickBromberg) October 28, 2018
Not because we enjoyed it, though. Looking back at the radio transcripts, Hamilton didn't even hear it. It was added in purely for TV viewers and was clearly meant to be used in Texas.
Radio transcript:
E1: "That's it Lewis, that's P4 and 2018 World Championship! Five times mate! Five times!"
E2: "Championship wasn't won today mate, but was won through a season of solid work and some fun great driving"
Insert Will Smith clip here
E1: "HPp8 – 13 and strap mode 12 and you'll be going to the stadium"
Hamilton: "Thank you guys so much for your hard work, that was a tough weekend, but, as you said it's the whole year, great work."
E1: "Yeah well done Lewis, stop there at the stadium and take the applause from the crowd."
You are doing good things, Liberty, but please stop with this Hollywood fascination and fakeness and let these big moments happen naturally.
Onto Brazil…
Follow us on Twitter @Planet_F1 and like our Facebook page.