FP2: Stroll rises to the top, Albon crashes out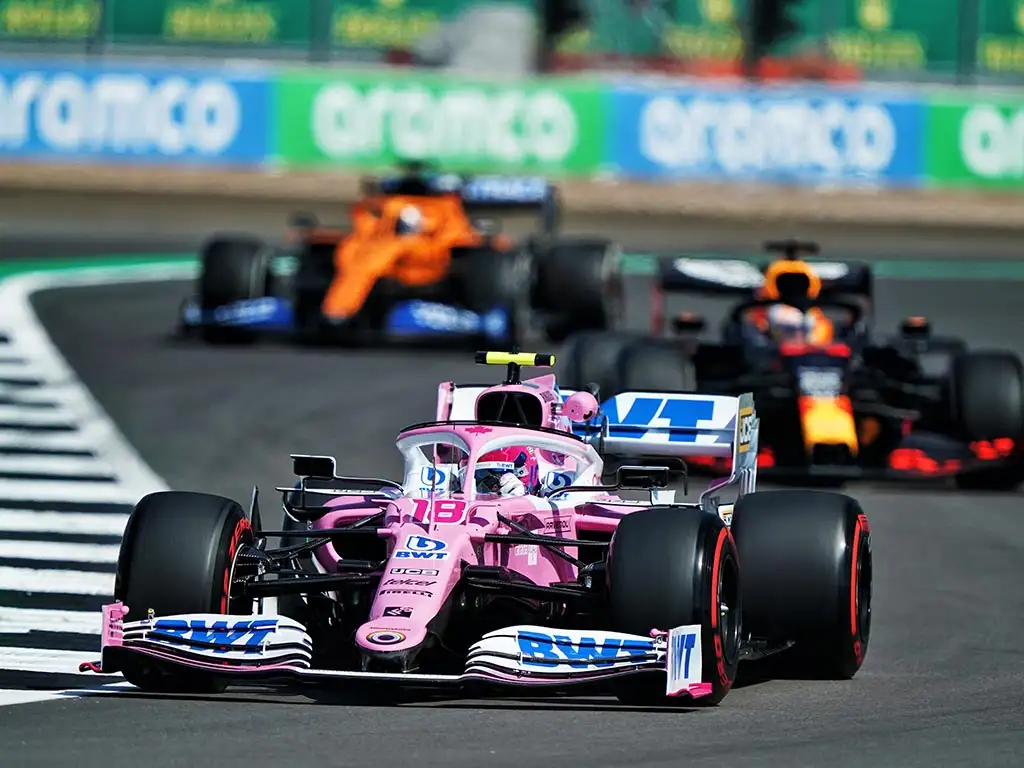 Racing Point's Lance Stroll was quickest in second practice ahead of the British Grand Prix, which saw the under-pressure Alex Albon crash out.
Albon, who has a new race engineer this weekend in the form of Simon Rennie, lost control at Stowe and wrecked his RB16 halfway through the session.
He walked away unscathed but it will be yet another patch-up job for the Red Bull mechanics who have certainly had to work very hard for their pay packets so far this year.
The red flag had an impact on the qualifying sim runs, but not on Stroll who managed to propel his RP20 to the top of the timesheet with a 1:27.274. Albon, despite his crash, was still second quickest and 0.090s behind.
The Mercedes pair of Valtteri Bottas and Lewis Hamilton occupied P3 and P5 following scruffy hot laps. Sandwiched in between was Charles Leclerc in the Ferrari.
Closing out the top 10 was Carlos Sainz, the returning Nico Hulkenberg in the Racing Point, Pierre Gasly, Daniel Ricciardo and Kimi Raikkonen.
The untypical British summer weather continued on Friday afternoon at an eerily quiet Silverstone circuit which is usually packed with hardcore Formula 1 fans. Track temperatures rocketed up to 49 degrees as the green lights showed for FP2.
Cooler conditions are in store for the rest of the weekend so, with second practice not being as fully representative as it usually is, there was no immediate rush to get properly stuck into the afternoon programmes.
There was some eagerness from Ferrari, though, especially Sebastian Vettel who missed the whole of FP1 due to a intercooler problem. His team-mate, Charles Leclerc, was the first big-name spinner on the exit at Village but no damage was done.
Leclerc sets the fastest time of the session so far ⏱️

And then goes for a spin on the very next lap 😵🔄#BritishGP 🇬🇧 #F1 pic.twitter.com/tmI7u3mp8L

— Formula 1 (@F1) July 31, 2020
Before the wicks were turned up ever so slightly for the qualifying simulation runs, it was Mercedes' Bottas who was topping the timesheet with a 1:27.731, four tenths quicker than Albon in second place and a further tenth ahead of team-mate Hamilton.
Vettel, meanwhile, still wasn't having things his own way as he was planted to the bottom of the standings and forced to stop his running again as something came loose within the cockpit.
"ffs, I gotta do everything around here" pic.twitter.com/RJ4Lja6nWX

— Ky (@FiftyBucksss) July 31, 2020
Albon was able to shave three tenths off Bottas' best after his first low fuel, soft tyre run; Stroll, who kicked up a bit of dirt through the Maggotts-Becketts-Chapel complex, subsequently pipped Albon by 0.090s.
Leclerc found himself two tenths down on the Racing Point after his first run, but Verstappen had to abort his after hitting traffic. He made his feelings towards Romain Grosjean very clear as he drove up alongside the Haas driver, calling him a "f***ing blind motherf***er".
There was then problems for his team-mate Alex Albon, who red flagged the session with 45 minutes left on the clock.
He squirmed out of control at Stowe and hit the armco barrier with some force. He reported he was ok but automatically triggered the medical car given the g-forces involved. His RB16, however, was very badly damaged on the front and rear.
The qualifying sim runs continued after the 10 minute delay caused by Albon's crash, with Mercedes still yet to show their hand.
Hamilton backed out of his lap after missing the apex at Brooklands while a poor middle sector from Bottas ensured he only narrowed the gap to Stroll to 0.157s.
Vettel's SF1000 continued to be a nuisance to him. He was only able to improve from P20 to P18 after his 'hot' lap, 1.5 seconds down on Stroll's lead time.
The reduced long run programmes passed without any major incidents and, while Mercedes' one-lap wasn't on show on Friday, their race pace numbers showed they are still very much in a league of their own.
Nicholas Latifi did bring out some very late yellow flags as he suffered a near carbon copy spin like Albon, but he was able to come to a stop in the gravel trap.
FP2 timesheet
1 Lance Stroll Racing Point 1:27.274 S
2 Alex Albon Red Bull 0.090s S
3 Valtteri Bottas Mercedes 0.157s S
4 Charles Leclerc Ferrari 0.296s S
5 Lewis Hamilton Mercedes 0.307s S
6 Carlos Sainz McLaren 0.546s S
7 Nico Hulkenberg Racing Point 0.636s S
8 Pierre Gasly AlphaTauri 0.723s S
9 Daniel Ricciardo Renault 0.838s S
10 Kimi Raikkonen Alfa Romeo Racing 0.885s S
11 Lando Norris McLaren 0.895s S
12 Esteban Ocon Renault 0.945s S
13 Antonio Giovinazzi Alfa Romeo Racing 0.982s S
14 Max Verstappen Red Bull 1.116s M
15 Daniil Kvyat AlphaTauri 1.152s S
16 Romain Grosjean Haas 1.290s S
17 George Russell Williams 1.497s S
18 Sebastian Vettel Ferrari 1.586s S
19 Kevin Magnussen Haas 1.624s S
20 Nicholas Latifi Williams 2.684s S
Follow all the action from the British Grand Prix with the PlanetF1 live centre