FP2: Hamilton hits the front, Raikkonen the barrier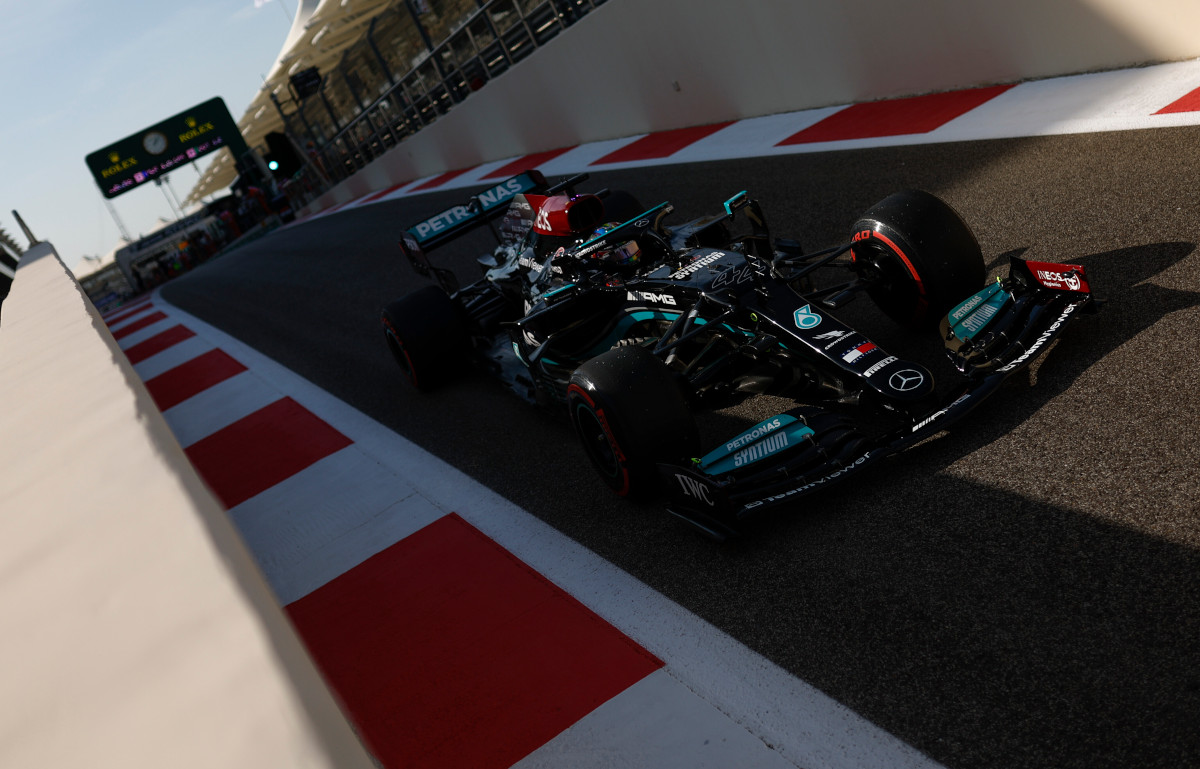 Lewis Hamilton made it one P1 apiece between himself and his title rival Max Verstappen in Friday's action at the Yas Marina circuit.
A setting sun and cooler temperatures set the stage for Friday evening's second practice for the Abu Dhabi Grand Prix where once again all eyes were on Hamilton and Verstappen.
While it was the Red Bull driver who finished P1 in FP1, Friday's second session is more representative of the conditions the drivers will face during qualifying and in the race.
It is the more important of the two, and Hamilton came out on top.
The session was red flagged with a handful of seconds on the clock, Kimi Raikkonen crashing at Turn 14.
Kimi Raikkonen spins and hits the wall at Turn 14

Thankfully he is able to get out of his car#AbuDhabiGP 🇦🇪 #F1 pic.twitter.com/TNQr9M80xh

— Formula 1 (@F1) December 10, 2021
Kimi Raikkonen was once again eager to get his final FP2 session underway, and probably over, the Alfa Romeo driver the first out and the first to set a time. A 1:26.6.
As with the day's earlier session, he wasn't P1 for very long with Valtteri Bottas hitting the front and then Hamilton, the reigning World Champion's opening lap time a 1:25.1.
Lando Norris went P1 only to lose his time for exceeding track limits with Hamilton then upping his pace to a 1:24.9.  Verstappen went P2 on his first flying lap of the session, but he too lost it for running wide.
11 minutes into the session and Bottas became the first driver to hit the barriers – at a track where hitting the barriers is generally quite difficult.
The Finn got out of shape at Turn 14 and hits the barrier with his right-rear tyre. And then there were two as five minutes later Nicholas Latifi was in the barrier at Turn 13, breaking the left side of his Williams' rear wing.
Valtteri Bottas kisses the wall at Turn 14

He's not the first to be caught out there, keep your 👀 on that one throughout the weekend#AbuDhabiGP 🇦🇪 #F1 pic.twitter.com/usdHEteZUi

— Formula 1 (@F1) December 10, 2021
Back at the front, running the medium Pirellis, Hamilton upped his pace a 1:24.1, while Bottas, having escaped without any damage from his earlier moment, went second ahead of Daniel Ricciardo, Verstappen and Esteban Ocon.
Fernando Alonso, on a fresh set of soft tyres and running the always-thrilling helmet cam, improved to second place. But he exceeded the track limits at Turn 16 and lost his time. So too did Charles Leclerc. Carlos Sainz lost a lap time at Turn 7 and Raikkonen at Turn 12.
Bottas leapfrogged Hamilton for P1 as both Mercedes drivers swapped their medium tyres for softs. Bottas clocked a 1:24.0 with Hamilton 0.021s down on his team-mate. Verstappen was the next to bolt on a set of soft Pirellis, a 1:24.3, two-tenths down on the Mercedes team-mates.
That though was by no means the end of the story with Alpine's Ocon getting involved at the sharp end, the Frenchman going 0.049s faster than Bottas, a surprise for the form book.
It wasn't long before Hamilton restored natural order, the Mercedes driver P1 with a 1:23.6. As the drivers swapped to race simulations, Verstappen stayed fourth some 0.641s shy of Hamilton's pace.
The reigning World Champion finished the session quickest of all ahead of Ocon, Bottas and Verstappen with Sergio Perez fifth.
Although Verstappen and Hamilton matched each other for lap count in the long runs, they opted for different tyres, the Red Bull driver on the softs and Hamilton, half a second slower, on the mediums. Bottas, also on the mediums, was a further four-tenths down.
Red Bull's decision to do Verstappen's race sim on the soft tyres had pundits speculating that Red Bull will be going for the soft tyres in Q2 with Mercedes favouring the mediums.
Raikkonen had a late crash, the Alfa Romeo driver losing the back end out of Turn 13 and hitting the barrier with the rear of his car, the impact spinning him around and also hitting with the right side of the car. Raikkonen was thankfully okay.
Times
1 Lewis Hamilton Mercedes 1:23.691
2 Esteban Ocon Alpine 0.343s
3 Valtteri Bottas Mercedes 0.392s
4 Max Verstappen Red Bull 0.641s
5 Sergio Perez Red Bull 0.709s
6 Fernando Alonso Alpine 0.804s
7 Yuki Tsunoda AlphaTauri 0.841s
8 Charles Leclerc Ferrari 0.866s
9 Carlos Sainz Ferrari 1.153s
10 Pierre Gasly AlphaTauri 1.249s
11 Daniel Ricciardo McLaren 1.268s
12 Antonio Giovinazzi Alfa Romeo Racing 1.417s
13 Lando Norris McLaren 1.462s
14 Sebastian Vettel Aston Martin 1.504s
15 Lance Stroll Aston Martin 1.694s
16 Kimi Raikkonen Alfa Romeo Racing 1.749s
17 George Russell Williams 1.858s
18 Nicholas Latifi Williams 1.996s
19 Mick Schumacher Haas 2.093s
20 Nikita Mazepin Haas 2.645s
Who is favourite for Abu Dhabi?
Toto Wolff says he doesn't know who will be favourites for the Abu Dhabi GP.