FP3: Hamilton pips Verstappen in final practice
Lewis Hamilton and Mercedes threw off the sandbags in FP3 for the Abu Dhabi Grand Prix, the Brit two-tenths up on his title rival Max Verstappen.
Hamilton clocked a 1:23.274, the fastest time of the weekend, to beat his title rival by 0.214s as the teams put in their final preparations ahead of qualifying.
It was a session in which Red Bull once again had rear wing issues, the team forced into changing Verstappen's although keeping him on a low downforce wing.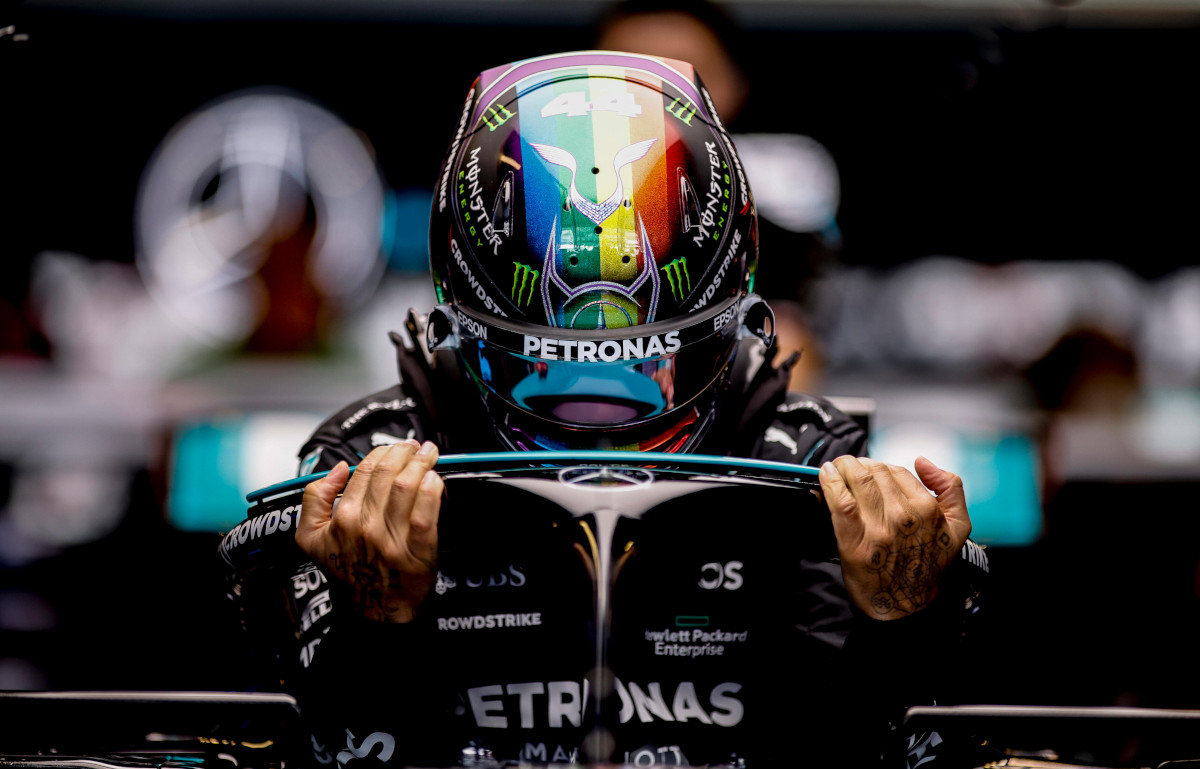 Max Verstappen, swapping to a low downforce wing for the start of final practice, got the timesheet rolling with a 1:24.9 on the medium tyres. A double cool down and Verstappen upped his pace to a 1:24.8
While the Red Bull driver laid down the laps, Lewis Hamilton's mechanics were working on his car, Mercedes having found a brake issue. Hamilton's car had also been fitted with a new exhaust overnight.
Cambios de última hora en la puesta a punto del Mercedes de Hamilton

Setup last minute changes for Mercedes on Hamilton's car.#AbuDhabi #F1 pic.twitter.com/3RxUKMGVvz

— Albert Fabrega (@AlbertFabrega) December 11, 2021
As Verstappen returned to the pits, P1 ahead of Valtteri Bottas and Kimi Raikkonen, Hamilton ventured out for his first lap of the day. Running the soft tyres, he went P1 with a 1:24.2, followed that with a cool down lap, and then upped his pace to a 1:24.0.
"Track still four tenths slower than FP2 – some will be temperature, some will be wind," Bottas was told over the radio.
Sergio Perez, running a high downforce wing, joined the action and jumped up to third place ahead of Bottas, Antonio Giovinazzi and Fernando Alonso. Daniel Ricciardo and George Russell were the last two drivers to enter the fray, P11 and 17 respectively.
Kimi Raikkonen, competing in his final F1 grand prix, worked his way into the top-ten only to return to the Alfa Romeo garage with an engine problem. The Finn, who crashed in Friday's second practice, was momentarily stuck in the pits while his mechanics and Ferrari worked on his car. It clearly wasn't a big issue, Raikkonen soon back out and up to seventh.
Nicholas Latifi also had an issue reporting that his "dash is loose, it won't stay clipped into place". Williams is the only team to use a dash separate that is from the wheel.
Bottas briefly hit the front only for Hamilton to respond with a 1:23.274, the fastest time of the weekend, and 0.7s up on Bottas' best. Hamilton and Bottas were running the soft tyres, Red Bull the mediums.
While Hamilton took a breather, hopping out of his car, Verstappen remained sitting in his as Red Bull were, not for the first time this season, working on his rear wing, the team's efforts focused on the DRS. The team eventually swapped his wing, same spec, just a different wing.
Red Bull, Verstappen'in arka kanadını değiştiyor. pic.twitter.com/XWrm49COGR

— Krampon F1 (@F1Krampon) December 11, 2021
Back out on track with a new set of soft tyres, Hamilton wasn't able to improve on his previous best, his W12 possibly carrying more fuel than before. "The rears are very hot" he told Mercedes. Pirelli upped the tyre pressures overnight, putting the rears up to a 21psi and the fronts 23.
Hamilton returned to the pits briefly and, as he made his way back out onto the track, he blocked Nikita Mazepin, forcing the Haas driver to take avoiding action off the track.
Verstappen, with a new rear wing fitted, bolted on a set of soft tyres but aborted his first flying lap. He told Red Bull that his car "doesn't want to turn into Turn 6, unbelievable". His next attempt put him P2, 0.214s down on Hamilton.
Both Hamilton and Verstappen had minor issues late in the session, Hamilton sent out on a old set of softs that had a flat-spot, and Verstappen losing it at Turn 9. He was up on his previous best when he went running wide.
The session ended with the title protagonists 1-2 with Bottas third ahead of Perez while Lando Norris and Yuki Tsunoda put in late runs to finish fifth and sixth respectively ahead of Pierre Gasly, Carlos Sainz and Ricciardo. Charles Leclerc completed the top ten.
Times
1 Lewis Hamilton Mercedes 1:23.274
2 Max Verstappen Red Bull 0.214s
3 Valtteri Bottas Mercedes 0.751s
4 Sergio Perez Red Bull 0.773s
5 Lando Norris McLaren 0.832s
6 Yuki Tsunoda AlphaTauri 0.949s
7 Pierre Gasly AlphaTauri 0.977s
8 Carlos Sainz Ferrari 1.321s
9 Daniel Ricciardo McLaren 1.459s
10 Charles Leclerc Ferrari 1.484s
11 Lance Stroll Aston Martin 1.547s
12 Esteban Ocon Alpine 1.560s
13 Kimi Raikkonen Alfa Romeo Racing 1.763s
14 Antonio Giovinazzi Alfa Romeo Racing 1.774s
15 Fernando Alonso Alpine 1.820s
16 Sebastian Vettel Aston Martin 1.841s
17 George Russell Williams 1.946s
18 Nicholas Latifi Williams 2.048s
19 Mick Schumacher Haas 2.066s
20 Nikita Mazepin Haas 3.058s