FP3: Gasly surprise leader, setback for Max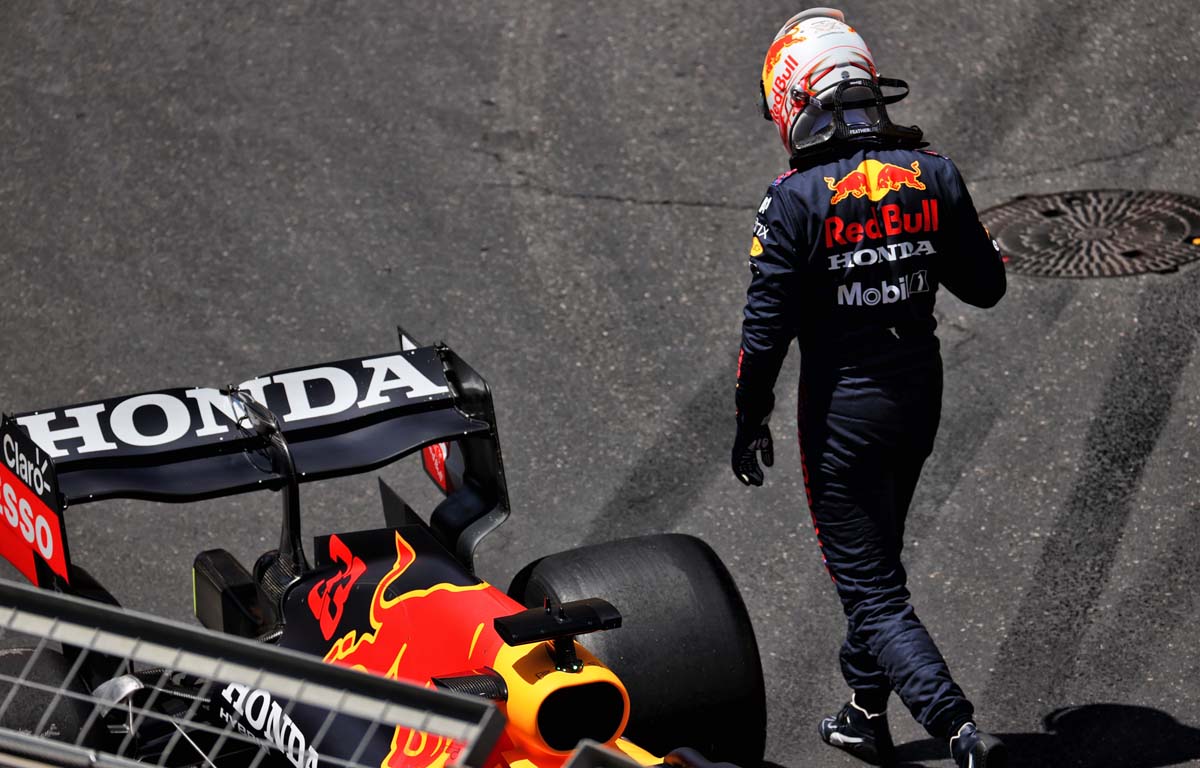 Max Verstappen crashed out of third practice ahead of the Azerbaijan Grand Prix, as AlphaTauri's Pierre Gasly took a surprise P1 in the session.
Gasly's 1:42.251s was +0.344s ahead of Red Bull's Sergio Perez, in a session that saw a marked increase in heat compared to Friday. A track temperature of 54°C was a six-degree increase from the day before – which contributed to leaving drivers around a second slower than their FP2 times.
Several drivers experienced issues throughout practice running, with track conditions being unfavourable compared to Friday and proving to be an added challenge on Saturday.
Verstappen crashed out of the session when he locked his front-left tyre in braking slightly too late for Turn 15, colliding with the barrier at the tight left-hander and bringing out the red flag in the process.
Mercedes' fortunes improved with Lewis Hamilton looking much closer to the pace, gaining P3 with a hefty tow from Perez on the final straight – although Valtteri Bottas was out of the top 10 once again in P13.
However, the order appears to be unrepresentative as consistent clear running was almost impossible in a continually interrupted FP3 session.
The session began with news that Mercedes had swapped their rear wing to a higher-downforce specification, which will cost the drivers straight-line speed in exchange for better performance in the corners – as both drivers lagged well behind Red Bull on Friday practice.
A quiet start to the session saw only the Haas drivers and Fernando Alonso take early laps in the first 10 minutes of the one-hour session, with Nikita Mazepin reporting dust on the track – which hindered grip in the early stages.
This was exemplified when Mazepin ran slightly wide at the left-hander of Turn 15, which left the Russian with a near-miss as he almost brushed the concrete wall on corner exit. Verstappen quickly followed as he went too deep at Turn 4, needing to spin around in the run-off area to get himself back on track.
Track temperature 56C 🥵
Air temperature 28C ☀️#FP3 #AzerbaijanGP pic.twitter.com/TnvwXJ7hv5

— Scuderia Ferrari (@ScuderiaFerrari) June 5, 2021
F1 TV are offering PlanetF1 readers 10% off their Access and Pro subscriptions! Click here and use the code PLANETF10 at checkout*
*offer expires midnight on Sunday, June 6
Despite Mercedes' car changes, Hamilton complained of having "no rear end, or front" over team radio as he and his team searched for a solution to put themselves higher up the leaderboard.
Both AlphaTauri cars appeared to switch their car on better than anyone, as Gasly set the pace with a 1:43.187 and team-mate Yuki Tsunoda +0.260 behind – and six-tenths faster than their senior Red Bull colleagues.
It was soon game over for Verstappen, though, as he mimicked Charles Leclerc's problem in Friday practice. He locked up and collided with the barriers at Turn 15, and having tried to reverse his car away, he could not do so and a red flag was the result.
Verstappen Leclerc

🤝

Crashing at
Turn 15

— Planet F1 (@Planet_F1) June 5, 2021
The frustrated Dutchman refused to leave his car for several minutes as he tried to beckon the track marshals to help him get his car going again, but he ended up having to take the long walk back to the pit lane.
A 10-minute delay saw cars queueing up to get back out on track, with only Mazepin having a double-figure lap tally at that point.
Qualifying simulations took over as fresh soft-tyre runs started – with Nicholas Latifi and Carlos Sainz continuing the troubles up and down the grid by running too deep at Turn 3 and Turn 15 respectively.
Turn 15 was troublesome throughout FP3, as Mazepin's earlier scrape was followed by a heftier hit on the outside wall and he swiftly returned to his pit box relatively unscathed.
Sebastian Vettel was another driver to go into the run-off area at T15, while George Russell lost engine power and had to pull over in the closing stages of the session.
FP3 timesheet
All best times set on softs unless stated
1 Pierre Gasly AlphaTauri 1:42.251 16 laps
2 Sergio Perez Red Bull 0.344s 18 laps
3 Lewis Hamilton Mercedes 0.446s 15 laps
4 Charles Leclerc Ferrari 0.527s 16 laps
5 Carlos Sainz Ferrari 0.755s 17 laps
6 Lando Norris McLaren 0.760s 15 laps
7 Fernando Alonso Alpine 0.829s 15 laps
8 Yuki Tsunoda AlphaTauri 0.993s 19 laps
9 Esteban Ocon Alpine 1.043s 15 laps
10 Daniel Ricciardo McLaren 1.306s 17 laps
11 Sebastian Vettel Aston Martin 1.334s 13 laps
12 Lance Stroll Aston Martin 1.431s 12 laps
13 Valtteri Bottas Mercedes 1.494s 16 laps
14 Kimi Raikkonen Alfa Romeo Racing 1.575s 17 laps
15 Max Verstappen Red Bull 1.733s 6 laps Hard tyres
16 Nicholas Latifi Williams 1.803s 17 laps
17 Antonio Giovinazzi Alfa Romeo Racing 1.862s 11 laps
18 George Russell Williams 2.183s 12 laps
19 Mick Schumacher Haas 3.031s 17 laps
20 Nikita Mazepin Haas 3.460s 12 laps
Follow all the action from the Azerbaijan Grand Prix with the PlanetF1 live centre