Qualy: Max takes pole, Russell P2, Norris crashes heavily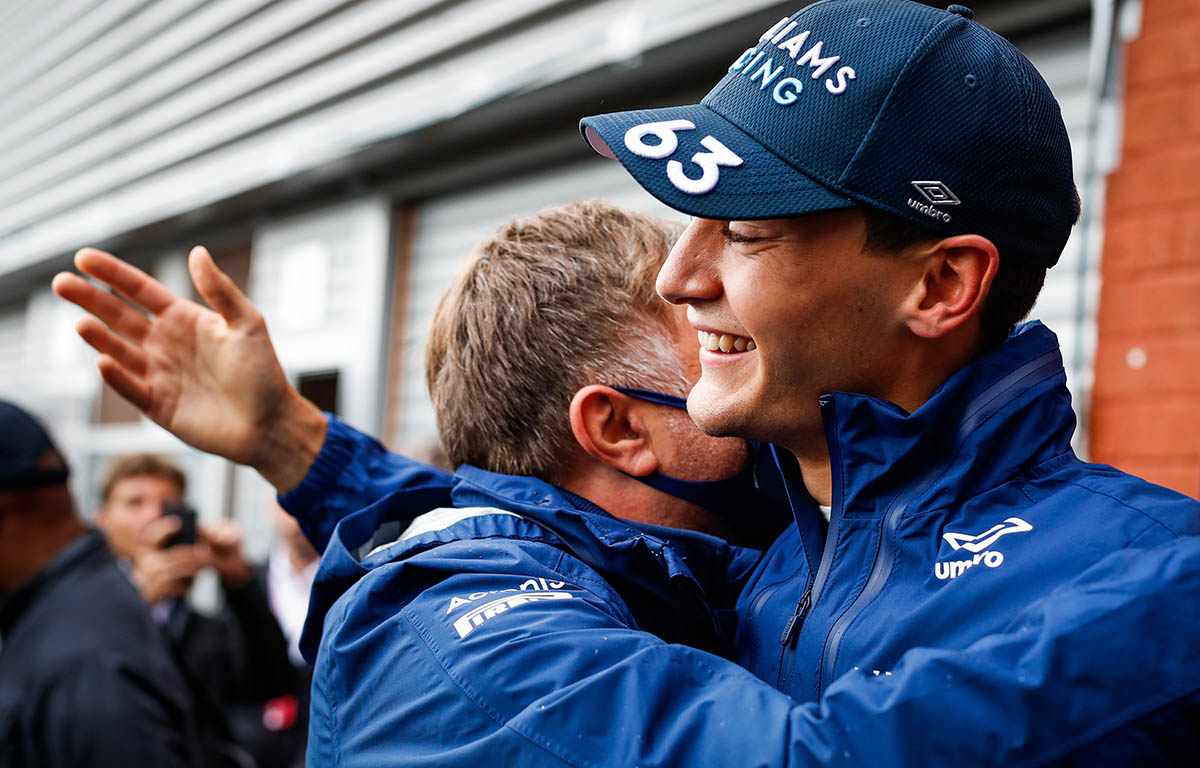 Max Verstappen will start Sunday's Belgian Grand Prix from pole position ahead of George Russell, yes George Russell, after Lando Norris, the driver to beat in the earlier sessions, crashed heavily.
The McLaren driver, who was fastest in Q1 and in Q2, was one of the first to try for a hot lap as the rain chucked down at the start of the final qualifying segment.
Losing it at Eau Rouge, Norris wrecked his MCL35M as he spun into the barrier at the top, damaging all four corners of the car.
The Brit was taken to the track's medical centre for checks with the crash raising questions about safety; Sebastian Vettel having already called for the session to be red flagged even before Norris' crash.
After an 42-minute break and the rain having lessened, qualifying resumed with Verstappen up against Lewis Hamilton for pole position only for Russell to stick his Williams into the thick of it.
While Russell briefly held down P1 by a tenth ahead of Hamilton, Verstappen broke Williams' heart as he was the last to cross the line, pipping Russell by three-tenths.
GEORGE RUSSELL STARTS P2. WHAT A LAP!!!!!!! pic.twitter.com/sHXcAYFOSP

— Williams Racing (@WilliamsRacing) August 28, 2021
Although the start of qualifying was delayed by 12 minutes, Lando Norris was already telling McLaren that the intermediates would be the tyre of choice "pretty soon" as Q1 went green at the Spa-Francorchamps circuit.
Williams decided to gamble, George Russell and Nicholas Latifi out on the inters. Russell was comfortably the fastest driver out on track when Latifi dropped it at Turn 12. Russell had to back off on his hot lap but came back with a 2:02.068 to go quickest by five seconds over Max Verstappen on the wet tyres.
That, as to be expected, saw a flurry of activity in the pits as the rest of the field swapped from wets to inters. Lewis Hamilton was one of the last in, his pit stop taking place as Mercedes warned Valtteri Bottas "rain imminent in the next two minutes".
The P1 time tumbled with Norris finishing Q1 fastest of all ahead of Verstappen. Out went Antonio Giovinazzi, Yuki Tsunoda, Mick Schumacher, Kimi Raikkonen and Nikita Mazepin.
F1 TV Pro is half price for two months! In order to claim this fantastic discount, click the following link and use the promo code SPA50 at checkout!*
*Offer expires at 23:59 on Sunday, August 29. Offer only available on Pro. Customers will need to take out a monthly subscription and this offer can only be redeemed on web. Offer not available in NL, FR or NZ.
Q2 began with a warning that rain would arrive five minutes into the session with all 15 drivers heading out on the intermediate Pirellis.
Norris once again showed his prowess in the rain, hitting the front ahead of Verstappen and Sebastian Vettel.
Mercedes put pressure on themselves as both Lewis Hamilton and Bottas ventured out on used inters, leaving them in the bottom five and needing to improve.
Hamilton did so, up to eighth, with Bottas following him into the top ten but only as far as P10. With three minutes to go the Mercedes team-mates were again in the bottom five, both pitting for fresh inters and a final shot at making it into Q3.
Hamilton jumped up to second place behind Norris with Bottas making it through with the third fastest time. Out went Charles Leclerc, Nicholas Latifi, Carlos Sainz, Fernando Alonso and Lance Stroll.
Leclerc wasn't happy. "For me guys we f**ked up," he said. "Let's talk about it later. I don't understand why we stopped. We were in a good place. Everyone stayed out."
#Q2 ends here.

It's #Charles16 P11 and #Carlos55 P13 for tomorrow's #BelgianGP. pic.twitter.com/MVjD8BOkGq

— Scuderia Ferrari (@ScuderiaFerrari) August 28, 2021
The rain returned to the circuit ahead of Q3 with Vettel calling for a "red flag" saying it was too wet. Norris headed out on full wets, reporting "quite a bit of aquaplaning"… moment later he crashed heavily.
Losing control through Eau Rouge, he lost it at the top, spinning into the barrier – right, left, and all four corners of the car damaged. Norris let McLaren know he was okay but was seen clutching his elbow.
Vettel, who was behind him on the track, pulled alongside the stricken McLaren to check on Norris. It was a big one with a furious Vettel on the radio: "What the f**k did I say? What did I say? Red flag! F**k it is unnecessary."
RED FLAG: Lando Norris is into the barriers – and Q3 is halted

Lando tells McLaren over the radio that his ok #BelgianGP 🇧🇪 #F1 pic.twitter.com/u1mbNytWiF

— Formula 1 (@F1) August 28, 2021
Norris was taken to the track's medical centre for checks while, 42 minutes after the red flag was thrown, qualifying resumed with both Red Bulls and Mercedes drivers heading out on the intermediate tyres. Russell was the only one out on full wets.
Hamilton went P1 with a 2:01.552 with Verstappen up through the first sector but then losing time as the lap continued. He was P2, a full second down on his title rival. Bottas, a further half a second down, was third.
Instead of pitting before a second run, as they usually do in the dry, the drivers stayed out, recharging batteries before going for another lap. And then came the shock of the segment…
Russell in the Williams went purple in the first sector, and the second. Hamilton responded with a purple in the second, Russell did a 2:00.086, Hamilton could not match him, 0.013s down. Only Verstappen stood a chance.
The Red Bull driver then ruined Williams' party, pipping Russell to pole by 0.321s. Russell will still start P2, his first front row slot as a Williams driver. Hamilton is third ahead of Ricciardo, Vettel, Gasly, Perez, Bottas and Ocon. Bottas has a five-place grid penalty for causing a collision at the Hungarian GP.
Times
1 Max Verstappen Red Bull 1:59.765
2 George Russell Williams 0.321s
3 Lewis Hamilton Mercedes 0.334s
4 Daniel Ricciardo McLaren 1.099s
5 Sebastian Vettel Aston Martin 1.170s
6 Pierre Gasly AlphaTauri 1.399s
7 Sergio Perez Red Bull 2.347s
8 Valtteri Bottas Mercedes 2.737s
9 Esteban Ocon Alpine 3.748s
10 Lando Norris McLaren no time
11 Charles Leclerc Ferrari 1:57.721
12 Nicholas Latifi Williams1:58.056
13 Carlos Sainz Ferrari 1:58.137
14 Fernando Alonso Alpine 1:58.205
15 Lance Stroll Aston Martin 1:58.231
16 Antonio Giovinazzi Alfa Romeo Racing 2:02.306
17 Yuki Tsunoda AlphaTauri 2:02.413
18 Mick Schumacher Haas 2:03.973
19 Kimi Raikkonen Alfa Romeo Racing 2:04.452
20 Nikita Mazepin Haas 2:04.939