FP2: Leclerc heads Ferrari 1-2; Hamilton stops early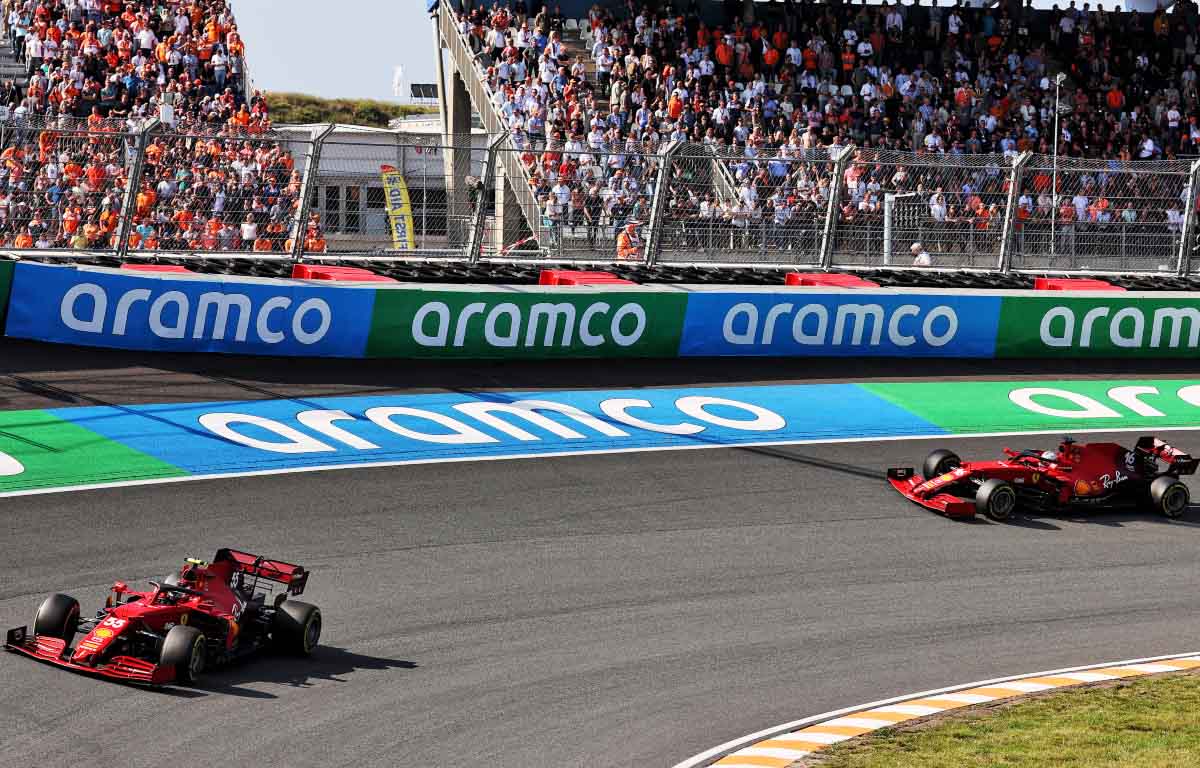 Charles Leclerc and Carlos Sainz took a surprise Ferrari 1-2 in FP2 at the Dutch GP, as Lewis Hamilton managed only three laps.
Hamilton suffered an issue that forced him to pull over on track and Nikita Mazepin left himself beached in the gravel later on, with both drivers bringing out the red flag in FP2.
Esteban Ocon was third-fastest ahead of Valtteri Bottas, while Max Verstappen was down in P5 – as his qualifying run was interrupted by Mazepin's spin.
After a first practice session that was effectively cut in half after Sebastian Vettel suffered an MGU-K failure, the drivers were eager to get back on track as they look to keep learning the Zandvoort layout.
As such, the pit lane emptied almost immediately as everyone bar Vettel got out for practice running. The Aston Martin crew were still fixing the four-time World Champion's car to start with, and he was able to rejoin later in the session.
But it didn't take long for the first red flag to be waved around Zandvoort on Friday afternoon.
Only five minutes in, Hamilton suffered what appeared to be engine trouble and had to pull to the side of the track. He initially lost power on the start/finish straight, but managed to make his way around to Turn 8 before race engineer Pete Bonnington instructed him to stop.
The orange-clad grandstands seemingly revelled in this development, with audible cheers at the World Champion's expense.
Huge cheers for Lewis Hamilton in Zandvoort…but only because he has lost engine power and forced to stop on track. #DutchGP 🇳🇱 #F1

— PlanetF1 (@Planet_F1) September 3, 2021
Check all the latest 2021 teamwear via the official Formula 1 store
Instead of half of the session being interrupted, however, Hamilton was able to park up next to an escape road, marshals were quickly able to clear his stricken W12 from the track and the remaining cars were able to get back up and running again with more than 45 minutes remaining.
Bottas and Verstappen led the way with their first times, with the Mercedes driver setting a 1:11.664, and the Dutchman just 0.029s behind.
A fresh set of soft tyres were soon put on the Finn's car as he began a qualifying simulation, going three-tenths faster and clocking a 1:11.353, which was quickly trumped by Esteban Ocon in an impressive lap in his Alpine.
Just as other drivers began to set representative qualifying times, the red flag was out again – this time as Mazepin spun into the chicane at Turn 11, leaving the Haas beached in the gravel and running was halted once more.
🚩 RED FLAG 🚩

Mazepin is beached at Turn 11 #DutchGP 🇳🇱 #F1 pic.twitter.com/JX0M2TH1qB

— Formula 1 (@F1) September 3, 2021
It was another relatively quick fix, however, as the cars were able to get back out with 20 minutes left to run, but the interruptions will not have helped as the drivers looked to get as much as possible out of practice.
But an eyebrow-raising turn of events saw the pace of Ferrari over one lap, after Leclerc and Sainz put fresh tyres on. Leclerc was the first driver into the 1:10s and Sainz was not far behind, allowing the Ferraris to leapfrog everyone and put themselves one-two at the top of the timesheets.
The teams soon moved onto high fuel and race runs to end the session. While FP2 was interrupted and representative lap times may not have been on the board for everyone, Ferrari will look to build on a positive session on Saturday ahead of qualifying.
Times
Best times set on soft tyres unless stated
1 Charles Leclerc Ferrari 1:10.902 29 laps
2 Carlos Sainz Ferrari 0.154s 28 laps
3 Esteban Ocon Alpine 0.172s 33 laps
4 Valtteri Bottas Mercedes 0.230s 33 laps
5 Max Verstappen Red Bull 0.362s 28 laps
6 Fernando Alonso Alpine 0.378s 30 laps
7 Pierre Gasly AlphaTauri 0.560s 29 laps
8 Lando Norris McLaren 0.586s 27 laps
9 Antonio Giovinazzi Alfa Romeo Racing 0.776s 30 laps
10 Sebastian Vettel Aston Martin 0.872s 24 laps
11 Lewis Hamilton Mercedes 1.009s 3 laps (Medium tyres)
12 Sergio Perez Red Bull 1.044s 27 laps
13 Lance Stroll Aston Martin 1.234s 29 laps (Medium tyres)
14 Daniel Ricciardo McLaren 1.255s 25 laps
15 Kimi Raikkonen Alfa Romeo Racing 1.304s 31 laps
16 Mick Schumacher Haas 1.705s 31 laps
17 Nicholas Latifi Williams 1.708s 27 laps
18 Yuki Tsunoda AlphaTauri 1.757s 31 laps
19 Nikita Mazepin Haas 1.933s 12 laps
20 George Russell Williams 1.953s 30 laps