FP1: Hamilton lays down his marker in Saudi Arabia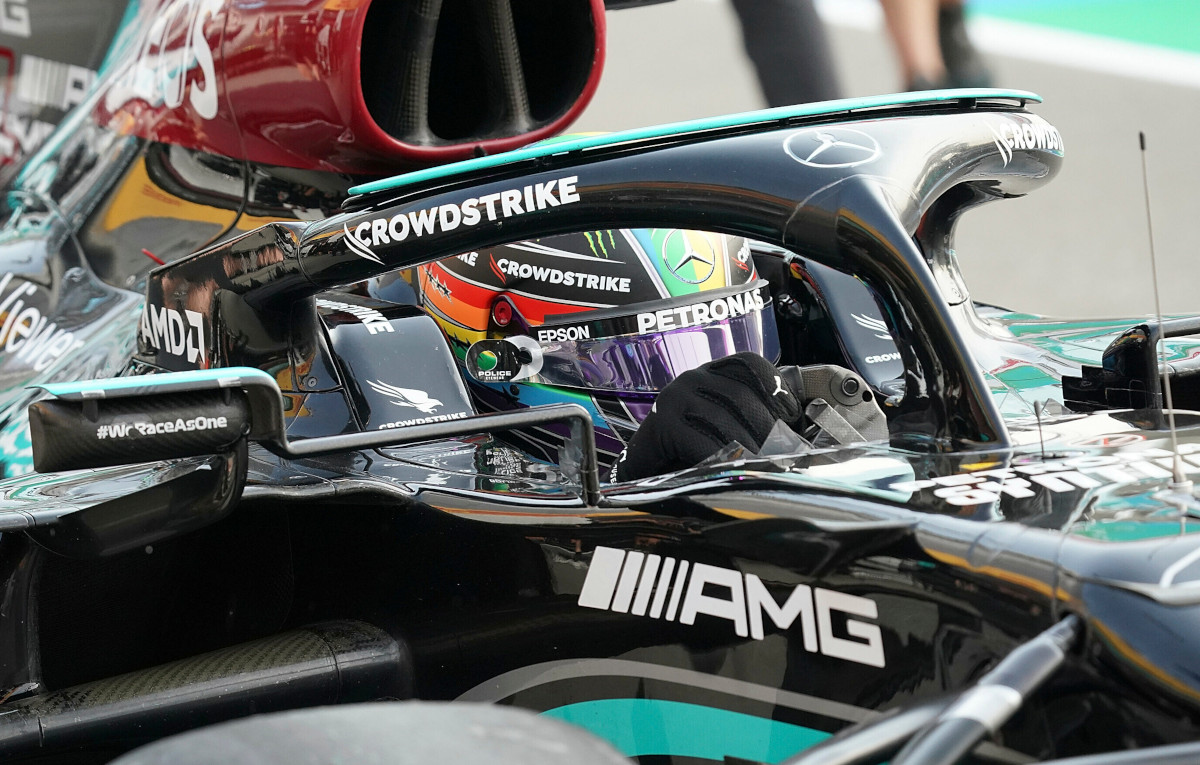 Lewis Hamilton fought back in what looked to be Max Verstappen's session to finish P1 in Friday's first practice at the Jeddah circuit.
While the Dutchman dominated on the hard tyres in the heat, it was Hamilton who came to the fore on the soft tyres as the sun began to set.
He posted a best time that was 0.056s faster than his title rival's best.
Hot, dusty, slippery, new asphalt awaited the drivers at the start of Friday's first practice at the Jeddah Corniche circuit with its 27 corners, one being the 12′ banked Turn 13, and fast and unforgiving layout.
Carlos Sainz was the first driver out for a lap, the Spaniard taking to the track ahead of his Ferrari team-mate Charles Leclerc and the McLaren of Daniel Ricciardo.
While most of the focus this weekend is on the Max Verstappen v Lewis Hamilton title battle, it must be noted that if Ferrari out-score McLaren by five points this Sunday they will secure P3 in the Constructors' Championship.
Sainz laid down a 1:36.979 as the opening gambit but, with Verstappen making an earlier than usual appearance, it wasn't long before the championship leader was up in P1. A 1:33.614. To put it into perspective, it was two seconds quicker than what anyone else had done on their first flying lap. The Mercedes, though, had yet to venture out.
Max clocks a 1:33.614 around the ultrafast Jeddah Corniche Circuit to take top spot early on ☝️#SaudiArabianGP 🇸🇦 #F1 pic.twitter.com/VnX32hAiTZ

— Formula 1 (@F1) December 3, 2021
Yuki Tsunoda misjudged his exit from the AlphaTauri garage, almost touching the wall on the other side of the pit lane before his mechanics helped him reverse and he got the steering right. His team-mate Pierre Gasly reported that it "smells like something is very hot", that's never a good thing.
Verstappen lowered his P1 time to a 1:30.920, and with that his title rival Hamilton left the pits to get his afternoon's work underway. A 1:33.241 for the Mercedes driver. That was officially the fastest first timed lap from any driver but only good enough at the time for P9.
After a brief visit back to the pits, Verstappen headed back out and lowered the benchmark time to a 1:30.014, the Red Bull driver taking more of the kerbs than his rivals. That was the time to beat at the 30-minute mark, Hamilton second, six-tenths down, and Bottas third.
Out exploring 🔭👀 Our first look at this Jeddah circuit on four wheels 🔄 #FP1 #PoweredByHonda pic.twitter.com/vhvIecMvCt

— Honda Racing F1 (@HondaRacingF1) December 3, 2021
And then Verstappen took too much kerb at Turn 22. The Dutchman returned to the Red Bull garage after a sparky trip over the green-and-white kerbs with his mechanics working on the floor of his RB16B.
Fernando Alonso complained about his rear right tyre, saying it "is not blistering" but that something wasn't right. It looked as if the tyre had a bit of pick up on it. Alpine are running new-look livery for the weekend, a splash of green at the rear as the team celebrates 100 races with Castrol.
Swapping his hard tyres for softs, but with the track temperature falling by six degrees, Verstappen was not only to improve on his previous best and backed off in the final sector. Bottas was the next out on softs and he did improve, the cooling track playing to Mercedes' strengths. He went P1, a 1:30.009. "This track is cool," was the Finn's assessment.
Kimi Raikkonen was the first driver to almost touch the wall, the Alfa Romeo driver squiggling as he just, and oh so just, managed to keep his car away from the wall.
Hamilton was the next to lead the way, clocking a 1:29.786 on the soft Pirellis. That was the quickest time of the session, the reigning World Champion finishing 0.056s up on Verstappen. Bottas was third, 0.223s down.
Gasly was fourth ahead of the surprise Alfa Romeo of Antonio Giovinazzi, followed by Sainz, Leclerc and Ricciardo.
Times
1 Lewis Hamilton Mercedes 1:29.786 19 laps
2 Max Verstappen Red Bull 0.056s 21 laps
3 Valtteri Bottas Mercedes 0.223s 23 laps
4 Pierre Gasly AlphaTauri 0.477s 27 laps
5 Antonio Giovinazzi Alfa Romeo Racing 0.532s 26 laps
6 Carlos Sainz Ferrari 0.778s 25 laps
7 Charles Leclerc Ferrari 0.814s 25 laps
8 Daniel Ricciardo McLaren 0.822s 24 laps
9 Fernando Alonso Alpine 1.056s 26 laps
10 Sebastian Vettel Aston Martin 1.100s 24 laps
11 Sergio Perez Red Bull 1.174s 26 laps
12 Esteban Ocon Alpine 1.237s 27 laps
13 Lando Norris McLaren 1.243s 22 laps
14 Lance Stroll Aston Martin 1.258s 24 laps
15 Yuki Tsunoda AlphaTauri 1.313s 25 laps
16 Kimi Raikkonen Alfa Romeo Racing 1.510s 25 laps
17 George Russell Williams 1.557s 27 laps
18 Mick Schumacher Haas 1.739s 23 laps
19 Nicholas Latifi Williams 2.035s 26 laps
20 Nikita Mazepin Haas 3.678s 22 laps
How Verstappen can win the title in Saudi Arabia
Max Verstappen could win the title in Saudi Arabia.