FP2: Hamilton top again; major shunt for Leclerc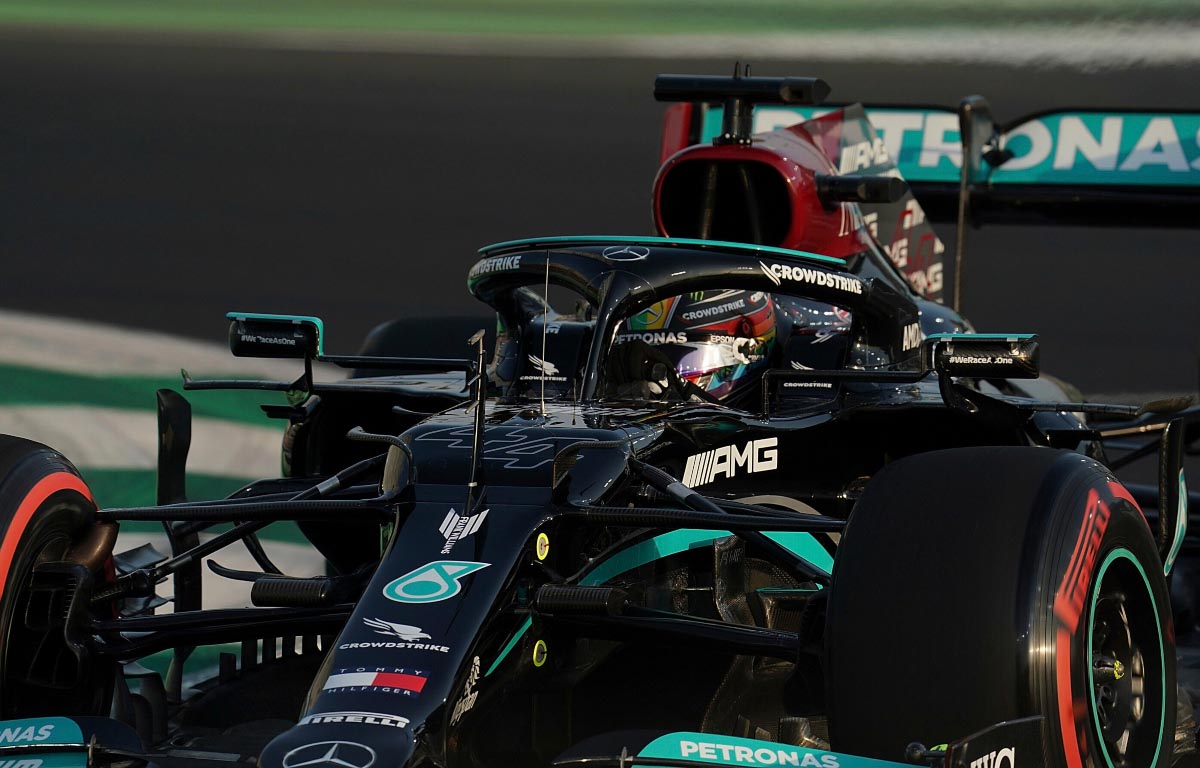 Lewis Hamilton headed a Mercedes 1-2 in FP2 in Saudi Arabia, but a big late crash from Charles Leclerc ended the session a few minutes early.
Hamilton pipped Valtteri Bottas at the top of the leaderboard, ahead of Pierre Gasly in P3 and Max Verstappen down in fourth, but the crash from Leclerc left his car in tatters – but the main thing is that the Ferrari driver emerged unscathed, offering his apologies to his team for the work they will now be doing to fix his car.
Alpine looked like they kept up their pace from Qatar with Fernando Alonso and Esteban Ocon going P5 and P6 respectively, with Carlos Sainz, Yuki Tsunoda and Sergio Perez ahead of Leclerc, who rounded out the top 10.
High speed crash for Charles Leclerc… "sorry guys" #F1 pic.twitter.com/Rpg3fff6il

— PlanetF1 (@Planet_F1) December 3, 2021
Night had fallen over Jeddah by the time FP2 got underway, with the drivers able to get to grips with representative racing conditions for the first time this weekend after FP1 took place at dusk.
With that, the drivers piled out on track when the lights went green, but Nikita Mazepin requested a helmet change immediately as he initially went out with a visor too tinted for his liking while under the lights.
Having been closely locked together in first practice, Verstappen and Hamilton were only a tenth apart after their first flying laps, with Leclerc sandwiched between them on the medium tyres.
Several drivers, Hamilton included, found the going to be tough at Turn 1 in particular, with the heavy braking zone causing plenty of lock-ups as they began to explore the limits of the circuit.
It wasn't long before the Mercedes driver put himself top of the times, though, with Hamilton's 1:29.018 setting the benchmark before everyone moved on to their qualifying simulations.
But the combination of a lot of drivers on track wanting to wind up for fast laps at the same time, along with a tight walled circuit in Jeddah, led to complaints over team radio that traffic was becoming a major issue.
Drivers appeared to struggle with keeping out of each other's way on track, which was a problem heightened by the amount of blind corners on the Jeddah Corniche Circuit.
This ultimately compromised a lot of flying lap attempts in the mid-part of the session, with drivers not immediately setting quicker times on the softs than on their medium or hard runs.
The amount of cooling going on as the drivers slowed down at the final corner caused further issues at Turn 1, with Carlos Sainz and Leclerc both braking too deep as they wound up for their qualifying simulations.
From a Red Bull point of view, Verstappen opted to take another attempt at a flying lap after encountering traffic, which showed him wanting to prioritise qualifying pace over his long-run performance.
He was unable to break back into the top three on the soft tyres, though, and could not overhaul an excellent lap from Gasly in P3 when he finally managed a clear run.
So it was advantage Mercedes after Hamilton and Bottas took the top two places on the leaderboard, on the medium tyres to boot, before the drivers headed out on their long run practice.
Mazepin got out of shape at the first chicane as well, but sent his Haas into a spin on the exit of Turn 2 on this occasion, before Bottas almost followed suit by taking to the orange sausage kerb at the same complex.
But the session would ultimately end early as a huge shunt from Leclerc brought out the red flag. He braked for the high-speed left-right of Turns 22 and 23, but his Ferrari turned around straight away and he slammed into the barriers, leaving a hefty repair job for his Ferrari mechanics overnight and into Saturday.
Times
1 Lewis Hamilton Mercedes 1:29.018 22 laps
2 Valtteri Bottas Mercedes 0.061s 23 laps
3 Pierre Gasly AlphaTauri 0.081s 22 laps
4 Max Verstappen Red Bull 0.195s 20 laps
5 Fernando Alonso Alpine 0.423s 21 laps
6 Esteban Ocon Alpine 0.537s 22 laps
7 Carlos Sainz Ferrari 0.571s 24 laps
8 Yuki Tsunoda AlphaTauri 0.579s 20 laps
9 Sergio Perez Red Bull 0.750s 22 laps
10 Charles Leclerc Ferrari 0.754s 23 laps
11 Daniel Ricciardo McLaren 0.950s 22 laps
12 Lando Norris McLaren 0.986s 19 laps
13 Antonio Giovinazzi Alfa Romeo Racing 1.092s 23 laps
14 Kimi Raikkonen Alfa Romeo Racing 1.258s 24 laps
15 Lance Stroll Aston Martin 1.424s 22 laps
16 Sebastian Vettel Aston Martin 1.484s 22 laps
17 George Russell Williams 1.488s 24 laps
18 Mick Schumacher Haas 1.634s 20 laps
19 Nicholas Latifi Williams 2.021s 23 laps
20 Nikita Mazepin Haas 2.611s 20 laps
Safety concerns over Saudi Arabian Grand Prix
Damon Hill has expressed his concern over the Saudi Arabian Grand Prix circuit.