Qualy: Bottas P1 for sprint as Mercedes dominate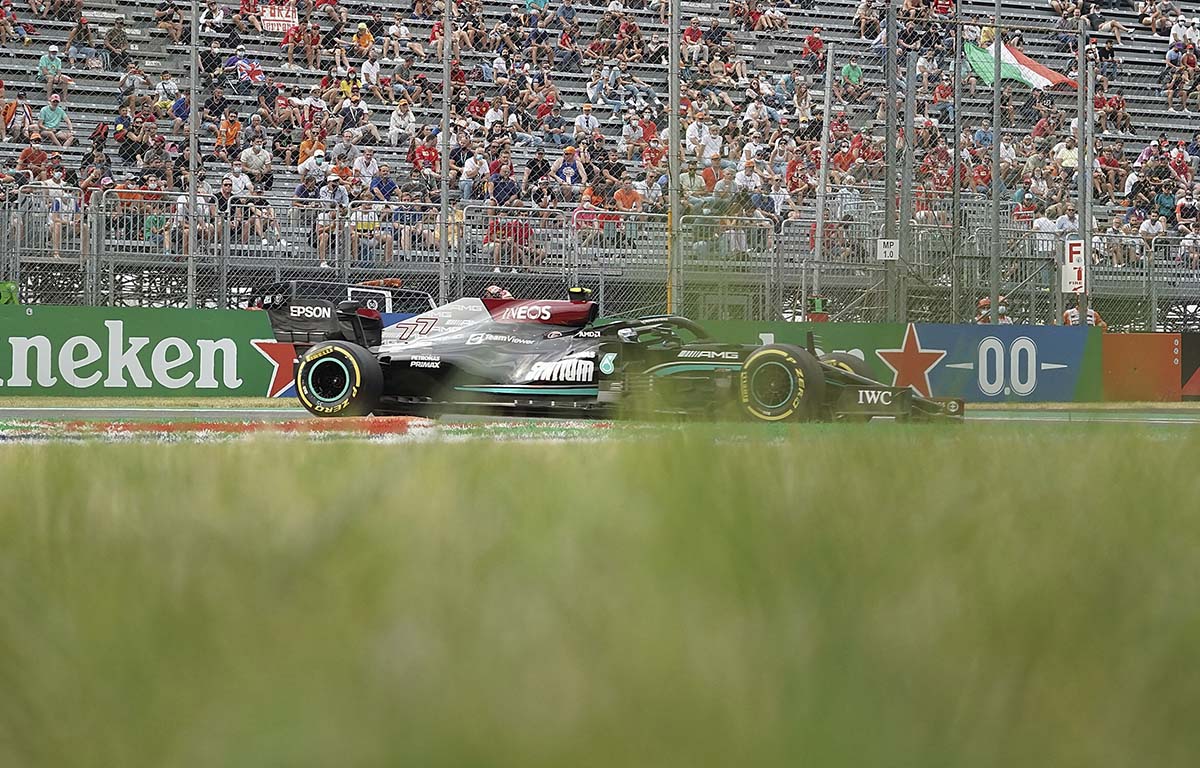 Mercedes' Valtteri Bottas left it late to secure P1 on the grid for sprint qualifying at the Italian Grand Prix, but it was mission complete.
The Finn will drop to the back of the grid for the race, but that penalty comes at the perfect time as for sprint qualifying, he will lead the field away.
Team-mate Lewis Hamilton held the advantage throughout most of qualifying, but P2 was ultimately the starting spot he must settle for, after P1 was snatched by his team-mate on the last lap of Q3.
Red Bull could not find the answer to Mercedes over one lap at Monza, with Max Verstappen set to start P3, 0.4s shy of Bottas' benchmark, while the other Red Bull of Sergio Perez finds himself starting P9.
Under the modified rules of traditional qualifying on a sprint qualifying weekend, drivers were locked into using the soft, C4 tyres, with a maximum of five sets allowed.
As the track went green for Q1, the home team Ferrari were first out in front of their famed Tifosi, and Charles Leclerc did the honours of setting the first time of the session, a 1:22.8.
Mick Schumacher meanwhile had his out-lap deleted for breaching track limits at Turn 11, meaning any following flying lap would not count.
A 1:22.4 from Carlos Sainz in the other Ferrari soon shattered his team-mate's benchmark, aided by a tow from Leclerc.
It was not long before the title contenders began flexing their muscles though, with Verstappen going three-tenths faster than Sainz on his first attempt, all while Leclerc complained of brake-by-wire issues.
"It's so difficult to drive, so difficult," Leclerc reported as Ferrari's apparent attempts at a fix failed.
McLaren were talked about as dark horses for qualifying, and Lando Norris soon backed that up with a 1:21.6, but Mercedes were quick to remind us why they are the favourites at Monza, into P1 and P2 they went, led by Hamilton on a 1:20.5.
Verstappen would fight his way through the traffic as he set up for another flying lap, one which was much needed as he found himself down in P9, having dipped a wheel in the gravel on his opening attempt.
That ended in a sweary rant for the Dutchman though as he re-encountered said traffic, forcing an abort and swift evasive action. Eight minutes remained in Q1.
Think it's time to unleash the Monza-spec front wing to deal with the traffic.#ItalianGP #F1 pic.twitter.com/aoZK16H2G8

— PlanetF1 (@Planet_F1) September 10, 2021
F1 TV are offering PlanetF1 readers 10% off both monthly and annual subscriptions! ! In order to claim this fantastic discount, click the following link and use the promo code PLANETF10 at checkout!*
*The offer ends at midnight on September 12 and excludes Netherlands
Pierre Gasly was next to lose his cool with the traffic at Ascari. With all 20 cars out on the track, we were seeing the traditional Q1 problems of Monza return. A possible block by Nikita Mazepin on Robert Kubica at Turn 6 was noted.
"Mick needs to get a move on," Mazepin would ironically tell Haas as the final flying laps approached, though Monza was looking more like a car park as the drivers backed up for the best approach to the Parabolica.
Hamilton's time could not be beat as Mercedes ended Q1 in P1 and P2, but at the other end it was about to be a rare Q1 exit for Hamilton's 2022 team-mate George Russell, until it wasn't.
Yuki Tsunoda would have his final time deleted for track limits, meaning Russell was in fact through.
Not so fortunate was the other Williams of Nicholas Latifi. He bowed out in Q1 alongside the Haas' of Schumacher and Mazepin, along with Alfa Romeo's Robert Kubica, who stands in for Kimi Raikkonen for the second successive weekend.
Ferrari were working frantically to fix the engine braking issue on Leclerc's car in time for him to appear in Q2, leaving the Red Bulls first out onto the track.
There was little they could do to stop the rampant Mercedes though who quickly entered the 1:19s. Bottas was within a tenth of his team-mate, but Hamilton's 1:19.936 left Verstappen trailing by over seven-tenths.
"I need a tow," said Sergio Perez, another five-tenths back from his team-mate and in danger of exiting in Q2.
"I still have the problem, but now it's not consistent anymore. It's in the middle of the corners," reported Leclerc as he made it onto the track, though still held back by his SF21's ailment.
Fernando Alonso meanwhile had a moment as he missed the chicane at Turn 1, returning over the kerbs and almost colliding with Perez.
Red Bull needed a boost, and that arrived as confirmation came that Bottas was taking a fourth power unit of the season, consigning him to start the Italian Grand Prix on Sunday from the back.
But that was Sunday, as for the sprint qualifying starting order, he and Mercedes remained a great threat.
What a f****** mess.

#ItalianGP 🇮🇹 #F1 https://t.co/oHalpesKhD

— PlanetF1 (@Planet_F1) September 10, 2021
With three minutes left of Q2, the jam-packed pit lane led to a near-miss for Aston Martin and Mercedes. "A disgrace" Hamilton called it, as Aston Martin and Alpine mechanics narrowly avoided being hit.
The stewards confirmed that this incident would be investigated after the session, as Verstappen narrowed his deficit to Hamilton to 0.293s. That saw him safe, while Norris split the Mercedes and Verstappen in P3.
Perez also made it into Q3, though for Vettel, Lance Stroll, Alonso, Esteban Ocon and Russell, it was qualifying over.
Bottas laid down a 1:20.3 to kick-off Q3, quickly smashed by Hamilton, but this time Verstappen was much, much closer.
Only 0.017s split Hamilton and the Red Bull driver as Verstappen and Perez picked up a handy tow from Gasly.
Norris was also flying in P3 after his first attempt, also within a tenth of Hamilton as he threatened a qualifying shock.
The Red Bulls returned to the track in formation again as Verstappen led the way, though both he and Perez were struggling to find time.
Bottas was flying though, into P1 he went on a 1:19.555, a time Hamilton could not better. It was though, a Mercedes one-two on the grid for sprint qualifying.
Times (all set on soft C4 tyre)
1. Valtteri Bottas Mercedes 1:19.555
2. Lewis Hamilton Mercedes +0.096
3. Max Verstappen Red Bull +0.411
4. Lando Norris McLaren +0.434
5. Daniel Ricciardo McLaren +0.440
6. Pierre Gasly AlphaTauri +0.705
7. Carlos Sainz Ferrari +0.907
8. Charles Leclerc Ferrari +0.995
9. Sergio Perez Red Bull +1.056
10. Antonio Giovinazzi Alfa Romeo +1.253
11. Sebastian Vettel Aston Martin 1:20.913
12. Lance Stroll Aston Martin 1:21.020
13. Fernando Alonso Alpine 1:21.069
14. Esteban Ocon Alpine 1:21.103
15. George Russell Williams 1:21.392
16. Nicholas Latifi Williams 1:21.925
17. Yuki Tsunoda AlphaTauri 1:21.973
18. Mick Schumacher Haas 1:22.248
19. Robert Kubica Alfa Romeo 1:22.530
20. Nikita Mazepin Haas 1:22.716