Race: Verstappen cruises to Mexico victory, Hamilton P2
Max Verstappen bravely took the lead at the start of the Mexican Grand Prix, and would go on to take a dominant win on Sunday.
Lewis Hamilton followed Verstappen home in second place, but the Red Bull driver extended his lead at the top of the World Championship to 19 point in emphatic fashion.
But Sergio Perez received the adulation of the Mexico City crowd, as he became the first driver to stand on the podium at his home race in Mexico.
A packed partisan crowd were in attendance to support the home hero, but it was a Mercedes front-row lockout at the start and, with the long run down to the first corner, how the drivers would form at Turn 1 was anyone's guess.
Mercedes had complained to race director Michael Masi just before the start about how slowly the grid was forming up, and their fears were compounded when Verstappen was able to get in the tow of his rivals, pull alongside, and his bravery on the brakes was rewarded when he beat Hamilton into the first corner.
Behind the leading two, polesitter Bottas was tagged by a late-braking Daniel Ricciardo and was spun around. The Australian lost his front wing, but the Mercedes driver was dropped to the back of the field – something of an injustice after a sterling qualifying session on Saturday. Both then pitted under Safety Car conditions, which was called into action on the first lap.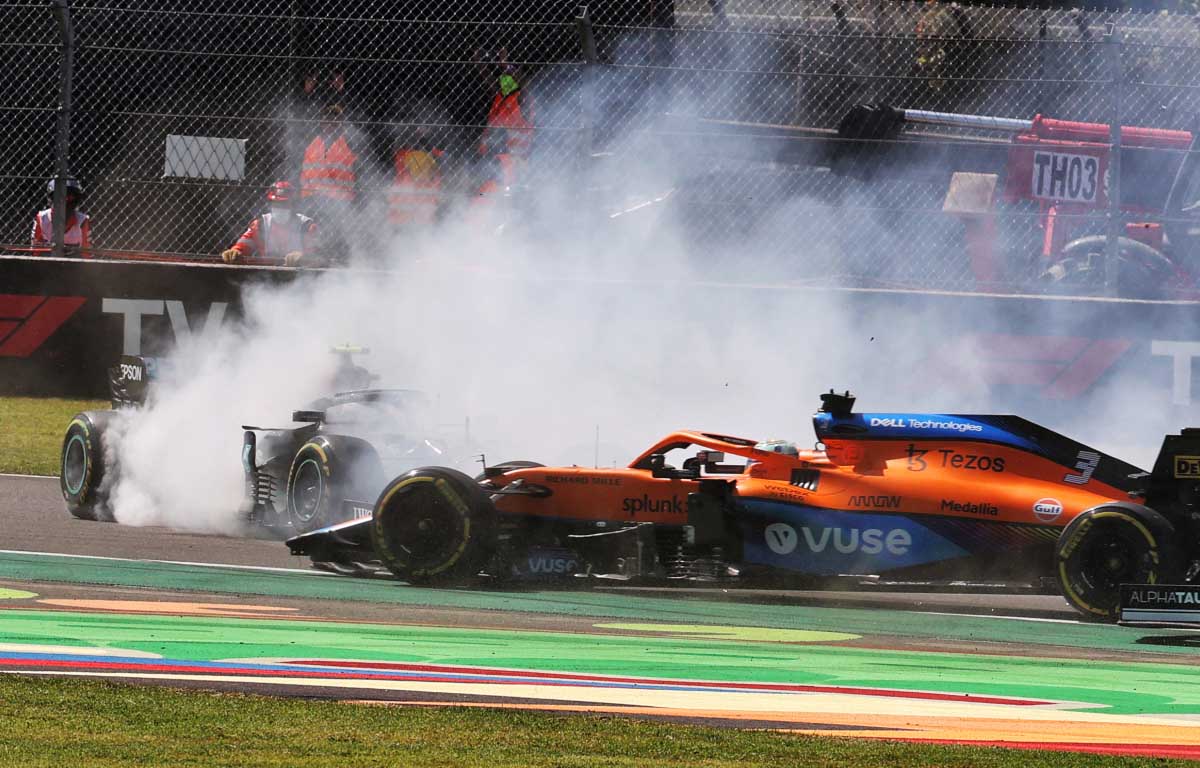 Elsewhere, Esteban Ocon was the inadvertent meat in a Yuki Tsunoda and Mick Schumacher sandwich, as the AlphaTauri and Haas cars both collided with his front tyres at the same time.
As a result, both cars then damaged their rear suspension and had to retire from the race. Ocon was blameless, but he was able to keep his Alpine moving.
At the restart, Verstappen took the risk of an early jump back to racing speed in the stadium section, but he caught Hamilton off-guard and timed his move perfectly – crucially moving out of the Mercedes' slipstream range.
The Red Bull driver put the hammer down immediately, and managed to pull a whopping 1.8 seconds clear of his title rival on the first flying lap alone.
"He is quick," came the radio message from Hamilton, and he soon found himself more than five seconds adrift as the race began to settle down, with Verstappen pumping in several fastest laps in a row to ease away from the Mercedes.
Hamilton was concerned about the level of grip from his tyres, while Perez behind came onto radio to report that his were improving as the race progressed – and the second Red Bull put himself within two seconds of the Briton: very much in undercut range.
Further back, Bottas and Ricciardo – likely running with damaged machinery – were unable to make headway to get themselves back towards the points, while Ocon was stuck in the minor places as well.
The field became strung out and, crucially for Verstappen, he was able to keep building his lead, with Hamilton stating that "these guys are obviously too quick for us," almost admitting defeat before the race had even reached its halfway point.
But the Mercedes team pulled the trigger first on the pit stops, with Hamilton coming in on lap 30 and, despite initially coming out behind Charles Leclerc, he pushed hard to put himself in a position to stay ahead of Perez, who opted to go deeper into the race instead.
Hamilton began to make small headway into Verstappen's lead, which prompted the Red Bull crew to service his car a couple of laps later, and the Dutchman emerged around seven seconds ahead.
Perez led his home race, then, and he said his tyres were still improving, before he finally stopped on lap 40 of 71. He was 10 seconds behind Hamilton, but on tyres which were 12 laps younger.
Bottas, meanwhile, was once again left stuck in no man's land. Having had another day to forget, his misery was only added to with an 11-second stop, putting him behind Ricciardo yet again in another frustrating afternoon for the Finn.
Perez, meanwhile, was reeling in the sister Mercedes on his fresher rubber, as Verstappen continued to have a serene afternoon and unchallenged out in front.
Pierre Gasly was having another excellent afternoon in P4 in his AlphaTauri, with both Ferraris running behind. Carlos Sainz had fresher tyres than Leclerc and closed up behind his team-mate, which prompted the team to instruct the Monegasque to move aside for his team-mate so he could try and reel in the Frenchman.
Nailed the race ✅ #MexicoGP #F1 https://t.co/ooX3N41sX2

— PlanetF1 (@Planet_F1) November 7, 2021
A radio crackle was heard in response, without any words from Leclerc – but he eventually let his team-mate through a couple of laps later, which should hopefully avoid any awkwardness in the Scuderia's debrief on Sunday evening.
In the battle for second, Perez appeared to suffer the same issue as Hamilton faced as he closed up to Verstappen in Austin. Within that one-second window, he could not quite get to within striking distance of the Mercedes, despite being roared on by the home crowd.
As has been evidenced on a number of occasions in Formula 1: "Catching is one thing, passing is quite another."
Mercedes did pull Bottas in once more to fit soft tyres, in the hope of the Finn removing the point for fastest lap away from the World Championship leader.
His initial attempts failed, so Mercedes pulled him in again for another crack – and he just about set the fastest lap, at the final attempt.
Hamilton was able to hold Perez off to take P2, with a Mexican making it onto the podium at home for the first time. "Time for some tequila" was Perez's message after the race, which will be well deserved, and fans agreed by voting him Driver of the Day.
Result
1 Max Verstappen Red Bull 1:38:39.086s 1 stop
2 Lewis Hamilton Mercedes +16.555s 1 stop
3 Sergio Perez Red Bull +17.752s 1 stop
4 Pierre Gasly AlphaTauri +63.845s 1 stop
5 Charles Leclerc Ferrari +81.037s 1 stop
6 Carlos Sainz Ferrari 1 LAP 1 stop
7 Sebastian Vettel Aston Martin 1 LAP 1 stop
8 Kimi Raikkonen Alfa Romeo Racing 1 LAP 1 stop
9 Fernando Alonso Alpine 1 LAP 1 stop
10 Lando Norris McLaren 1 LAP 1 stop
11 Antonio Giovinazzi Alfa Romeo Racing 1 LAP 1 stop
12 Daniel Ricciardo McLaren 1 LAP 2 stops
13 Esteban Ocon Alpine 1 LAP 1 stop
14 Lance Stroll Aston Martin 2 LAPS 2 stops
15 Valtteri Bottas Mercedes 2 LAPS 4 stops
16 George Russell Williams 2 LAPS 1 stop
17 Nicholas Latifi Williams 2 LAPS 2 stops
18 Nikita Mazepin Haas 3 LAPS 2 stops
R Mick Schumacher Haas
R Yuki Tsunoda AlphaTauri