Qualy: Hamilton clinches Qatar pole in emphatic style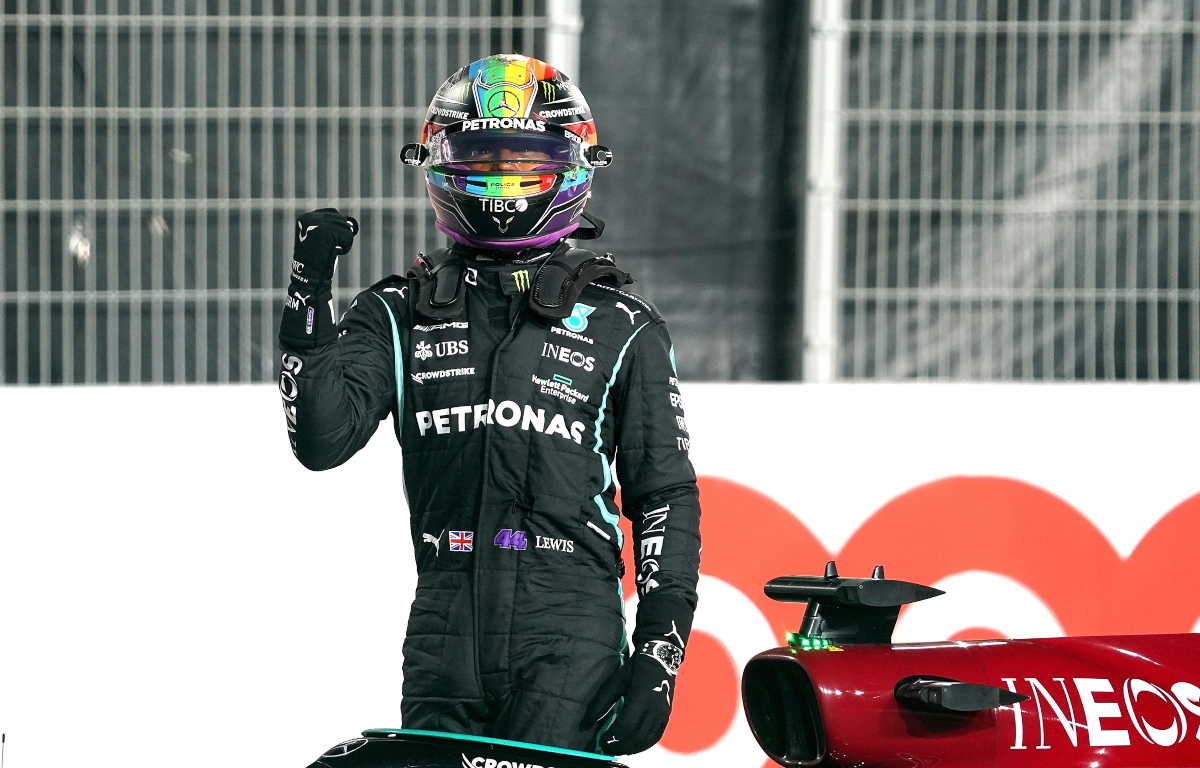 Lewis Hamilton claimed pole position for the inaugural Qatar Grand Prix, topping a front row where he will be joined by title rival Max Verstappen.
But only if the Dutchman escapes a penalty for allegedly ignoring yellow flags when he appears in front of the stewards three hours before the race.
Hamilton clocked a 1:20.827 to beat Verstappen by a massive 0.455s seconds under the lights at the Losail circuit. Valtteri Bottas is due to line up in third place but, along with Carlos Sainz, will also be up before the stewards for an alleged yellow flag rule breach.
Regardless of any penalty, Verstappen will have to fight the Mercedes duo alone, his team-mate Sergio Perez failing to make it out of Q2.
Hamilton is flying!

He improves on his previous time and holds onto pole with a. 1:20.827 ⏱#QatarGP 🇶🇦 #F1 pic.twitter.com/vtfhdwLsZA

— Formula 1 (@F1) November 20, 2021
Nikita Mazepin got qualifying under way in a shower of sparks as the Haas driver mounted the kerbs and damaged his front wing, the left-hand end plate dragging on the ground. Haas' troubles continued as his team-mate, Mick Schumacher, had his first lap time deleted for running wide at Turn 2.
In a session lit up by skid blocks but hampered by traffic, Lewis Hamilton set the pace in Q1, a 1:21.901, which put him 0.095s up on Max Verstappen. Red Bull admitted prior to qualifying that they had not "fully solved" their rear wing flap issue and would monitor it throughout qualifying.
Check out these sparks 🤩

Simply mesmerising ✨#QatarGP 🇶🇦 #F1 pic.twitter.com/BWEwiKzxKG

— Formula 1 (@F1) November 20, 2021
Charles Leclerc joined the list of drivers having a lap time deleted, wide at Turn 16, which left him down in 14th place with three minutes remaining in the 18-minute session.
"Lot of traffic" was Hamilton's assessment as the drivers crawled around the Losail circuit to start a final flying lap.
This led to AlphaTauri being unhappy with Sebastian Vettel as he overtook one of their cars along the pit exit while Nicholas Latifi wasn't able to cross the line in time to start a final lap. He dropped out along with Kimi Raikkonen, Antonio Giovinazzi, Schumacher and Mazepin.
Q2, the session that determines the tyres that the drivers will use at the start of the grand prix, saw half the field leave the pits on the medium tyres and the either half on the softs.
AlphaTauri, Alpine, Aston Martin and George Russell went with the red walled Pirellis. That caused an issue for Sergio Perez, the Red Bull driver down in 12th place on the medium tyres – six soft tyre runners ahead of him.
Leclerc, down in 15th place and slowest of all, was baffled by his lack of pace. "Honestly, I don't know where to find the 9 tenths I'm missing," he told the Ferrari pit wall. "I don't really know why."
CHARLES 📻: "I don't know where to find the 9 tenths I'm missing" #QatarGP 🇶🇦 #F1 pic.twitter.com/SPGybeFj5c

— Formula 1 (@F1) November 20, 2021
Perez and Leclerc, as well as the two McLarens, swapped to the soft tyres to try make it through to Q3. Perez and Leclerc still didn't make it through, out along with Lance Stroll, Daniel Ricciardo and George Russell.
Hamilton topped the timesheet for Q2, finishing ahead of Pierre Gasly, Fernando Alonso and Verstappen, the Mercedes driver looking the odds on favourite to take pole position.
Hamilton was the first driver putting in a lap in Q3, the Mercedes driver clocking a 1:21.262, with Verstappen 0.162s down on his title rival. Bottas was third on the provisional grid.
Hamilton came out storming in his second run, the Brit taking three-tenths off his provisional pole time in the first sector alone. He was up again in the second, and the third, crossing the line with a 1:20.827.
Neither Verstappen nor Bottas were able to challenge the reigning World Champion, Verstappen 0.455s down with Bottas a further two-tenths off the pace.
Gasly held onto fourth place despite breaking his front wing on the kerbs, resulting in a tyre failure that brought out the yellow flags that may prove to have caught out Verstappen. He'll start ahead of Alonso and Lando Norris.
Pierre Gasly avait cassé son aileron avant sur le vibreur de l'avant-dernier virage.#F1 #QatarGP 🇶🇦 pic.twitter.com/CYq0YvQcLO

— Off Track (@OffTrack_FR) November 20, 2021
It was Hamilton's fourth pole position of this season, and his first since the Hungarian Grand Prix.
Times
1 Lewis Hamilton Mercedes 1:20.827
2 Max Verstappen Red Bull 0.455s
3 Valtteri Bottas Mercedes 0.651s
4 Pierre Gasly AlphaTauri 0.813s
5 Fernando Alonso Alpine 0.843s
6 Lando Norris McLaren 0.904s
7 Carlos Sainz Ferrari 1.013s
8 Yuki Tsunoda AlphaTauri 1.054s
9 Esteban Ocon Alpine 1.201s
10 Sebastian Vettel Aston Martin 1.958s
11 Sergio Perez Red Bull 1:22.346
12 Lance Stroll Aston Martin 1:22.460
13 Charles Leclerc Ferrari 1:22.463
14 Daniel Ricciardo McLaren 1:22.597
15 George Russell Williams 1:22.756
16 Kimi Raikkonen Alfa Romeo Racing 1:23.156
17 Nicholas Latifi Williams 1:23.213
18 Antonio Giovinazzi Alfa Romeo Racing 1:23.262
19 Mick Schumacher Haas 1:23.407
20 Nikita Mazepin Haas 1:25.859