Race: Hamilton narrows Max's title lead, Alonso on podium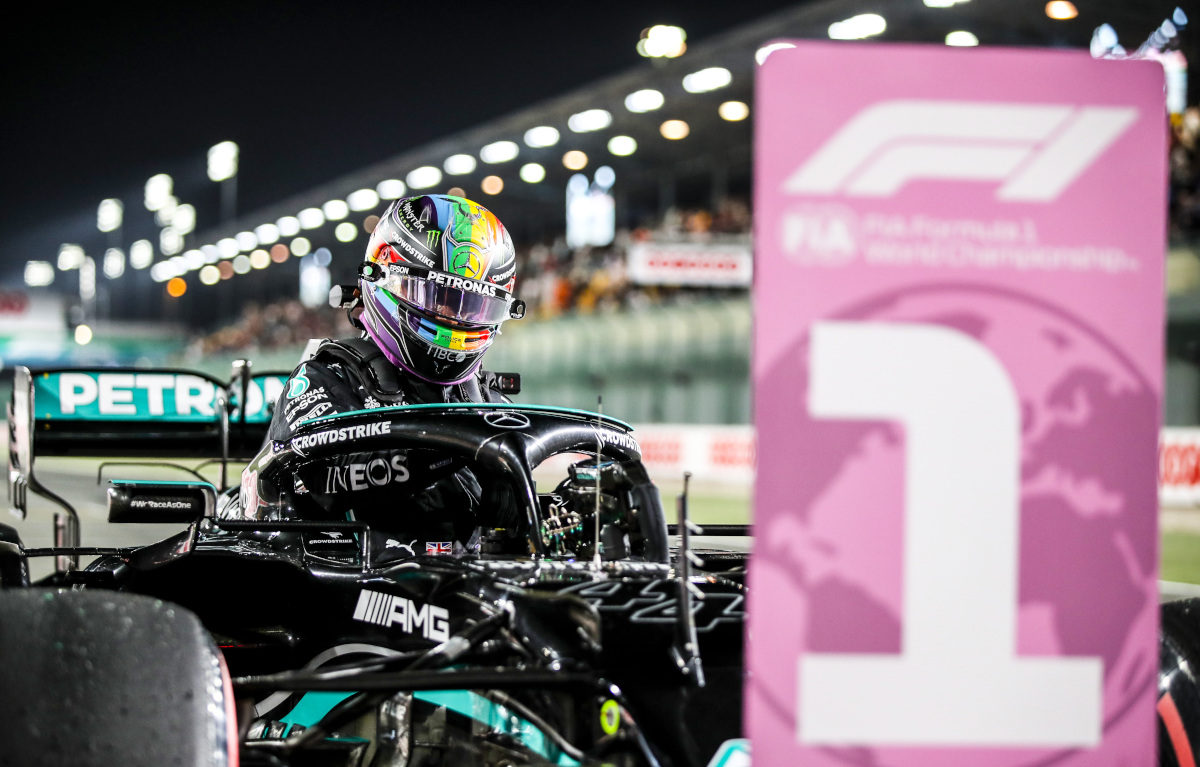 Lewis Hamilton romped to an easy win at the Qatar Grand Prix, Mercedes mimicking Max Verstappen's strategy as he slashed his deficit in the title race to eight points.
Starting from pole position with Verstappen down in seventh place as a result of a grid penalty, Hamilton put nine seconds between himself and his title rival in the opening stint and from there controlled the race.
Taking his seventh win of the season, and Formula 1's first at at the Losail circuit, he crossed the line 26 seconds behind of his Red Bull rival.
Hamilton goes into penultimate round of this season trailing Verstappen by eight points in the Drivers' Championship.
BREAKING: @LewisHamilton wins in Qatar!

He beats Max Verstappen (P2) and reduces Verstappen's championship lead to eight points with two races to go!#QatarGP 🇶🇦 #F1 pic.twitter.com/MFi2rtjiH6

— Formula 1 (@F1) November 21, 2021
Starting on the medium tyres with the three cars behind him all on the soft Pirellis, Hamilton moved across to defend against Pierre Gasly to lead the opening lap of the Qatar Grand Prix, the AlphaTauri driver then passed by Fernando Alonso.
Max Verstappen, P7 after his grid penalty, was quickly up to fourth while Valtteri Bottas, P6 due to his penalty, fell to 11th.
Hamilton put two seconds between himself and Alonso in the first two laps, "I'm a little bit stuck here" was Verstappen's message to Red Bull as he chased Gasly for third.
The very next lap Gasly went a bit wide, Verstappen closed in his rear wing, and overtook him down the main straight. One lap later and it was Alonso who fell victim to the Dutchman, P2 for the Red Bull driver, Game on, the gap to Hamilton four seconds.
Verstappen: "Everything OK with my front wing? I think I had a little spark."
Red Bull: "OK, we'll have a look. Stay off the kerbs, Max, reminder stay off the kerbs. For the moment it's all OK."
LAP 6/57

What a start in Qatar from Max Verstappen!

He's already up to P2, having started in P7 👏

The battle between him and Lewis Hamilton is ON! 🍿#QatarGP 🇶🇦 #F1 pic.twitter.com/nepwvVwfy0

— Formula 1 (@F1) November 21, 2021
The race calmed down as the title protagonists ran 1-2, dropping Alonso who held onto third ahead of Gasly, Lando Norris, Esteban Ocon, Carlos Sainz and Sergio Perez – six seconds between P3 and P8.
Perez made short work of Ocon and Sainz, up to P6 by lap 10. Bottas was struggling to make similar inroads, only recovering as far as P9 despite Toto Wolff urging him to "get these cars".
Norris overtook Gasly for fourth, Perez made it fifth for the AlphaTauri, and then Gasly pitted, the first of the top-ten to do so. Bottas made his way around Sainz and then Ocon.
And all the while Hamilton putting some time between himself and Verstappen, nine seconds.. and then Verstappen pitted on lap 18 for hard tyres. Red Bull getting the driver out metres ahead of Alonso. Mercedes responded, pitting Hamilton despite the Brit saying his tyres were good. Hards for him, and he rejoined, the gap still nine seconds.
While the title duo raced towards their second pit stops, Alonso, Norris and Bottas – all on one stop strategies – vied for third place with the Spaniard leading the tussle and Bottas passing Norris. Alonso was the first of the trio to pit followed by Norris with Bottas opting to stay out.
Verstappen: "Let's have a bit of fun, we are going to be second after all. Let's push."
Bottas, the last driver to stop, was forced to do so on lap 33 when he suffered a puncture, going off the track at Turn 7. He fell down to P6 as he pulled into the pits, his W12 also needing a new nose as a result of his off. He came out P14, his chances of securing a podium undone.
LAP 33/57

Puncture for Valtteri Bottas! He's falling back through the field from P3 as he tries to make it back to the pits 👀#QatarGP 🇶🇦 #F1 pic.twitter.com/6crTO7zIl1

— Formula 1 (@F1) November 21, 2021
Back at the front with 20 laps to go Hamilton led Verstappen by eight seconds while Perez, on a two-stopper, made his way up to third place ahead of Alonso, Gasly and Norris.
Reporting vibrations from both Hamilton and Verstappen, Mercedes and Red Bull were left pondering what to do next and when to pit. Verstappen pitted on lap 42, nine seconds behind Hamilton and 54 ahead of Perez in third. Perez stopped the next lap for new mediums and Hamilton the next, but for scrubbed mediums. Hamilton came out P1, eight seconds up on Verstappen. Perez dropped to P7.
Needing to work his way back up the order, Alonso, running P3, told Alpine to tell his team-mate Ocon to "defend like a lion" as the Spaniard dreamt of his first podium of the season. Alpine told the Frenchman to get his "elbows out" as Perez shot by Stroll to sit on Ocon's rear wing. Ocon did the best he could, even trying to come back at the Red Bull, but Perez took P5 in the space of a handful of corners.
Norris' run for the points took a hit on lap 51, the McLaren driver pitted as he felt as if his car had a puncture, dropping out of the top ten, while moments later Bottas' race ended as Mercedes told him to "box" to retire the car. And also on lap 51 George Russell suffered a left front puncture, limping his way back to the pits. He put on new tyres and continued on his way.
A lap later Nicholas Latifi, another one-stopper, had a left front puncture and crawled back to the pits. He reported his tyres were "fine" and then one wasn't. That brought out the VSC and all the while the one-stopping Alonso held onto P3 ahead of Perez.
Verstappen made a late stop to put on soft tyres and tyre for the fastest lap point. Hamilton took the win, undoubtedly one of his easiest wins of this season, the reigning World Champion crossing the line 26 seconds ahead of Verstappen. The gap between the title rivals down to eight points with 52 still in play.
The driver who joined them on the podium? It was Alonso, the double World Champion securing his first top-three finish in his comeback season. Perez was fourth, crossing the line ahead of Ocon. Lance Stroll, Sainz, Charles Leclerc, Norris and Vettel completed the points.
Result
1 Lewis Hamilton Mercedes
2 Max Verstappen Red Bull 25.743s
3 Fernando Alonso Alpine 59.457s
4 Sergio Perez Red Bull 62.306s
5 Esteban Ocon Alpine 80.570s
6 Lance Stroll Aston Martin 81.274s
7 Carlos Sainz Ferrari 81.911s
8 Charles Leclerc Ferrari 83.445s
9 Lando Norris McLaren 1 LAP
10 Sebastian Vettel Aston Martin 1 LAP
11 Pierre Gasly AlphaTauri 1 LAP
12 Daniel Ricciardo McLaren 1 LAP
13 Yuki Tsunoda AlphaTauri 1 LAP
14 Kimi Raikkonen Alfa Romeo Racing 1 LAP
15 Antonio Giovinazzi Alfa Romeo Racing 1 LAP
16 Mick Schumacher Haas 1 LAP
17 George Russell Williams 2 LAPS
18 Nikita Mazepin Haas 2 LAPS
Did Not Finish
Nicholast Latifi Williams lap 53
Valtteri Bottas Mercedes lap 51