FP2: Bottas quickest, rear wing issues for Red Bull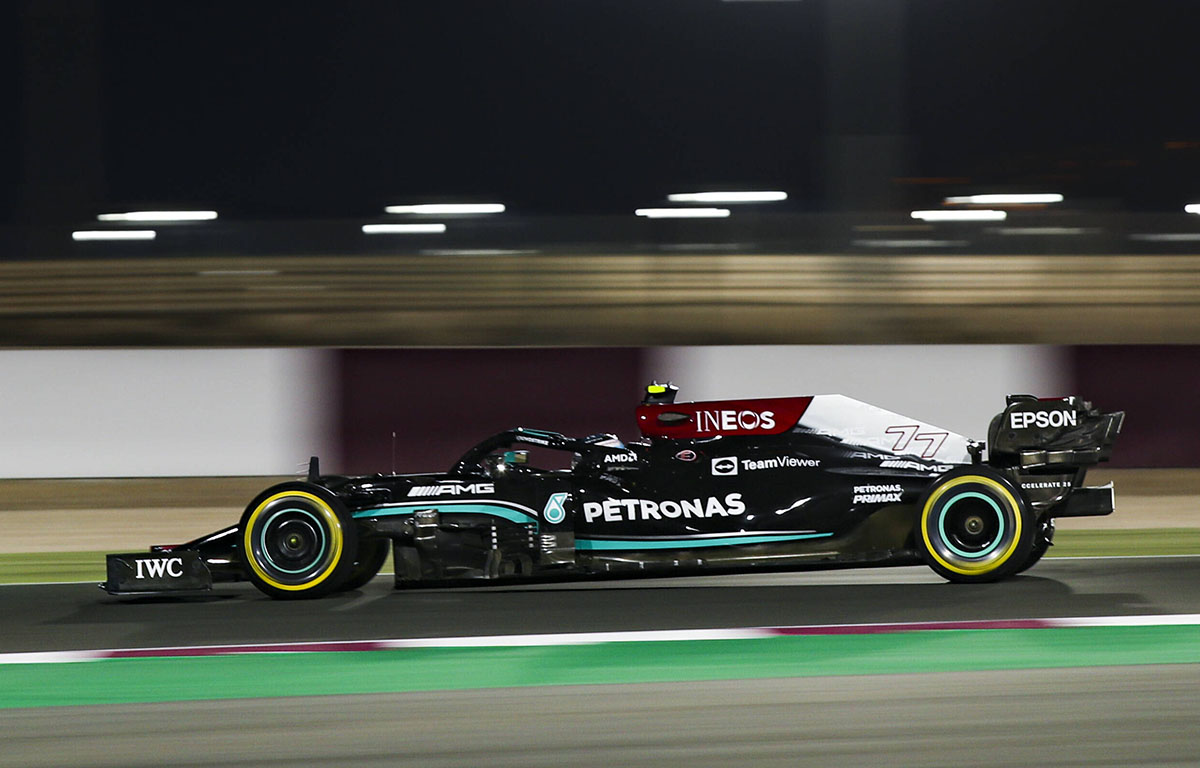 Rear wing talk continues to dominate discussion at the Qatar Grand Prix weekend, with Red Bull suffering from oscillation issues in second practice.
While Mercedes replaced Red Bull at the top of timesheet with Valtteri Bottas quickest of anyone in FP2 – setting a 1:23.148, two tenths clear of Pierre Gasly who was a surprise P2 – the main focus was once again on wings as Red Bull's upper flap on the rear was blighted by severe oscillation.
The Red Bull mechanics spent time addressing the issue on both cars throughout the second session, Verstappen finishing the day in P3 three tenths off the pace set by Bottas.
Title rival Lewis Hamilton, in P4, was four tenths slower than his team-mate.
Watch the rear wing 👀 #QatarGP 🇶🇦 #F1 pic.twitter.com/N1ofpezHsy

— Formula 1 (@F1) November 19, 2021
As darkness descended on the Losail International Circuit and temperatures cooled, the FP2 session offered the drivers and teams much more representative conditions of what they can expect once the lights go out on Sunday.
Just 19 drivers would be able to get the vital track experience they needed as Haas' Nikita Mazepin sat out the session because of an unscheduled chassis change.
Visbility was proving to be a slight issue for some drivers as their eyes adjusted to the dazzling floodlights beaming down on the dark tarmac. Sergio Perez needed to come back into the garage to replace the visor on his helmet.
After the opening stints, it was Mercedes who were top of the pile as Bottas held a two-tenth gap over team-mate Hamilton. The latter almost got in Bottas' way in the early stages but, thankfully for them, they managed to avoid an embarrassing collision between them.
Bottas then returned to the track and pumped in a 1:23.154, but that lap was deleted for clearly exceeding track limits at Turn 7.
At Red Bull, their focus was on rear wings, but their own on this occasion, as there was an issue with the DRS on Verstappen's car which was soon fixed…or so we thought.
Back on track, Verstappen's team-mate Perez was starting a flying lap, but soon backed out due to traffic problems in sector two.
Verstappen found a quieter moment to throw down his first qualifying sim run, yet found himself two tenths down in the first sector. That gap extended to four tenths by the time he crossed the line, but there was a suspicion that his car was carrying a slightly heavier fuel load compared to others.
There was also a firm eye staying fixed on Red Bull's rear wing, which was still misbehaving with the upper flap oscillating when the DRS was open. The problem kept Perez in the garage for much longer than he would have liked.
Meanwhile, Verstappen's former team-mate Pierre Gasly found himself sandwiched in between the two Mercedes drivers after an eye-catching lap on the softs.
Verstappen re-emerged for another crack at dislodging Bottas, but again was no match for the Mercedes through the first sector. He did find improvement, but only by a tenth.
Work to do, it appears, for Red Bull ahead of qualifying day on Saturday.
FP2 timesheet
1 Valtteri Bottas Mercedes 1:23.148 27
2 Pierre Gasly AlphaTauri 0.209s 26
3 Max Verstappen Red Bull 0.350s 19
4 Lewis Hamilton Mercedes 0.422s 24
5 Lando Norris McLaren 0.484s 23
6 Lance Stroll Aston Martin 0.557s 26
7 Yuki Tsunoda AlphaTauri 0.587s 27
8 Sergio Perez Red Bull 0.639s 20
9 Sebastian Vettel Aston Martin 0.872s 27
10 Carlos Sainz Ferrari 0.885s 27
11 Esteban Ocon Alpine 0.893s 28
12 Fernando Alonso Alpine 0.908s 25
13 Charles Leclerc Ferrari 0.947s 23
14 Daniel Ricciardo McLaren 0.987s 22
15 Kimi Raikkonen Alfa Romeo Racing 1.483s 25
16 George Russell Williams 1.806s 26
17 Antonio Giovinazzi Alfa Romeo Racing 1.924s 23
18 Mick Schumacher Haas 2.427s 26
19 Nicholas Latifi Williams 2.061s 28
20 Nikita Mazepin Haas no time set