Race: Verstappen dominates to take consecutive wins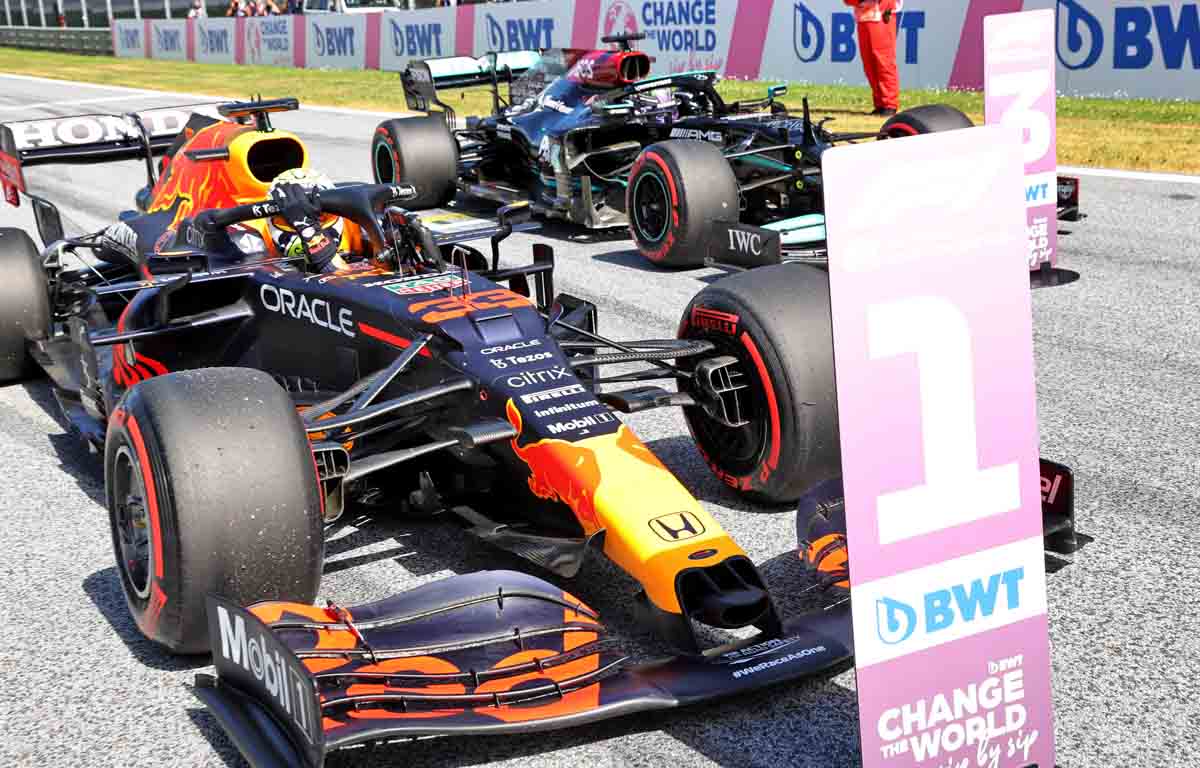 Max Verstappen led from lights to flag at the Styrian Grand Prix, earning consecutive wins in 2021 – ahead of title rival Lewis Hamilton behind.
The Red Bull driver has now opened up a 18-point gap back to the reigning World Champion in the Drivers' standings, as he took victory in comfortable fashion at the Red Bull Ring.
Valtteri Bottas was just about able to hold off a late charge from Sergio Perez to hold onto P3, after recovering from a grid penalty to get himself on the podium – with McLaren's Lando Norris rounding out the top five.
The forecasted rain for Sunday was seemingly non-existent heading into the start at the Red Bull Ring, with the two title protagonists lining up alongside one another once again as the five lights went on.
It was then a clean getaway for both drivers on the front row, with Norris and Perez trading places back and forth behind as they ran side-by-side for the most of the first lap.
Daniel Ricciardo, after a poor qualifying session, was the biggest improver on lap 1 by gaining four places, but Pierre Gasly was tagged by the front wing of Charles Leclerc heading up to Turn 3, leaving the AlphaTauri driver with a left-rear puncture, suspension damage and an early retirement.
The front two scampered away from the chasing pack, as Verstappen opened up the gap at a second per lap back to Norris in P3, but Hamilton kept the Dutchman in his sights.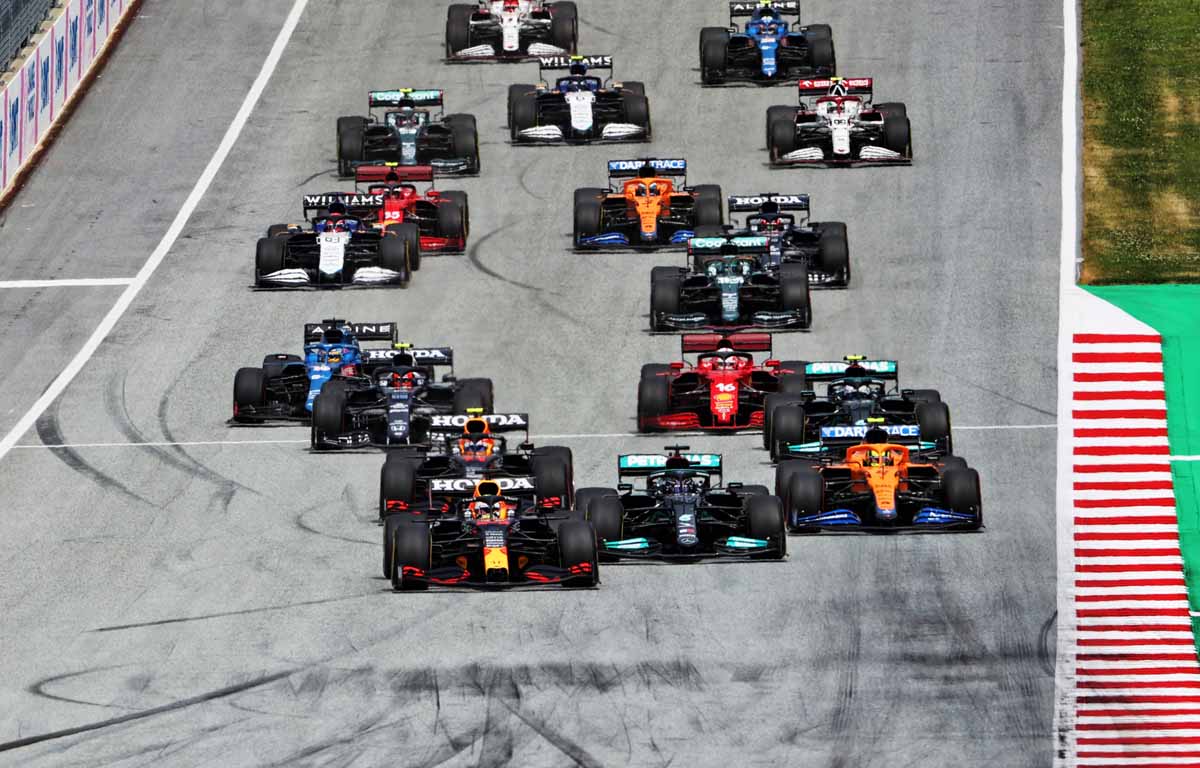 After his fantastic start, Ricciardo was soon back to square one after losing the four places he'd gained in the space of one lap, with a temporary loss of power. McLaren were able to recover his power soon enough, to allow the Australian back on his way.
In the sister McLaren, Norris was passed on consecutive tours of the Red Bull Ring, with Perez and Bottas moving ahead of the McLaren on lap 10 and 11 respectively dropping the Briton back to P5 as he looked to extend his first stint in the race.
After starting P10, George Russell was quietly going about his business and running well in P8 in his Williams, keeping Yuki Tsunoda and Carlos Sainz behind him.
Russell was the first in a significant queue behind Fernando Alonso in P7, with every car down to Ricciardo in P13 running with their rear wings open in each of the three DRS zones in Spielberg.
All was quiet at the head of the field, but Verstappen soon began to eke out his advantage over Hamilton up to a five-second gap as he pumped in several fastest laps in a row as the World Championship leader began to push.
The Ferrari of Leclerc was slowly making his way back through the field after pitting on the first lap, putting in a brave move around the outside of Esteban Ocon as he climbed up towards the points-paying positions again.
Russell pitted for a set of hard tyres on lap 26, but there was agony for the Williams driver as his mechanics appeared to fish a piece of debris out of his car, which left him in his pit box for 18.3s and meant he had to come back in again two laps later with his issue unresolved – ruling out his points ambitions as he dropped agonisingly to the back of the field – before retiring by lap 38.
https://t.co/wK5HUctFZV pic.twitter.com/sB9q9sq5FI

— Planet F1 (@Planet_F1) June 27, 2021
Check all the latest 2021 teamwear via the official Formula 1 store
The pit lane became the focus of attention as drivers came in. Sergio Perez pulled the trigger first by coming in, but a slow left-rear change left him vulnerable to Bottas behind.
The Mercedes driver came in the following lap and, after a much smoother stop, he managed to jump ahead of the second Red Bull on the road and into the podium places.
Hamilton then came in the lap before Verstappen, without making too much headway into the Dutchman's advantage in the first part of his stint – but the pair had almost a pit-stop's time advantage over Bottas by the time the halfway point of the race came around.
Ferrari's strategy to go long with Sainz quietly paid off, with the Spaniard pitting last in the field and coming out a net P7 following his P12 start, quickly bypassing Lance Stroll a couple of laps later to put himself into the top six in a car which had been struggling for most of the weekend.
Such was the dominance of the top two, Verstappen went on to lap Norris, running in P5, with 23 laps to go at the Red Bull Ring. Hamilton could not keep pace either, as the Red Bull man edged further away from his title rival – despite Verstappen being told to stay off the kerbs to preserve his car.
There was soon a 7.5s gap for Mercedes to reel in as the team predicted they were losing two-and-a-half tenths per lap on the straights alone compared to their rivals.
Hamilton asked about the possibility of switching to a two-stop strategy, but Pete Bonnington was quick to say that the Mercedes man just needed to focus on bringing the car home at the end of the race.
For the final podium position, Perez switched up his strategy by swapping to a new set of tyres, with the Mexican soon duly putting in fastest laps of the race as he looked to claw back a 21-second gap to overtake the Finn at the end.
Knowing that his quest for victory was over in earnest, Hamilton pitted two laps from the finish to give himself the opportunity to gain the extra point for the fastest lap of the race – duly doing so to limit the damage in the World Championship standings.
Perez was only just behind Bottas at the line and, if there was one more lap, he may well have jumped ahead of his Mercedes rival.
Styrian Grand Prix classification
1 Max Verstappen Red Bull 1:22:18.925 1 stop
2 Lewis Hamilton Mercedes +35.743s 2 stops
3 Valtteri Bottas Mercedes +46.907s 1 stop
4 Sergio Perez Red Bull +48.984s 2 stops
5 Lando Norris McLaren 1 LAP 1 stop
6 Carlos Sainz Ferrari 1 LAP 1 stop
7 Charles Leclerc Ferrari 1 LAP 2 stops
8 Lance Stroll Aston Martin 1 LAP 1 stop
9 Fernando Alonso Alpine 1 LAP 1 stop
10 Yuki Tsunoda AlphaTauri 1 LAP 1 stop
11 Kimi Raikkonen Alfa Romeo Racing 1 LAP 1 stop
12 Sebastian Vettel Aston Martin 1 LAP 1 stop
13 Esteban Ocon Alpine 1 LAP 1 stop
14 Daniel Ricciardo McLaren 1 LAP 1 stop
15 Antonio Giovinazzi Alfa Romeo Racing 1 LAP 1 stop
16 Mick Schumacher Haas 2 LAPS 1 stop
17 Nicholas Latifi Williams 3 LAPS 2 stops
18 Nikita Mazepin Haas 3 LAPS 1 stop
R George Russell Williams
R Pierre Gasly AlphaTauri
Follow us on Twitter @Planet_F1, like our Facebook page and join us on Instagram!