Race: Bottas wins in Turkey, Max P2, Hamilton furious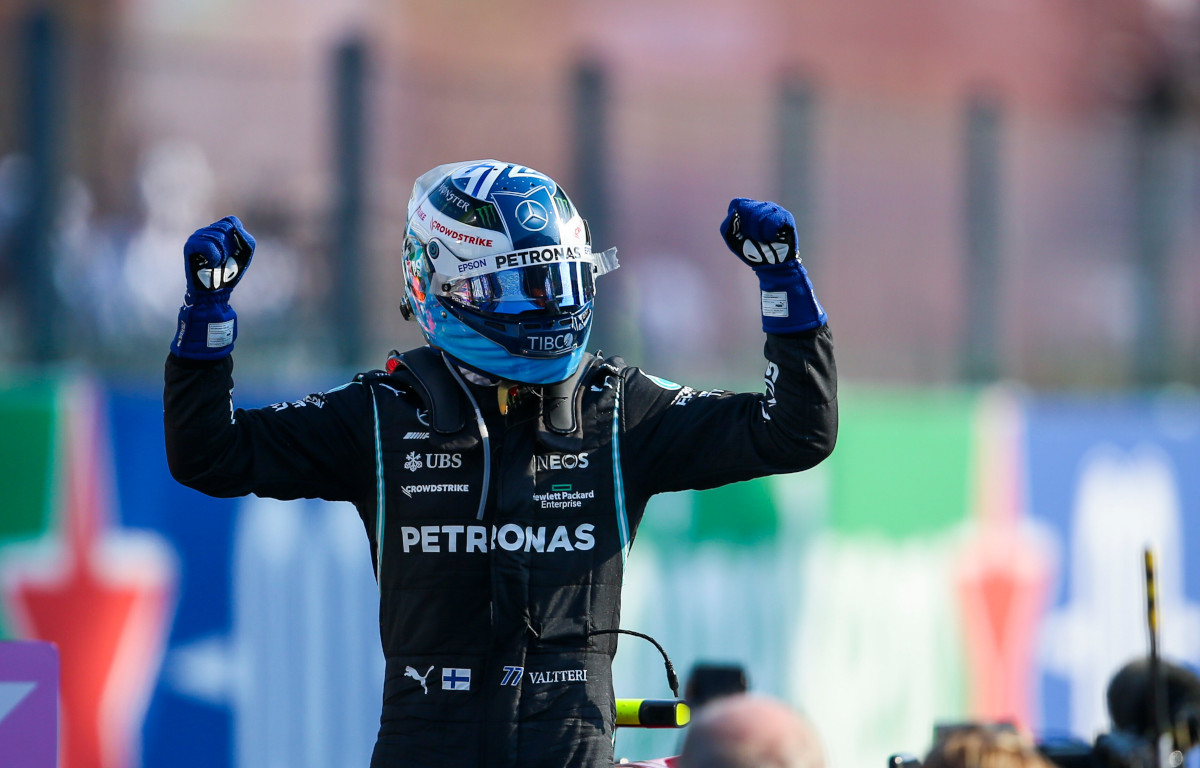 Valtteri Bottas didn't put a wheel wrong as he did his part for Mercedes in preventing Max Verstappen from taking the Turkish GP win.
While it looked as if the Finn, having one of his best Sundays of this season, would lead from lights to flag, Charles Leclerc posed a brief threat as he opted to stay out on his worn intermediates as Bottas and Verstappen pitted for fresh tyres.
Leclerc's gamble did not pay off, Bottas retaking the lead on lap 47 and racing his way to the chequered flag, his first win of this season.
Verstappen was second, regaining the lead in the Drivers' Championship, with Hamilton, who was left furious with Mercedes for calling him into the pits with seven laps to go, fifth on the day. The gap between Verstappen and Hamilton is now six in the Red Bull driver's favour.
Sergio Perez was third, back on the podium for the first time since June.
VALTTERI BOTTAS TAKES THE 🏁

He converts pole position into his first win of 2021!

Max Verstappen (P2) and Sergio Perez (P3) complete the podium#TurkishGP 🇹🇷 #F1 pic.twitter.com/Uhp6HRuDCO

— Formula 1 (@F1) October 10, 2021
As the drivers made their way to the grid and a light drizzle continued to fall, it was evident to everyone this was set to be a race where the first objective was staying out of the trouble, and the second was making the right strategy call at the right time.
Starting from pole position Valtteri Bottas got away without issues while a minor pause for Max Verstappen saw him unable to challenge the Mercedes driver for the lead. Charles Leclerc holding onto P3 with Sergio Perez making a flying start to run fourth while Fernando Alonso spun his Alpine, P5 on the grid to P17.
Alonso was tagged by Gasly, the AlphaTauri driver telling his team he was "sandwiched" while Alonso called him a "stupid guy". Alonso then tapped Mick Schumacher, pitching the Haas rookie into a spin. Both were given five-second penalties. And all the while Lewis Hamilton, 11th on the grid, made his way up to ninth by the end of the opening lap. Nicholas Latifi was another early spinner.
As Verstappen tried to hunt down Bottas, keeping the Finn on his toes, Hamilton chased Yuki Tsunoda, the AlphaTauri rookie showing his defensive skills. After seven laps behind Tsunoda, Hamilton made his move around the outside at Turn 3 and up into eighth place, 17s behind Verstappen. "Damn that took a long time," said Hamilton. Hamilton's next move, made a lot faster, was for P8 against Lance Stroll.
LAP 8/9 of 58

After stalking Tsunoda for several laps Hamilton finally gets past.

He then quickly reels in Stroll and moves up to P7#TurkishGP 🇹🇷 #F1 pic.twitter.com/sInnxTTF9S

— Formula 1 (@F1) October 10, 2021
Check all the latest 2021 teamwear via the official Formula 1 store
Another driver on the move was Carlos Sainz, up from 19th to 11th after nine laps. He overtook Sebastian Vettel for a top-ten spot on lap 14, out-braking himself at Turn 12 and hitting the Aston Martin in the process. "He drove straight into me" said a rather unimpressed Vettel.
With tyre wear coming into play, Verstappen was told that his "pace management has been successful, both Mercedes' tyres look worse than ours." Hamilton in turn told Mercedes that his front right was looking a "little bit bald". It showed in their pace with Verstappen starting to eke into Bottas' lead, although that didn't last long. Leclerc, also showing good pace, was running just three seconds behind Verstappen.
Daniel Ricciardo, P16, was the first to pit, coming in on lap 22 and swapping his old intermediates, which were bordering on slicks, for new inters. He was slowest of all on his second lap out of the pits and then ran about a second off the pace of the leaders, but had been his pace most of the race. With more rain falling around Turn 9, Yuki Tsunoda going for a spin to prove it, it remained to be seen if the rest of the field, with their inters now slicks, would stop. They didn't, at least not immediately.
LAP 23/58

Oh no, Yuki! 😖

Tsunoda goes spinning off track at Turn 9 and drops back down the field to P13 #TurkishGP 🇹🇷 #F1 pic.twitter.com/RBBIDt8klE

— Formula 1 (@F1) October 10, 2021
Vettel and Ocon played a brief game of who most wanted to lose a piece of their car, the Alpine driver wisely backing off. His team-mate wasn't having a great time either, down in 16th place when he pitted for fresh inters, taking his penalty at the same time. Another driver not having a good time was Nikita Mazepin, the Haas driver attracting undo attention as he blocked Hamilton despite being shown the blue flags.
Eventually passing Mazepin, Hamilton worked his way onto Perez's rear wing, and made his move on lap 35. Wheel-to-wheel, Perez was pushed into the start of the pit lane but fought back to retake P4 off his team-mate's title rival. Perez told Red Bull: "He pushed me off!"
LAP 34/35 of 58

Brilliant battling between Perez and Hamilton 👏

Hamilton looked odds on to take the place but Perez fights back and stays in front for now #TurkishGP 🇹🇷 #F1 pic.twitter.com/aoBBdnMXdJ

— Formula 1 (@F1) October 10, 2021
And then Verstappen pitted. He stopped on lap 37, coming out P3. Norris, Tsunoda, Sainz, who had an eight second stop, George Russell, Vettel, who stopped for slicks, and then Bottas – the gap between the two down from five to four seconds. Perez also stopped, freeing up Hamilton, while Vettel's slick tyre call had him slipping and sliding. He pitted again for inters, almost into the barrier in the pit lane, and ended his chances of scoring points.
Leclerc, leading the grand prix, asked Ferrari if he could go to the end without pitting, Ferrari saying yes, with Hamilton open to the same strategy. Told to box by Mercedes as his mechanics ran out, he refused to stop, staying out as his pit crew returned to the garage. He ran four seconds behind Verstappen while Bottas quickly closing in on Leclerc for the lead.
The Finn made his move on lap 47, easily out-dragging Leclerc who pitted at the end of the lap. He came back out in fourth place ahead of Perez, but was soon behind the Mexican driver. With free air ahead of him, Bottas pulled away from Verstappen who was maintaining his advantage over Hamilton.
That – along with the arrival of heavy dark grey clouds – prompted Mercedes to pit the Brit, Hamilton agreeing to the lap 51 stop. He came out P5, annoyed with his team as he lost two places. As Bottas raced to his first win of this season, Hamilton's frustrations with his team grew lap after lap as he struggled to catch Leclerc. "We shouldn't have come in man. I told you!"
Bottas claimed the win, over 10 seconds ahead of Verstappen but for the Dutchman it was a P2 he'll be happy about having taken eighth points off Hamilton, who could only manage fifth place. The fastest lap point also went to the other side of the Mercedes garage.
Perez was third, his first podium since June, the Mexican driver crossing the line ahead of Leclerc. Hamilton was fifth with Gasly, Norris, Sainz, Stroll and Ocon completing the points.
Result
1 Valtteri Bottas Mercedes
2 Max Verstappen Red Bull 14.584s
3 Sergio Perez Red Bull 33.390s
4 Charles Leclerc Ferrari 37.814s
5 Lewis Hamilton Mercedes 41.812s
6 Pierre Gasly AlphaTauri 44.292s
7 Lando Norris McLaren 47.213s
8 Carlos Sainz Ferrari 51.526s
9 Lance Stroll Aston Martin 82.018s
10 Esteban Ocon Alpine 1 lap
11 Antonio Giovinazzi Alfa Romeo Racing 1 lap
12 Kimi Raikkonen Alfa Romeo Racing 1 lap
13 Daniel Ricciardo McLaren 1 lap
14 Yuki Tsunoda AlphaTauri 1 lap
15 George Russell Williams 1 lap
16 Fernando Alonso Alpine 1 lap
17 Nicholas Latifi Williams 1 lap
18 Sebastian Vettel Aston Martin 1 lap
19 Mick Schumacher Haas 2 laps
20 Nikita Mazepin Haas 2 laps