Race: Lightning Leclerc in a league of his own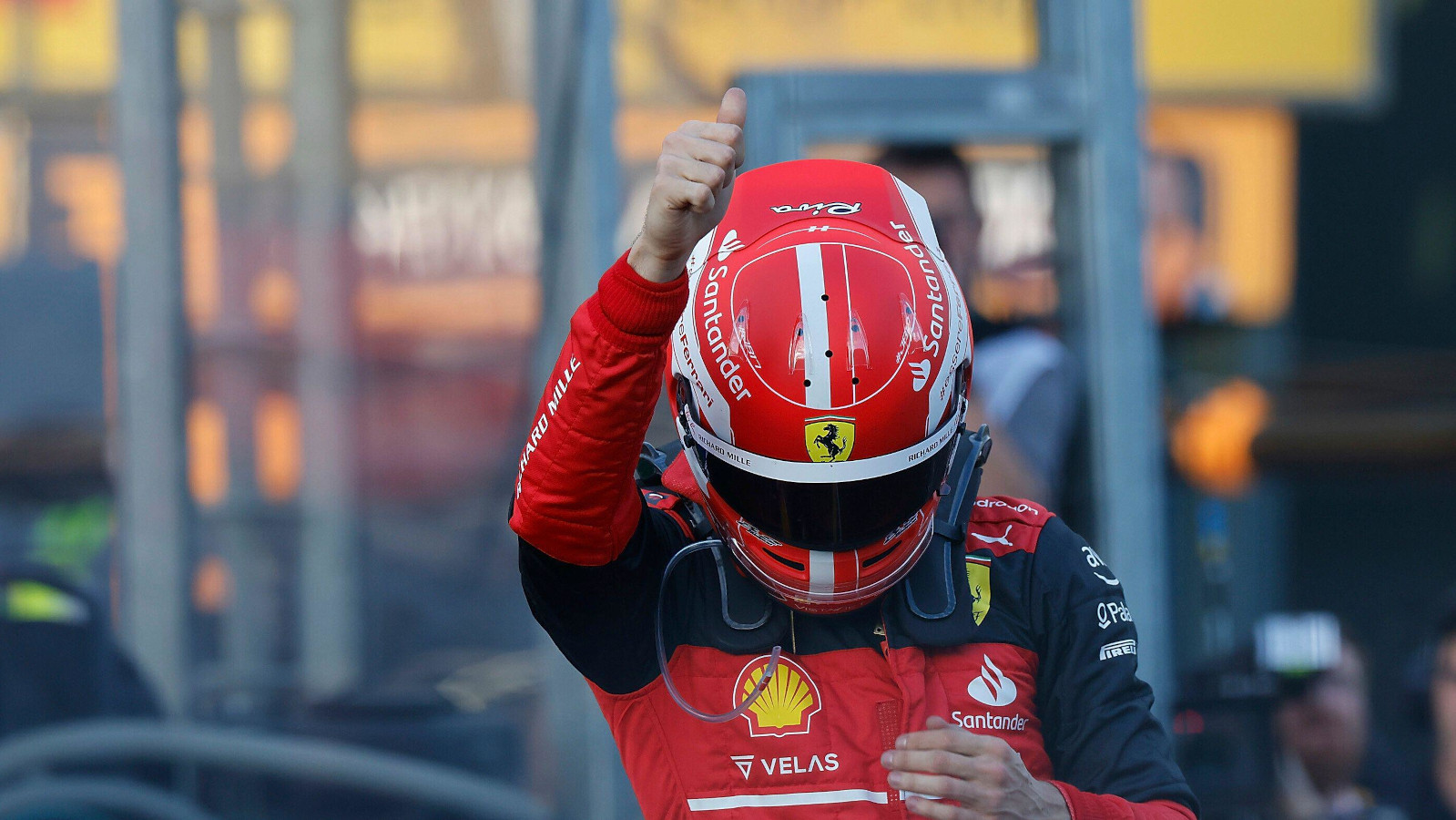 Charles Leclerc raced from lights to flag with only the Safety Car challenging his dominance at the Australian Grand Prix as he claimed his second win of the 2022 season.
The Monégasque driver didn't put a wheel wrong around the Albert Park circuit on Sunday afternoon, holding onto P1 even through two Safety Car restarts.
Max Verstappen had his best opportunity to challenge the Ferrari at the second of those, but Leclerc held firm and quickly began to eke out an advantage. Verstappen's challenge ended on lap 39, the reigning World Champion retiring with an engine issue.
That put Sergio Perez up into second place, the Mexican driver securing his first podium of the season with George Russell in third place.
Recording his second win of the campaign, Leclerc extended his lead in the Drivers' standings and now moves onto 71 points.
Untouchable. Unstoppable.

Charles Leclerc wins the Australian Grand Prix!#AusGP #F1 pic.twitter.com/ysTDdse8CP

— PlanetF1 (@Planet_F1) April 10, 2022
Leclerc made a great start to stay P1 ahead of Verstappen, the Ferrari driver sweeping across the track into Turn 1 to protect the position. Lewis Hamilton was up from fifth to third, leapfrogging Sergio Perez while George Russell also got ahead of Lando Norris.
For Carlos Sainz, starting on the hard tyres, it was a disaster as he fell from ninth to 14th and then dropped it through Turns 9/10 on the second lap, beaching his F1-75 in the gravel.
The Safety Car was deployed with Lance Stroll, another hard tyre starter, the only driver to pit, swapping to medium tyres. He was back in a lap later, putting on what looks like that same set of hard tyres that he had just removed. His pit stops for the day done and dusted.
LAP 3/58 ⚠️ Virtual Safety Car ⚠️

SAINZ IS OUT!

The Ferrari driver is in the gravel, driver is OK #AusGP #F1 pic.twitter.com/FOBd484hAU

— Formula 1 (@F1) April 10, 2022
The race resumed on lap 7 with Leclerc again holding onto P1 with no changes to the top ten with Fernando Alonso, his left thumb taped up after injuring it in his qualifying crash, P10. On lap 10 Perez took Hamilton down the inside at Turn 3 with a bit of help from DRS.
Sebastian Vettel dropped to 19th and last when he ran off the track at Turn 11 – "sorry about that" – and Nicholas Latifi also went skating through the gravel at Turn 4, Vettel up to P18 when the Williams driver pitted and then P17 when Mick Schumacher made his pit stop. Schumacher's team-mate Kevin Magnussen had a moment as he tried to pass Yuki Tsunoda, almost clipped the AlphaTauri and had to run over the grass to avoid a collision. "My bad".
Back at the front, Leclerc built up a eight-second lead over Verstappen by lap 17 the Dutchman telling Red Bull that his "left front is completely grained". Ferrari told Leclerc he was on "plan A plus five" meaning he'll be running five laps longer than initially scheduled.
Esteban Ocon was the first of the top ten to pit, doing so on lap 17. Verstappen, nine seconds down on Leclerc, was the next in and came out P7. His team-mate Perez, being harassed by Hamilton, pitted on lap 21 while Lando Norris also stopped, freeing up Daniel Ricciardo, and Alonso took a position off Gasly. Ricciardo and Gasly were the next into the pits, the Aussie unable to leapfrog his team-mate.
And then Leclerc pitted. 18s up on Hamilton, he stopped on lap 22 with Hamilton also coming in. Leclerc came back out P1, a second ahead of George Russell. Verstappen was up to third, the reigning World Champion only five seconds down on the leading Ferrari. Hamilton came out ahead of Perez only to lose the position corners later.
The Safety Car was out on lap 24, Vettel really wanting another scooter ride. The German spun on the exit of Four, spun and crashed nose first into the barrier. An unusual one. Russell took advantage, pitting and rejoining P3. Hamilton wasn't happy with yet another losing a position behind a Safety Car.
LAP 24/58 ⚠️ SAFETY CAR ⚠️

Vettel has hit the wall and stopped on track

A tough weekend for the Aston Martin driver 😫#AusGP #F1 pic.twitter.com/JEBFJZGcVz

— Formula 1 (@F1) April 10, 2022
The drivers were back racing on lap 27 with Verstappen making his move, Leclerc though stayed ahead and began to pull away. Verstappen came under pressure from Russell with Alonso, yet to pit, all over the back of the Mercedes driver. Hamilton, Magnussen, Norris and Ricciardo running nose to tail.
It took him a few laps on his fresher tyres but Perez was up to P4 on lap 30 with Hamilton passing Alonso a lap later, Perez then went onto push Russell off the podium and then he was back on Verstappen pulled over onto the side of the track, his race over with an engine issue. Alonso and Magnussen, both of whom were still to pit, took advantage of the VSC to stop.
Back racing, Stroll gave Valtteri Bottas a nudge to take ninth with Gasly also passing the Alfa Romeo driver as he ran wide. Stroll was given a five-second penalty, not for that incident but for weaving down the straight. Stroll, Gasly, Bottas, Alonso and Schumacher engaged in a high-speed procession as they battled for the final two points-paying positions.
Meanwhile in the race for the final podium position Hamilton told Mercedes that they were putting him a "difficult position" as he trailed Russell by 1.5 to two seconds. Albon pitted on the second last lap, taking his mandatory stop of the day.
Leclerc strolled to the victory by 20s over Perez with Russell third ahead of Hamilton, Norris, Ricciardo, Ocon, Bottas, Gasly and Albon scored the final point.
Result
1 Charles Leclerc Ferrari
2 Sergio Perez1 Red Bull 20.524s
3 George Russell Mercedes 25.593s
4 Lewis Hamilton Mercedes 28.543s
5 Lando Norris McLaren 53.303s
6 Daniel Ricciardo McLaren 53.737s
7 Esteban Ocon Alpine 61.683s
8 Valtteri Bottas Alfa Romeo Racing 68.439s
9 Pierre Gasly AlphaTauri 76.221s
10 Alex Albon Williams 79.382s
11 Guanyu Zhou Alfa Romeo Racing 81.695s
12 Lance Stroll Aston Martin 88.598s
13 Mick Schumacher Haas 1 LAP
14 Kevin Magnussen Haas 1 LAP
15 Yuki Tsunoda AlphaTauri 1 LAP
16 Nicholas Latifi Williams 1 LAP
17 Fernando Alonso Alpine 1 LAP
Did not finish
Max Verstappen Red Bull engine
Sebastian Vettel Aston Martin crash
Carlos Sainz Ferrari crash