FP3: Max quickest, Merc closer to resolving porpoising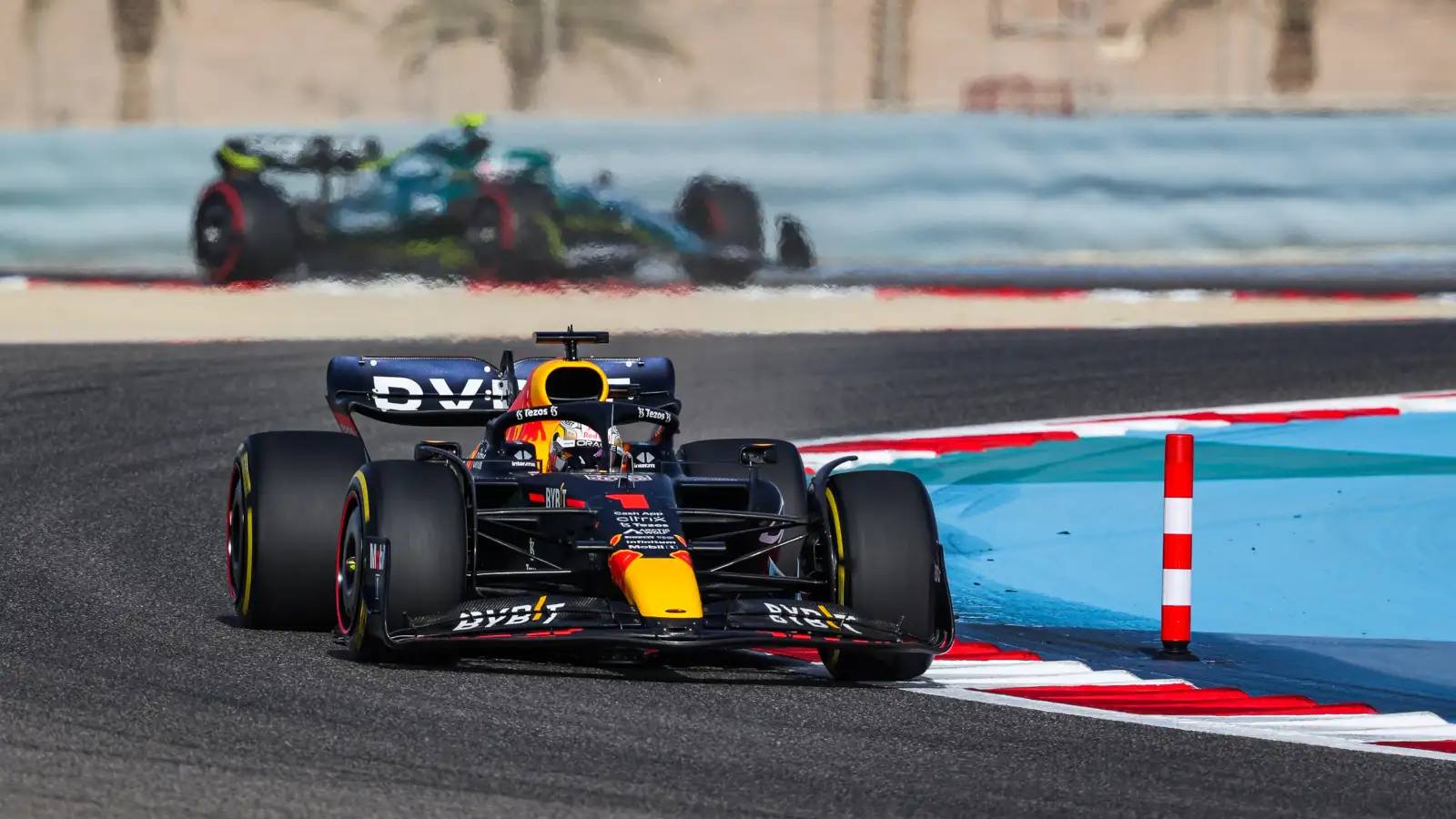 Max Verstappen set the pace in final practice in Bahrain but it is Mercedes who may be happiest as it looks as if they've taken a step forward with their porpoising issues.
After a night of head scratching, more of that for some teams than others, the drivers took to the Sakhir circuit on Saturday afternoon for the final hour of practice before qualifying. For Mercedes it meant just 60 minutes to find a solution to their "out of control" porpoising.
One piece of good news coming in this morning was from last night's driver briefing where new race director Niels Wittich told the drivers that the track limits this season will be defined by the white line, and it will be like that at every track.
We are loving the new no nonsense track limit rules 👏 pic.twitter.com/lfI6LZCWSV

— WTF1 (@wtf1official) March 19, 2022
The Alfa Romeo team-mates were the first to make their mark, Valtteri Bottas laying down a 1:38.840, 0.046s up on his team-mate Guanyu Zhou. But those were the only two lap times set in the first 10 minutes of play.
The action picked up soon after with Lewis Hamilton going quickest on the soft tyres, a 1:34.256, but there was no sign of Daniel Ricciardo as McLaren worked on a water leak, a problem that they found Friday night but did not have the time to fix due to curfew.
It was all change at the top as Ferrari went 1-2, Charles Leclerc's 1:22.797 four-tenths on Carlos Sainz, both drivers on the soft Pirellis.
Sergio Perez wasn't having the best of times, reporting that his brake pedal was a "bit long". Red Bull informed him that it was not a problem, they were running old material. Perez still went P2, splitting the Ferraris.
And then came Max Verstappen… Friday's pace-setter and the reigning World Champion went purple, purple, and purple for a 1:33.035. That was a whopping 0.762s up on Leclerc's best.
Sliding into seventh place, George Russell reported that he was "still not massively comfortable in the car", adding that he had a lot of understeer in the slow corners.
There was a hairy moment for Lando Norris as the McLaren driver got caught out by a tail wind, the back end of his MCL36 stepping out on him before he caught it. Leclerc also got away with one, the Ferrari driver going backwards through the gravel at Turn 11 after a big snap of oversteer.
Charles Leclerc spins at Turn 11, where he went off on Friday

He is able to keep his car rolling and get back on track#BahrainGP #F1 pic.twitter.com/1PUQIPBriC

— Formula 1 (@F1) March 19, 2022
Back out on track, Hamilton showed a notable improvement in his car's porpoising – and in his lap time. The seven-time World Champion went purple in the first sector and finished with a time that was 0.086s slower than Verstappen's.
And then Russell went even faster, his 1:32.935 exactly a tenth up on the Red Bull. The sandbags leaving with the porpoising.
Verstappen hit back with a 1:32.544 but it is fair to say there is more to come from the Red Bull driver as he locked up on his first hot lap and set his fastest time on the second. Leclerc put his Ferrari up into second place, 0.096s slower, with Perez third fastest ahead of Russell.
Sainz and Fernando Alonso had a moment in the pits that has been noted by the stewards with Ferrari telling their driver to stop only for him to keep inching towards the fast line forcing Alonso to come to a standstill to avoid a collision.
Yuki Tsunoda had a wretched session, the Japanese driver not even able to leave the pits for a single lap. As he tried to pull out of the AlphaTauri garage he reported he could "not turn the steering, something is wrong. It smells like oil." The team confirmed a hydraulic problem.
Times
1 Max Verstappen Red Bull 1:32.544 14 laps (soft)
2 Charles Leclerc Ferrari 0.096s 15 laps (soft)
3 Sergio Perez Red Bull 0.247s 19 laps (soft)
4 George Russell Mercedes 0.391s 18 laps (soft)
5 Carlos Sainz Ferrari 0.509s 19 laps (soft)
6 Lewis Hamilton Mercedes 0.577s 14 laps (soft)
7 Kevin Magnussen Haas 0.893s 14 laps (soft)
8 Valtteri Bottas Alfa Romeo Racing 1.189s 20 laps (soft)
9 Guanyu Zhou Alfa Romeo Racing 1.336s 17 laps (soft)
10 Lance Stroll Aston Martin 1.376s 13 laps (soft)
11 Lando Norris McLaren 1.411s 17 laps (soft)
12 Nico Hulkenberg Aston Martin 1.427s 16 laps (soft)
13 Pierre Gasly AlphaTauri 1.632s 17 laps (soft)
14 Mick Schumacher Haas 1.751s 16 laps (soft)
15 Daniel Ricciardo McLaren 1.834s 19 laps (soft)
16 Fernando Alonso Alpine 2.084s 14 laps (soft)
17 Alex Albon Williams 2.324s 13 laps (soft)
18 Esteban Ocon Alpine 2.413s 15 laps (soft)
19 Nicholas Latifi Williams 3.123s 13 laps (soft)
20 Yuki Tsunoda AlphaTauri no time 0 laps