Race: Leclerc ends Ferrari drought, disaster for Red Bull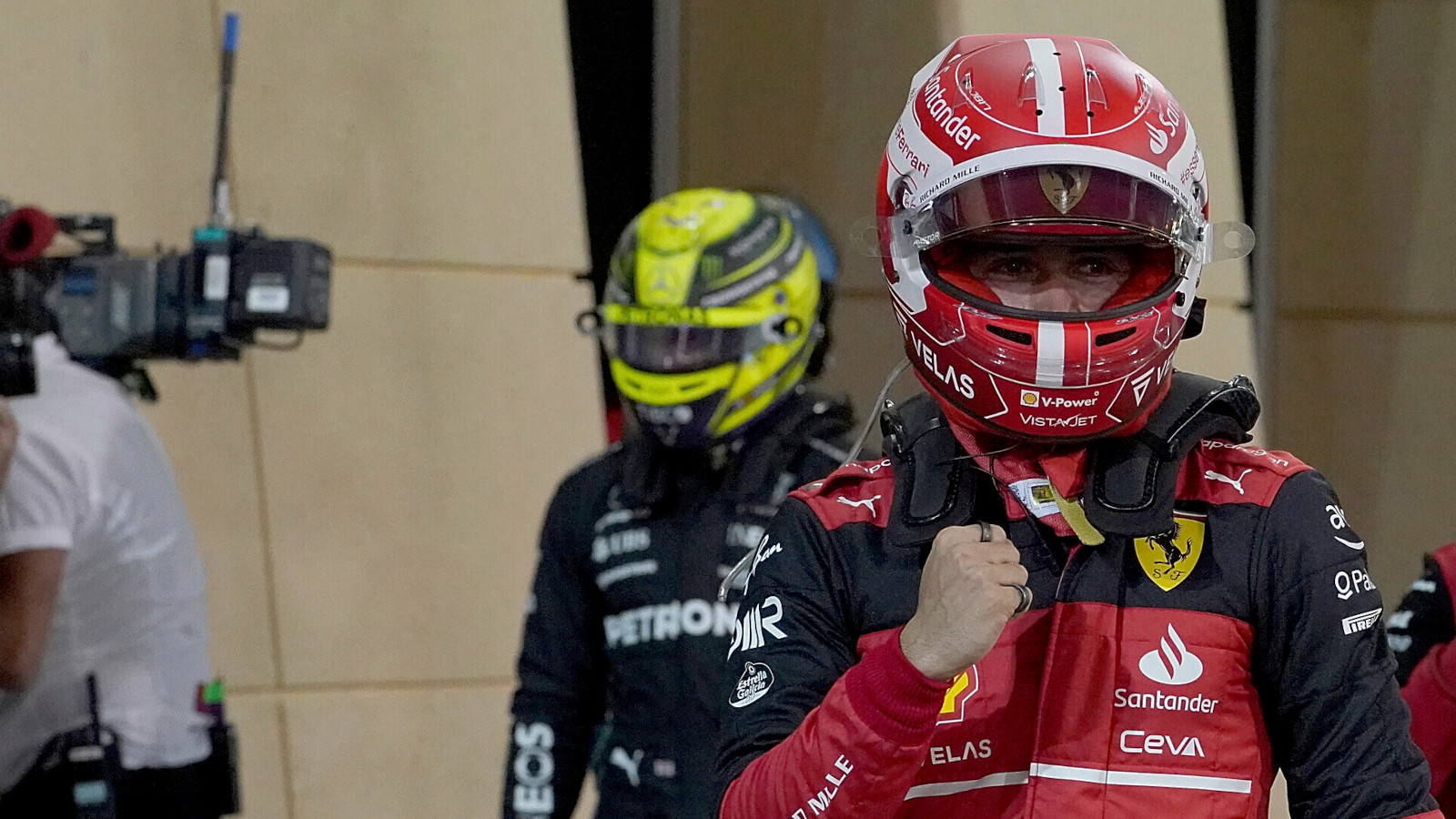 Charles Leclerc clinched Ferrari's first race win since 2019, the Monégasque driver the clear winner even with Max Verstappen's late retirement.
Formula 1 promised us cars that could follow and exciting racing, and Bahrain produced just that – from the race for the win to the ever-changing positions in the midfield.
Throw in a variety of tyre strategies and it is fair to say so far, so good as Formula 1 entered an all-new era at the Sakhir circuit.
It was definitely good – in fact great – for Ferrari, Leclerc racing from lights to flag ahead Carlos Sainz in a race that saw reigning World Champion Verstappen forced into a late retirement with the driver having complained about a battery problem.
Lewis Hamilton made a late charge to the podium, benefitting from a double Red Bull DNF with Sergio Perez's engine locking up on the final lap.
CHARLES LECLERC WINSSSSSSS! 🏁

It's his and Ferrari's first victory since 2019, and Carlos Sainz makes it a brilliant 1-2!#BahrainGP #F1 pic.twitter.com/5bHPpxaJwm

— Formula 1 (@F1) March 20, 2022
Starting from pole position, Leclerc acknowledged in the build up to the grand prix that leading the opening lap would be important, and it was. The Monégasque driver with a brand new set of soft tyres bolted to his Ferrari did just that, sweeping across the track to block Verstappen and lead the Bahrain Grand Prix.
His team-mate Carlos Sainz, who like Verstappen was on used softs, running third ahead of Lewis Hamilton, the Briton passing Kevin Magnussen and Sergio Perez. George Russell was up from ninth to seventh, with Valtteri Bottas the biggest faller from sixth to 14th.
There was contact between Esteban Ocon and Mick Schumacher through Turn 6, the stewards penalising the Alpine driver five seconds for hitting the Haas was hit from behind and pitching him into a spin. Meanwhile Magnussen wasn't able to make the most of his great start, losing to Perez and Russell.
Incredible car control from Mick on lap 1 😲😲

He's sent into a spin by Ocon but the car goes a full 360 and he only loses that one place. #HaasF1 #BahrainGP pic.twitter.com/P74VAVcmM4

— Haas F1 Team (@HaasF1Team) March 20, 2022
DRS played its part, Perez using that to take fourth off Hamilton with the Briton reporting that he had "no rear end" and was "so slow in a straight line". That had Hamilton heading into the pits, Mercedes opting to put him on the hard tyres.
Given this year's cooler tyre warmers, Hamilton almost came up short on his first lap out of the pits as he squiggled his way wide, losing P11 to Guanyu Zhou. But, DRS again, that was sorted out very quickly with Hamilton then hunting down his former team-mate, Valtteri Bottas, the Finn the biggest loser at the start, down from P6 on the grid to P14.
With the pit stop window open, Verstappen swapped his used softs for new ones, followed in by Sainz, Magnussen, Pierre Gasly, Ocon and Bottas. Leclerc came in the next lap, but his tyre swap was for used ones. His 3.5s lead over Verstappen cut to just a handful of car lengths. That set up a thrilling three lap battle between the two for P1.
Twice Verstappen attacked the Ferrari driver, and twice he got ahead with some impressive slipstreaming and late breaking. And twice Leclerc used DRS to retake the position. Verstappen's third attempt wasn't as, briefly, successful as he locked up as he made the move, Leclerc P1 and the Red Bull driver's tyre advantage over. "They are almost dead again, the tyres."
LAP 17/57

Verstappen ⚔️ Leclerc

Verstappen gets ahead but Leclerc responds and retakes the lead moments later! #BahrainGP #F1 pic.twitter.com/S9gFIvEU30

— Formula 1 (@F1) March 20, 2022
Hamilton was again the first of the top five to pit, swapping his hard tyres for a set of mediums. Meanwhile Leclerc ran P1, 3.5s up on Verstappen, with Sainz and Perez third and fourth.
Verstappen again pitted before Leclerc, stopping on lap 31, for medium tyres, the race leader in the very next lap, also for mediums. Leclerc came out a second ahead of Verstappen with the Red Bull driver unimpressed after being told to "bring these tyres in gently". His response: "Okay this is now two times I have taken it easy on the out lap and I could have easily been in front. I'm never, ever doing it again!"
Leclerc went on a march, extending his lead over Verstappen prompting Red Bull to come in for a three-stop strategy for both Verstappen and Perez, the duo onto the soft tyres for the final 14 laps. Ferrari responded by pitting Sainz but kept Leclerc out, Mercedes also bringing Hamilton in. Verstappen was back up to second ahead of Sainz, Perez, Russell, Hamilton and Magnussen.
And then Gasly turned the race on its head, the Safety Car out as the Frenchman leapt from his burning AlphaTauri that was stopped on the side of the track after Turn 2. Leclerc pitted, coming out P1, but then had to contend with a bunched up field and Verstappen right on his diffuser.
LAP 46/57

Gasly's race ends – flames coming out of the rear, expertly dealt with by a race marshal

⚠️ SAFETY CAR DEPLOYED ⚠️#BahrainGP #F1 pic.twitter.com/uHHArGF5Ht

— Formula 1 (@F1) March 20, 2022
The Race Director announced that ALL six lapped cars could unlap themselves and the racing resumed on lap 51 of 57. Leclerc stormed away from Verstappen while Sainz hustled the Red Bull for second place, Perez doing the same to him. They held position, Hamilton P5.
With DRS enabled Sainz closed up on Verstappen and made his move on lap 54, Verstappen clearly in trouble as, reporting battery problems, he lost positions to Perez and Hamilton and then crawled into the pits, his race over. Perez compounded Red Bull's woes as he reported a loss of power but the Mexican driver stayed out only to spin at Turn 2, his engine having locked up.
Leclerc held onto take the first win of Formula 1's new ground effect aerodynamic era, crossing the line ahead of Sainz in a double Ferrari podium with Hamilton claiming a shock podium, benefitting from Red Bull's double DNF.
Russell was fourth ahead of Magnussen, Bottas, Ocon, Yuki Tsunoda, Fernando Alonso and points on his debut for Zou.
McLaren had a night to forget as once again cooling, this time their engine not their brakes, hampered their performance. Daniel Ricciardo, who spent the first part of the grand prix at the very back of the field, finishing 14th Lando Norris' P15.
Result
1 Charles Leclerc Ferrari 1:37:33.584
2 Carlos Sainz Ferrari 5.598s
3 Lewis Hamilton Mercedes 9.675s
4 George Russell Mercedes 11.211s
5 Kevin Magnussen Haas 14.754s
6 Valtteri Bottas Alfa Romeo Racing 16.119s
7 Esteban Ocon Alpine 19.423s
8 Yuki Tsunoda AlphaTauri 20.386s
9 Fernando Alonso Alpine 22.390s
10 Guanyu Zhou Alfa Romeo Racing 23.064s
11 Lance Stroll Aston Martin 45.873s
12 Mick Schumacher Haas 32.574s
13 Alex Albon1 Williams 53.932s
14 Daniel Ricciardo McLaren 54.975s
15 Lando Norris McLaren 56.335s
16 Nicholas Latifi Williams 61.795s
17 Nico Hulkenberg Aston Martin 63.829s
Did not finish
Sergio Perez Red Bull engine
Max Verstappen Red Bull
Pierre Gasly AlphaTauri fire