Max and Red Bull will be out for revenge at Silverstone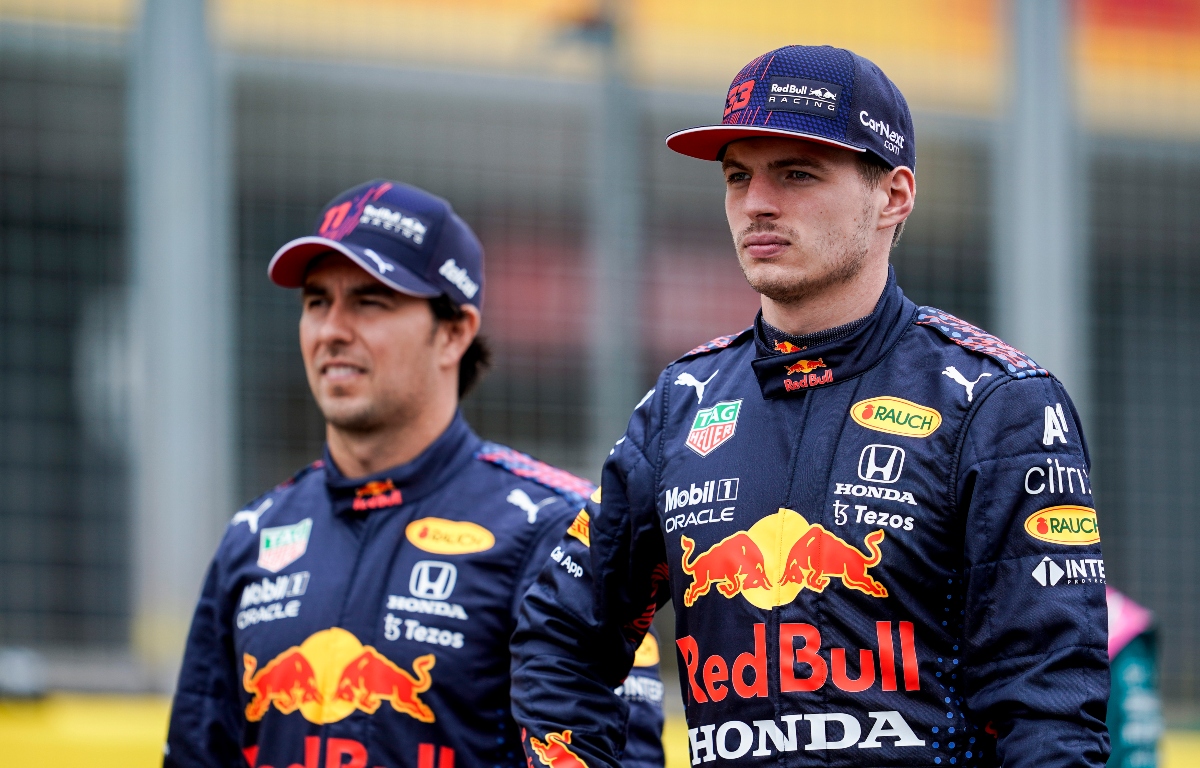 The drops of champagne had barely dried in Montreal before Red Bull's attention turned firmly to the British Grand Prix.
With six victories in succession, 2022 has rapidly become that sort of season for Red Bull and the races cannot come quickly enough as Max Verstappen continues to march towards a second consecutive World Championship.
With memories of last year's event – and the first-lap collision at Copse between Verstappen and Lewis Hamilton – still fresh in the mind, though, it is clear Silverstone is not just another race in the minds of Red Bull.
"We're going there fired up and trying to put right what happened last year," team principal Christian Horner told Sky Sports underneath the podium in Canada.
They may have elevated themselves to a whole new level in 2022, but Red Bull have never quite been able to let go of the bitterness and resentment that followed the sudden and violent ignition of the Verstappen-Hamilton rivalry a year ago.
Their displeasure has covered all bases from the nature of the incident itself, the punishment Hamilton received (a 10-second time penalty didn't stop him winning the race) and the Mercedes driver's celebrations afterwards as Verstappen sat in a hospital bed.
Torquing Point: Verstappen, Red Bull Can Capitalise On Busy Schedule
Max Verstappen and has Red Bull team have built a strong lead in both the Drivers' and Constructors' Championships. With how strong they are looking at the moment, Henry and Sam reckons they could only be adding to their leads throughout the busy month of July.
Even as Verstappen celebrated his maiden title triumph in Abu Dhabi last December, chief technical officer Adrian Newey – completely unprompted – brought up his lingering annoyance over the British GP, admitting it "still really grinds with me."
Be in no doubt that this is a team and driver searching for a form of revenge at Silverstone.
It has seemingly been of little consolation to Red Bull that Mercedes have been taken out of title contention this year, with Verstappen and Hamilton sharing the podium in Canada for the first time since the highly controversial 2021 season finale.
After appearing to finally crack the code of the porpoising-prone W13 car in last month's Spanish GP, where the team felt Hamilton could have challenged for victory were it not for a first-lap puncture, the Monaco-Baku-Montreal portion of the calendar arguably came at a bad time in Mercedes' recovery from a troubled start to the season.
Emerging from those three races on circuits with wildly different setup demands with two podium finishes exceeded expectations for Mercedes, who are hopeful that a return to a more conventional track will allow them to access the level of their Barcelona performance on a more consistent basis.
If the Silver Arrows' season might – just might – be set to start now, Ferrari's remains in danger of fading into insignificance.
After leading Verstappen by 46 points after three rounds, Charles Leclerc currently trails him by 49 having failed to win since Australia, the 95-point swing occurring despite Leclerc starting four of the last six races from pole position.
Leclerc has emerged as something of a Silverstone specialist in recent years having dragged Ferrari's worst car in a generation to the podium in 2020 before leading much of the race last year after You-Know-What.
On the evidence of his controlled performance in Barcelona's medium-and-high-speed corners until the first of his two DNFs, Leclerc may even start the British GP weekend as favourite and the sight of the number 16 Ferrari attacking Copse, Maggotts and Becketts in the dying seconds of qualifying will be one to behold.
Torquing Point: Mercedes Looking To Continue Canada Form
After a podium finish last time out in Canada, Mercedes will be hoping to keep that momentum heading into the British Grand Prix weekend.
Another team who urgently need to get their season back on track is McLaren, who failed to score a point in Canada and have added just 19 to their tally since Lando Norris's podium at Imola.
With nine races completed, McLaren have 76 fewer points than at this stage of last season and the team's recent admission that they will bring no more major upgrades in 2022 will only offer further encouragement to Alpine in the fight for fourth in the Constructors' standings.
Straight-line speed is an enormously powerful weapon in F1 and Alpine used it to good effect in Baku and Montreal to record consecutive double-points finishes for the first time this season, but Fernando Alonso didn't need telling Canada was a huge missed opportunity.
Not for the first time in his career, Alonso managed to confuse his team's computers with his dazzling speed at the Circuit Gilles Villeneuve, though his first front-row start in a decade came to nothing as his race slowly fell apart through strategy and unreliability.
The final insult was a post-race penalty for weaving on the straight while defending against Valtteri Bottas, which gave Alfa Romeo – outsiders in the fight for P4, six points adrift of Alpine and 14 behind McLaren – their best points haul of the season.
The Ferrari customers have scored points in all but two races of 2022, and for the first time since the season-opening Bahrain GP Bottas was joined in the top 10 in Canada by rookie team-mate Guanyu Zhou.
Bottas is within four points of Norris in the fight for the best-of-the-rest position of seventh in the Drivers' Championship heading into Silverstone – proving there is indeed life after Mercedes – and Zhou's contribution has allowed Alfa to pull well clear of AlphaTauri, another team struggling to recapture their form of last season, in the Constructors'.
Pierre Gasly's fifth place in Baku remains his only points finish in the last six races, while Yuki Tsunoda, despite brief flashes of progress, continues to drive team principal Franz Tost to despair.
More talented drivers have been dropped from the Red Bull system for less than the crime Tsunoda committed in Canada, sliding into the wall at the pit exit in yet another costly loss of concentration.
At this rate, AlphaTauri will struggle to defend P7 in the Championship from Aston Martin, whose recovery from a lacklustre start to the season is set to take another step with the arrival of their latest upgrade package at Silverstone.
If Lance Stroll increasingly looks like a lost cause despite a well-taken point in his home race, there have been signs of life in Sebastian Vettel since the so-called Green Red Bull arrived in Barcelona, with two consecutive Q3 appearances in Monaco and Baku converted into points.
A misjudgement with tyre pressures prevented Vettel from replicating his impressive practice pace in qualifying in Canada and it is hoped the latest updates to the AMR22 will allow the four-time World Champion, twice a winner at Silverstone, to become a more permanent fixture in the top 10.
Points finishes are an increasingly distant memory for a Haas team who have struggled to sustain their promising start to 2022.
Torquing Point: Driver Market Will Be Active
July will be a busy month, not just on the circuit but off it, too. Henry and Sam discuss what could be happening in the way of the driver market.
The still-untouched VF-22 remains a competent car – as evidenced by the third-row lockout, the team's strongest qualifying performance since 2018, for Kevin Magnussen and Mick Schumacher in Canada – but has failed to score a point for five races now.
Schumacher's long wait for a first F1 point goes on, while it has not helped that Magnussen has squandered strong grid positions by colliding with Hamilton on the opening laps in Barcelona and Montreal.
Following speculation that he would be replaced by 2021 F2 Champion and Alpine junior Oscar Piastri after his home race, Nicholas Latifi will perhaps feel relieved just to make it to Silverstone, but as ever any hopes of a points finish for Williams will rest firmly on the shoulders of Alex Albon.
What was Albon doing around this time last year again? Ah, yes: mimicking Hamilton's line through Copse on a filming day as Red Bull sought to prove the alleged wickedness of his move on Max.
Rest assured the spectre of Silverstone 2021 will never be too far away this weekend…