Dutch Grand Prix weather: Will Zandvoort dodge the rain?
Max Verstappen heads home next on his quest to 2022 title glory, though fans at the Dutch Grand Prix may need to keep an eye on the forecast.
Formula 1 is now very much back in action after the summer break, the Dutch Grand Prix serving as part two to this triple-header, following on from the Belgian Grand Prix.
And judging by what went down in Spa, Verstappen is well set to delight his fans at Zandvoort, with successive World Championships now looking like a formality.
Verstappen was in a class of his own during the Belgian GP, qualifying fastest with an advantage north of six tenths over Ferrari's Carlos Sainz.
A power unit-related grid penalty demoted him to P14, but Verstappen showed that he does not need to be on pole to win comfortably, or start anywhere near first position for that matter.
Steaming through the pack, Verstappen would win the Belgian GP, crossing the line just under 18 seconds ahead of team-mate Sergio Perez as Red Bull scored a one-two.
This will be the second Dutch Grand Prix since the event returned to the Formula 1 calendar, and Verstappen's performance at Circuit Zandvoort last season will certainly not be encouraging for Ferrari.
The 2021 title battle between Verstappen and Mercedes' Lewis Hamilton went all the way to the last lap of the season, but even then, at the Dutch GP of that season Hamilton had no answer for Verstappen.
Ferrari then may be hoping that some unpredictable weather comes into play at Zandvoort. While it does seem like rain only helps Verstappen find another gear, anything can happen in those conditions, presenting opportunity.
And while the current forecast advocates for a dry race weekend, there is a chance of rain on Saturday, and come Monday, the day after the race, the outlook is for showers and thunderstorms to roll in. Ferrari will be hoping they arrive a little ahead of schedule.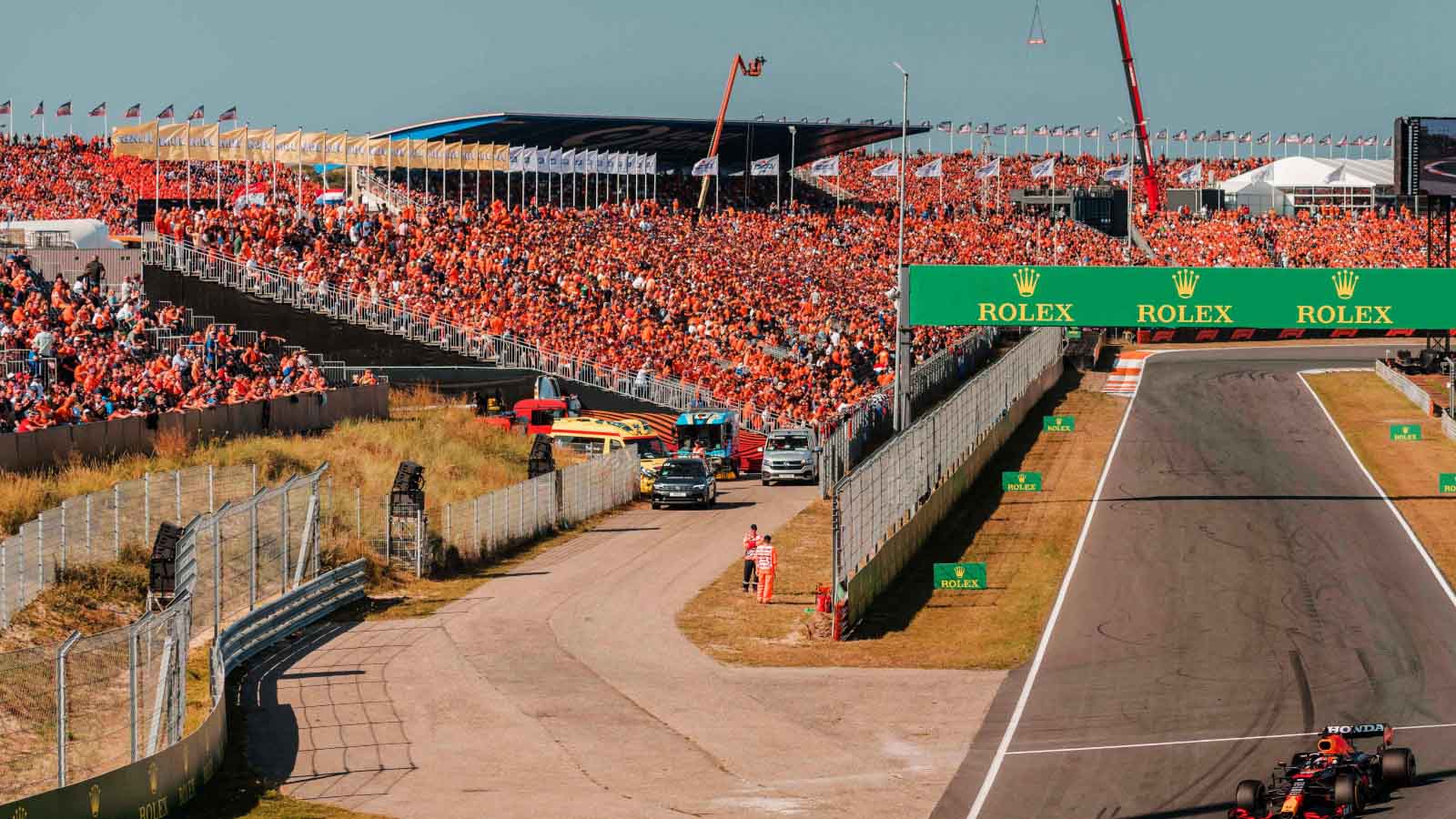 Friday, September 2 – FP1 and FP2
Fans can expect the track to be bathed in sunshine throughout Friday as the race weekend action kicks off with the first two practice sessions.
There is virtually no chance of rain, with temperatures set to break 20 degrees Celsius in time for FP1. There will be a moderate breeze though, which could catch the drivers out.
By FP2 perhaps a little more cloud cover can be expected, but temperatures are set to climb to 24c. The wind will drop slightly, but still will be more than noticeable around this coastal town.
Saturday, September 3 – FP3 and qualifying
By the time of FP3, drivers can expect 62% humidity as some sunny intervals break through the cloud cover at times, with temperatures nudging into the low 20s as the wind strength slowly begins to decline.
The threat of rain also grows, though at this stage it is described as a low chance. Qualifying then begins at 1500 local time, with the prospects of rain starting to increase towards the end of that session, should it run as planned without interruptions.
The winds should get lighter still by the time of qualifying, with temperatures still in the low 20s, perhaps climbing by a couple of degrees from FP3. Humidity will remain between 61-62%.
Sunday, September 4 – race
According to the current forecast, the threat of rain will actually be lower on race day compared to Saturday, but much of the race activity is set to take place under cloudy skies, with the Dutch Grand Prix getting underway at 1500 local time.
Temperatures are set to stick at 23c, though it will feel around four degrees higher than that with 63% humidity, which could climb to 64% by the closing stages of the race. A gentle breeze from the southeast will amble through the circuit.
Rain showers are set to begin from the day after the race, so unless they arrive a little earlier than planned, a dry race is expected.