Qualy: Verstappen grabs pole in chaotic wet-dry session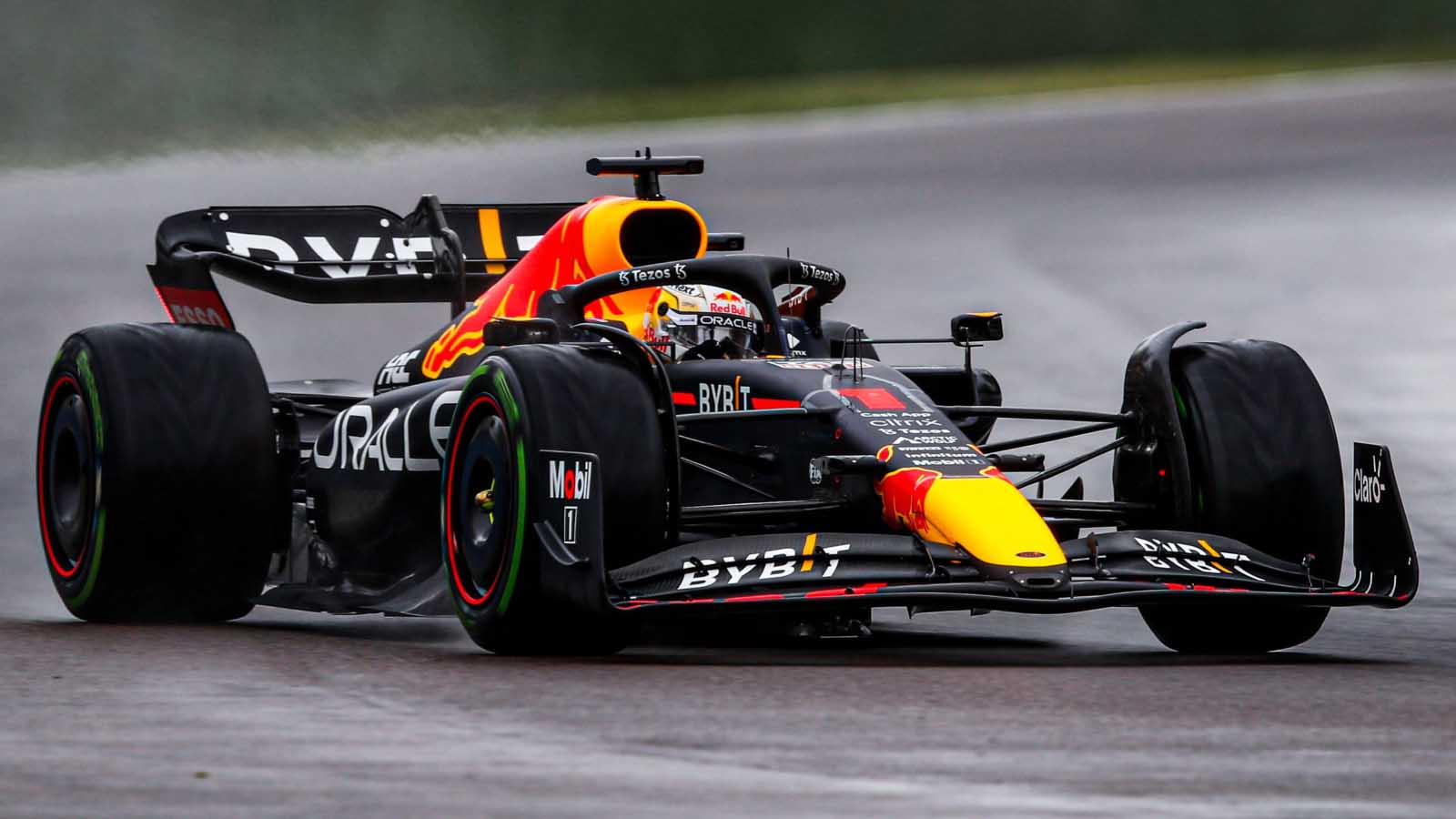 Max Verstappen took pole position for sprint qualifying at Imola, in a heavily interrupted session that saw five red flags in mixed conditions on Friday.
Wet-dry conditions played havoc throughout Friday's running, but Charles Leclerc will line up alongside the Red Bull driver in Saturday's sprint, with an unlikely second row featuring Lando Norris and Kevin Magnussen in behind them.
The Mercedes pair of Lewis Hamilton and George Russell were both knocked out in Q2, Carlos Sainz spun his Ferrari into the wall and a drawn-out affair eventually saw the World Champion take pole position for Saturday's running.
Ferrari had dominated a wet FP1 session, which was the only hour the drivers had to get used to the circuit prior to qualifying, but the surface had dried up enough to allow the cars to run on dry or intermediate tyres from the start.
With new cars, little relevant data and no prior dry running, each driver's setup will likely have been a gamble in its own right heading into qualifying.
It wasn't long before everyone was out on slicks early on, despite a little bit of lingering moisture at a couple of corners.
Conclusions from #ImolaGP qualifying… #F1 pic.twitter.com/tU7vYFLKIC

— PlanetF1 (@Planet_F1) April 22, 2022
But one place moisture certainly wasn't present was the rear-right of Alex Albon's Williams, trundling back to his garage with his brake on fire – with debris also having been blown onto track with a small explosion in that area of the car.
Unsurprisingly, the first red flag was quickly out as a result.
Running started again around 10 minutes later, with the field picking up where they left off with more than half the session left to build confidence in variable conditions, and the lap times began to tumble.
Nicholas Latifi's troubles continued however, with a spin coming out of the Villeneuve Chicane leading him to utter a simple radio message: "I don't understand". He was able to get going again, however, after crawling back onto the circuit.
One driver not getting back out again was Esteban Ocon, however, and he will line up on the back row alongside Albon after being unable to put in a faster lap in dry conditions.
Latifi and both AlphaTauri drivers were the other disappointed parties in Q1 – with only four thousandths of a second between Yuki Tsunoda and the Mercedes of Lewis Hamilton, who just about managed to squeak through the first part of qualifying.
Q2 started with a flurry of activity as the threat of more rain lingered in the air, but only a selection of drivers had put in a flying lap before the red flag was out again – this time for Sainz, who lost control of the rear of his car on the entry of the final left-hander of the lap at Rivazza 2.
He was sent spinning into the gravel and a hefty impact left him out of qualifying, but the wider ramifications for the rest of the field came as the rain fell again and there was no scope for the remaining drivers to improve their times.
This left a bottom five of George Russell, Mick Schumacher, Hamilton, Zhou Guanyu and Lance Stroll – leaving both Mercedes drivers out of the top 10 in painful fashion for the Constructors' champions as the clock ticked to zero.
Sebastian Vettel making it through to Q3 😊 #ImolaGP #F1 pic.twitter.com/X4foQJYVbH

— PlanetF1 (@Planet_F1) April 22, 2022
While this was bad news for those affected, there was a flip-side to this, as Sebastian Vettel made it through to Q3 in his struggling Aston Martin, and Haas driver Kevin Magnussen popped back into the top 10 after an off weekend in Australia.
After a few sighters in wetter conditions in the final moments of Q2, the remaining drivers got themselves set up for the top 10 shootout – or top nine on this occasion, with Sainz sitting out.
But that soon became an eight-driver fight – or so we thought.
The red flag came out again after Magnussen spun out at the downhill right-hander of Acque Minerali and appeared to be beached. But the Dane was actually able to keep his engine running and had skidded through the gravel trap, he found reverse gear and was able to creep back through the gravel and get running again in an astute piece of driving from the Haas man.
Once proceedings got underway yet again, the fight for pole could then start in earnest – and it was Leclerc and Verstappen who were at the helm, with the Red Bull driver going only two hundredths behind the Ferrari driver on their first flying runs.
However, Valtteri Bottas pulling off to the side of the track saw Verstappen have to slow down on his following lap. But such was the amount of improvement in the first two sectors, even with what appeared to be an audible lift off the throttle in yellow flag conditions, he popped in a 1:27.999 to go top of the pile – a huge 0.779s ahead of Leclerc behind.
Bottas' troubles then brought out a fourth red flag of the session, with just shy of three minutes left on the clock to get one more chance at a push for pole, although even more rain made any lap time improvements unlikely.
But a fifth and final red flag put paid to anyone finishing another attempt, caused by Norris going into the barrier at Acque Minerali, skidding off track with less than a minute left on the clock, leaving the order set as it was.
It'll be Verstappen vs Leclerc yet again from the front row, and there could well be more rain in the air as the weekend progresses. There's still plenty of drama to come yet.
Qualifying classification
1 Max Verstappen Red Bull 1:27.999
2 Charles Leclerc Ferrari 0.779s
3 Lando Norris McLaren 1.132s
4 Kevin Magnussen Haas 1.165s
5 Fernando Alonso Alpine 1.203s
6 Daniel Ricciardo McLaren 1.743s
7 Sergio Perez Red Bull 1.809s
8 Valtteri Bottas Alfa Romeo Racing 2.440s
9 Sebastian Vettel Aston Martin 3.063s
10 Carlos Sainz Ferrari NO TIME SET
11 George Russell Mercedes 1:20.757
12 Mick Schumacher Haas 0.159s
13 Lewis Hamilton Mercedes 0.381s
14 Zhou Guanyu Alfa Romeo Racing 0.677s
15 Lance Stroll Aston Martin 7.362s
16 Yuki Tsunoda AlphaTauri 1:20.474
17 Pierre Gasly AlphaTauri 0.258s
18 Nicholas Latifi Williams 1.497s
19 Esteban Ocon Alpine 1.864s
20 Alex Albon Williams NO TIME SET