FP3: Last-gasp effort hands Leclerc P1 ahead of Max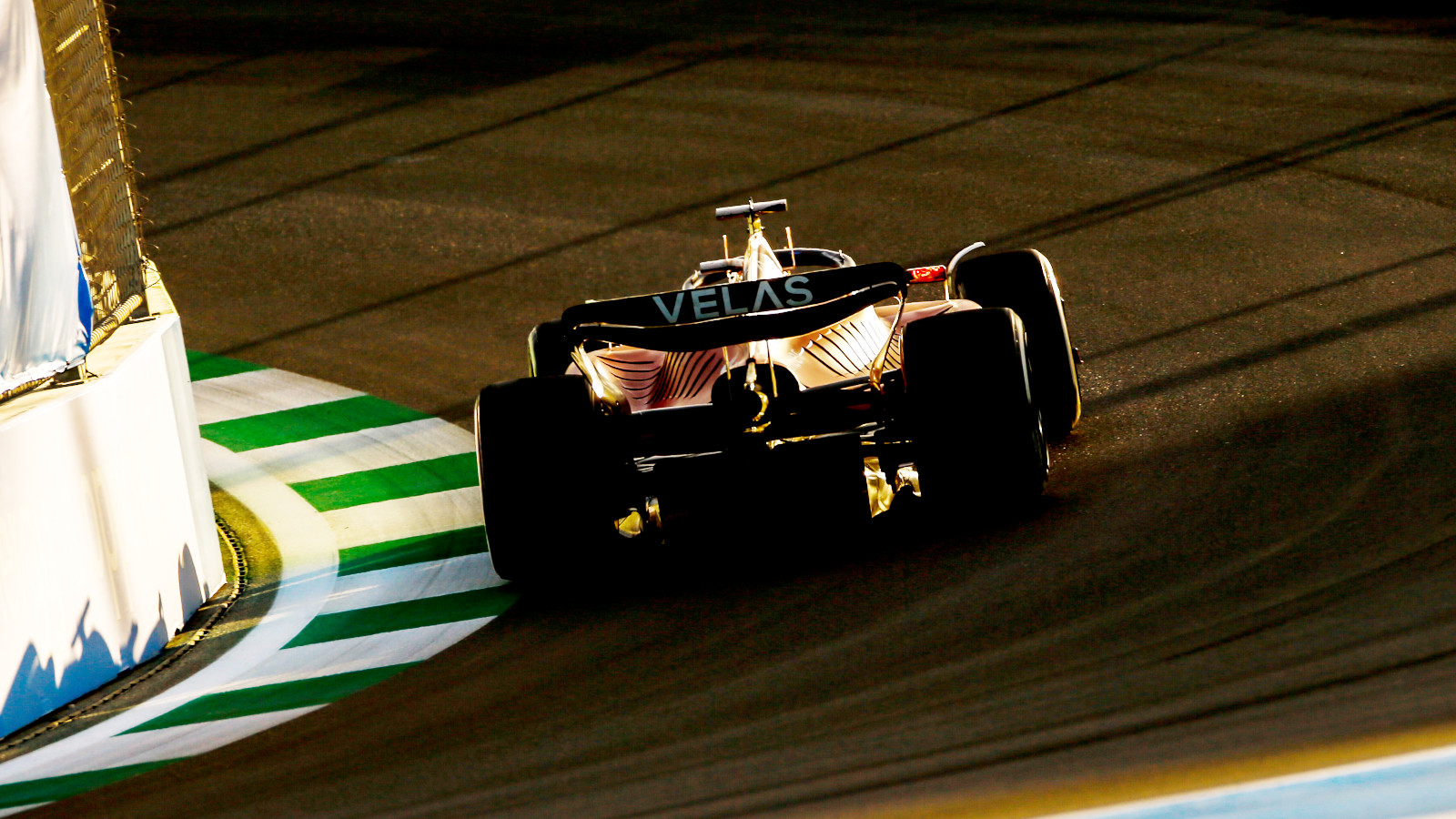 Charles Leclerc put in a last minute run to grab P1 in the final practice session for the Saudi Arabian Grand Prix.
The Ferrari driver laid down a 1:29.735 to beat Max Verstappen by 0.033s.
But while it may seem as if Ferrari have the advantage over Red Bull, Verstappen's final flying lap was ruined by a hairy moment over the Turn 22 kerbs.
Inside the final 10 mins of FP3

Verstappen on the limit, runs wide at Turn 22 and aborts his flying lap#SaudiArabianGP #F1 pic.twitter.com/BnYR5Y2dp7

— Formula 1 (@F1) March 26, 2022
After the teams and drivers' concerns about their safety were laid to rest on Friday night, the drivers were back on the Jeddah Corniche Circuit on Saturday for the third and final practice hour.
Valtteri Bottas was the first man out, putting in a lap before heading back to the pits. For Mick Schumacher heading out of the pits was a tad more difficult than it should have been, his anti-stall kicking in twice as he practiced a start at the end of the pit lane.
Friday's pace-setter Charles Leclerc was the first to set a time, a 1:31.0, before he was pipped by Carlos Sainz only to retake P1 with a 1:30.1. Valtteri Bottas and Lando Norris the only other drivers to post a lap time in the opening 15 minutes.
As more drivers headed out, Norris got caught out by the traffic and had to brake hard into the corner before being sandwiched between a Haas and an Alfa Romeo.
Max Verstappen was the last driver to leave the pits, the Red Bull driver taking his time, and then taking even more as he did two warm up laps, the second of which was very slow, before laying down a 1:30.4. That put him P6 behind Leclerc, Pierre Gasly, Sergio Perez, Sainz and Yuki Tsunoda.
Bottas, Guanyu Zhou, Lewis Hamilton and Schumacher completed the top ten at the 30 minute mark, all 10 having set their best times on the soft Pirelli tyres.
Verstappen upped his pace, purple in the second and third sectors on his way to a 1:29.7 ahead of the Ferrari drivers. Fernando Alonso went purple in the first sector to jump up to seventh.
Gasly had a moment in the pit lane exit, the Frenchman having pulled away from his pit box only to realise as he exited the pits that something wasn't right. Gasly rolled to a stop, climbed out of his car and began pushing it back into the pits where his mechanics could take over. It was a worry for AlphaTauri with Gasly on a new PU this weekend after his retirement in Bahrain.
Gasly can't get going and is pushing his car back to the pit garage#SaudiArabianGP #F1 pic.twitter.com/g6HbbRA8b7

— Formula 1 (@F1) March 26, 2022
Bottas bolted a new set of softs onto his Alfa Romeo and climbed to second place, 0.26s down on Verstappen, while his team-mate Zhou complained about a "lot of traffic" as he came across George Russell, who had just returned to the track after a minor off, the two not quite anticipating what the other would do next.
Out on brand new soft tyres, Verstappen was on a flyer and almost went flying as he pushed too hard, cutting the kerbs at Turn 22, coming down hard. Nicholas Latifi was not as lucky, the Williams driver tagging the wall.
Perez moved up to second place with the session looking to end with a Red Bull 1-2 only for Leclerc to come flying through after the chequered flag with a 1:29.735, which was 0.033s faster than Verstappen's best.
Perez was third ahead of Sainz and Bottas, the top five separated by just under three-tenths of a second. Esteban Ocon, Gasly, Kevin Magnussen, Alonso and Yuki Tsunoda completed the top ten.
As for Mercedes, Hamilton was 11th to Russell's P14. It was even worse for McLaren, Daniel Ricciardo P16 and Norris 19th.
Times
1 Charles Leclerc Ferrari 1:29.879 23 laps (soft)
2 Max Verstappen Red Bull 0.033s 12 laps (soft)
3 Sergio Perez Red Bull 0.098s 16 laps (soft)
4 Carlos Sainz Ferrari 0.274s 22 laps (soft)
5 Valtteri Bottas Alfa Romeo Racing 0.295s 22 laps (soft)
6 Esteban Ocon Alpine 0.404s 16 laps (soft)
7 Pierre Gasly AlphaTauri 0.413s 11 laps (soft)
8 Kevin Magnussen Haas 0.527s 18 laps (soft)
9 Fernando Alonso Alpine 0.561s 17 laps (soft)
10 Yuki Tsunoda AlphaTauri 0.680s 19 laps (soft)
11 Lewis Hamilton Mercedes 0.972s 17 laps (soft)
12 Mick Schumacher Haas 1.030s 17 laps (soft)
13 Guanyu Zhou Alfa Romeo Racing 1.211s 20 laps (soft)
14 George Russell Mercedes 1.248s 15 laps (soft)
15 Lance Stroll Aston Martin 1.332s 18 laps (soft)
16 Daniel Ricciardo McLaren 1.451s 16 laps (soft)
17 Alex Albon Williams 1.639s 16 laps (soft)
18 Nico Hulkenberg Aston Martin 1.689s 18 laps (soft)
19 Lando Norris McLaren 1.794s 17 laps (soft)
20 Nicholas Latifi Williams 2.257s 13 laps (soft)