Race: Verstappen ends 'tyred' Mercedes' winning run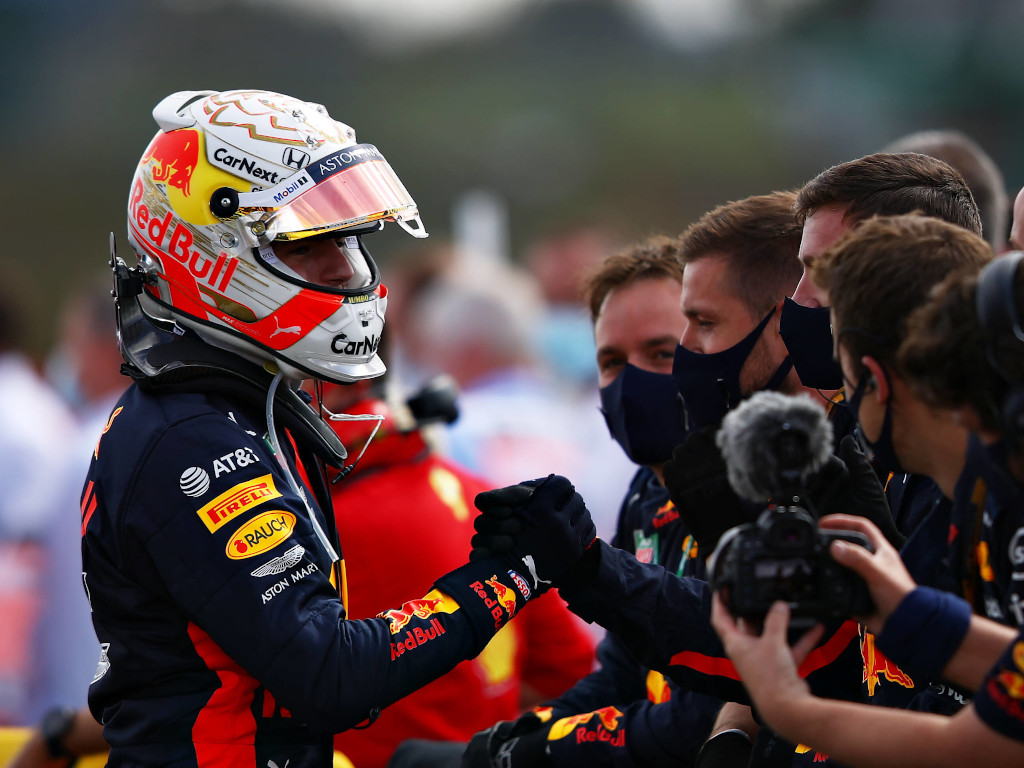 Max Verstappen won the Silverstone tyre battle using an alternate strategy to the Mercedes to pip Lewis Hamilton to victory.
Tyres wear and tyre management set the tone for the grand prix as Verstappen managed his and the Mercedes team-mates ate theirs
After last Sunday's tyre troubles, tyre were the focus ahead of the start of the 70th Anniversary Grand Prix where everyone except Verstappen, Sebastian Vettel, Carlos Sainz, Daniil Kvyat and Kimi Raikkonen started on the medium. Those five were on the hard – and more durable – tyres.
Despite his hard tyres, Verstappen got the jump on Nico Hulkenberg at the start to run third behind Valtteri Bottas and Lewis Hamilton. Hamiton tried to pass Bottas around the outside of Brooklands but the Finn stood strong to lead the opening lap. At the other end of the grid Vettel, who started P11, touched the kerb at Turn 1, had a wobble, spun and fell to 20th.
I'm spinning around
Move outta my way…

…I'm breaking it down
I'm not the same#F170 🇬🇧 #F1 pic.twitter.com/xbAoxupoSR

— Planet F1 (@Planet_F1) August 9, 2020
Within four laps it was clear that unless Verstappen's hard tyres changed the game, it would be a two-driver race with Bottas versus Hamilton for the race win. Verstappen in P3 was already four seconds down on Bottas and four ahead of Hulkenberg and Lance Stroll. Daniel Ricciardo was P6 ahead of Pierre Gasly, Lando Norris, Alex Albon and Charles Leclerc.
A lap later Bottas was told "front left critical – also rear left" while by the end of the next lap Albon was into the pits, swapping his medium tyres for a set of hards. Gasly and Antonio Giovinazzi were on lap 8 as one by one those on the medium tyres got rid of the yellow tyres in favour of a set of the whites.
With his hard tyres in play Verstappen closed the gap on race leader Bottas to two seconds, less than one behind Hamilton on lap 12. But with his tyre temps rising, Red Bull urged him to back off. Verstappen made it clear the answer to that was no.
"Mate, this the only chance of being close to the Mercedes, I'm not just sitting behind like a grandma!" he said.
Hamilton meanwhile reported that his "rears are finished" with Bottas pitting from the lead at the end of lap 13. Swapping his mediums for hards, he returned to the action in sixth place – behind Ricciardo and ahead of Leclerc.
LAP 12/52

Onboard with Hamilton… l👀k at those tyres#F170 🇬🇧 #F1 pic.twitter.com/8XQ0P4AnDK

— Formula 1 (@F1) August 9, 2020
Hamilton was in the end of lap 14 with Verstappen elevated to P1 – it was the first time this season bar one lap that a non-Mercedes driver led a grand prix. Hamilton came out behind Leclerc but made short work of the Ferrari.
Hulkenberg was the next of the top ten to stop followed by Stroll and Leclerc, who found himself battling Norris for position after his stop, trying to cut back on the McLaren driver before passing him around the outside.
F1's latest promotional tactic of putting Twitch streamers into the cars is a bit much, but they're having a great battle! #F170 pic.twitter.com/lAhmQuOZJg

— iGP Manager (@iGPManager) August 9, 2020
Further back Kevin Magnussen ran wide and barged his way back onto the track, making contact with Nicholas Latifi with one of the cars losing a small piece of bodywork. The stewards announced an investigation with the Haas driver handed a five-second penalty.
The battle of Red Bull past versus Red Bull present continued as Albon and Gasly fought for position with the Thai-British driver taking a position off the Frenchman.
LAP 19/52

Albon and Gasly having a wheel-to-wheel battle

Gasly holds on to P12 for now#F170 🇬🇧 #F1 pic.twitter.com/5JMeeR5QOC

— Formula 1 (@F1) August 9, 2020
21 laps into the 52-lap race and Mercedes was losing ground to Verstappen. Despite being on fresher tyres Bottas' pace quickly flatlined and he was lapping slower than the Red Bull driver with the gap up to 15s and growning. Verstappen had yet to stop.
"My tyres feel good mate. It's all good," said Verstappen.
Tyres, tyres and more about tyres set the tone for the grand prix as Verstappen managed his and the Mercedes team-mates ate theirs with the Dutchman nearly building up a free pit stop when he finally stopped at the end of lap 26.
He had to swap the hards for mediums but it was a bit of a slow change to the right rear and that cost him the chance of pitting P1 and coming back out P1. He was instead 4/10ths down on Bottas and made short work of the Mercedes driver around the outside of Luffield.
Verstappen finally pits, and it only takes him 5 corners to take the lead back from Bottas! What a race from the Dutch driver. #F170 pic.twitter.com/8NOaQc6r3X

— iGP Manager (@iGPManager) August 9, 2020
"Forgot the tyre management. As fast as you can within the limits of the tyre," Verstappen was told. "So we're just going to send it?", the Dutchman replies.
Hamilton questioned Red Bull's tyre pressures: "He must have less pressure in his tyres or something."
Further back Vettel, recovering from his early spin, questioned Ferrari's strategy after his team put him between the two McLarens through the timing of his pit stop: "It is in the gap that we didn't like. We spoke about it this morning. I'll hang in there but you know that you've messed up." Ricciardo spun his way out of the points on lap 30 when he tussled with the McLarens and came off second best.
Verstappen did a very short stint on the medium tyres, pitting again on lap 33 – at the same time as Bottas. Hard tyres for both drivers with their stops putting Hamilton up into the lead with Verstappen second and Bottas P1. Leclerc, who was doing a one-stop strategy, was running fourth.
Hamilton wasn't happy with his car, telling Mercedes that "something is wrong". Despite that the Brit didn't pit, staying out and leaving his rivals to wonder if he was attempting a one-stop strategy.
LAP 36/52

Mercedes are keeping Hamilton out on track for now…

📻 HAM: "The tyre is ok?"

📻 MERC: "Yep, we think the tyre is safe underneath – it's just the blistering"#F170 🇬🇧 #F1 pic.twitter.com/PZysiap385

— Formula 1 (@F1) August 9, 2020
Lap after lap Hamilton lost tenths but only tenths to Verstappen and Bottas, the gap down to eight seconds with 10 laps to go. Verstappen was told by Red Bull that it was "time to close the gap" and to "push, push". Hamilton pitted on lap 41, Verstappen back up into P1 and the reigning World Champion coming out in fourth place behind Leclerc.
Hamilton took fourth off Leclerc as Racing Point pitted Hulkenberg on lap 46 for soft tyres. Hamilton was five seconds behind Bottas with six to go. He quickly closed up on his team-mate with Mercedes saying they are free to race.
Hamilton used the Wellington Straight to gain on Bottas before passing his team-mate around the outside of Brooklands. He was nine seconds down on Verstappen when he moved up to second.
Despite Hamilton's best attempts Verstappen held on for the win, his and Red Bull's first of the season. Hamilton was second while Bottas made it a third double podium of the year for Mercedes. Hamilton took the fastest lap point.
Leclerc was fourth ahead of Albon and Stroll while Hulkenberg's unwanted podium-less record continued, 178 starts and not a single top-three result. He was P7.
Ocon, Norris and Daniil Kvyat completed the top ten. Vettel was P12.
Result
1 Max Verstappen Red Bull
2 Lewis Hamilton Mercedes 11.326s
3 Valtteri Bottas Mercedes 19.231s
4 Charles Leclerc Ferrari 29.289s
5 Alex Albon Red Bull 39.146s
6 Lance Stroll Racing Point 42.538s
7 Nico Hulkenberg Racing Point 55.951s
8 Esteban Ocon Renault 64.773s
9 Lando Norris McLaren 65.544s
10 Daniil Kvyat AlphaTauri 69.669s
11 Pierre Gasly AlphaTauri 70.642s
12 Sebastian Vettel Ferrari 73.370s
13 Carlos Sainz McLaren 74.070s
14 Daniel Ricciardo Renault 1 LAP
15 Kimi Raikkonen Alfa Romeo Racing 1 LAP
16 Romain Grosjean Haas 1 LAP
17 Antonio Giovinazzi Alfa Romeo Racing 1 LAP
18 George Russell Williams 1 LAP
19 Nicholas Latifi Williams 1 LAP
Did not finish
Kevin Magnussen Haas lap 46
Follow us on Twitter @Planet_F1 and like our Facebook page.