Adrian Newey reveals what is inside his legendary notebook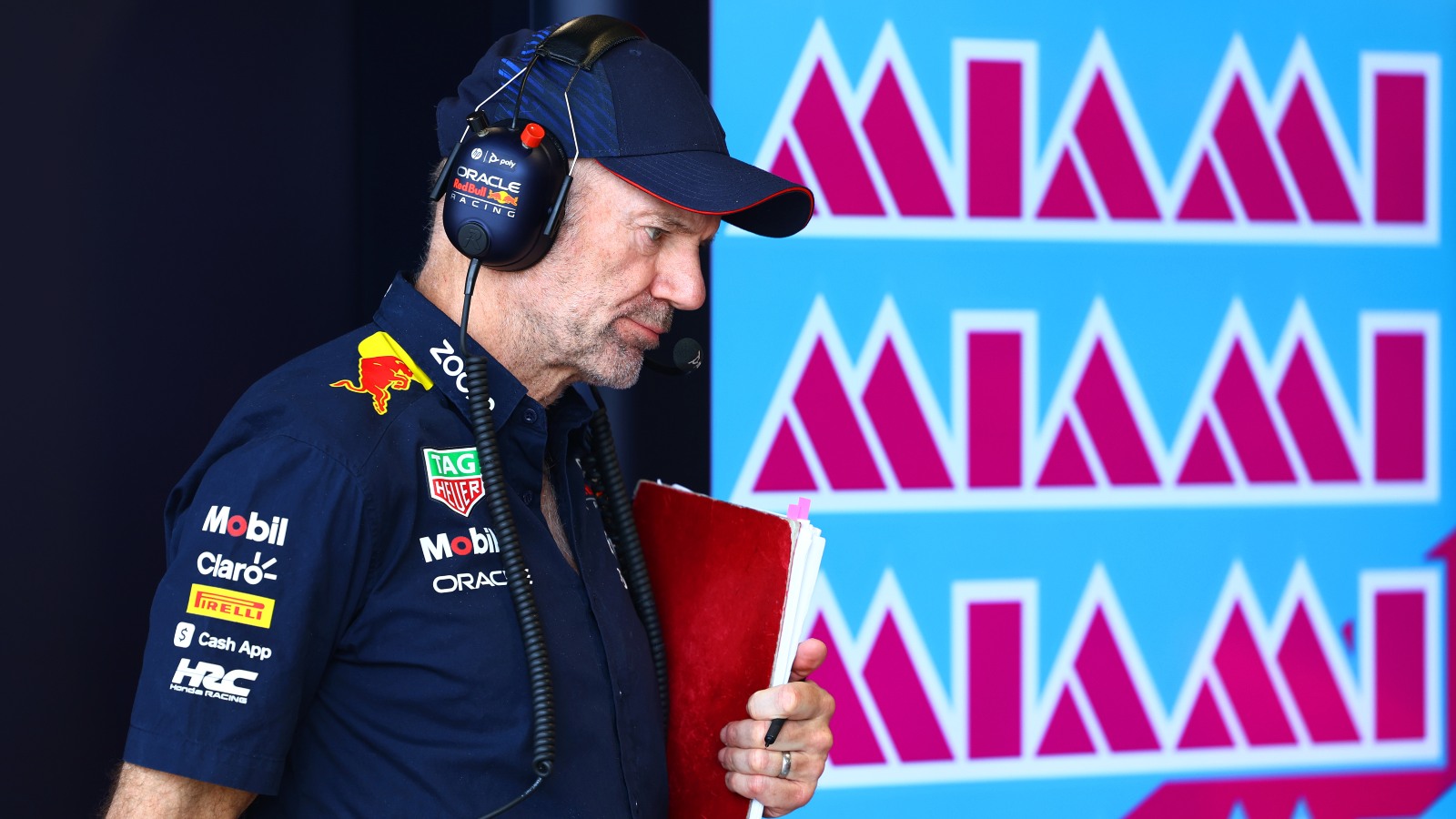 What Red Bull design guru Adrian Newey described as the "junk" of his notepad, very likely will hold many secrets to his success over the years.
Newey is regarded as one of the greatest designers which Formula 1 has ever seen, having designed title-winning cars across stints with Williams, McLaren and now Red Bull.
And his value has skyrocketed again considering Red Bull's dominance in the current era of ground effect aerodynamics, this a topic which just so happened to come up in Newey's university thesis.
Back then a pen and paper was key to designs and illustrations, and while over the years CAD [computer-aided design] software has become an essential component of Formula 1 life, Newey continues to turn to his "default" of pen and paper.
And so when appearing on Red Bull's Talking Bull podcast, Newey selected his trusty notepad to place into the Oracle Red Bull Racing 100 Objects category, and explained why for him it still serves great value over the approach of going all-in with CAD systems.
"I've chosen my faithful old sketchpad/notebook and my pencil," he confirmed. "It's been through the years, I think I've had this more than 10 years now.
"I'll be honest, most of it…you go a bit further in and you'll have all the junk.
"Pen and paper is my kind of default, if you like, so I scribble a lot, I still work on the drawing board. And that for me, as opposed to CAD system, that for me is kind of first language.
"So I graduated in 1980, and CAD systems didn't really kind of come to maturity until mid to late mid '90s, let's say. So I'd been 15 years on a board by then.
"And I kind of looked at other guys and they seem to…certainly the early CAD systems, it's changed over the last few years, but they spend a lot of time and a lot of energy, getting the lines onto the CAD.
"And once they've done that, because they'd used so much energy doing that, they seem to be reluctant to use the electronic rubber.
"So I think certainly, general layouts and concepts, I can work quite quickly with a pencil and rubber. I think through training effectively, from a very young age, then I seem to be reasonably good at mentally visualising things.
"And so the fact I can't draw in 3D doesn't bother me because I can easily break 3D into 2D. And as I say, I think more than anything it's my first language. If I tried to now convert to a CAD system, then it would be like talking a foreign language, I'd never be as natural."
PlanetF1.com recommends
How 'unfinished business' convinced Adrian Newey to leave McLaren for Red Bull
How F1 genius Adrian Newey 'almost bankrupted' Aston Martin
Newey would then delve a little deeper into how his ideas then come to be in the digital world via the help of his team around him.
Once more though he returned to the point that these ideas need to be formulated in the first place, which strikes up another point for old faithful, his notepad.
"So that's kind of part of my job is then drawing on the drawing board," Newey continued.
"Then I have a team of two or three people who take my drawings, scan them, because now everything has to be into digital form at some point, and then they turn those into 3D drawings and so forth.
"But before you get to the drawing board, you've got to have the ideas in the first place. And that's where the sketch pad comes in."
The sketch pad continues to be a sacred object for the Red Bull squad who have started F1 2023 with five wins from five, four of those being on-two finishes.
Their lead in the Constructors' Championship stands at 122 points over Aston Martin, while Max Verstappen is 14 points clear of Red Bull team-mate Sergio Perez at the top of the Drivers' standings.