Adrian Newey details Renault's role in limiting Red Bull's progress back to the top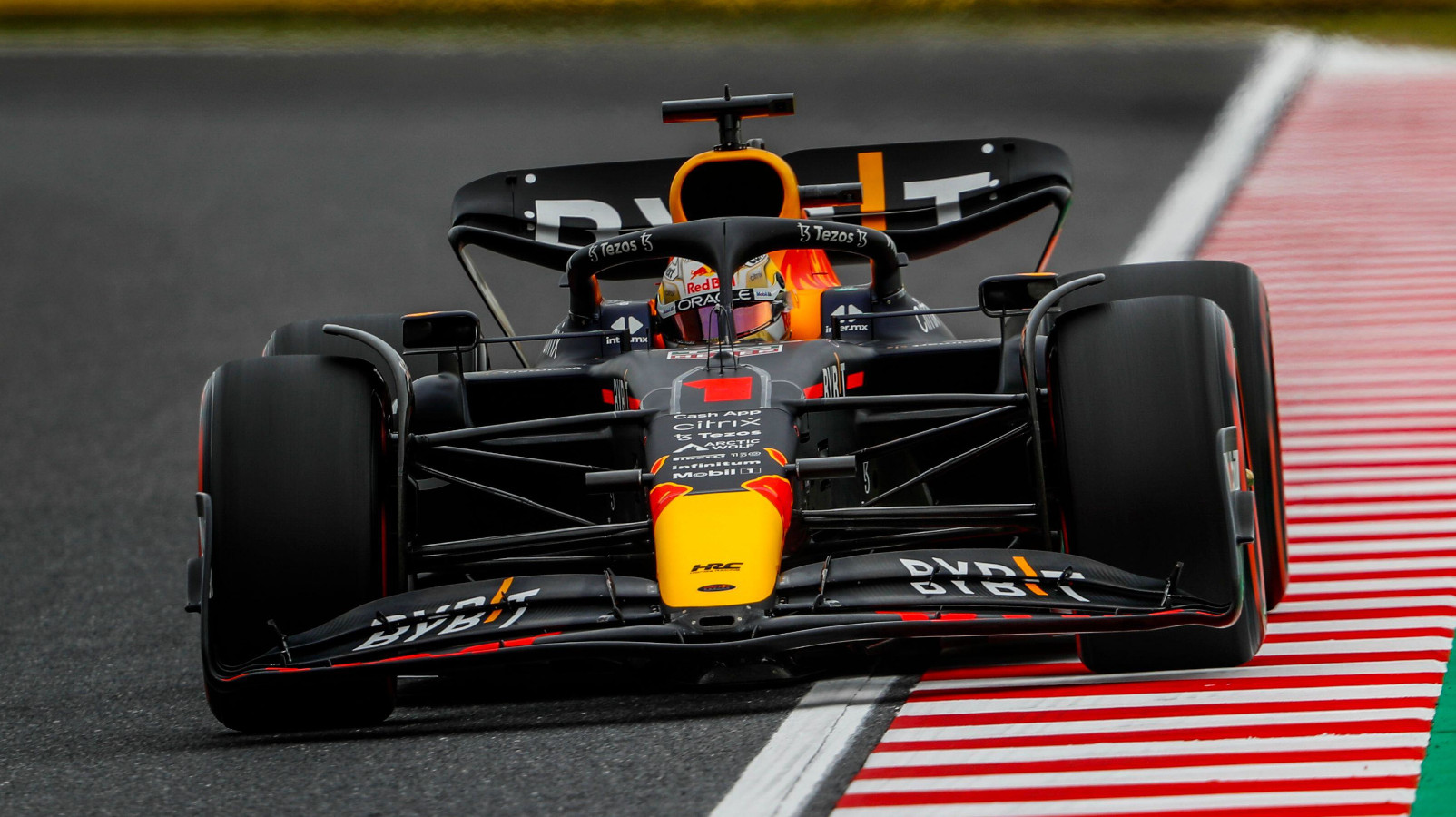 Red Bull technical chief Adrian Newey has reflected on the decline of the team's relationship with former engine partner Renault following their initial streak of success in Formula 1 with Sebastian Vettel.
Vettel claimed four consecutive World Championships between 2010 and 2013 in the final years of the V8 engine era, with Red Bull and Renault's exploitation of exhaust-blown technology a key factor in the team's success.
However, Red Bull's dominance ended when Renault struggled to adapt to the new V6 hybrid powertrain rules in 2014 and the two parties went their separate ways at the end of 2018 after the relationship became increasingly tense.
With Honda power, Red Bull ended an eight-year wait for a title when Max Verstappen clinched the 2021 title, with the team winning their first Drivers' and Constructors' Championship double since 2013 this season as Verstappen and team-mate Sergio Perez won 17 races between them.
Reflecting on Red Bull's route back to the top from the low of a winless season in 2015, Newey admitted Renault's lack of progress after a poor start to the hybrid era was difficult to deal with.
In an interview released by Red Bull, he said: "The championships years of 2010 to 2013 were all with the Renault V8. We had a great relationship with the engineers at Renault.
"I think it's fair to say they didn't have the most powerful V8, but it was a product that they tailored to suit our car – we had some particular requirements, particularly in the way we used the exhaust – and Renault bent over backwards to maximise what we needed from the engine.
"We then went into the hybrid era and Renault in the first year [didn't] interpret the regulations as well as Mercedes, so we were quite a long way behind.
"In the first year, you accept that we all make mistakes – chassis, engine, new regulations – you can get it right, you can get it wrong. They got it wrong.
"When the engine that started '15 seemed, if anything, actually worse than the '14 engine, that was a pretty disillusioning moment and then you realise that in your foreseeable future if you do a spectacular job you might snatch the odd win here or there, but you're never going to win a Championship.
"So that was a reset, which I think we all had to come to terms with, particularly after that period of dominating the second half of 2009 and the subsequent four Championships, that this was not going to be our reality for the foreseeable future."
Renault have struggled to find another customer team in the years since their split with Red Bull, with the Renault-owned Alpine team the only team to compete with their engines currently.
Red Bull rising again is one of the great stories of modern F1
As Red Bull bask in the glory of a dominant 2022 season, it is incredible to remember just how perilous their place in Formula 1 looked for a remarkable few weeks back in the autumn of 2015.
Red Bull's determination to split with Renault was not matched by a hunger to fill the void by either Mercedes or Ferrari, creating a remarkable situation in which the World Champions of two years previously faced the prospect of not having an engine for 2016.
Eventually a rapprochement was reached, but even those involved were under no illusion that it was a marriage of the utmost convenience.
Having agreed a deal for 2018 to put Honda on a trial period at B-team Toro Rosso, Red Bull's own switch to the Japanese manufacturer was announced at the earliest opportunity and, finally with an engine they could tailor to their specific needs, they rose again with a 'H' on their chests and a vibrant young driver in Verstappen leading the charge from the cockpit.
It is no exaggeration to suggest the split with Renault – and the subsequent signing with Honda – completely re-energised the entire Red Bull F1 program.
That they rose again, after their first dominant spell came to a shuddering stop, makes for one of the great stories of modern F1.
Read more: Red Bull's season of excellence punctuated by memorable moments of controversy